Getting spray paint out of carpet is easier than you might think, and you don't need any special or expensive cleaners to do the job. Here's how you can tackle this common household mishap with ease and speed:
Mix warm water and liquid dish soap.
Dab the wet paint area with a damp cloth.
Blot dried paint with rubbing alcohol.
Apply Goo Gone on stubborn stains.
Use hydrogen peroxide for light carpets.
To effectively remove spray paint from your carpet, begin by creating a simple cleaner with warm water and a few teaspoons of liquid dish soap. This solution works wonders, particularly on oil-based spray paint. If the paint is wet, gently dab the area with a damp cloth instead of rubbing, as rubbing can spread the paint further.
For dried paint, rubbing alcohol is your go-to remedy. Soak a paper towel with the alcohol and blot the paint spot. You'll notice the paint starts to break down and lift away from the fiber. Continue dabbing with a dry paper towel to absorb the dissolved paint.
For larger and more stubborn stains, Goo Gone is a highly effective option. Spray it onto the affected area, let it sit to break down the paint, then blot with a cold, wet rag. If necessary, repeat the process to ensure all paint is removed.
Lastly, if you have light-colored carpets, hydrogen peroxide can be used to treat paint stains. Combine it with water in a spray bottle, apply to the stain, and blot after letting it sit. This method is safe for light carpets and effectively removes the paint without harsh chemicals.
Cleaning an accidental paint spill from carpeting is often thought to be nearly impossible without leaving a paint stain. Learning how to get spray paint out of carpet is not complicated, no matter the type of paint on your carpeting. You can repurpose standard household products like dish soap and rubbing alcohol into effective carpet cleaning agents.
The ingredients dissolve dirt and grease and work great to loosen spray paint from your carpet fibers. Whether you have spilled latex paint, aerosol paint, or acrylic paint on your carpeting, we provide you with effortless DIY recipes that act as a fantastic paint remover.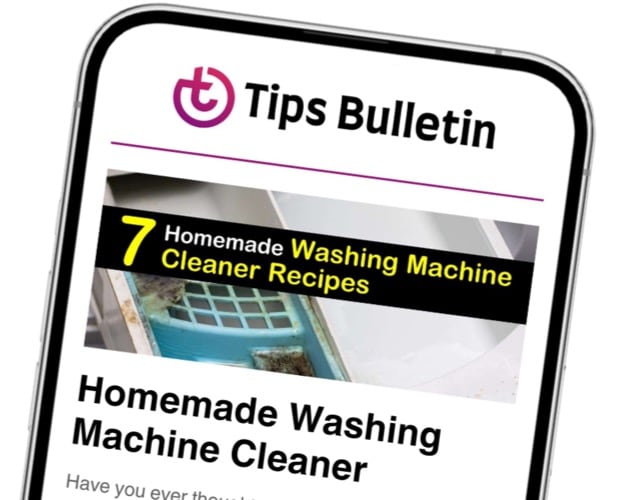 Finally, an email that Transforms Your Home.
Get the latest home and garden tips from our experts, delivered straight to your inbox.
Because the carpet fibers are different for various carpeting types, we suggest doing a small spot test on your carpet. A spot test allows you to see if the cleaning solution discolors your carpet fibers.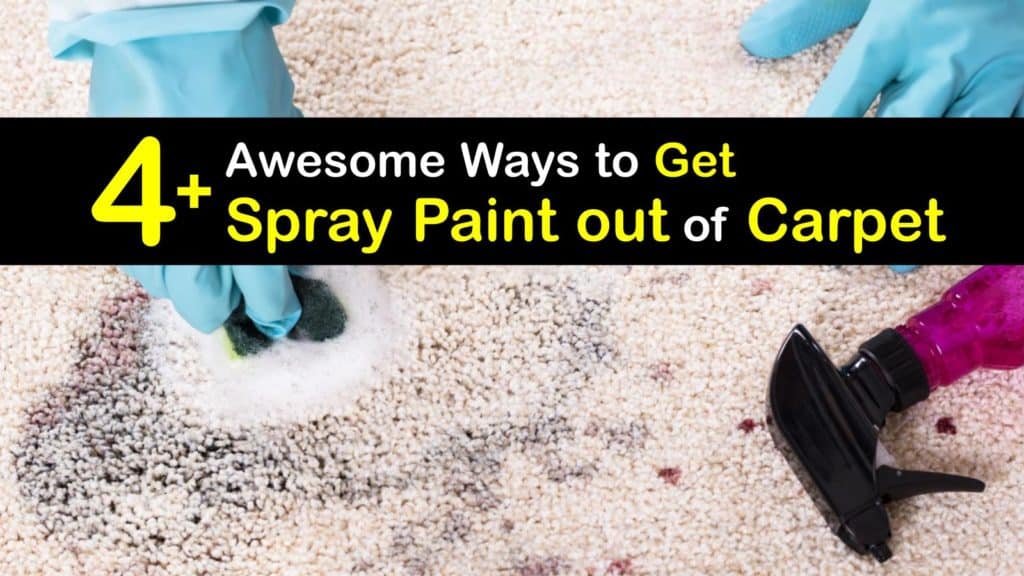 Remove Spray Paint from Carpeting the Easy Way
If you need to learn how to remove paint from laminate floors or carpet in your home, look no further. We provide you with creative ways to use everyday household products as a paint remover.
If you overspray paint from an aerosol can, it is not impossible to eliminate the carpet stains. Although dried paint is often more challenging to get out of carpet fibers, we offer creative solutions to remove wet and dry paint.
If possible, use a carpet cleaner as soon as the paint stains the carpeted surface. If you want to remove dried spray paint from carpet, we show you how to use popular items like nail polish remover to treat the affected area.
How to Get Spray Paint out of Carpet with Dish Soap
The ingredients in liquid dish soap are not only great at eating away at oil and grease, but they are also an excellent paint thinner. To remove spray paint from carpet, use a basic mixture of water and liquid dish soap, in the same way you would for a homemade rug spot cleaner.
This spray paint remover works best on paint with an oil base, like spray paint. In a medium-sized bowl, mix warm water with three teaspoons of liquid dish soap. Pour in the dish soap first and add the water over the top, so the soap mixes in better.
When removing wet paint from carpet, use a damp cloth to dab the affected area repeatedly. Use a clean white cloth soaked in cool water to blot until all the paint is removed. Creating a solution to remove dried spray paint from carpet areas is easy with liquid dish soap.
Remove Spray Paint from Carpet with Rubbing Alcohol
Rubbing alcohol is a fantastic way to remove dried spray paint from carpet, getting spray paint off wood, or to remove paint from glass surfaces. This solvent breaks down oil paint and makes it painless to remove it from carpet fibers.
Perform a small spot test on an inconspicuous area to see if the rubbing alcohol causes discoloration. If discoloration does occur, use dishwashing detergent instead.
To remove dried water based paint from carpet, start by dampening a paper towel with rubbing alcohol and continue blotting the dried paint area for about three minutes. The rubbing alcohol liquifies the dried paint and makes it easy to remove spray paint from carpet.
Use a dry paper towel to blot the area and soak up the liquified dried paint. If the entire paint stain is not removed after the first time, repeat the steps until all the paint is eliminated.
You can also try this remedy for getting acrylic spray paint out of clothes and to get spray paint off plastic, too.
Goo Gone is an Excellent Paint Remover
Goo Gone is ideal for learning how to get spray paint out of carpet. The ingredients in Goo Gone are designed to break down adhesive and dried paint stains. If you have a sizeable dried paint stain, use Goo Gone to get paint off shoes and remove paint from carpet effectively.
Start removing the dried paint stain by scraping away as much of the affected area as possible with a putty knife—vacuum to remove the paint chips. Spray a generous amount of Goo Gone on the paint stain and let the solution sit for 30 minutes.
Blot the area with a clean rag soaked in cold water to remove as much paint as possible. If the entire stain is not eliminated on the first try, repeat the steps.
Remove Spray Paint from Carpeting with Hydrogen Peroxide
Hydrogen peroxide is an alternative to turpentine to remove dried paint stains from carpeting. Hydrogen peroxide destroys the paints' cell walls, making it painless to get rid of the residue.
Note that hydrogen peroxide usually stains darker colored carpeting – only use a hydrogen peroxide solvent on lighter colored carpets.
Pour equal parts cold water and hydrogen peroxide into a spray bottle. Spray the paint stain solution and let it sit for 30 minutes before blotting it with a paper towel. Continue blotting the affected area until you remove the spray paint from carpet.
Remove Dried Spray Paint from Carpet with Acetone
Acetone, better known as nail polish remover, is an outstanding way to remove dried spray paint from carpet areas or to get fingernail polish out of carpet. Nail polish remover breaks down the paint's contents and liquifies it, making it more manageable to get out of the carpet.
Using nail polish remover as a paint thinner is also a magnificent technique because it is inexpensive and only requires a single item commonly found at home.
To get latex paint out of carpet, pour a small amount of acetone over the affected area and gently brush the surface in a circular motion with a toothbrush to loosen up the paint particles. Dab the spilled paint with an old rag or paper towel continuously for about two minutes.
Blot the area with a rag or a paper towel soaked in cold water to remove the stain. To add another step to the paint removal process, pour a little bit of laundry detergent solution on top of acetone.
If you accidentally get paint of any kind on your carpeting, it is relatively straightforward to remove it from your carpet fibers.
Standard household products like nail polish remover, liquid dish soap, and hydrogen peroxide are fantastic ways to loosen dried paint and eliminate the paint stain. It is smart to do a small spot test on your carpeting to ensure the cleaning solution does not leave a discoloration.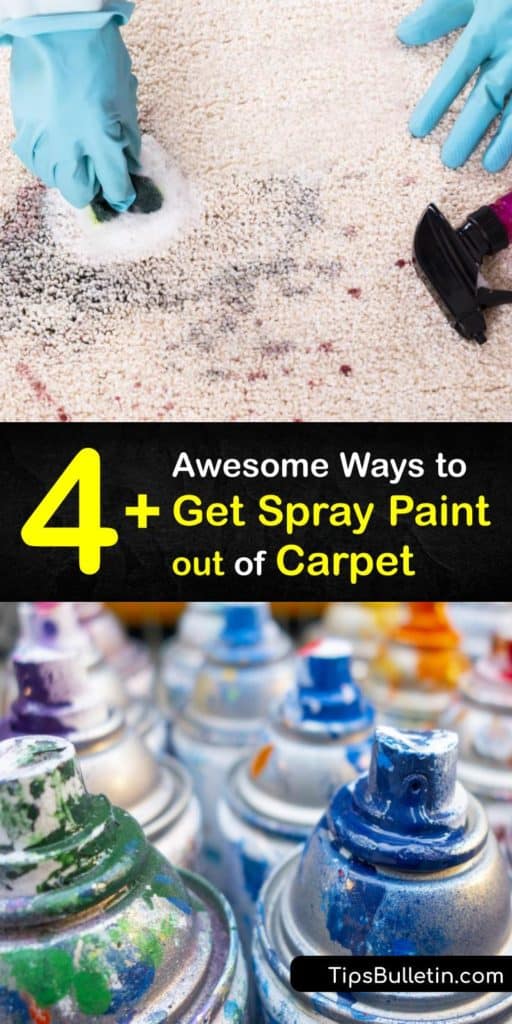 If you learned how to get spray paint out of carpet, share these tricks about spray paint removal with your friends and family on Facebook or Pinterest.