With how much time we spend in our cars, it is crucial to learn how to get stains out of car upholstery. Learning to clean car upholstery stains is vital as it allows us to keep our car's interior looking just as lovely as the outside. The last thing anybody wants to do is ride around in a filthy vehicle; it's much more enjoyable to drive around in a clean and sparkling vehicle.
Cleaning your car interior is just as important as regular car washing; neither is something you want to neglect. Although you might think cleaning your car's interior is more involved than cleaning the outside, it isn't, especially if you keep up on the basic car cleaning care.
Invest in some car seat covers to help protect your upholstery from accidental spills; they might not stop all stains from happening, but they offer some protection. Clean up all spills when they occur. Use a DIY interior car cleaner to dilute the stain and paper towels or an old rag for blotting up the excess liquid.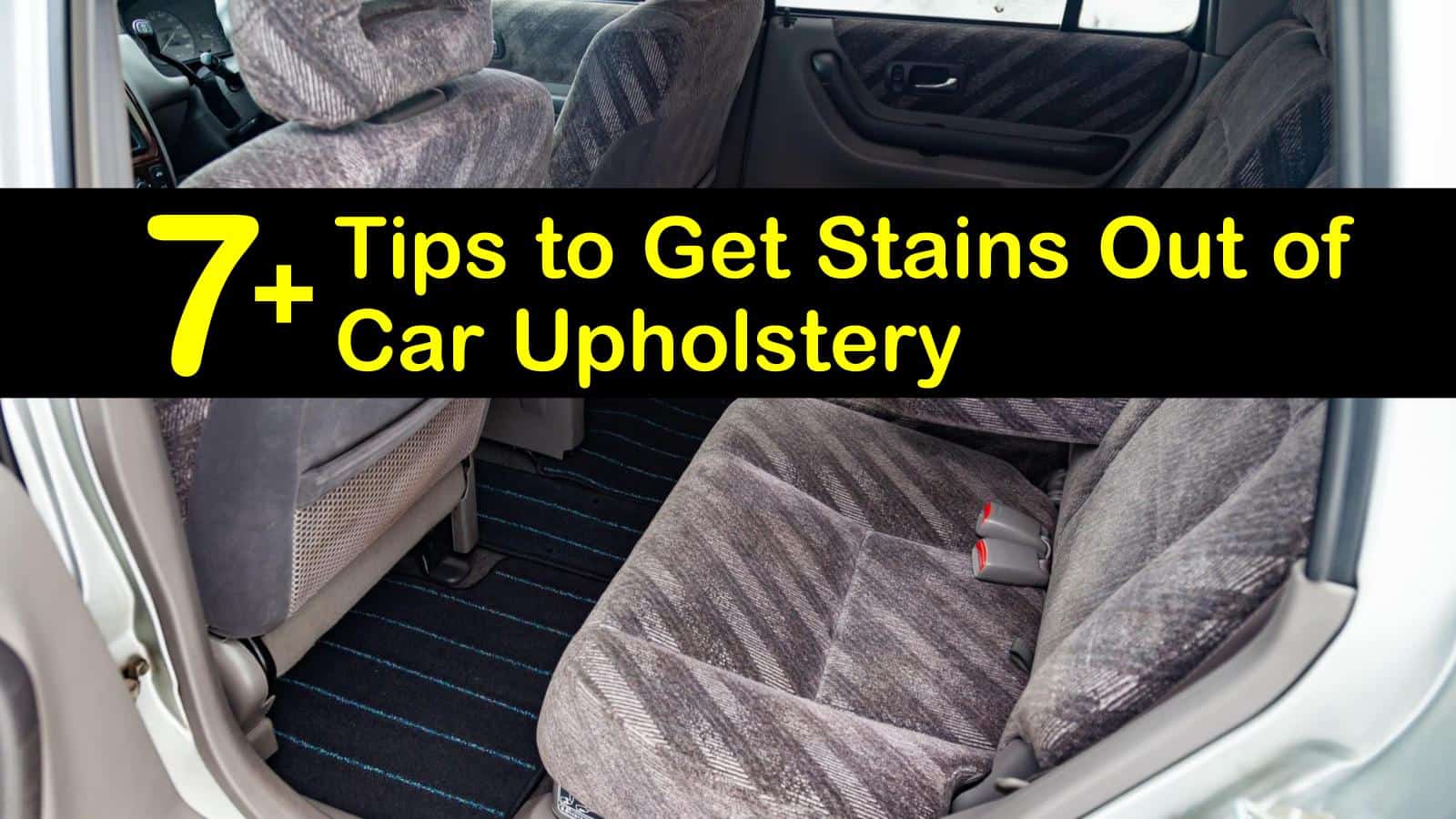 Tips for Cleaning Car Upholstery Stains
To keep your car looking and smelling its best, the first step in the process of cleaning car upholstery is regularly vacuuming the interior, which includes the seats and carpets. Remove floor mats before vacuuming to ensure you cover all areas of the floor.
Regular vacuuming allows you to remove any loose debris and dirt, so it doesn't accumulate in the crevices and get ground into the seats and carpet. It also helps with getting the gas smell out of a car if you recently had a little spill. Steamers remove stains and odor efficiently.
Deep cleaning the carpet and upholstery every three months by hand or using a steam cleaner is recommended to keep the fabric looking like new. You can rent a machine from your local home improvement store to steam clean car upholstery and get fantastic results.
Deep Clean Different Car Upholstery
How you deep clean your car's upholstery depends on whether you have leather, vinyl, or cloth upholstery. Always test small areas when using a do it yourself car upholstery cleaner for colorfastness.
For cloth seats and carpets, mix one cup of vinegar and a few squirts of dish soap with a gallon of hot water inside a spray bottle. Using a scrub brush, gently scrub the vinegar cleaning solution into the seats and carpet. Allow the vinegar to stand for 30 minutes and then rinse with clean water. Blot dry with towels.
Use this spray for a car headliner cleaner, too, but be careful not to saturate the material too much to keep mold and mildew from forming. Blot as much liquid as you can and let air dry. Roll the windows down for better air circulation.
For leather car upholstery mix a low-pH soap with some water in a gallon-sized bucket. Drop a towel into the soapy solution and then wring out excess liquid. Wipe down the seats and allow them to air dry or dry them with a clean towel. Use a leather conditioner after cleaning to prevent the leather from drying out or cracking.
For vinyl upholstery, avoid using any mineral or oil-based cleaners as that causes the vinyl to become stiff. Instead, clean vinyl with a damp rag sprinkled with baking soda. Rinse the baking soda away with a cloth dipped in soapy water and allow it to dry.
Clean Car Upholstery Stains with Glass Cleaner
For stubborn stains on carpeting or seats, or to remove gum from a car seat, try using glass cleaner to break down the stain. If your colorfastness test passes, meaning the glass cleaner doesn't stain the carpet or fabric, you are free to use as much as you need.
Spray the stained area generously with your preferred brand of glass cleaner, make sure it's saturated. Allow it to sit for five minutes untouched and then blot with a towel until clean.
How to Get Stains Out of Car Upholstery with Hairspray
Ink stains happen. Pens burst open unexpectedly, or kids break a pen in the car. No matter the reason, treating these stains with hairspray works wonders.
Spray the entire ink-stained area with your favorite hairspray and allow it to sit undisturbed so that the hairspray absorbs the stain. Wipe up the hairspray with a damp rag.
Ideas for Removing Bloodstains from Upholstery
Never clean up bloodstains with hot water, as the temperature causes the stain to set. The theory is similar to putting stained clothes into the dryer.
Use equal parts powdered laundry detergent and cold water to create a thick paste. Apply generously to the bloodstain and allow it to dry.
Use a bristled brush to remove the dried paste or suck it up with a vacuum cleaner. Make sure to clean up any excess laundry detergent, as leaving residue behind attracts more grime to the area.
Removing Water Stains from Car Upholstery
If you have water stains on your leather or cloth seats, there is no need to panic. Small water stains are easily treated at home, while more extensive stains require the work of a professional detailer.
For cloth seats, start by thoroughly vacuuming to remove all dirt and debris. For hard water stains or saltwater, stains rub a teaspoon of vinegar into the stain with a rag before using shampoo.
Always clean your entire seat with the dry shampoo; only treating the stain makes it more noticeable. Use a soft brush to rub the dry shampoo into the seat, but don't rub too hard as damage may occur.
Wipe up the foam from the shampoo with an old towel and allow the car to air out. Always start cleaning from the front and work your way to the back seat.
Most of the time, once the water dries on leather seats, the stain disappears. If that doesn't happen, use vinegar on real leather to tackle hard water stains; otherwise, use room-temperature water and a microfiber cloth.
Dip the cloth in the water and wring it out, so it is damp and not dripping. Gently rub the stain from the outside first, working your way in toward the seam. Dry the leather with a clean cloth and then give it time to dry naturally before applying a leather conditioner.
Remove White Stains from Darker Car Seats
With dark colored fabric, upholstery white stains become a real problem, and the older your car is, the more significant the issue. Most white stains appear in the worst places, such as where you sit, and sweat is often the cause.
Use two tablespoons of baking soda combined with a small amount of water to create a paste. The paste needs to stick together, don't make it runny. Your fingertips work great to apply the paste to the stained area.
Allow it to sit for two hours. Wipe up the baking soda and the stain with a clean rag. Use a damp cloth to blot up any baking soda residue.
If the stain is still visible, use the baking soda again. If the white stain is mold, use vinegar to remove it, but always test your upholstery before applying vinegar.
Shampoo Your Fabric Upholstery to Remove Stains
If you own a carpet cleaner, put it to use shampooing your car's upholstery. This is the best way to get stains out of car seats. To prevent mold or mildew from setting in, shampoo your upholstery on a warm and sunny day. Vacuum your car and apply stain remover to all stains. Club soda works for most stains on cloth seats; use Dawn on a grease stain.
Decide if you are wet or dry cleaning your upholstery. Wet cleaning runs the risk of mold setting in before the seats dry unless done on a bright, sunny day with plenty of air reaching the wet seats.
For dry cleaning, spray your car seats and carpet with a carpet cleaning foam and allow it to sit for ten minutes. Scrub the foam into the seats and carpet with a plastic brush and then let the foam to dry.
Drying time varies by manufacturer, so read the instructions carefully. Vacuum up the foam and thoroughly inspect your car.
For wet cleaning, fill your shampooer with hot water and carpet cleaning solution. Start the cleaning in the morning so your car has enough time to dry before nighttime. Use the upholstery attachment to apply the cleaning solution to the seats and carpet.
Extract the solution using the extraction attachment on the shampooer. Open the windows and place your car in the sun to allow everything to dry.
Tips for Cleaning Leather Seats
There are several household products available to clean leather. Rubbing alcohol or nail polish remover applied to a cotton ball removes stains from leather. Once it is gone, rinse with warm, soapy water. Non-gel toothpaste and an old toothbrush gently scrubs away stains and only requires rinsing with lukewarm water.
To get stains out of leather upholstery, mix lemon juice and cream of tartar to create a cleaning paste. Apply the stain remover to your leather using your fingertips or a soft cloth.
Allow it to sit for 30 minutes and then wipe away all residue with a damp cloth. Never use this method on dark-colored seats, as it has a bleaching effect. For dark-colored leather, use an approved leather cleaner.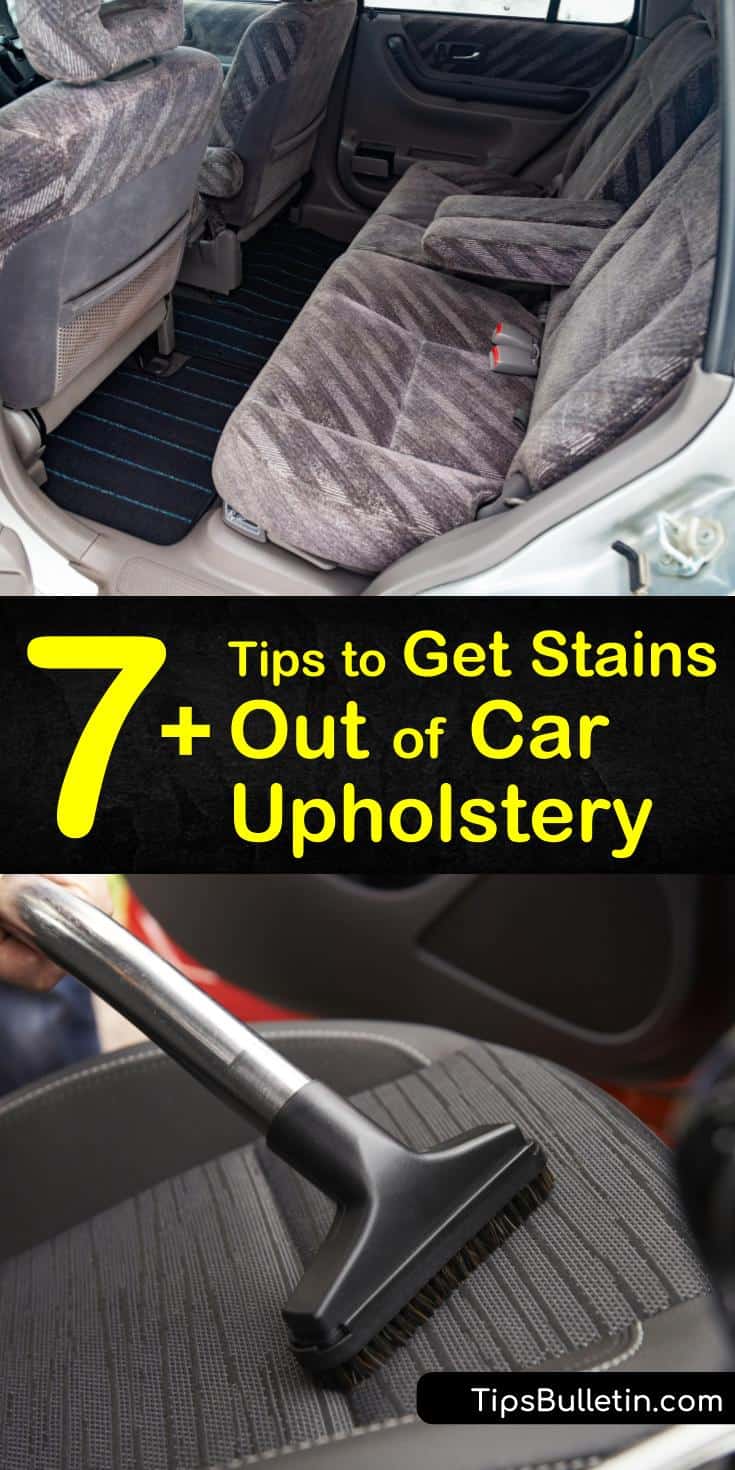 Thank you for reading about the best tips and recipes to clean car upholstery stains. If you found our cleaning tips for removing water stains from car upholstery helpful, please share with friends on Facebook and Pinterest so they can learn how to get stains out of car upholstery correctly.