Discover how to get sticker residue off walls and clean up your space without destroying your wall finish. Stickers on the wall might seem a fantastic idea to a child, but not so much for the one who has to clean them off. Additionally, design choices such as wall decals and double sided tape increase the likelihood of glue residue on your walls.
Painted walls may be damaged if the stickers or glue remains are quickly torn off, making the situation worse. Fortunately, several home remedies make removing sticker residue from painted walls a breeze.
Remove as much adhesive residue as you can with your fingers before you start cleaning. Find easy ways to remove adhesive from the wall without damaging the paint. Check out the following techniques on how to get sticky dots off walls and choose the one best suited to the time and materials you have at home.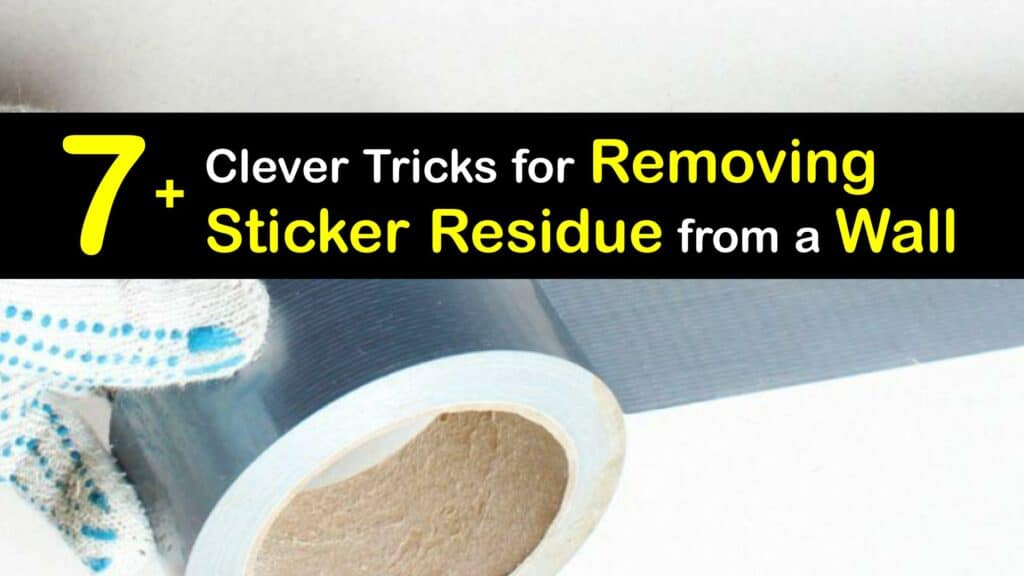 Removing Sticker Residue from Painted Walls
House painting is an investment, whether you purchase paint and spend time carefully adding a personalized color scheme to your home or hiring a painting service. A paint job speaks to your style, and sticker or tape adhesive detracts from this achievement.
The residue after removing an adhesive-back sticker or decal from a surface is sticky, gooey gunk; sometimes, getting rid of it seems downright difficult. Fortunately, figuring out how to get sticker residue off walls doesn't have to be a chore.
Use items you have in your household to safely soften and remove sticker residue. Follow these instructions on removing sticker residue from painted walls or glass, plaster, and wood surfaces.
Eliminating Sticky Residue from a Painted Surface
Whether you taped up posters for your kids, decided to take down a wall decal, or need to remove masking tape after painting, there's often some remaining residue once the adhesive product releases. By nature, adhesives are designed to stick.
These bonds need to be tough to avoid separating from the surfaces they're applied to in an untimely manner, yet this causes some issues with removal.
Adhesives are an essential part of life, from putting up important signage to personalizing a space with stickers or decals, but the sticky streaky marks they leave behind are annoying. Keep your home looking well cared for and clean by erasing sticker residue from your walls.
How to Get Sticker Residue off Walls
If you have nail polish remover in your bathroom cabinets, you already have a powerful adhesive remover. Nail polish remover contains the chemical acetone – a potent solvent for more than just removing your old nail paint. Acetone dissolves glue residue and tacky marks on the walls, so they wipe away with no fuss.
Soak a clean cotton ball or a paper towel in acetone nail polish remover and use it to rub over the sticky residue until all the glue residue lifts. Dispose of the used cotton pad in the trash, wipe the wall with a damp cloth to remove the remaining acetone, and leave it to air dry.
Try this simple solution for cleaning scuff marks off walls and floors, as well. You may be surprised at how well it works.
Erase Sticker Glue with a Hair Dryer
Your hair dryer offers an intelligent method for removing sticker residue from walls or when you need to remove vinyl decals from a wall without damaging your paint finish or wall surface. Use your hair dryer on its highest heat setting to heat the glue, holding the tool at least six inches from the wall.
Every minute or so, use a plastic scraper or putty knife to check if the bond is loose. Once the adhesive is soft, use the blunt edge to scrape it away and dispose of it. Try this simple remedy for getting construction adhesive off drywall surfaces, too. You may be surprised at the great results.
Soapy Water is Ideal for Getting Sticky Stuff Off Walls
Dish soap tackles tough dried-on food residue and greasy, sticky food stains. Harness the cleaning potential of liquid dish soap for a budget-friendly and straightforward way to get sticky marks off your walls. Try it to get sticker residue off painted metal, too. You may be surprised at how well it works.
Shake the soap and water in the spray can until combined and saturate the glue residue. Use a clean cloth to scrub back and forth over the adhesive until you remove as much as possible, and leave the wall to air dry. Inspect the area for signs of remaining glue, and repeat until no more marks are visible.
Olive Oil is an Adhesive Remover for Stubborn Sticker Marks
Olive oil is a simple item for removing sticker and tape residue from your walls without making a trip to the store for specialized tools. Most adhesives, whether wall decals, stickers, or tapes, are oil-based – diluted by excess oil. The same is true for cleaning marker off walls if you find evidence of your child's artwork in the wrong place.
Applying any kind of olive oil or baby oil to the adhesive residue means the oil floods the adhesive, and the glue particles become so dispersed that they lose their cling and are easy to lift.
Dunk a paper towel or clean rag in olive oil and saturate the stain, rubbing it in to ensure full coverage. Let the oil soak into the glue marks for at least 20 minutes before wiping away what you can. Repeat the process until all the adhesive residue is gone and your wall is clean.
White Vinegar for Removing Sticker Residue
Many people associate white vinegar with pickling and stain removal, as well as removing nicotine stains from walls and ceilings, yet it's also invaluable for lifting stubborn glue remnants from walls. Distilled white vinegar contains acetic acid, which attacks the bonds in the adhesive, so they degrade, making it effortless to peel off the wall.
Distilled white vinegar is available at most grocery stores, makes an inexpensive sticker adhesive remover, and you can reuse the leftover vinegar in other home hacks.
Heat the vinegar in the pan until it's warm, not boiling, and use the soft cloth to saturate the sticker glue in the vinegar when you need to remove sticky residue on wood. After the vinegar sits on the residue for a few minutes, peel it away and wipe down your wall with a clean damp cloth. White vinegar is safe for many wall types, from painted surfaces to wood.
A vinegar solution is well-known as the best homemade adhesive remover for concrete surfaces, too, whether you are working with a cement wall or driveway.
How to Get Sticky Dots off Walls Using Your Heat Gun
Like a hair dryer, a heat gun uses a high temperature to melt sticker residue to make it easy to remove. Heat breaks down the bonds holding the adhesive particles to the wall, making the residue soft and pliable.
Start on the lowest heat setting, holding the heat gun at least eight inches from the wall. Check the adhesive every 30 seconds for signs of loosening. Slowly increase the temperature as needed until the glue marks scrape away readily with a razor blade or another fine edge.
Get Sticky Stuff Off a Painted Wall with Commercial Products
If you don't feel confident using home remedies to erase ugly sticker residue and tape marks from the walls in your home, consider purchasing a commercial adhesive remover such as Goo Gone Spray Gel.
Store-bought adhesive cleaners are often made from strong chemical solvents that need to be used with care to avoid causing harm to people and the walls.
Before you shop for a cleaner, take note of what types of surfaces you plan to remove adhesive marks from and select a cleaner recommended for these materials. Always use chemical solvents per the label directions to achieve the best results.
Precautions When Removing Sticky Marks from Walls
While it's not hard to eliminate glue streaks or tape residue from the walls, there are a few precautions to avoid ruining the wall finish. Always work with light pressure when scraping away glue; pressing too hard leaves behind deep scratches which look unsightly and create their own challenge to repair.
Choose non-abrasive cleaners to prevent unintentional wear on your walls. Some cleaners, such as white vinegar, may lighten darker colored paints, while others, like chemical solvents, may fade your walls. Test cleaning solutions on a tiny hidden area of your wall before making a widespread application.
Knowing how to get sticky dots off walls lets you benefit from all the advantages of adhesive tapes or personalizing your space with stickers and decals without worrying about long-term wall destruction.
Glue marks, tape residue, and sticker stains are unsightly. Wall adhesive is intended to stick, forming strong links to the wall surface, making a tricky removal process if you don't have the correct information. Explore simple techniques to get the glue off your walls and use stickers, decals, tape, and more with confidence.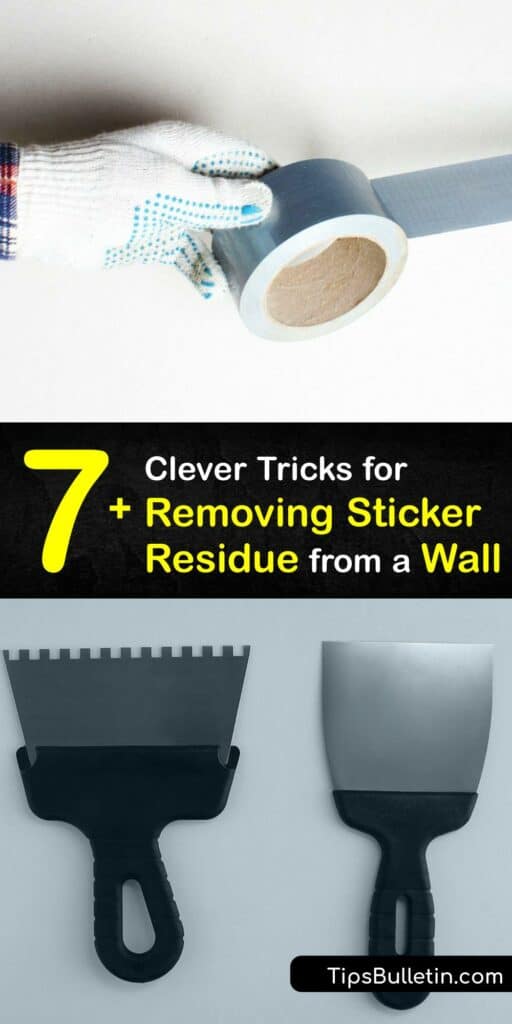 If you loved this article on how to get sticker residue off walls, please share these brilliant ideas for removing sticker residue from painted walls with your friends and family on Pinterest and Facebook.