If you struggle to get unpleasant smells out of your workout clothes after the wash, lingering bacteria from sweat may be the culprit. To avoid throwing away clothes with sweat stains or a musty odor you can't remove, learn how to get sweat smell out of clothes.
Odors in your clothes after working out are common due to apocrine glands in the armpits. These glands release secretions and, when mixed with odor causing bacteria, create body odour and smells that become trapped in your gym clothes.
While your activity level and sweat contribute to stinky workout clothes, the fabric is another major factor in the underarm odor in your clothes. Most workout clothes use synthetic fabric that wicks away moisture to avoid musty smells. Clothes made with cotton hold onto moisture; cotton clothes develop more microbial growth after absorbing sweat.
How to Get Sweat Odors from Clothes
When eliminating sweat odor in the laundry, there are relevant factors to consider. The tight weaving in most workout clothes makes it difficult to remove sweat odours due to the fabric holding onto more bacteria. When washing smelly clothes, use warm water on a short cycle to lift bacteria and smells from your clothes.
Pre-treating Clothes with Vinegar
If the washing machine isn't getting rid of the bad smell in your clothes, pre-soaking your clothes is effective to help with removing sweat smells from clothing.
Whether you're removing stains or a mildew smell from your clothes, pre-soaking helps stains and smells come out easier in the wash. The acidic nature of vinegar is effective for treating clothes because vinegar breaks down stains. You'll find that cleaning with vinegar will make your dryer smell better if it gets stinky, too.
Soak the stained areas with a mix of water and vinegar for at least an hour. After soaking, rinse your clothes with warm water before washing them according to the fabric's label direction.
How to Remove Sweat Odors from Clothes
Removing gym clothes after working out is essential for your skin and body and ensuring your clothes don't hold onto odor. Instead of tossing damp workout clothes directly into the wash or a basket, hang them inside out to dry first. Allowing your clothes to dry avoids excess bacteria growth caused by your clothes remaining wet with sweat.
When it's time to wash your clothes, always wash them inside out to focus on cleaning the dirtiest portions. Although stains typically occur outside clothes, workout clothes are dirtiest in the places that directly touch the skin. Washing clothes inside out helps reduce fading and pilling while targeting sweat stains and odor.
Using Baking Soda to Remove Sweat Odors
Baking soda is an everyday item often found inside refrigerators as an odor eliminator. The same properties that help sodium bicarbonate fight odors work when using it as a washing soda to boost the cleaning powder of laundry detergent and leave you with fresh smelling laundry that lasts for days.
To eliminate odors in smelly clothes, add half a cup of baking soda to your regular washing cycle. As a pre-treatment, add 1/2 cup of baking soda to a sink full of warm water. Submerge your clothes in the sink and leave them to soak overnight.
Will Aspirin Remove Sweat Odors?
Although over-the-counter aspirin may not seem like a go-to supply for odor removal, the salicylic acid in aspirin is beneficial when learning how to remove sweat odors from clothes. To make aspirin effective, combine it with cream of tartar, an acidic ingredient that neutralizes odors.
Fill a bowl with water and add aspirin before mixing in cream of tartar. Use an old toothbrush to scrub the sweaty areas of your clothes. Leave the aspirin solution on your clothes for 20 minutes. Wash and dry your clothes as usual.
How to Use Ammonia for Odor Removal
Ammonia is a strong cleaner used for various cleaning jobs around the house. As an alkaline solution, ammonia removes acidic stains and smells out of fabric.
Ammonia works well as a pre-wash treatment or when included in the laundry. Never use ammonia and bleach simultaneously, however. These two chemicals create a volatile reaction. To get underarm smell out of clothes, include one-fourth cup of ammonia with your laundry detergent in a regular wash cycle.
Getting Sweat Smell Out of Clothing with Lemon Juice
The strong acidic properties of lemon juice make it effective as a household cleaner. Lemon juice also brightens white clothes and removes unwanted odor. It can even get rid of bacon smell in your clothes if you notice a lingering bacon aroma after cooking.
Here is how to remove sweat odors from clothes using lemon juice. Mix store-bought juice or the juice from three lemons in a warm water bucket. Soak your clothes in the water for at least 30 minutes before rinsing under cool water and hanging them to dry.
How to Get Sweat Smell Out of Clothes with Mouthwash
Mouthwash contains antiseptic ingredients that kill bacteria and leave behind a refreshing scent. Mouthwash kills bacteria in the mouth and neutralizes odors. These same properties remove lingering odors in gym clothes.
Getting sweat smell out of clothing or if you need to remove strong mildew odor from clothes with mouthwash is simple. Soak the smelly areas of your clothes in a few capfuls of mouthwash or add a cup of mouthwash to the laundry to reduce unpleasant odors in your clothes.
Note: When cleaning light-colored clothing, test in an inconspicuous area to check for staining.
Kill Odor Causing Bacteria with Salt
Besides its use as a seasoning, salt has strong antibacterial effects that kill bacteria that cause sweaty clothes to stink. Soak clothes in salty water to eliminate odor from the underarm areas of your clothes.
Pour salt into a bowl of warm water, stirring to dissolve completely. Use a sponge to soak the areas of your clothes that smell before washing your clothes.
Using Dryer Sheers for Sweat Smells
Dryer sheets reduce static cling in the dryer and avoid excess lint on your clothes. Dryer sheets are coated with freshening agents that leave clothes smelling fresh after coming out of the dryer.
If your clothes smell like sweat after doing the laundry, dryer sheets reduce lingering odors in your workout clothes. If you don't have time to rewash your clothes, toss your gym clothes in the dryer with several dryer sheets to boost freshness without washing.
Soaking Clothes to Get Rid of Sweat Smells
To help with removing odors, soak your clothes in a bucket of water mixed with your regular laundry detergent or odor fighter before you wash your workout clothes. Various commercial items pre-treat stains and odors before clothes make it to the wash.
Follow the label instructions to mix your pre-treatment in a bucket of cold water or in the kitchen sink. Soak your clothes for at least thirty minutes before adding them to the wash.
Tips for Avoiding Sweat Smells in Clothing
Wearing antiperspirant is one common suggestion for avoiding excess sweating and smells while working out. To avoid sweat staining your clothes and causing them to smell, remove and wash your clothes as soon as possible after your workout. Allowing clothes that are damp with sweat to sit allows the bacteria to grow and smells to worsen in your clothes.
When washing workout clothes, avoid using fabric softener because the properties of fabric softener do not mix well with the fabric used in most athletic wear. Because most workout gear uses moisture-wicking fabric, it is difficult to get completely clean as water and detergent struggle to penetrate the tightly-woven fabric.
Fabric softener coats fibers and traps bacteria in the fibers during the wash cycle. Avoid adding softeners to the laundry, and swap it for baking soda or vinegar to remove odors and soften your clothes.
Removing Sweat Stains
Sweat is colorless; however, once the sweat mixes with deodorant and bacteria on your skin, it causes an unsightly stain on your workout clothes. There are easy methods to remove deodorant stains from black clothes when these stains appear. Wearing antiperspirants reduces the amount of sweating, but if your clothes hold onto stains no matter how often you wash them, try a home remedy for stain removal.
Mix distilled white vinegar with warm water and soak your stained clothes for about 30 minutes. If stubborn stains do not fade after soaking in vinegar, use hydrogen peroxide to blot the stain.
Unlike bleach, hydrogen peroxide is safer to use on most fabrics and colors without damaging the color of your clothes. Leave the hydrogen peroxide on your clothes for thirty minutes before washing your workout gear according to the label instructions.
Removing sweat smell from laundry isn't tough; however, properly cleaning your clothes goes a long way to avoiding unwanted odors in your workout clothes.
We hope our tips help you tackle sweat smells in your clothing. However, the best way to remove odors is to dry and wash your athletic clothing properly to remove sweat and bacteria from your clothes.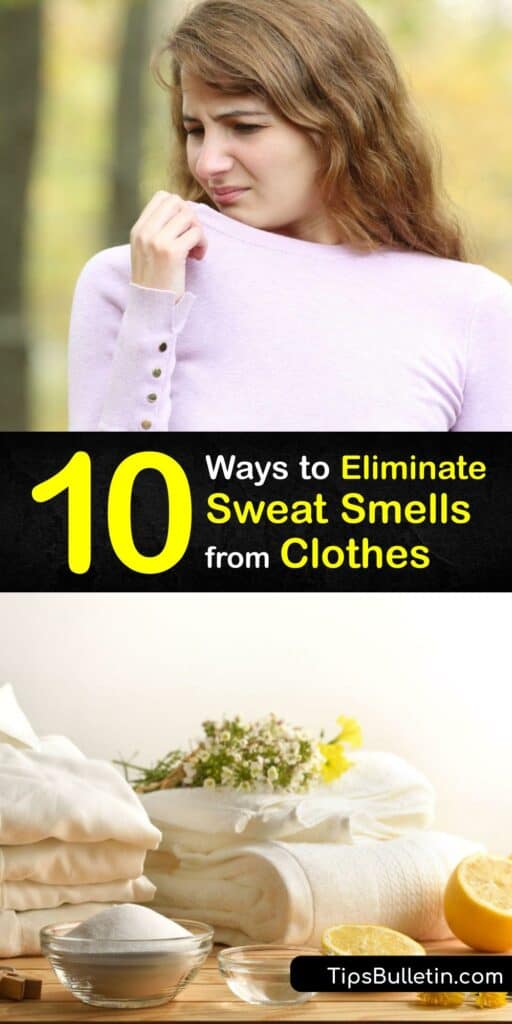 If you learned how to get sweat smell out of clothes with our guide, please share our advice on getting sweat smell out of clothing with your workout buddies on Facebook and Pinterest.