A musty or wet carpet smell fills the room with a less-than-desirable scent that lingers and permeates other materials. It not only smells terrible but mildew and mold spores can pose a health risk to you and everyone else in the house. Learn how to get the mildew smell out of carpet to keep your home smelling fresh and your family safe.
Various smells get into carpets, and mildew is one of the worst. It's usually the result of excess moisture seeping into the carpet padding and fibers, leading to mold growth and a foul odor. Mold remediation is necessary to get the rugs clean and remove the bad smell.
The cleaning method you choose depends on the severity of the carpet mildew problem. Consider calling a professional carpet cleaner if the carpet fibers have excessive mold growth. Otherwise, there are several home remedies for a smelly carpet without the high cost of a cleaning service.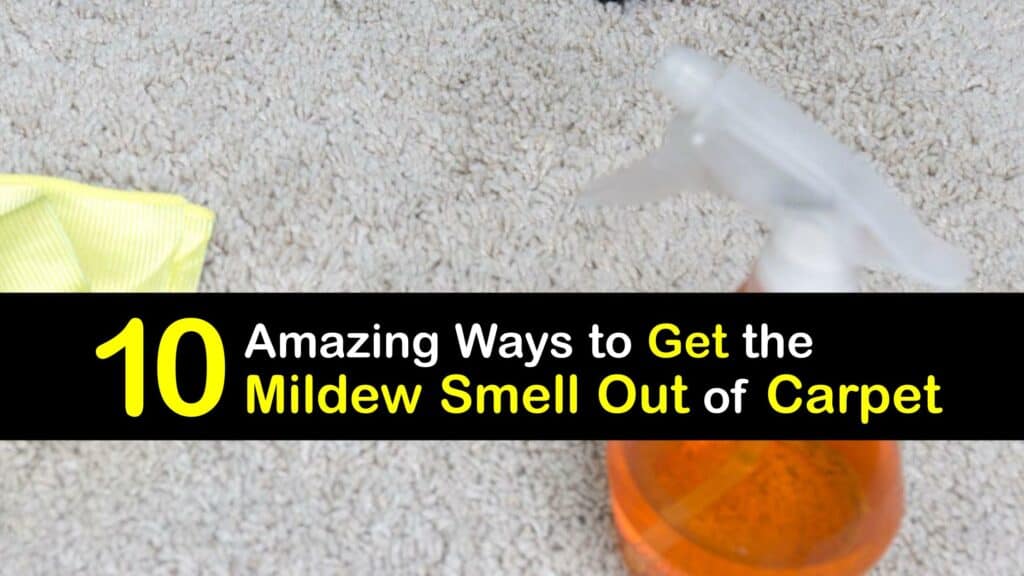 Ways to Remove Mildew Smell From Carpeting
Carpet cleaning is necessary, especially when dealing with a mildew problem, since mildew spores spread quickly. Discover several basic and advanced ways to clean mold in the carpet with baking soda and get mold odors out of carpeting and area rugs.
What Causes a Mildew Smell in the Carpet?
We're all familiar with musty odors in a basement or garage, but what causes a mildew smell in the carpet? Learn why a rug smells moldy and why you need to clean a disgusting carpet or rug to remove the odor.
Carpet Mildew
Moisture is the leading cause of a mildew smell in rugs, whether from high humidity, a spilled drink, overwatering houseplants, or flooding from heavy rains. The water seeps into the carpet and pad. If you do not dry the rug immediately, mold and mildew begin growing in the carpet fibres.
Although mildew does not cause a health risk to everyone, it may cause adverse effects on those sensitive to mold. It's wise to hire a carpet cleaning service if you have allergies to prevent adverse reactions.
Removing Mildew Smell From Carpeting
There are a couple of things to do before using carpet shampoo or another cleaner to remove a mildew smell in the carpet. Follow some steps beforehand for the best results.
Dry the space as much as possible by turning on the HVAC system or opening windows to let fresh air circulate. Turn on ceiling fans and point floor fans at the affected rugs to help them dry. Once the carpet is completely dry, vacuum the floor to remove mildew residue.
Remove Mildew Smell From Carpeting
Acetic acid, or white vinegar, kills bacteria, mold, and odor-causing germs, and it's safe to use on most carpets. Use vinegar to remove a mildew smell from rugs.
Combine two cups of distilled water and one cup of vinegar in a spray bottle, shake it well, and spray it lightly over the smelly carpet. Spray just enough to coat the fibers without making them too wet, and allow them to dry thoroughly. Finish by vacuuming the rug to suck up the dried vinegar and mildew odor.
How to Get the Mildew Smell Out of Carpet
Sodium bicarbonate, or baking soda, has many household uses and is excellent for getting mildew smell out of carpet. It has natural, odor-absorbing power, and you can use it alone or combine it with vinegar for tough odors.
If the carpet smell is mild, shake an even layer of baking soda over the surface, let it sit through the night, and vacuum the debris in the morning. For stubborn mildew stains, spray the carpet lightly with one part vinegar and two parts tap water. Sprinkle baking soda over the top, and allow it to dry thoroughly before vacuuming.
Using Hydrogen Peroxide to Get a Musty Smell Out of Carpets
We're all familiar with the power of hydrogen peroxide for cleaning cuts and scrapes. However, it's also effective against bacteria, fungi, spores, and other microorganisms. Explore how to remove mildew smell from an area rug or carpet with this miracle liquid.
Mix five parts distilled water with one part hydrogen peroxide in a spray bottle, shake it well to combine, and spray the liquid lightly over the stinky carpet. If it's an area rug, hang it over a chair or railing and apply the cleaner to both sides. Let it dry and check if odors remain.
Removing Mildew Odor With Foam Carpet Shampoo
Use a foam carpet shampoo for a straightforward approach to removing mildew smell from carpet. There are many of these products on the market, ranging in strength, and they are easy to use for removing carpet odor.
Follow the instructions for your carpet cleaner brand and spray the foam over the affected area. Work the cleaner into the fibers with a sponge, and leave the rug until it's dry. Vacuum the treated area to remove cleaning residue.
Steam Cleaning the Carpet to Eliminate a Musty Odor
Try a steam cleaner if you still notice a lingering scent after drying the wet carpet and using vinegar or baking soda. The machine uses heat and a cleaning liquid to lift away leftover residue, and it's a great way to give your carpet a clean, finished look.
Steam cleaner manufacturers have varying instructions for carpet and upholstery cleaning, so follow the directions for your particular model by filling the tank with hot water and cleaning solution.
Clean the dirty carpet by starting at one end and working to the other with overlapping passes. Let the rug dry and vacuum to fluff up the carpet fibers.
How to Remove Mildew Smell From an Area Rug
If your area rug smells like mildew and is machine-washable, you're in luck since your washer is the best tool for removing foul odors. Discover how to remove mildew smell from an area rug in the washing machine.
Place the area rug into the washer and add a few towels to balance the machine during the spin cycle. Add your favorite laundry detergent and clean the carpet with cold water on the gentle cycle. When the rug is clean, remove it from the washer and hang it up to air dry.
Freshening Rugs with Homemade Carpet Deodorizer
The easiest way to eliminate mild carpet odor is with a carpet deodorizer. Make a homemade freshening powder to eradicate all types of carpet smells, including mildew, and leave the room with a pleasing scent.
Pour two cups of sodium bicarbonate into a glass Mason jar and add the lime, lemon, and orange essential oils. Close the lid and shake the powder gently to mix. Poke holes in the lid and shake the powder over the smelly rug.
Wait a couple of hours as the powder absorbs odor and the oils release their scent and vacuum the carpet with several passes.
Tips for Preventing Mildew in Carpets
Carpets are challenging to clean, and removing bacteria and fungi take time and effort. Explore some tips for preventing mildew and mold growth in your rugs to ensure you spend more time on what you enjoy.
Consider portable humidifiers in the house if you live in a humid area. Avoid opening the windows when humidity is high. Try to get the humidity level to 65 percent or lower to maintain mold-free carpeting.
Additionally, keep the temperatures lower with air conditioning since mildew grows quickly when the temperature is 80° and higher. Perform routine air duct cleaning, and replace filters as needed.
If you have an accidental spill or leak, dry the rugs immediately with fans and clean them with vinegar and baking soda. Organic carpets like wool are more prone to mold growth than nylon and other synthetic rugs. Place inorganic rugs in rooms where you expect dampness.
No one wants to deal with smelly carpets, especially if the odor is from mildew and mold growth. Luckily, there are simple ways to remedy a bad carpet smell with carpet shampoo or DIY solutions like vinegar and baking soda.
Now that you understand how to get the mildew smell out of carpet with the proper carpet cleaner, why not share our carpet mildew cleaners with your family and friends on Pinterest and Facebook?