How to get tie dye off hands may be something you have wondered about. Tie-dye is a color pattern created by using tight rubber bands or strings to keep the color from reaching some fabric parts while dyeing others.
In just a few simple steps, make unique patterns and designs on a shirt, tote bag, headband, and more using this dying technique. Tie dye is easy and fun and an excellent activity for birthday parties or family gatherings, but it's also messy.
When the fun is finished, and you have to remove tie dye from your hands, getting clean is challenging. Just like a hair dye stain from hair color, a tie dye stain is often challenging to remove from your skin and clothes, leaving you wondering how to get tie dye off your hands.
The Rit dye used for tie dying comes in many vibrant colors, perfect for a tie dye mask or sweater, but not so great when it stains your skin. Fabric dye stains on your hands are annoying and unprofessional, leaving you to find out how to remove tie dye from your hands.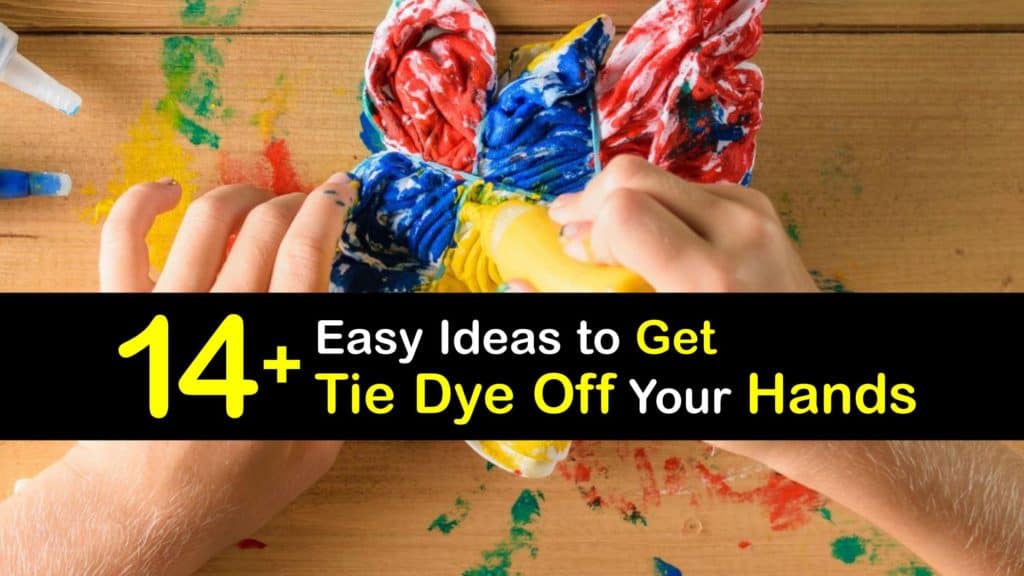 Best Tips to Remove Tie Dye From Your Hands
After having a great time making tie dye items, you likely have dye from the dye bath and squeeze bottle staining your skin. Even taking precautions like wearing rubber gloves doesn't always stop dye transfer.
There are various methods for removing tie dye from your hands, and you probably already have the supplies on hand. Baking soda, vinegar, and nail polish remover are just a few examples of valuable household items for stain removal.
Most dyes are fiber reactive dyes, which aren't hazardous if a small amount gets on your skin. Many tie dye kits also use food coloring as a safe alternative.
If you're performing art activities with kids, keep an eye on them to ensure they don't get any dye in their mouths and don't breathe in the color powder if it's not edible coloring.
If you love making a tie dye shirt but hate a tie dye stain on your hands, try one of our at-home remedies to remove the excess dye from your sensitive skin with ease.
How to Get Tie Dye Off Hands – Act Fast
You may not have to use any products at all if you get to the sink quickly enough after noticing the stain on your hands. To save time later trying to remove the color from your skin, clean your hands with a bit of soap as soon as possible.
Before dyes stain your hands completely, they must soak in for a while. If you get tie dye on your hands, wash and scrub them in the sink quickly to help avoid this.
Use Baking Soda to Get Tie Dye Off Your Hands
Baking soda is a popular and effective way to remove tie dye from your hands. Well known for its cleaning prowess and whitening properties, this white powder is a versatile cleaner, and best of all, you likely have it in your kitchen. It breaks down the dye's active chemicals, and it's effective at eliminating dye from your clothing too.
Combine and rub the paste on your hands like hand soap. Work the mixture into your skin, paying particular attention to persistent stains. Rinse your hands with warm water and repeat if necessary until all the pigment is gone.
Baking soda might irritate some skin. If you're unsure about how it will affect your hands or have sensitive skin, test it on a minuscule area of skin to see if it creates any redness or discomfort.
Remove Excess Dye with White Vinegar
As well as being tasty, white vinegar has many applications in cleaning and is known for its stain lifting power. As white vinegar is a natural and edible product, there are no safety concerns with using this handy ingredient to remove tie dye from your hands.
Dip a cotton ball or the edge of a paper towel into the vinegar and gently rub at the dyeing areas. Working in a circular motion helps lift the pigment without damaging your skin. Rinse your hands with warm water and repeat as needed until the unwanted color disappears.
Use vinegar to get dye out of clothes and other fabrics, too, but be careful not to rub the stain. Dab instead so you won't spread it.
Rubbing Alcohol to Get Tie Dye Off Your Hands
Rubbing alcohol is an excellent solvent for removing various stains, including food coloring and hair dye stains. It's available at most pharmacies, is relatively inexpensive, and you likely already have some in your first aid kit.
A modest amount of rubbing alcohol administered on the soiled area eliminates the stain quickly and effectively.
Consider a less harsh stain removal solution if you have sensitive skin or experience sensitivity from rubbing alcohol. Test the rubbing alcohol on a tiny area of your hands first to ensure no redness or irritation occurs.
Exfoliate to Remove Tie Dye from Your Hands
Exfoliating removes light layers of debris and dead skin, not pigment; therefore, eliminating tie dye stains with exfoliation alone may not be as effective as more intensive treatments.
Scrubs, face washes, and pumice stones are all common exfoliators. Attempt exfoliating the tie dye away or to get Super Glue off hands with salt if you don't want to use chemicals to remove the color from your hands.
To avoid causing inflammation, try washing your hands with a light exfoliant. Make a simple exfoliant by mixing sugar and oil or adding sugar to your favorite moisturizer. Repeat exfoliation as needed but always stop if your skin feels tender or you notice redness.
Hydrogen Peroxide
Hydrogen peroxide is well known in the cleaning world for its stain lifting and brightening properties. This handy chemical is something you probably already have at home and is the answer to quickly removing inconvenient excess dye from your hands.
Grab your hydrogen peroxide from the first aid cabinet and apply a generous amount to a cotton ball, soft cloth, or paper towel. Rub the hydrogen peroxide in circles over the unwanted areas of color. Rinse off your hands carefully in warm water and dry when the stain is gone.
Baby Oil for Removing Tie Dye
Use oil-based products to remove tie dye from your skin. Oil-based moisturizers or pure baby oil are fantastic options for persons with sensitive skin because they remove tie dye far better than soap.
Apply the oil gently into the stained areas. It might take several minutes for this procedure to work, and you may have to repeat the process to remove all of the tie dye stains from your skin.
When scrubbing your hands, use baby oil to keep them from drying out. Use baby oil if you want to keep your child's skin hydrated while removing any dye from their hands. If you don't like the feeling of oily hands, try an oil-based moisturizer instead of baby oil.
How to Get Tie Dye Off Hands – Olive Oil
Olive oil is an excellent choice if you have sensitive skin or prefer to remove dye from your hands without using harsh chemical cleaners. Oil fades stains more effectively than conventional soap, and all you have to do is rub the oil into the colored area to break down the dye.
This method of removing tie dye takes longer than just washing with soap or using a more aggressive cleaning solution. Work the oil into the dyed regions for ten to fifteen minutes.
Depending on how much skin you're cleaning, you may require extra oil. If your hands are full of dirty colored oil, rinse with warm water, reapply oil and continue rubbing. Repeat until your skin is clean.
Nail Polish Remover for Dye Stains
If you're struggling to get the dye from your hands, use nail polish remover and a cotton ball. First, wash your hands to eliminate any excess dye that comes off with water and soap.
Apply nail polish remover to a cotton ball and swipe it across your skin to gently remove the remaining dye. Make sure to wash your hands after you've gotten all of the stain off.
How to Get Tie Dye Off Hands – Bleach
Only perform this tie dye removal process if you must get rid of the bleach as soon as possible. Bleach is harsh on the skin and is not typically safe for prolonged use. If you dyed your hands by accident before a big event and getting them clean is urgent, bleach helps.
While adults are aware of the hazards of bleach, children are not. Because children are more likely to put their hands in their mouths, bleach is not suitable for removing tie dye from their skin.
Oxygen bleach is the best choice to remove the dye as it's environmentally friendly, and produces soda ash, a natural compound.
Scrub your hands gently in the bleach water, using a scrubbing brush or a soft skin brush if needed. Avoid keeping skin submerged in the water for longer than required, and rinse your hands well as soon as the stains lift.
Wash your hands with gentle soap for a full minute before rinsing again to ensure all traces of bleach are clear. This method may irritate your skin even if you don't typically have sensitive skin, and is the last resort to get tie dye off your hands.
Toothpaste to Clean Tie Dye from Your Hands
Toothpaste is well known for its cleaning, stain removal, and whitening properties. If your toothpaste contains baking soda, you also get all the above benefits. Like you use toothpaste to remove stains from your teeth, try to remove loose dye from your hands.
To get food dye off your hands, squeeze a generous amount of toothpaste into your hands and rub it in, much like you would a hand soap or moisturizer. Use your fingers to work the toothpaste into heavily stained parts or areas of deep color. Rinse your hands carefully and repeat as necessary until all the dye has faded.
Rubber Gloves
Donning rubber gloves before you open your Rit dye or food coloring for tie dyeing is a great way to ensure you don't end up with an unwanted dye stain on your skin.
Many tie dye kits come with a pair of rubber gloves. Wear gloves while handling the dye bath, squeeze bottle, and any dyed fabric to minimize or completely prevent the transfer of color to your hands. This small preventative measure saves you time trying to remove stains later.
Tools for Washing Hands after Tie Dyeing
Since excess dye transfers quickly to fabric, having the correct tools to remove tie dye from your hands is vital. A paper towel or cotton ball is excellent as they are soft and non-abrasive on sensitive skin and discardable after use.
Avoid New Fabric Products
When you get dye off your skin, it stains any fabric items you have close. Always use an old towel to dry your hands, especially after the first wash, and keep clothes and other valuable upholstery out of reach.
Commercial Stain Removers
If you've tried everything and still can't remove the stains from your hands, professional stain removal products may be necessary. Commercial products can assist you in getting your skin stain-free.
Hair dye removal wipes, for example, are readily available at many beauty salons or beauty stores. These wipes remove stubborn hair colors from the skin and work well on tie dye.
While these stain removers are great for removing pigment from your skin, they include harsh chemicals, so save them for when nothing else works, and you need your hands to be stain-free.
It's critical to thoroughly wash your hands after applying any dyes and avoid eating with unwashed hands. It's safe to eat with your hands if you have cleaned them and there are some stains but no leftover loose dye, but we recommend trying your best to remove all of the pigment first.
Prolonged washing or scrubbing is hard on your hands and leaves them feeling irritated and sore. If your skin feels dry after removing unwanted tie dye, use a moisturizer to rehydrate the damaged skin and take a break from vigorous hand washing until the inflammation goes down.
Try one of the handy methods above, choose ingredients you already have at home, and quickly remove any unsightly tie dye from your skin.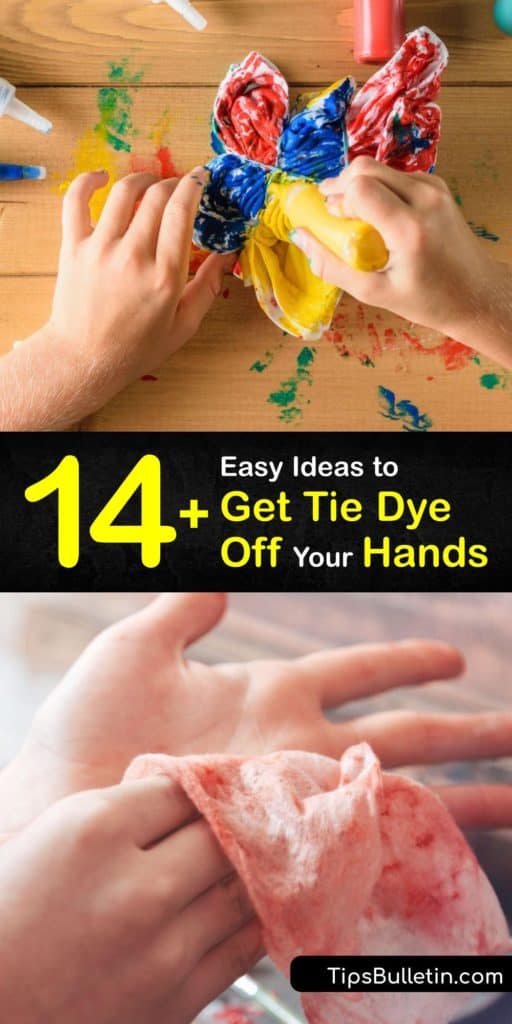 If you loved this article on how to get tie dye off hands, share these brilliant tips to get tie dye off your hands with your family and friends on Pinterest and Facebook.