Whether from a tear in your rubber gloves while making a tie dye shirt or an accidental spill, removing fabric dye from your skin may seem challenging. This article guides you on how to get tie dye off your skin effectively.
Tie dyeing has a long history worldwide, taking on different forms of application through resist dyeing to create the desired result on clothes and craft items for kids like slime.
The change from household dye to fiber reactive dye, along with the use of rubber bands, primers such as soda ash, and squeeze bottle applicators, has made tie dyeing a simple process; however, these tools do not make staining any more avoidable.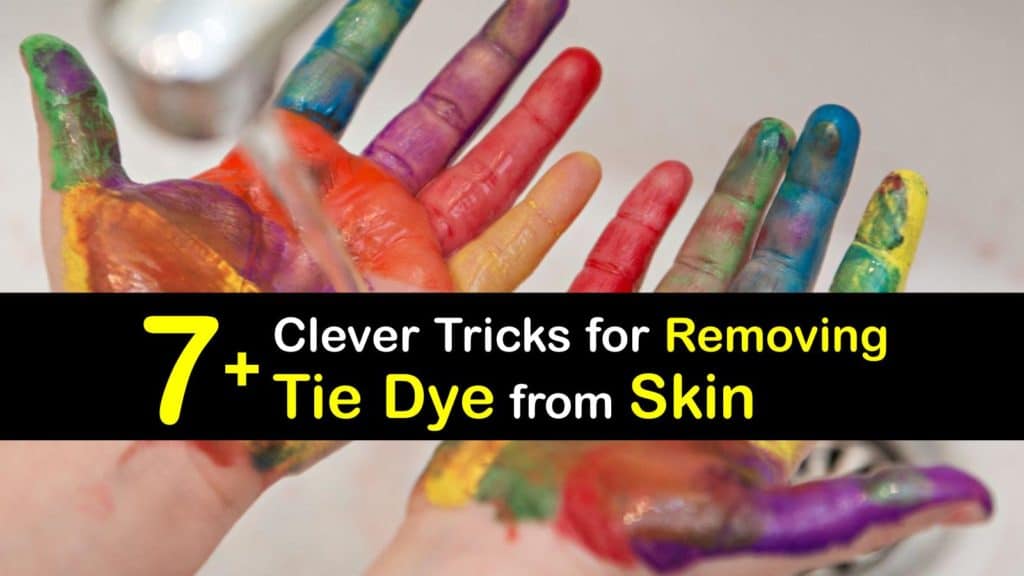 How I Remove Tie Dye From My Skin
When looking to clean tie dye from your skin, there are a few essential questions to keep in mind.
Is your skin sensitive to certain cleaners or products? Is the stain you're removing a lighter color or deeper in tone? Depending on what you need, you'll find the answer to your stain removal inquiry here.
Does food coloring stain skin? What about tie dye? Unfortunately, these items do leave a stain.
If a dye bath or tie dyeing session has left your skin stained with fabric dye, don't fret. Most tie dye, like hair dye, is water-soluble and comes off through general washing of the stained area or fades over time.
Avoid cold water as warm or hot water lifts the pigment from your skin easier. Continue reading if you're hoping to free your skin from the stains of tie dye faster.
I Can Get Tie Dye Off My Skin With Baking Soda
Baking soda is like a Swiss-Army Knife when it comes to cleaning as it cleans stains out of various materials; your skin is no different. Wash your hands to remove any excess dye from your skin before applying this paste.
To take food coloring off hands or get rid of tie dye stains, combine baking soda with water in a bowl, or pour the baking soda into your hands directly and add water until it forms a paste.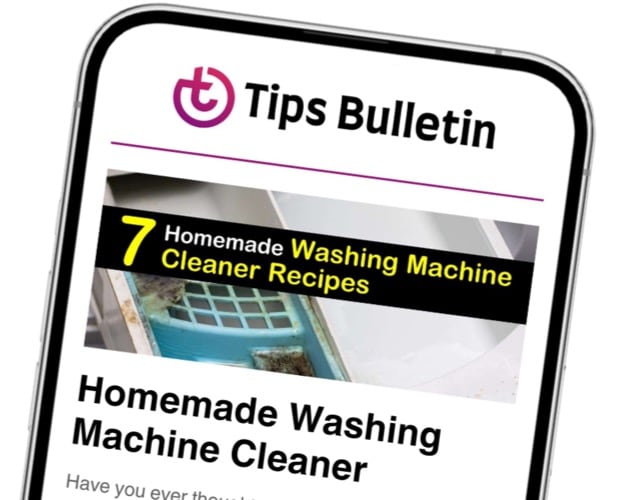 Finally, an email that Transforms Your Home.
Get the latest home and garden tips from our experts, delivered straight to your inbox.
For the way to get Easter egg dye off skin, work the paste into your hands. Allow the baking soda to strip the dye from your skin before the granular paste helps scrub away the dye from your skin. Rinse your hands and reapply if the stain remains.
I Fade Tie Dye Stains Through Exfoliation
Typical exfoliator formulas scrub away light layers of dirt and dead skin, not pigment, so removing tie dye stains solely through exfoliation may not prove as effective as more intense options.
Common exfoliators are scrubs, facial cleansers, and pumice stones. Pumice stones, with their porous surface, work well for more gentle exfoliation.
To start, wash your hands to remove any dye that has yet to set in, then apply your cleaner or massage your pumice stone as the way to get tie dye off hands while your hands are still wet. Rewash your hands to remove any lingering scrub from your hands.
Gently Remove Tie Dye From My Skin With Olive Oil
Olive oil is an excellent option if you have sensitive skin or are looking to remove dye from your face and avoid contact with any harsh cleaners on such a sensitive area. Use olive oil to get hair dye off scalp but not hair, too.
Oil works much better than regular soap at removing stains and only requires you to rub the oil into the affected area, whether you need to clean hair dye off acrylic nails or get a dye stain off your fingers.
This way to remove hair dye from skin, as well as tie dye, may take longer than just washing with soap or a more aggressive cleaner and may require adding more oil depending on the amount of dye you're removing. For the way to get hair color off skin, we recommend working the oil into the dye area for ten to 15 minutes.
Cleaning Dye From My Skin With Vinegar
Due to its acidic nature, vinegar is excellent at breaking down stains, and combined with cotton balls, works well in cleaning stains from select spots on your skin without applying vinegar over your skin.
To remove super glue from skin without acetone or to take care of tie dye stains, dip your cotton ball into the white vinegar enough to dampen it and apply to the stained areas of your skin. Scrub with your hands to remove the dye or as a way to get fabric dye off your skin before rinsing with water.
Depending on the amount of dye on your skin, you may need to repeat this process. As vinegar is acidic, irritation may occur with use; if this happens, try a different option.
I Remove Dye Stains With Nail Polish Remover
Not only is nail polish remover the best way to get tie dye off your nails, but the acetone in nail polish remover is a liquid solvent that breaks down other substances and, when gingerly applied to the stain, aids in removing it from your skin.
To remove food coloring from your skin or a tie dye stain, wash the stained area first to remove excess dye, then apply a small amount of nail polish remover to your cotton ball. Using the wet cotton ball, wipe the tie dye stains away from your skin.
Repeat with fresh cotton balls as needed and wash any remaining nail polish remover from your skin once completed.
Note: Avoid using nail polish remover to clean dye stains from a child's hands due to the risk of touching their mouth with the polish remover on their hands.
My Tip to Remove Dye Using Rubbing Alcohol
A small amount of rubbing alcohol applied to a stained area easily removes the stain as rubbing alcohol is an effective solvent for breaking down different stains ranging from food coloring and even a hair dye stain.
Because rubbing alcohol is rough on your skin, choose less aggressive stain removal alternative if you have sensitive skin or irritation occurs.
To get hair dye off fingers, as well as tie dye coloring, place one cotton ball onto the top of an open bottle of rubbing alcohol and slowly tilt the bottle to dampen the cotton ball. Apply the damp side of the cotton ball to your skin in a dabbing motion. As the dye comes off, rinse with warm water and soap if necessary.
Lye Soap Takes Care of Removing Stains From My Hands
As with all acidic cleaners, lye soap's high pH or acidity makes it an effective cleaner and stain remover.
After washing your hands to clean excess dye, lather your hands using lye soap to wash away any remaining stains. Modern lye soap does not contain fragrance additives, which can be a plus if irritation is a concern.
Removing My Dye Stains With Detergent or Dish Soap
A cycle in the washing machine with your favorite non-bleach laundry detergent is the best way to pull excess fabric dye from your dyed clothes, and detergent works just as well on your skin.
Add detergent to a cloth wet with water, and apply to your skin. After washing the dye from your skin, rinse with warm water.
Laundry detergent may irritate skin during prolonged contact, so dish soap is an effective alternative using the same process. Apply liquid dish soap to a damp cloth and work into the skin to remove dye stains.
How I Get Tie Dye Off My Skin
If dye has transferred to your skin or stained your hands, the first step is to wash the area with soap to remove loose dye. Washing is crucial to avoid transferring dye to other parts of your skin or hair.
If you have a lighter hair color or chemically lightened hair, dye will quickly absorb into the follicles, making it harder to remove.
Depending on the technique and items used to remove dye from your skin, whether cloth, cotton ball, or traditional hand washing, skin irritation is possible with aggressive washing or harsh cleaners.
If any sensitivity occurs, wash your hands with gentle soap and warm water to remove cleanser from your hands to prevent further irritation.
If you experience dryness in areas you have washed to remove the dye, applying a moisturizer or lotion after drying your skin is best. Using baby oil on children's hands is also effective when removing the dye but not stripping the skin of essential moisture.
Bleach Will Remove Tie Dye From My Skin
Another way to remove tie dye stains from your skin is to use bleach. Due to bleach's harsh nature in cleaning, using bleach is only recommended for adults looking to remove stains quickly.
Pour the bleach and water into a large bowl and mix in one teaspoon of liquid dish soap. Fill your kitchen or bathroom sink with warm soapy water and add bleach.
Gently scrub your hands with a white cloth or soft brush until the dye dissolves. Once clean, wash your hands in clean, fresh soapy water to remove all bleach.
My Concerns About Harsh Ingredients
Stain removal involving strong ingredients like bleach, hydrogen peroxide, or rubbing alcohol can cause irritation and injury if left on the skin too long.
Inflammation can occur during the cleaning process or after if the cleaning product remains on your skin. Consider your skin condition, and be sure not to use harsh items on damaged or broken skin stained with dye.
We know that walking around with multicolor hands after tie dyeing may be embarrassing, and the desire to rid yourself of the stain is a top priority. We hope our list provided you with options on how to do just that.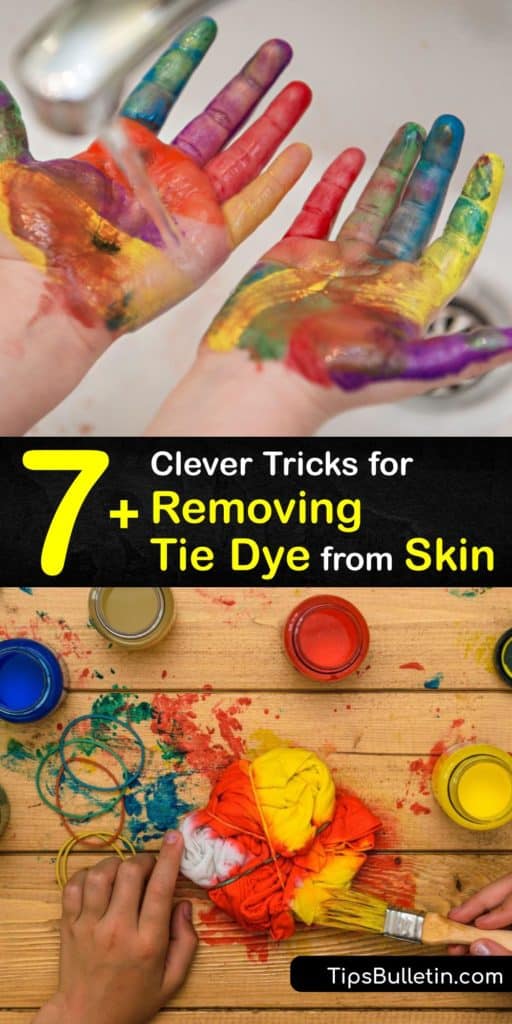 We hope that these tips on how to get tie dye off your skin were helpful; if they were, please show these tips to remove tie dye from your skin to your friends and family by sharing the article on Facebook and Pinterest.