There is nothing more fun than putting your creativity into making a tie dyed t-shirt, dress, or another tie dyed garment. However, this type of project is often messy, and there are times when the fabric dye gets in more places than you intended, like the tabletop or clothing you are wearing. Learn how to get tie dye out of clothes using safe and effective methods.
The art of tie dyeing clothing is a favorite pastime of counter-culture members, and these days it's adored by anyone who loves colorful clothes.
There are many ways to create colorful patterns, from stripes and rosettes to spirals, pleats, and polka dots, and it's easy to get carried away with yellow, blue, and red dye during the dying process.
It's usually not until you complete the dye project that you realize you've not only created a work of art out of a plain white shirt, but you've also unexpectedly added a bit of color to the clothes you're wearing.
Before you decide to turn your favorite article of clothing into your next art project or toss it in the rag bag or trash can, there are ways to remove the dye using a few simple solutions.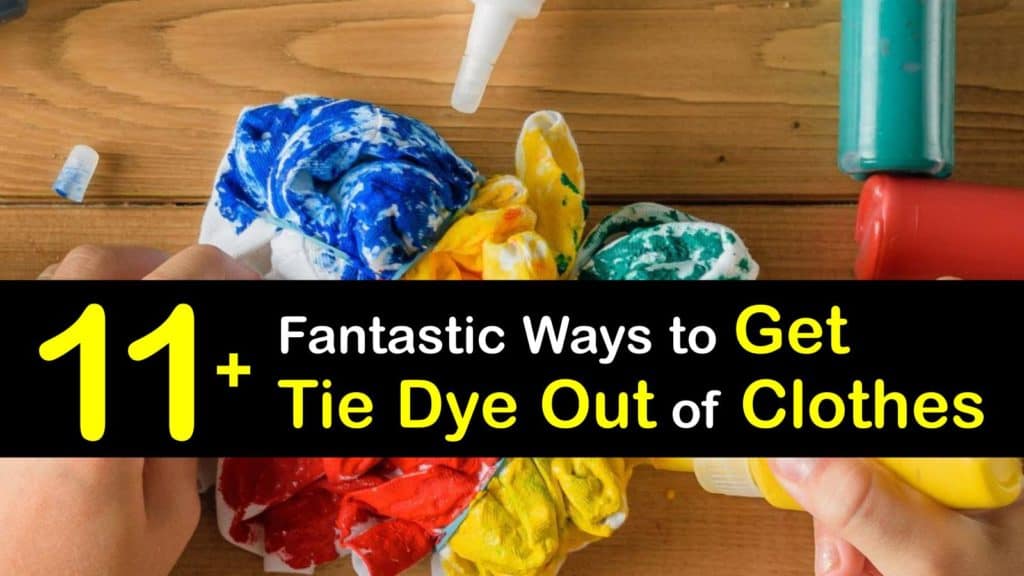 Simple Ways I Remove Tie Dye Out of My Clothes
Sometimes a hobby gets a little out of hand, especially when doing family crafts with your kids. Calling these incidents happy mistakes may make you feel better, but it doesn't get the stains out of your clothes. Fortunately, there are many things you have in your home that work wonders to remove tie dye from fabrics.
How I Get Tie Dye Out of Clothes
The best way to remove a stain is to catch it while it's still fresh so you can remove as much of the dye as possible for simple cleaning. Here is how to clean tie dye from clothes while the stain is still wet to ensure you don't spread the dye and make the stain worse.
As soon as you notice the dye stain on the fabric, lay it out on a flat surface with a piece of cloth between the fabric stain and the table. Use paper towels or cotton balls to absorb as much of the excess dye as you can.
Blot the stain gently, using fresh paper towels or cotton, and avoid spreading the color outward as you work. Hold the fabric beneath running, cool water to flush the remaining loose dye down the drain.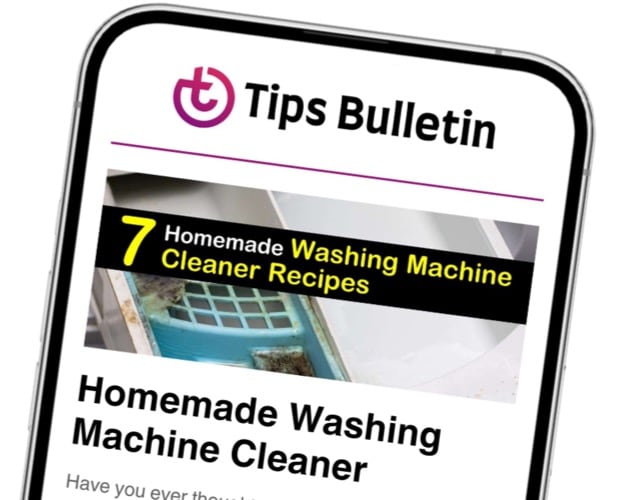 Finally, an email that Transforms Your Home.
Get the latest home and garden tips from our experts, delivered straight to your inbox.
Removing Tie Dye from My Clothes with Ammonia
If you are fortunate enough to get food coloring or clothing dye on washable clothes, the simplest way to remove the stains is with ammonia and detergent. Here is how to remove tie dye from clothes that are machine washable.
Pour the ammonia and liquid laundry detergent into a plastic tub or sink and soak the clothing in the solution for at least one hour to loosen the dye or to remove latex paint from clothes. After soaking the item, rinse it under cold running water and check if any dye remains. If so, repeat the steps until the stain is gone.
Removing Tie Dye from My Clothing with Rubbing Alcohol
Stains set after you wash and dry them with high heat, and they are more challenging to remove, but not impossible. Another way to remove tie dye from clothing is with rubbing alcohol. This liquid has properties that cause the dye to loosen, and it is the best way to remove a stain after it sets. Use it as the best way to get tie dye off your hands and skin, too.
For the way to get hair dye out of clothes as well as tie dye, pour some rubbing alcohol onto a ball of cotton and dab at the stain to lift the dye from the fabric. Repeat the steps with freshly soaked cotton until the color is no longer present, and then rinse the item under running water and wash it as usual.
Removing My Tie Dye Stains from Non-Washable Clothing
It's vital to check the care tag on your clothing before washing them since some fabric types are delicate and more difficult to clean. Here is how to remove tie dye from clothes that are not machine washable.
Get a white cloth wet with warm water and dab at the stain carefully to avoid spreading it. If the stain persists, combine water, ammonia, and liquid laundry detergent in a container and apply a small amount of the solution to the affected area by blotting it with a soft cloth. After lifting the stain, clean the item with fresh, warm water and hang it to air dry.
Try this remedy to remove tie dye from carpet and rugs as well. Be sure to blot rather than rub the stain.
How I Remove a Dye Stain from My Clothes with Hydrogen Peroxide
Hydrogen peroxide is an inexpensive liquid with many uses. It's a common household disinfectant with a mild bleaching action that is also a helpful tool to remove tie dye from clothing.
Lay the clothing item on a flat surface with the stain over a white cloth. Pour some hydrogen peroxide on a cotton ball and blot the stain while trying not to spread it outward. Use fresh cotton balls and peroxide as they get dirty, and rinse the clothes under cool running water once the stain is gone.
Using Color Run Remover to Clean Dye Stains off My Clothing
Color run removers are excellent products for removing tie dye, and they are available anywhere laundry products are sold. However, color removing powder is strong and may take out too much of the dye, so it's crucial to follow the instructions accordingly.
Follow the directions for your brand of color remover and fill a container with the recommended amount of water. Pour the powder into the tub, allow the contents to dissolve, and submerge the clothing in the water.
Let the item soak for a couple of hours while the dye stain dissolves from the material, and rinse the clothing with hot water. Finish by washing and drying the item as you typically do.
How I Remove Dye Stains with White Vinegar
When all else fails, white vinegar does the trick for many problems around the home, from unclogging sinks to cleaning the dishwasher. Remove wax from fabric with vinegar, too. The acidity of vinegar also helps to loosen many stains, including those from tie dye, and it's both safe and natural.
To get ink out of clothes using vinegar or to remove tie dye, fill a plastic bin or bucket with cold water and add a cup of white vinegar. Test the diluted vinegar on an inconspicuous area of the item since the solution may react with the native ink. Soak the clothing in the vinegar water for half an hour and rinse the item under cool running water.
Using Baking Soda to Pretreat Dye Stains on My Clothing
If the dye gets on fabric that is machine washable, try pretreating the stain with baking soda before cleaning it in the washing machine. This alkaline powder helps to break up the excess dye for easy cleaning.
Mix the water and baking soda in a container and apply the mixture to the stain on the clothing item. Let it sit until completely dry while the paste lifts the dye stain from the fabric. Rinse the clothes under running water to remove the dried baking soda and wash the clothing in the washing machine.
Removing Dye Stains from My Clothes with Oxygen Bleach
Oxygen bleach is an excellent alternative to chlorine bleach, and there are many different products available. It is a color-safe, all-fabric bleach that cleans away many stain types and is suitable for removing tie dye from clothes.
Fill a bucket or plastic tub with cool water and add Oxiclean or another oxygen-based bleach brand. Follow the instructions on your oxygen bleach product to determine the appropriate amount of powder per gallon.
Stir the liquid to dissolve and activate the powder, and soak the stained article of clothing in the solution for eight hours. Rinse the item with clean water and check to ensure the stain is gone before washing it in the washing machine.
Using Bleach to Remove Tie Dye Stains from My Clothes
Bleach is often a last resort for removing stains since this liquid has strong bleaching action. However, this method is not a wise choice for colored clothing since bleach strips away all colors and dyes.
Do not use chlorine bleach on polyester, nylon, and other synthetic fabrics, and avoid treating colored clothes with this product. Here is how to remove dye transfer stains from white clothes.
Fill the sink or plastic tub with cold water and add chlorine bleach so that there is a quarter cup of bleach for every gallon of water.
Open the windows to ventilate the room and put on a pair of rubber gloves to protect your hands from irritation. Submerge the clothing item in the bleach water and let it soak for about five minutes.
Remove the item and hold it under running water to rinse bleach and stain residue. Check the article for any remaining stain and launder it as you typically do.
Washing My Clothes after Pretreating Dye Stains
After pretreating a dye stain with your desired technique, it's time to clean the item in the washing machine to remove the rest of the stain. Check the care tag beforehand and use the proper settings on your washer.
Wash the item by itself to prevent it from transferring leftover tie dye onto other clothes. Add your favorite laundry detergent and wash the clothing as you normally do. Once the cycle is complete, inspect the item to ensure that the stain is completely gone and dry it in the clothing dryer or hang it if it is delicate.
Ways I Prevent Dye Stains on My Clothing
It's always a great idea to take some precautionary steps before getting out that tie dye kit and Rit Dye, Procion dye, or dye powder for your next tie dye project. Here are several helpful tips to ensure that your next tie dye shirt is the only thing left with stunning colors.
When doing a tie dye project, start by covering the work area with a sheet of plastic or a plastic bag to protect the surface from accidental spills, splatters, and stains. Keep the spray bottle, squeeze bottle, soda ash, rubber bands, zip ties, and other tie dye tools on the plastic, within arms reach.
Wear gloves to protect your hands and keep several pairs nearby to avoid cross-contaminating colors while working. Wear a smock, apron, or old work shirt that you don't care about staining. Keep a pair of tongs on hand for turning over your project for backside coloring, and clean up any drips and spills as soon as they happen.
Tie dyeing is a fun way to give your plain clothes a new and colorful look. However, it's also a messy project that may lead to accidents if you get carried away during the process. Luckily, there are easy ways to reverse tie dye if you accidentally get some on your clothing.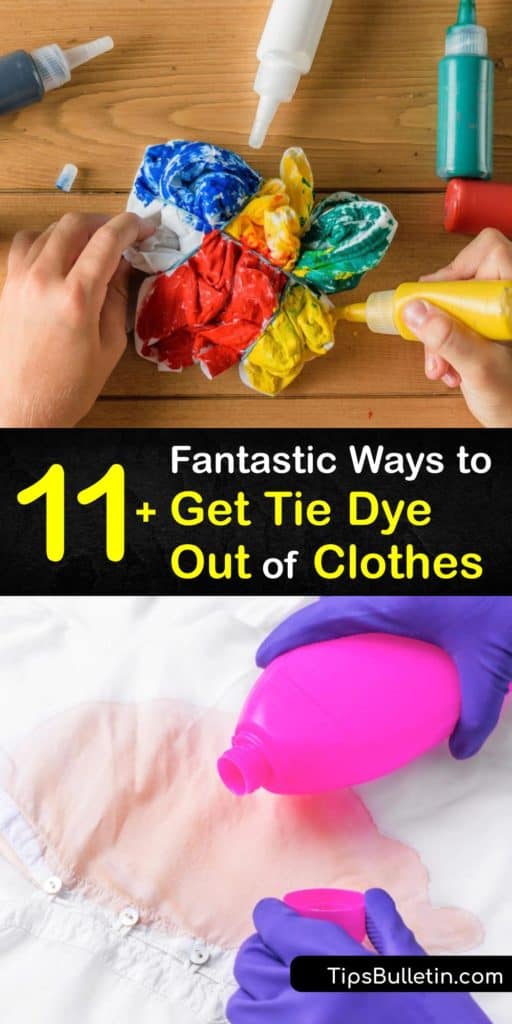 We hope that learning how to get tie dye out of clothes keeps your clothing looking great and your crafting projects stress-free, and we'd love it if you'd share our tie dye removal methods with your family and friends on Pinterest and Facebook.