Whether you're a chef, parent, or enjoy good food, you probably want to know how to get tomato sauce out of clothes. Tomatoes are a popular fruit used in many different dishes and span cuisines from Italian to Spanish food and beyond. Spaghetti sauce and hot sauce bring a dish to life, yet they're also quick to end up on your clothes.
Learning how to remove tomato sauce from clothes is a valuable skill that saves you money at the dry cleaners. When tomato sauce spills, the red coloring seeps deep into the fabric of your clothes to leave a persistent stain. Delicate materials such as wool and suede complicate the matter further.
Luckily, it's straightforward to get pizza sauce out of clothes, and the process doesn't involve special tools. Turn to familiar products like distilled white vinegar, baking soda, and lemon juice to oust unsightly tomato sauce stains from your clothes without discoloring or wearing the fabric.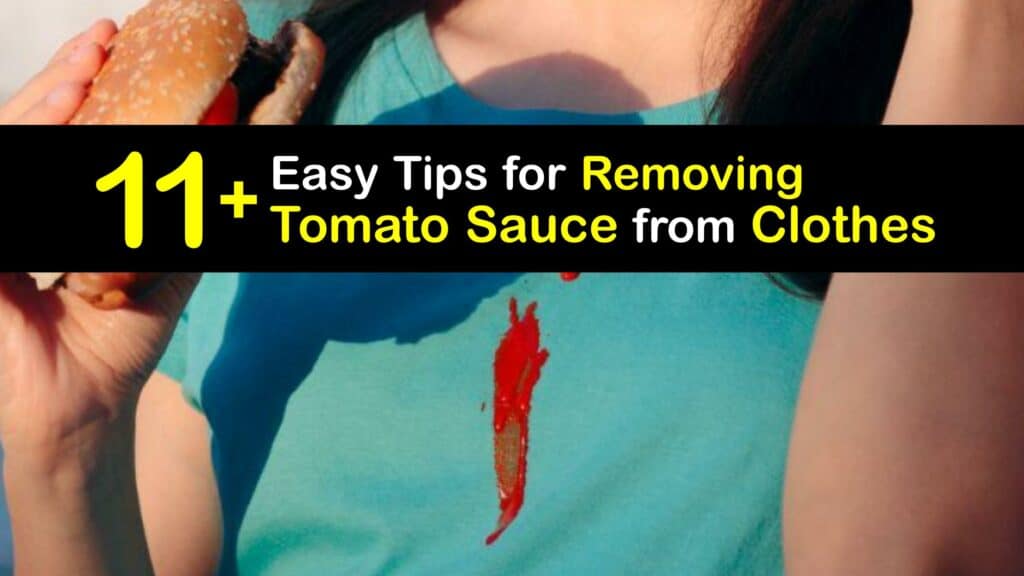 How to Remove Tomato Stains from Cloth

ing

Tomato is a delicious base and prevalent flavor in many cultures and culinary dishes, so we all want to know helpful ways to get tomato out of clothes. Sauces and liquids are prone to spills, and thanks to the dark red pigment of the tomatoes, marinara and other red sauces seem daunting to clean.

Once you know how to get pizza sauce out of clothes, a red mark on your favorite shirt or dress no longer ruins your night. Simple items like dish soap, baking soda, and white vinegar are all you need to clean unsightly tomato stains and keep your clothes looking neat.
Getting Tomatoey Sauce Out of Fabric
Like grass stains, pasta sauce and other tomato-based marks are organic and require a specific stain remover to wash out of your clothes. Tomato is a popular flavor in many culinary dishes and sauces – the possibilities of staining your clothes red seem endless.
When you have a fresh stain, wash it as soon as possible with cool water to lift most of the sauce out of the fabric, and pat it dry with a paper towel. Treat the remaining stain with one of our home remedies to remove stains and leave your outfit looking like the spill never happened.
How to Get Red Sauce Out of Clothing with Dish Soap
Dish soap removes dried food, sauces, and grease from kitchenware and is a clever choice for cleaning food-related stains from clothing and other fabrics. A dish soap solution simplifies washing a tomato sauce spill out of your clothes.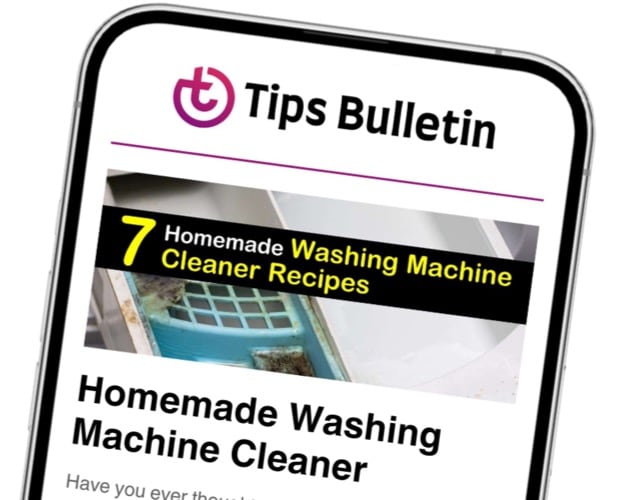 Finally, an email that Transforms Your Home.
Get the latest home and garden tips from our experts, delivered straight to your inbox.
Blend a few drops of dish soap and water in a small plastic container and use the soapy solution to scrub the stain out of your clothing. Rinse well and dry your clothes in the dryer.
How to Remove Pasta Sauce from Garments Using White Vinegar
Distilled white vinegar annihilates the most tenacious stains thanks to its cleaning, disinfecting, and brightening prowess. The acetic acid in white vinegar even helps with soaked stains, though it must be diluted to avoid wear to the material.
Soak a clean towel in the vinegar solution, then wring it out. Use the moist cloth to apply white vinegar to the tomato stain and let it settle for about half an hour. Scrub the sauce stain with a clothes brush or toothbrush, and rinse with cold water to remove the vinegar. The red hue washes out readily.
Dishwasher Detergent Gets Pizza Sauce Out
Dishwasher detergent is made to handle stubborn food stains on plates, pans, and cutlery, so it's an intelligent choice for removing foods like tomato sauce.
Pour liquid dishwasher detergent onto the stain, or dissolve a dishwasher tablet in a small amount of boiling water and apply it to the mark. Rub the detergent in and rinse to eradicate the tomato from your clothing.
Removing Red Sauce Stains from Clothing
A baking soda paste is effortless to make and apply. The deep cleaning and deodorizing properties of baking soda make short work of wet and dried tomato sauce stains.
Stir the powder and water into a thick paste, smear over the red mark, and leave for five minutes. Scrub the baking soda paste into the sauce stain with a brush, rinse out well, and let it dry.
You can also try this simple remedy as the way to get oil stains out of clothes. Let some baking soda sit on the stain to absorb as much of it as possible, dust off and apply the paste and scrub. Rinse and allow to dry. The oil stain should disappear.
Oxygen Bleach Removes a Pasta Sauce Stain
Oxygen bleach erases tough stains like tomato ketchup or marinara sauce without altering the look of your apparel. This cleaning solution combines with water to release hundreds of oxygen bubbles.
The bubbles reach deep into the fabric of your clothes to loosen the stain, whether you are getting mustard stain out of a white shirt or have a tomato sauce blob. Choose a color-safe oxygen bleach and use it as instructed to remove the ugly red color from your outfit.
Homemade Versatile Stain Remover for Tomatoes
Don't let a sauce splatter keep you from wearing your clothes. Craft a batch of this DIY tomato sauce cleaning fluid to benefit from the stain removal properties of hydrogen peroxide and laundry detergent and the pleasant fragrance of essential oils.
Combine in a spray canister and apply to the discolored area. Apply the cleaning solution to the sauce stain with a cloth or a toothbrush and let it soak for one minute. Rinse your clothing with cold water and repeat as needed to leave it clean and smelling lovely.
Nail Polish Remover Lifts a Tomato Stain
We all know nail polish remover or acetone is fantastic for cleaning dried nail polish, but fewer people realize it's an excellent choice to clean up tomato sauce stains.
Add a generous amount of acetone to a clean cloth and rub it back and forth over the dried stain. When the blemish starts to break up, rinse the acetone with cool water and launder your clothes in the washing machine.
Use a Magic Eraser for Red Stains on Shoes
Clothes aren't the only victims of tomato sauce. When spaghetti or tomato juice falls on the floor, it leaves your shoes splattered. While most footwear is washable, your sneakers' rubber accents and soles are tougher to clean.
A Magic Eraser is a foam block containing hundreds of air bubbles. Magic Erasers are mildly abrasive and best used on the rubber accents and soles of your shoes or other hard surfaces. Purchase a Magic Eraser and rub the foam over the stained area on the rubber parts of your shoes to destroy the red coloring.
Use Hydrogen Peroxide for Tomato Stain Removal
Peroxide is an effective stain stripper for organic stains like food. Hydrogen peroxide is a powerful antibacterial and multipurpose cleaning chemical that brightens dull or dingy objects.
Tomato ketchup stains are deep, oxidizable stains. Oxidizing substances such as hydrogen peroxide destroy the pigment-forming elements of chemical structures in tomato sauce, rendering the red mark undetectable.
Rub the combination into the red stain with a clean towel to remove it, rinse with fresh water and leave to air dry. Take care when using lightening agents like hydrogen peroxide on dark-colored apparel as it may cause fading.
Lemon Juice Eradicates Fresh Tomato Stains
Lemon juice is a safe and natural stain remover that works exceptionally well on tomato sauce stains. The citrus scent of lemons is appealing and leaves your clothes smelling fresh, while the mild acidity in the juice degrades stubborn stains to make them readily wash out.
Spray the lemon mixture liberally onto the tomato sauce and scrub the stained area with a soft brush. Once the stain begins to fade, wash your clothes in the washing machine to remove the residue.
Liquid Laundry Detergent for Tomato Stains
A trip through the washing machine is often not enough to eliminate tomato sauce from your clothes. Your liquid laundry detergent mixes with lots of water in the washing machine and becomes very dilute, reducing its ability to clean tough stains.
Apply your laundry detergent directly to the tomato sauce stain to use it at a higher concentration and increase its cleaning prowess. Let the detergent sit on the tomato stain for about half an hour, rinse and wash your clothes to remove the red discoloration from the sauce.
If you love to cook or enjoy eating out, it's crucial to know how to remove tomato sauce from clothes. Even the cleanest people have the occasional accident, and tomato sauce is a challenging stain when you don't have the proper cleaning tools.
Thankfully, tomato-based sauces are readily washed out using common items around the house and are straightforward to deal with at home.
If you loved this article on how to get tomato sauce out of clothes, please share these fantastic tips on ideas to get pizza sauce out of clothes with your friends and family on Pinterest and Facebook.