Does your backyard pine tree have you constantly worried about how to get tree sap off outdoor furniture? There's nothing better than relaxing in nature until trees start dripping sap on your patio furniture. Nobody wants to sit down with a drink and a book, only to find sticky sap all over their pants.
If pine sap is ruining your opportunity to unwind, don't worry. Unwanted tree sap is a problem on many patios, and though it leaves a tough stain, it cleans off readily with the proper technique. Since it's so thick and sticky, getting sap off outdoor furniture seems intimidating.
Sap is a part of nature, but it doesn't have to be a part of your backyard experience. The amber syrupy liquid seeps into your garden furniture and stains outdoor cushion covers. Getting rid of the tacky stains is uncomplicated if you follow a few tips on how to remove sap from outdoor furniture.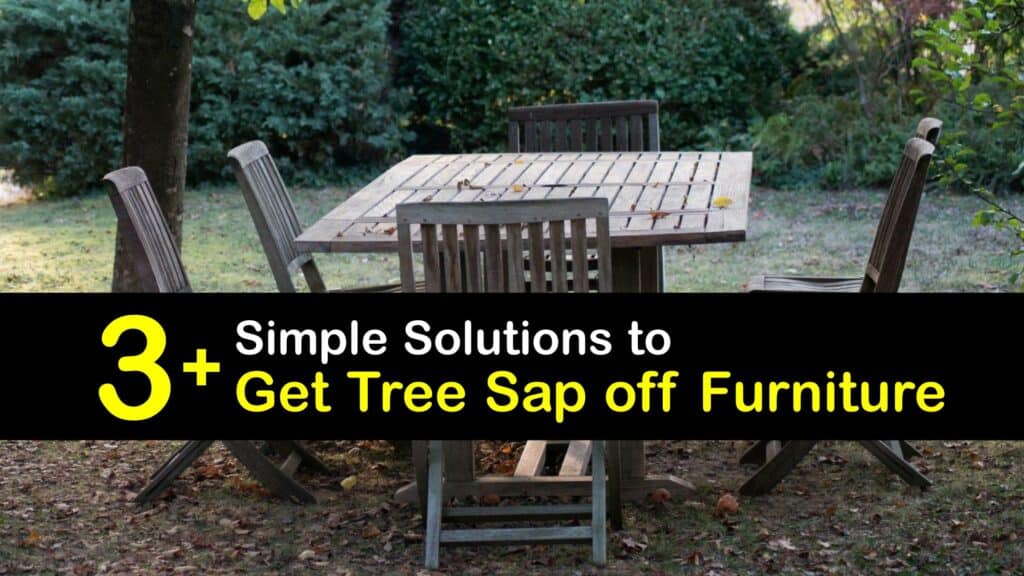 How to Remove Sap From Outdoor Furniture
Don't let not knowing how to get tree sap off outdoor furniture keep you off the deck. Tree sap is tacky and stubborn, but it comes off outdoor fabric such as cushions, your umbrella, and the metal or wood of your furniture, as long as you have the right equipment.
Explore our best ideas to clean wooden furniture with vinegar, rubbing alcohol and dish soap, and make this cleaning project easy.
Is Removing Sap From Outdoor Furniture Difficult?
It's straightforward to clean tree sap from outdoor wood furniture or fabric items. Like grass or blood stains on your clothes, a tree sap stain is an organic stain. Unfortunately, sap can get on fabric and your clothes. Follow our ways to get tree sap out of clothes to remove the sticky substance from all of your items.
Tree sap is the lifeblood of a tree, moving inside the trunk and branches to carry water and nutrients for growing new leaves. Treating a sticky sap mark as any other biological stain means cleaning rattan furniture or outdoor cushions, and removing the gooey mess is manageable.
How to Get Tree Sap off Outdoor Furniture
A mild detergent like dish soap is brilliant for washing tree sap from outdoor metal furniture. Dish soap is typically used to break down stubborn organic residue in the kitchen, though it also makes short work of a sap stain. The cleaning power of liquid dish soap is often used to wash aluminum patio furniture and cut through the sticky, greasy sap for uncomplicated stain removal.
Blend the dish soap and hot water in the basin. Dunk the rag into the soapy water and wipe over your painted surface or fabric. Pay extra attention to the tree sap stain, rubbing back and forth over it until the sap lifts. Mild soap, such as dish soap, will clean patio cushions or a wood surface without causing damage. Also, it will strip glue off metal surfaces, so keep this dish soap cleaner on hand.
White Vinegar Makes Getting Sap off Outdoor Furniture Easy
Distilled white vinegar eradicates a tree sap stain on your patio furniture. Washing outdoor teak furniture with vinegar is beneficial as it destroys odor-causing mildew and mold in the process. The acetic acid in white vinegar cuts through the bonds holding the tree sap stain to your chair to make it wipe away without a fuss.
Shake the ingredients together in the sprayer, spritz the sap stain, and let it sit for a few minutes before using the cloth to remove the sap. Use caution when applying white vinegar to a painted surface to avoid softening the paint.
In addition to outdoor furniture, vinegar will remove tree sap stuck to a car. Keep this cleaning solution on hand and use it to keep car paint free from blemishes.
Scrub Tree Sap off Outdoor Furniture
Grab a cheap bottle of rubbing alcohol from your first aid cabinet or the local pharmacy for the best way to clean outdoor plastic furniture and cushions. Though we associate it with first aid, rubbing alcohol makes wiping tree sap from outdoor glass furniture painless. Use it with a soft cloth as a spot cleaner for gooey sap deposits on your furniture.
Pour a few drops of rubbing alcohol onto the fabric and scrub back and forth over the affected area to erase the sap. Wipe the spot with a damp towel and leave it to dry.
Take care when using rubbing alcohol on painted wood, and focus on only applying alcohol to the sap and not the paint, as it may accidentally remove the color. Never use alcohol on unpainted wood as it dehydrates the wood grain and leaves a white mark.
Did this article help you discover how to remove sap from outdoor furniture? Tough stains like sap on your wood furniture or outdoor fabric are discouraging. Understanding the proper methods and the right stain remover products helps you prepare to deal with sap wherever it falls.
Everyone deserves to enjoy their backyard. Eliminate tree sap quickly without damaging your patio set or cushions.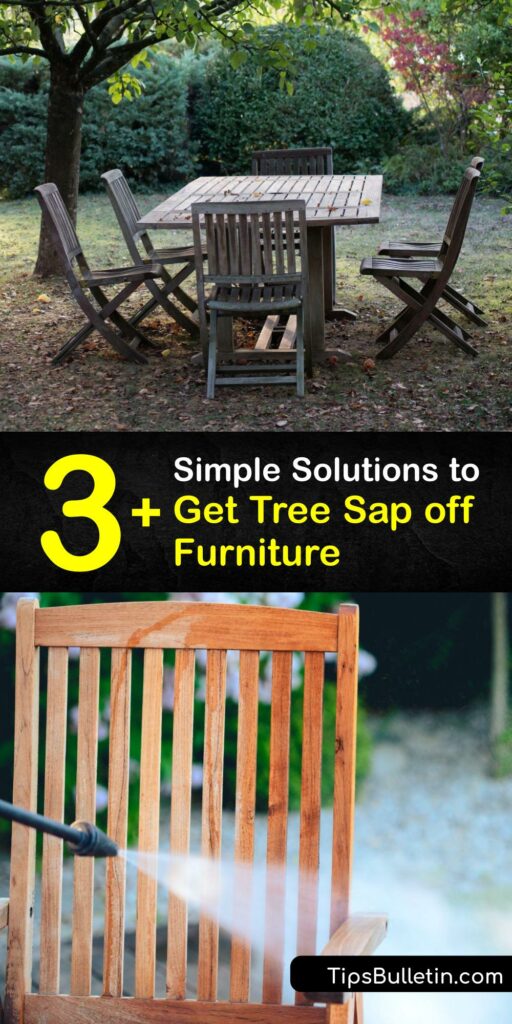 If you loved this interesting article on how to get tree sap off outdoor furniture, please share it with friends and family members who are getting sap off outdoor furniture on Pinterest and Facebook.