Between muddy shoes and regular wear and tear, carpets take a beating from everyone in the household. What's even worse is when you decide to add a fresh coat of paint to the walls and end up with a large paint stain that you don't know how to remove. If this has happened to you, learning how to get water based paint out of carpet is something you're scouring the internet for.
If you want to remove water based paint from carpet you could call a carpet cleaning service, but some simple home remedies make taking care of the problem a breeze.
Trying to remove dried water based paint from carpet is a tough challenge. Even if you get most of the dry paint off the affected area, there is still a risk that the paint leaves behind a big, ugly stain.
Homeowners often find themselves in challenging situations, and it only takes a little creativity to lift stains from carpet fibers and make the fabric look as good as before.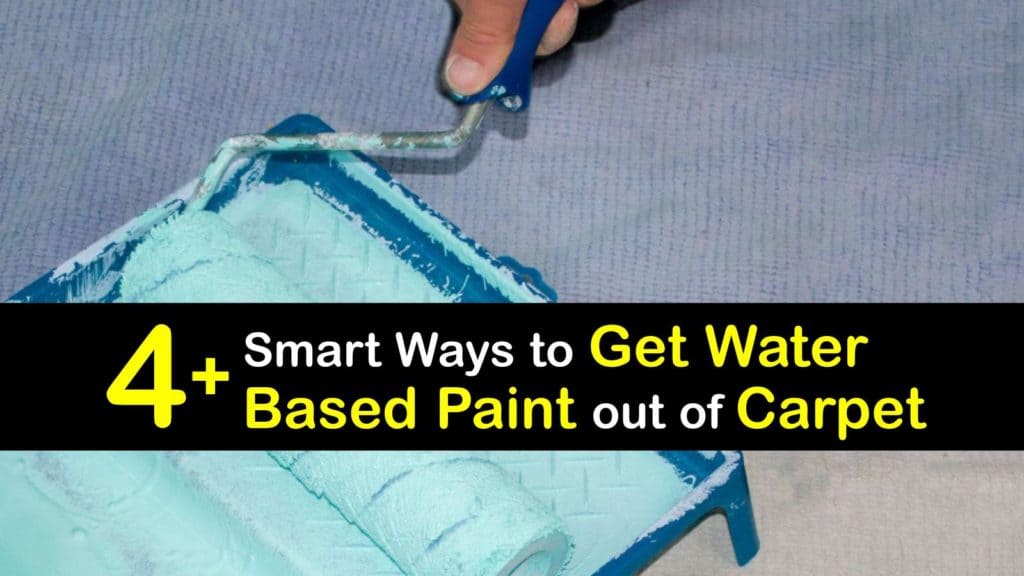 Types of Paint
If you're going to be successful in removing carpet stains from paint, you first need to understand the three different types of paint and their key characteristics.
All three kinds are common for household projects, design, and arts and crafts. The different ingredients drastically alter their drying times and change the strategy you might take to eliminate them.
Acrylic paint has coloring and pigment added to an acrylic polymer. This type of paint is water-soluble but dries the fastest of the three. Once it dries, acrylic becomes more water-resistant. Spray paint is the most common type of acrylic paint.
Oil paint is usually made from a natural oil like linseed oil or a synthetic oil like alkyd oil. These paints are generally more durable but tend to take much longer to dry.
Latex paint comes from an acrylic resin similar to acrylic paints, but it is more water-based. This paint type is what most people use to paint their homes and is the most common type of paint stain to find on your carpet.
How to Get Water Based Paint out of Carpet
When learning to remove water based paint from carpet, keeping the rug intact is extremely important. If you scrub too hard and damage the carpet fibers, you might be left with damage that you can't undo.
Whenever using a rag or paper towel to remove dried water based paint from carpet, make sure that you use the blotting method instead of scrubbing. This approach is much gentler and lifts the color instead of pushing it down further.
How to Remove Water Based Paint from Carpet
Wet paint is far easier than removing dried latex paint from carpet. If possible, start lifting the excess paint as soon as possible. Use an old, clean rag or paper towel and dampen it in lukewarm water.
Dab at the affected area of carpeting to begin lifting the stain. As tempting as it may be, resist the urge to scrub, or you'll saturate the area.
Lifting Paint with Dish Soap
If the paint still hasn't dried entirely but is slightly damp, your next best option is dish soap, which has grease-fighting abilities and works as a carpet cleaner when you don't have any sprays on hand.
For getting paint stains out of carpet with dishwashing liquid, blot the painted area with a clean paper towel to lift as much paint from the site as possible. Wet a rag in hot water with a few drops of dish soap.
Pour a small amount of the soapy water over the paint spot and let it sit for a few minutes before using the damp rag to blot out the rest of the paint.
Solvent for Removing Paint from Carpet
While paint thinner is a great product, it's safer for carpet to start with gentle products. A few household items thrown together make a perfect solution for paint stains, mildew, and other small stains on the fabric.
Start dabbing up as much of the paint goo as possible with an old, damp rag. Open the spray bottle and add the vinegar, warm water, dishwashing powder, and a few drops of regular dish soap.
Replace the top and shake the ingredients until everything dissolves. Spray the paint-spill area until saturated and let it sit for at least five minutes. Dampen a clean white cloth under cold water and begin blotting at the paint until all signs of the color are gone.
This simple mixture works for other stains, too. It's a great way to remove old coffee stains from carpet, as well as other types of spills.
How to Remove Dried Water Based Paint from Carpet
Dried paint is a pain because it becomes less water-soluble after it dries. Just because there is dry paint doesn't mean you can't remove dried water based paint from carpet successfully, though.
Use a putty knife or needle-nose pliers to chip away as much of the dried spill as possible.
Vacuum the stained area to lift the smaller particles and then use a homemade carpet cleaning solution or soapy water to saturate the area. Let the solution sit for at least five minutes before using a clean cloth to lift the remainder of the stain.
Turning to Tougher Products
There are many products that people like using when trying to remove water based paint from carpet. Nail polish remover, acetone, and hydrogen peroxide all lift color from carpet, but they also might discolor the fibers and leave your rugs permanently damaged. Peroxide is ideal to get blood stains out of upholstery or carpet if the material is lighter-colored or color-fast.
If you plan to use more potent, chemical-based products, invest in some painter thinner or turpentine. These reliable solvents are made for the exact problem you're facing and have proven effectiveness as a way to get dried oil based paint out of carpet, too.
Before using any of these cleaners, always test it on a small, inconspicuous area of your carpeting to ensure that it won't get damaged in the cleaning process.
Trying to remove dried water based paint from carpet is a tough challenge. It might feel scary and overwhelming at first, but if you handle the problem with the proper knowledge, you'll be able to salvage your carpet and make it look as if nothing ever happened.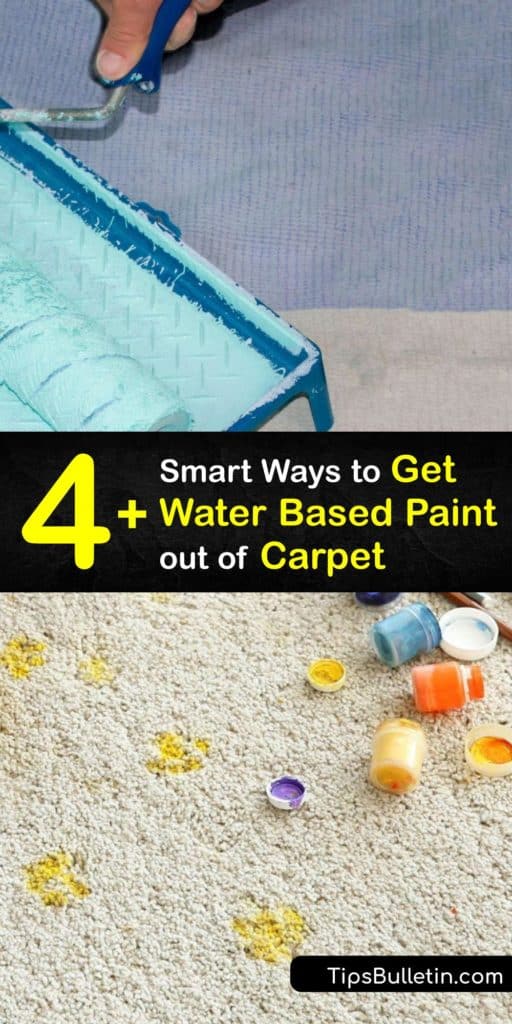 If learning how to get water based paint out of carpet helped you save your carpeting from horrendous stains, share these carpet cleaning tips to remove paint stains from carpet on Facebook and Pinterest.