Leather is a very durable material so long as you treat it with love and care. Does water ruin leather? Not if you take care of the stain and condition the leather properly. Have you finally bought the leather furniture set of your dreams only to spill water on it accidentally? Don't worry! Learning how to get water stains out of leather is simple.
Have a pair of good leather boots that look dull from snow and rain? Are you looking for a way to bring that beautiful leather purse back to life? Did you accidentally stain your leather and wonder if the damage is permanent?
Always refrain from using harsh chemicals, seek a professional for any significant damage, and be tender when cleaning any leather item. But what about minor damage like stains? Does water ruin leather forever?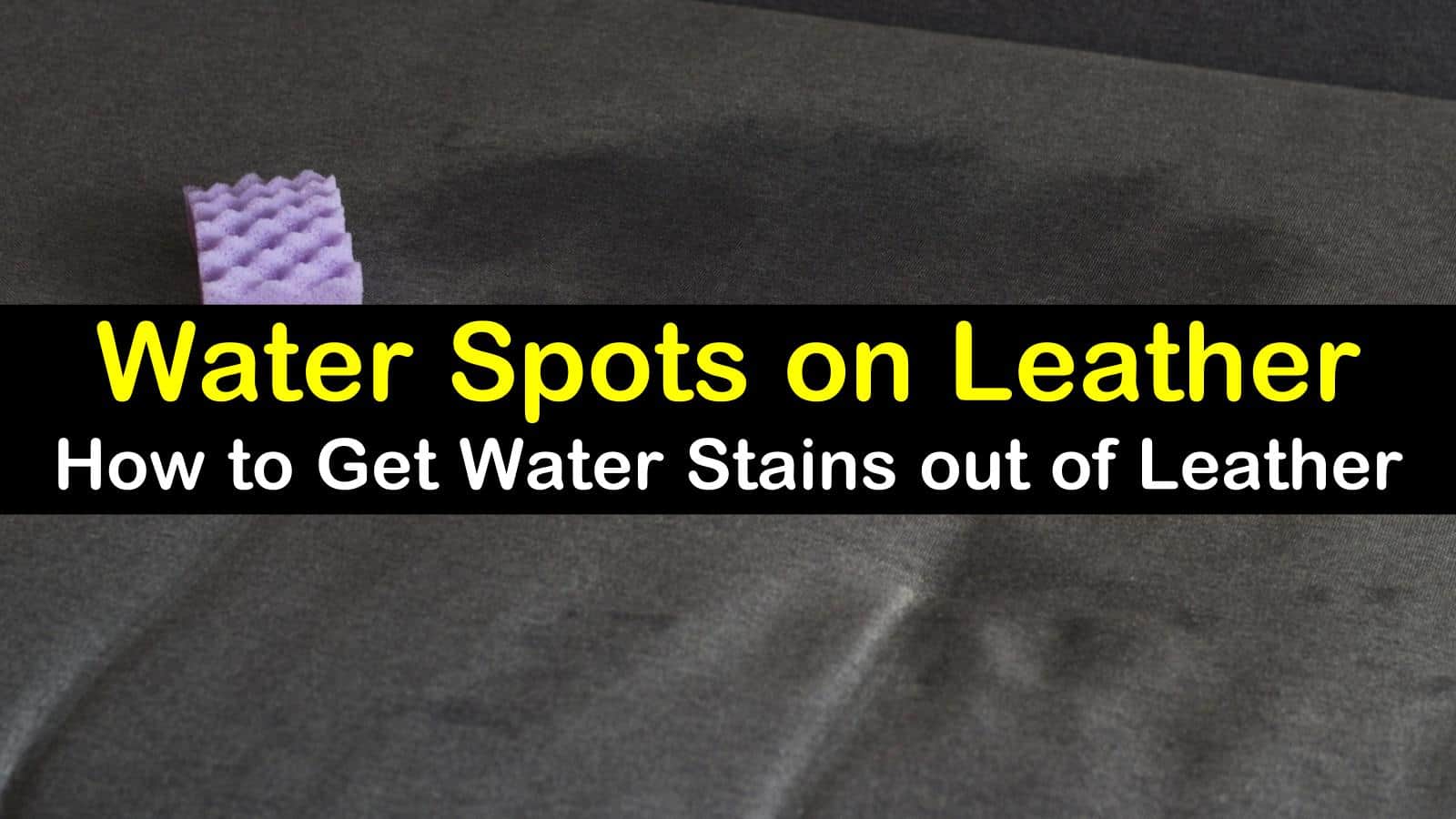 The Effects of Stains on Leather
Three main leatherstains are water, grease or oil, and ink. When it comes to stains of any kind, always clean them up immediately.
Although many ink stains are often permanent and require a professional to repair, you can sometimes get rid of pen marks on leather with a few items from around the house, like rubbing alcohol and a cotton swab.
Grease stains are easy to remove with a little cornstarch and a damp cloth. Removing water stains from leather is the easiest and requires minimal leather care.
Accidental water spills, water spots, and liquid-related damage are relatively common with furniture and other leather goods. It's important to know how to get water stains out of leather so that damage will not set in.
With leather, you will want to wipe up the water quickly with a white cloth. Letting the water dry will cause watermarks. Watermarks can often make leather look spotty, but are fixable.
With a damp cloth, gently wipe outward from the center of the water stain as you clean. Use the drier parts of the cloth to carefully blend the stain into the rest of the leather.
How to Get Your Vintage Leather Furniture to Look Like New
So you have an heirloom leather couch, but it has a few water spots.Cleaning a leather sofa for the first time can be hard. Many people make the grave mistake of using the wrong saddle soap and other harsh chemicals on their furniture. It can often lead to further damage and a spotty looking couch.
You may have water stains or need to remove mildew from leather. To avoid any permanent damage to your leather furniture, follow these steps.
For removing awater stain from leather, use a clean sponge to absorb the water and wipe at the outline of the water stain first. For other types of liquid stains, use a damp sponge and warm water. Gently wipe outwards from the stain.
Wipe the leather with a clean, dry cloth. If the stain remains, take the furniture to have it properly cleaned. Many home remedies can do more damage to valuable leather furniture pieces if they are not done correctly.
Giving Your Leather Boots and Leather Shoes a Real Shine
While you may not think much of it, that shine on your shoes, or the lack thereof, can tell a lot about you as a person. Taking care of leather shoes and boots ensures that they last a long time and make you look good.
Lay out a few sheets of newspaper in the area where you will clean your shoes. Remove the shoelaces. Replace the laces after you finish cleaning your boots or shoes.
For minor stains, you can use either soap and warm water or specific shoe cleaners for stain removal. Take a small scrub brush and gently clean your shoe in a circular motion. Do this for both shoes. Once you have all the dirt and grime cleaned off, let the shoes sit for about 20 minutes to dry.
For tougher stains use white vinegar and warm water in the same circular motion. You can use a little more pressure to get the shoes clean. Use either a similar color or clear shoe polish and dab the polish onto the shoes. The best way to shine boots is to rub the polish in a circular motion until you see the shoes shine. The polish will protect your leather shoes from permanent damage.
Give Your Leather Handbag the Love It Deserves
While not everyone is on board with leather handbags, owning a leather purse can still have its advantages.
Use a clean cloth and gently blot at the area that has the spill. You will need to do this while the leather is still wet.Take a slightly damp cloth and apply a small amount of leather soap. Rub the damaged area gently in a circular motion.
Rub the area with another clean and slightly damp cloth to remove the leather soap. With a dry, clean cloth, blot at the area again. Let the purse air-dry completely. Use a little leather conditioner to restore the purse's textured leather finish.
If you need to remove water stains from leather or prevent them altogether, then you have come to the right place. Proper leather care and maintenance may seem tedious, but worth it. If you want to prevent new watermarks from occurring, then use the right tools, a natural leather cleaner, leather conditioners, and practice these leather care tips!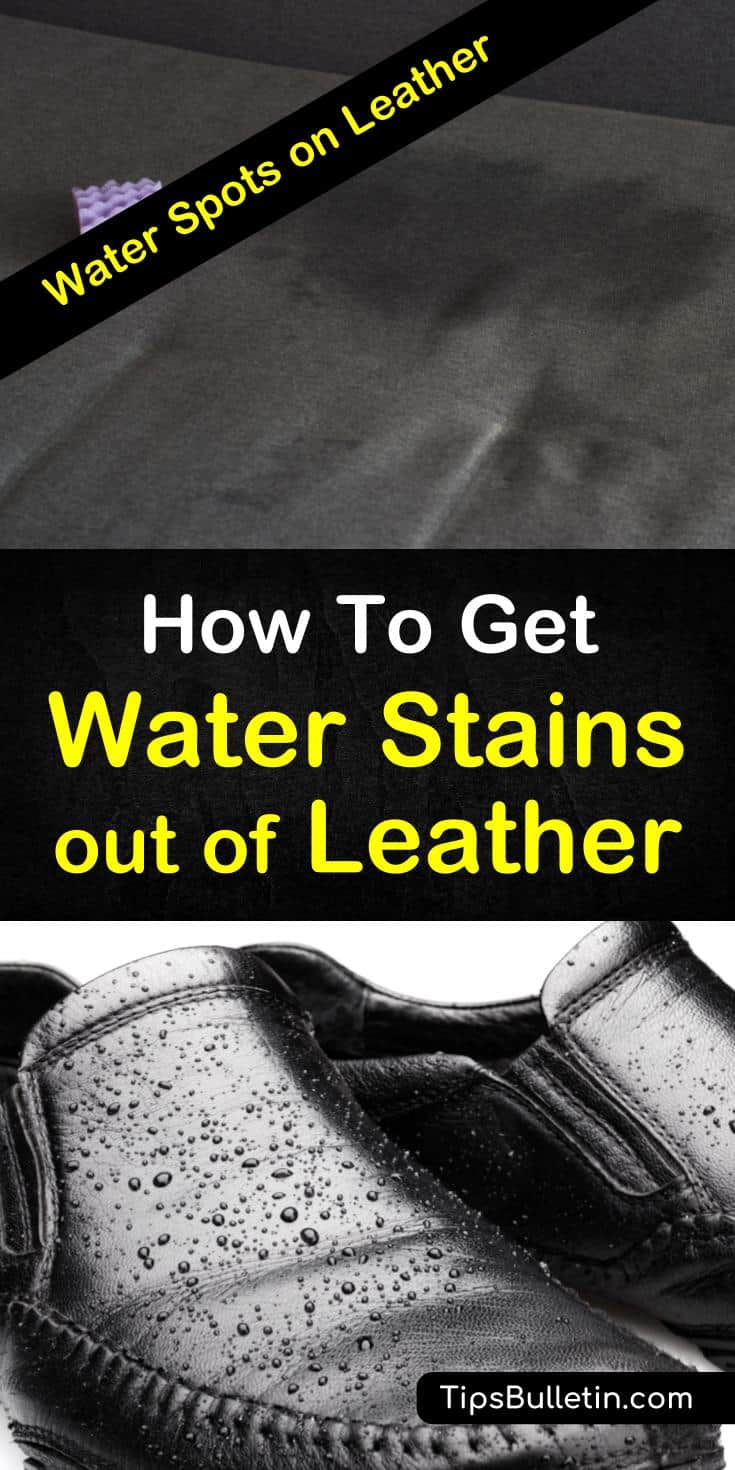 If you feel these leather care advice helped you remove your water spots, then share this article with your family and friends so they can learn how to get water stains out of leather, too!