Are techniques about how to get yellow stains out of a mattress a mystery to you? Mattress cleaning is an overwhelming but crucial part of housekeeping and personal hygiene. Shopping for a new bed is fun, and finding the perfect fit for optimum quality sleep is rewarding. Unfortunately, given their regular use and the many hours we spend on them, mattresses don't stay clean for long.
From sweat marks to urine accidents and drinks or pet mess, beds see some abuse and inescapably end up stained. Getting yellow stains out of a mattress seems challenging, yet fortunately, it's easy with the correct information.
Discover step-by-step tips and tricks for how to remove yellow stains from a mattress without tons of labor. Employ time-tested techniques to erase unsightly stains without ruining your bed. Pass on expensive and toxic synthetic cleaners and use familiar products to make pillows white again; get your mattress clean, stain-free, and ready for a restful snooze.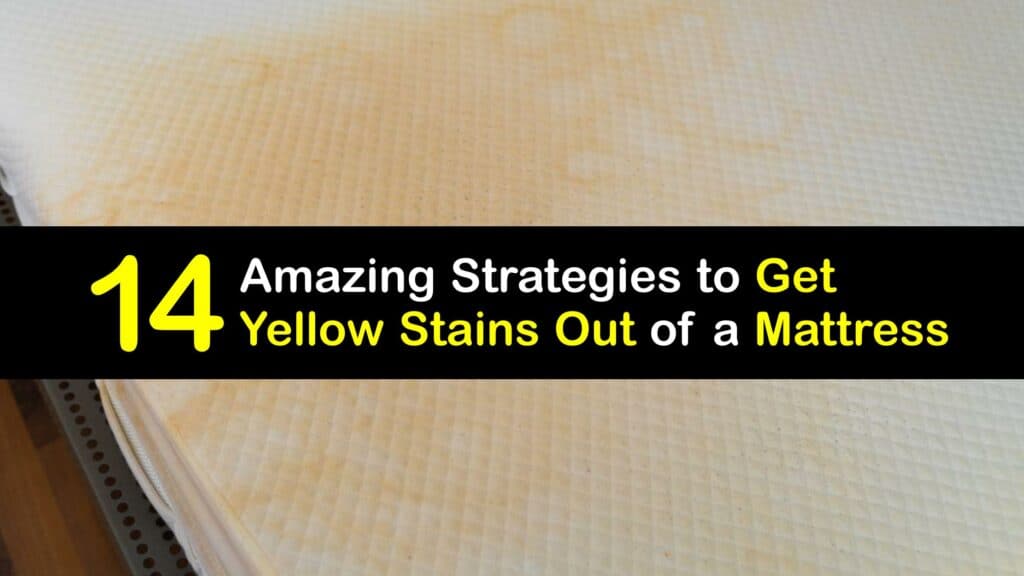 How to Remove Yellow Stains From a Mattress Quickly
Mattresses are pricey, and sleeping in a stinky, stained bed is unpleasant. Don't panic if you have no idea how to get throw up out of mattress. It can be daunting if you're undergoing potty training or dealing with the side effects of a drink spill in bed. Luckily, several simple remedies make getting the stain off your mattress painless.
Use these proven ideas for getting yellow stains out of a mattress to ensure your bed is always clean and inviting.
Considerations for Mattress Cleaning
Whether you have a pillow top mattress or a memory foam mattress, it's vital to keep it clean. Each day, we lose thousands of dead skin cells. Dust mites migrate to dead skin, tunneling into our mattresses each night to eat the dried cells.
Anyone with allergies or asthma should be concerned about dust mites and bed bugs since they can induce allergic responses.
People sweat when they sleep; it's just natural. Throughout a mattress's lifetime, perspiration promotes the growth of bacteria, fungi, and mold inside the mattress. Aside from this, beds are often subjected to liquid stains such as urine stains and sweat stains.
Although it may seem intimidating, cleaning a mattress doesn't have to be costly or time-consuming. Your bed lasts longer and stays cleaner if you invest a little time and effort to deep clean every six months and perform spot cleaning as necessary.
What Causes a Yellow Stain?
Despite our efforts, mattresses end up with yellow stains. Some of these blemishes, such as sweat marks, are unavoidable and part of daily wear and tear. Other marks are from accidents such as potty mishaps or spilled drinks. Exploring the types of stains likely to happen on a mattress helps you prepare to remove them.
If you encounter a liquid puddle while still wet, grab a paper towel or an absorbent cloth towel and pat up as much wetness as possible. Dab gently to lift the liquid. Never rub at the damp mark, as this tends to drive it deeper into the material of the mattress.
After you soak up the majority, remove the bed sheets and fitted sheets, and press a clean part of the towel directly onto the mattress to capture the remaining moisture. Choose a technique from the list below to make getting the resulting stain out of your bed a breeze.
How to Get Yellow Stains Out of a Mattress
Dish soap is an excellent cleaner for way more than dishes. This versatile detergent is perfect for anything from carpet cleaning to removing stains from a mattress. Manufacturers developed dish soap to remove organic stains, including those caused by food.
It does a fantastic job of removing stains from other naturally occurring elements such as pee, sweat, and blood. The surfactants and detergents in the soap gently clean away stain-causing residue without disintegrating mattress fibers.
When washing a mattress, remove the sheets and launder them in the machine as advised. Blend the soap and water in a basin, and apply the solution to the yellow stain using a fresh cloth.
Rub vigorously in both directions to remove the color from the mattress. Set the mattress somewhere with adequate ventilation to dry it thoroughly. Open a window or leave on the fan to assist the drying.
Hydrogen Peroxide Lifts a Mattress Stain
Hydrogen peroxide has many uses, from first aid to cleaning. This handy cleaner breaks up the strongest bonds in stains to make them invisible. Soak up excess moisture from the spill with a clean towel before hydrogen peroxide treatment.
Strip the bed sheets and launder them as directed. Hydrogen peroxide is most suited for white or light-colored mattresses as it brightens dark fabrics.
Spray a light covering of hydrogen peroxide over the yellow stain, use a clean towel to dry the area, and repeat. Inspect the mattress and continue applying and dabbing the hydrogen peroxide until the mark is no longer apparent.
Enzymes for Getting Yellow Stains Out of a Mattress
An enzyme cleanser uses enzyme science to break down biological molecules found in urine stains left by humans, animals, or both. It will also get rid of sweat stains on a white mattress and bedding. If you don't want to use a homemade treatment, get rid of yellow marks by purchasing an enzymatic cleaner at the pet shop or in the laundry aisle.
Enzymatic products clean urine, food, drink, and blood. They are less effective against synthetic stains like motor oil.
Enzymes are in the natural world. They play a critical role in the digestive process our bodies rely on to keep us alive. Enzyme cleaners are effective cleansers designed to eliminate dried biological stains and smells by disintegrating the compounds responsible for them.
Purchase an enzyme-cleaning liquid safe for the mattress material, whether memory foam or cotton. Despite their higher cost, enzyme cleaners are highly efficient. Apply the products as specified, taking note of the safety directives. Before you re-make your bed, ensure your mattress has had a chance to dry to prevent mold.
Vinegar Will Clean Yellow Stains on a Mattress
Try white vinegar if you're searching for a stubborn stain remover and strong deodorizer. This naturally acidic product removes new and dried yellow stains from mattresses. Distilled white vinegar's acetic acid breaks down the staining, making it disappear. Tea tree oil has antimicrobial qualities and leaves a fresh aroma on the bed.
Bed linens and the mattress cover should be removed and cleaned as necessary. Shake the mixture before applying it to the spots. Give the spray ten minutes to sink into the contaminated area and wipe it with a cloth. Blot up the remaining liquid with a paper towel and leave the mattress to dry.
Other types of vinegar will also work to eliminate stains and smells from your mattress. You can clean pee stains off a mattress with apple cider vinegar; this type of vinegar can kill even the strongest smells.
Concentrated Laundry Detergent Fixes a Stain
Though a mattress is too bulky to fit in the washing machine, there are other ways to take advantage of the cleaning capabilities of laundry detergent.
Liquid laundry detergent is heavily diluted in the washer, reducing its ability to remove stubborn stains, meaning clothes frequently need pretreatment. Luckily, we can use liquid laundry detergent to clean yellow patches off a mattress without diluting it first.
Choosing a colorless liquid laundry soap is best to avoid accidentally staining your mattress with dye. Smear a thin layer of liquid laundry detergent onto the yellowing and allow it to rest for five minutes. The detergent sinks into the stain and loosens it. Wipe over the yellow with a damp cloth and leave the mattress to dry.
Steam Cleaning to Deep Clean a Mattress
Your mattress gets dirty over time, from food stains to dust mites, and must be thoroughly cleaned. Using a steam cleaner is an inventive method to get rid of stains like sweat, urine, and other stains on your memory foam or pillow-top mattress. Depending on how frequently it is used, steam clean your mattress once every six months to yearly.
A comprehensive steam cleaning removes yellow splotches, dirt, and dander deep in the mattress's core. Follow the guidelines in the product manual and adjust your steam cleaner to the recommended setting for the best results. Ensure your clean mattress is completely dry, situate it on your bed frame, and refit your sheets.
Baking Soda Erases Yellow Mattress Stains
Baking soda is a critical ingredient in many baked goods. Did you know it does wonders for removing yellow stains from a mattress, too? Follow our easy ways to use baking soda to remove stains from a mattress or topper with baking soda. It's a straightforward solution used when messes are cleaned from a bed, but the odor lingers.
Before washing the bed sheets, remove them from the mattress and place them in a basin filled with water and a cup of baking soda as a presoak. Make a baking soda paste to spot clean blemishes, or use baking soda to eradicate odors throughout the mattress to give it a new lease of life.
Stir the water and powder until a viscous paste comes together. Smear it on the yellow discoloration, leave it for ten minutes, and wipe it with a damp rag. Scatter baking soda dust liberally over the surface of the mattress to freshen it.
As baking soda is left to sit on the bed all day, it draws out and soaks up smells, even those caused by urine or sweat. Vacuum up the dust and discard it.
DIY Mattress Stain Remover Spray
Anything dirty on your bed, whether a urine or drink stain, is repulsive. Make a simple spray in your laundry room and pantry to eliminate staining without exposing yourself to dangerous ingredients. Removing yellow stains from a mattress pad is easy with this basic spray.
In the spray bottle, combine the ingredients after measuring them out. Shake the sprayer each time you use it. Remove wetness by patting it, spray the remaining damp patch, and let it sit for at least 20 minutes. Use a clean cloth to press into the mattress, dabbing and patting as needed to absorb as much liquid as possible and allow it to air dry.
Commercial Mattress Cleaners
An impressive selection of store-bought mattress stain removers exists for those who prefer not to use DIY ideas or have little time. Head to your local store and check the laundry and cleaning aisles for a suitable stain eliminator for your mattress. Locate a product focused on natural ingredients and mild detergents.
Choose something specifically recommended for your mattress material. Memory foam, in particular, is delicate and easily destroyed by too harsh cleaners. Read the usage guidelines thoroughly and heed any safety warnings while you use the cleaning mixture on your mattress.
If you're uncertain about the item's suitability for your specific bed type, make a small test spot in a hidden location before applying it to a larger region.
Try a Protector to Clean Mattress Stains Less
If you deal with many mattress stains and want to preserve your bed's condition, a mattress protector is a wise investment. Your health, comfort, and performance depend on getting enough sleep. Many people put money into purchasing the best mattress possible – they are notoriously pricey.
Utilizing a waterproof mattress protector is an intelligent way to safeguard your investment and your mattress. Whether you have children who struggle with bed wetting, pets who spread dirt, or tend to sweat as you sleep, a mattress protector prevents damage.
Waterproof mattress protectors are available in a variety of sizes. They typically have a slim profile and are designed to be pleasant to sleep on. Choose a mattress protector suitable for the size of your bed and in line with your preferences.
Some protectors are total encasements that cover both the top and bottom to protect against bed bugs. Other protectors fit right over the top of your mattress, similar to a fitted sheet. Place the protector around your mattress and secure your fitted sheet on top. Sleep confidently, knowing sweat, urine, or drink spills won't reach the mattress.
Cleaning a Mattress Pad
More options exist to remove yellow stains from the mattress protector, as specific mattress pads are machine washable. Check the care instructions or use this general guide to decide if your topper is machine safe.
Place your pad in the washing machine with mild detergent and run a warm, delicate cycle. Though several mattress toppers are conveniently machine-washable, some types are incompatible with rolling around the washing machine.
Stick to spot cleaning if you have an egg crate, memory foam, or latex mattress topper. Choose your favorite idea from the list and use it to clean the stained region of the topper before leaving it in a warm, ventilated place to dry naturally.
Cautions for Treating a Stained Mattress
Knowing what not to do is crucial once you have mastered how to get yellow stains out of a memory foam mattress. Ineffective cleaning techniques are in danger of deteriorating or even destroying your mattress. Soaking a bed in cleaning solutions is never a good idea. Mattresses are incredibly challenging to dry due to their size and density.
Mold and mildew thrive in ideal conditions once excess fluids collect deep in mattress fibers. Use a blow dryer on the lowest temperature setting, leave the room's fan running until the mattress is completely dry if water is used as a cleaning agent, and apply cleaner sparingly.
Harsh chemicals are never advisable in general, yet they are especially ill-suited for use on a mattress. Exposing yourself to toxic compounds while you sleep is a recipe for disaster. Also, corrosive cleaners and harsh detergents degrade mattresses and may destroy more delicate structures like foam.
After reading this article, are you confident about removing yellow stains from a mattress? Like upholstery cleaning, mattress cleaning is an annoying but necessary chore. Nobody wants to sleep on a filthy bed with yellow stains.
A decent night's sleep is essential for health and productivity. Take the time to find out how to care for your mattress properly to keep it stain free and sanitary so it remains a safe and comfortable place to sleep.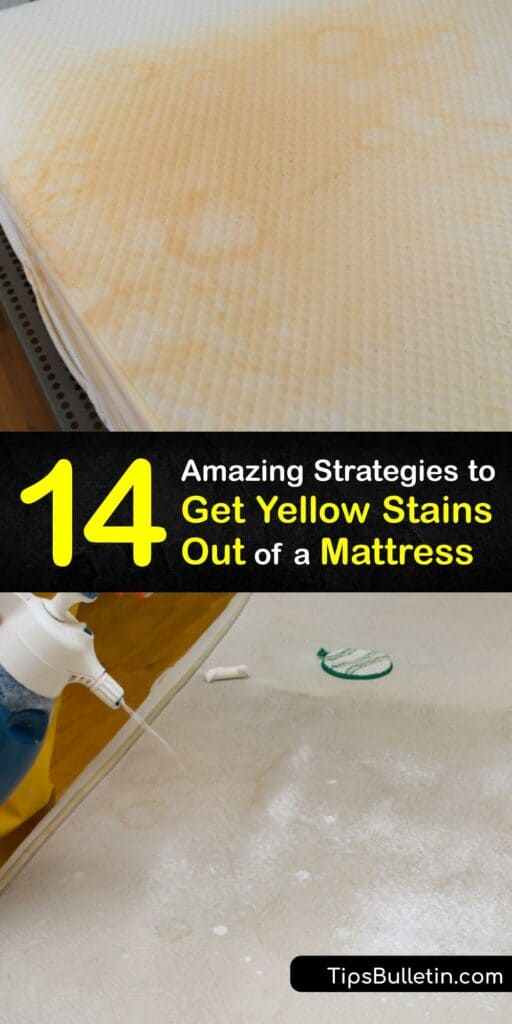 If you loved this smart article on how to get yellow stains out of a mattress, please share it with your friends and close family who are getting yellow stains out of a mattress.