The smoky taste of barbecue and charbroiled grilled chicken recipes are iconic summer foods. When the weather turns chilly, however, these tasty summer treats extend just out of our reach when the first snowfall blankets our outdoor grill. This predicament leaves us questioning how to grill in the oven and is such a feat even possible?
Can we learn how to grill without a grill during those long winter months to replicate the grill marks and crispy texture? Without a doubt, your outdoor electric or gas grill is not the only option for reproducing that delicious BBQ taste you love so much.
Grilling without a grill may require a few additional supplies and tools to cook your food correctly, but it is a relatively simple process with most items already located in your kitchen. You can even learn how to grill on the stove or use special seasonings to recreate that charcoal grill taste.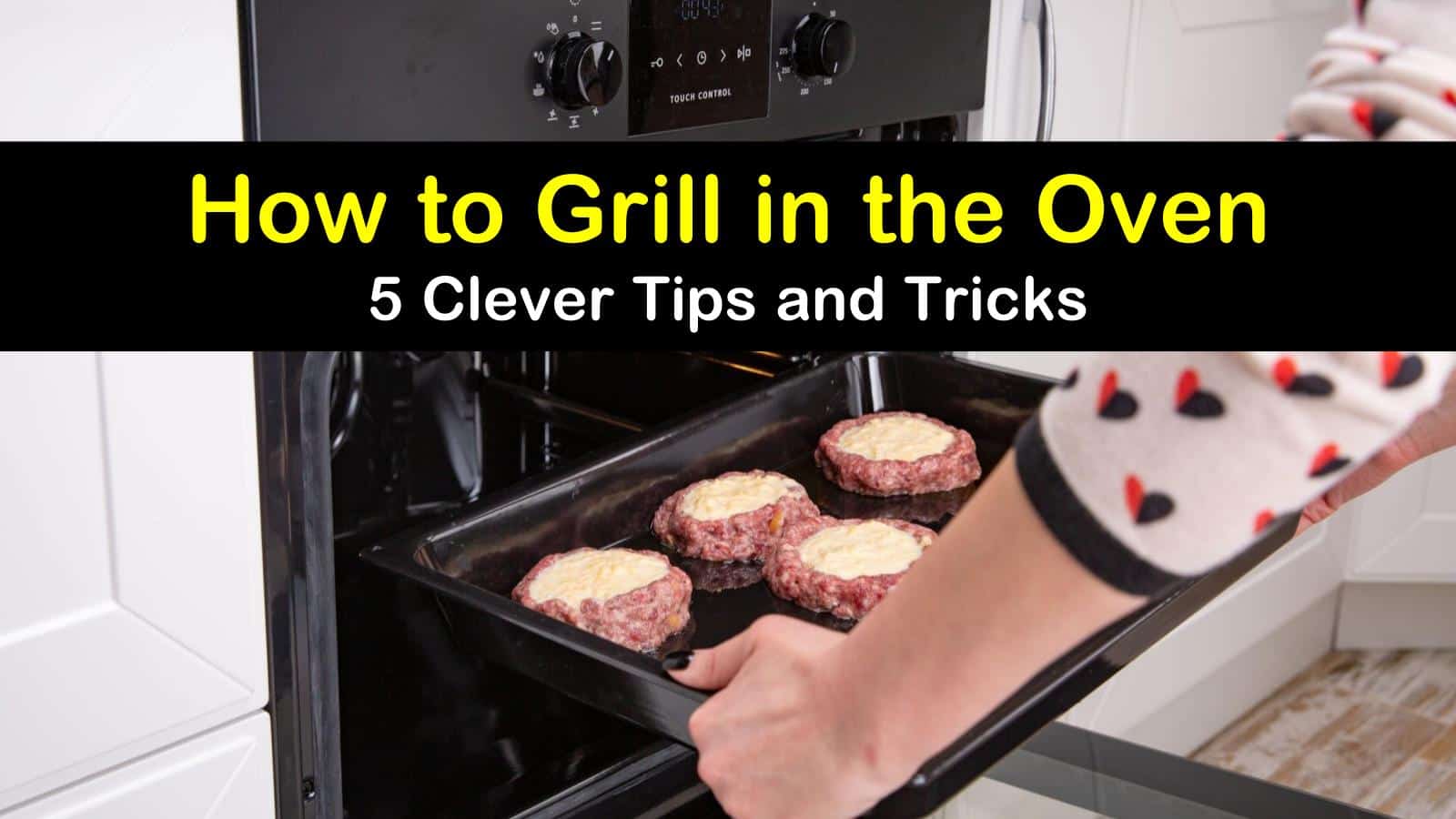 Fantastic Alternatives for How to Grill without a Grill
Of course, cooking on a grill offers delightful flavor and smells that are hard to beat. However, did you know that you have several options for grilling without a barbeque grill? Check out these alternatives.
How to Grill in the Oven Using a Broiler
One of the easiest ways to grill in the oven is to use your broiler pan. Broiling your food uses high heat levels to cook food similarly to an electric grill. Instead of cooking meat using sporadic flare-ups of flames, your indoor cooker uses indirect heat to grill food.
This process starts by setting your oven to the highest temperature possible and leaving your broiler to preheat in the oven, as well, in the same way you would preheat before using a baking stone. This step should take approximately ten minutes. Using a pair of oven mitts, move the broiler pan from the oven to the stove and place the meat on top of it.
Place the broiler pan with the food back in the oven for approximately ten minutes. Halfway through the meat's cooking time, use a pair of tongs to flip it over to cook it evenly on both sides. Remove the food from the oven and let it sit at room temperature for an additional ten minutes on the stovetop before cutting and serving.
How to Grill without a Grill Using Cast Iron
Another fantastic indoor grilling technique is to use a cast iron grill pan. These pans are made from the same material as cast iron skillets, making them extremely durable to high temperatures in the oven. The process for grilling foods in a cast iron pan is almost identical to that of cooking on a broiler.
In both cases, you want to leave the oven door open slightly to regulate temperatures and use similar time frames when cooking. The most significant difference for cooking with a cast iron grill pan is the placement of the pan in the oven. When using a broiler, how close you place the pan to the heating element will also determine whether that juicy rib-eye steak of yours is well-done or medium rare.
For the grill pan, it is always placed on the lowest oven rack when cooking. Therefore, this characteristic makes it more ideal for cooking foods like chicken breasts over steaks.
It is important to note that you will periodically need to season a cast iron grill pan just like you do for your actual barbeque grill or skillets. Seasoning ensures that the surface remains free of rust and adds a bit of flavor to your favorite foods.
How to Grill on the Stove Top
Your oven isn't the only grilling machine in your kitchen. You can use the stovetop for cooking with a grill pan, too. This grill pan doesn't have to be cast iron, and there are plenty of options out there for those wanting to use this method on their stovetops.
Some tips for cooking on the stovetop include grilling foods with a marinade or using small amounts of olive oil to keep the food from sticking to the pan. Just as with the first two methods, a time frame of ten minutes will usually suffice to grill the food thoroughly. However, monitor the internal temperature with a thermometer to ensure the food cooks all the way.
How to Season Entrees and Veggies for Delicious Grilled Flavor
One of the best reasons for cooking on the grill is the smoky flavor and taste of charcoal. Many of these tastes can easily be replicated using smoked seasonings and oils like Liquid Smoke.
Sprinkle spices like smoked paprika over both sides of the meat you are using, massaging it into the food with your fingertips before cooking. Another option is to use a barbecue rub or dry rub to add a zesty burst of flavor reminiscent of those summers by the grill.
How to BBQ in Oven
Another highlight of grilling outdoors is making barbecue ribs. These tend to be more challenging to cook correctly inside, which is why grilling them is the preferred method. However, this delicious BBQ can be done using the broiler method and a few additional, handy supplies. All you need is some patience.
First, slather the ribs in your favorite barbecue sauce. Wrap them in aluminum foil to lock in moisture and flavor. Next, place the wrapped ribs on a baking sheet and leave them to cook in the oven for two hours. The heat setting on your oven should be 350°F.
After the two hours are up, remove the foil and place the ribs on the broiling pan. Let them cook for another 30 minutes, adding barbecue sauce to all sides to ensure an even coating. Once the ribs have finished cooking, let them sit away from the heat for approximately ten minutes to cool on their own. Enjoy your delicious BBQ!
Cleaning the Oven after Grilling
Of course, grilling in your oven does present a few more cleaning challenges than you may have if you grill outside. However, you can use a natural oven cleaner without baking soda or with the powder to remove spatters with ease.
Vinegar and lemon juice are also powerful allies for cleaning the oven as well as for cleaning a BBQ grill you have out on the patio. Taking out the racks and cleaning them separately makes it easier to clean them and the oven.
It's important to clean your oven after your indoor grilling just like you would take care of BBQ grill cleaning after using it. Taking a few minutes to wipe the interior of the oven and get rid of stains after cooking makes oven cleaning a much easier job than waiting until it is filthy and crusty with food debris.
Now that you have a few new techniques to try throughout the winter, that snow outside your window poses no threat to your barbequing prowess. These tips are perfect for cooks who live in apartments or who don't have access to porches. Whatever your reason, you don't need a grill to enjoy that straight-from-the-grill taste and texture.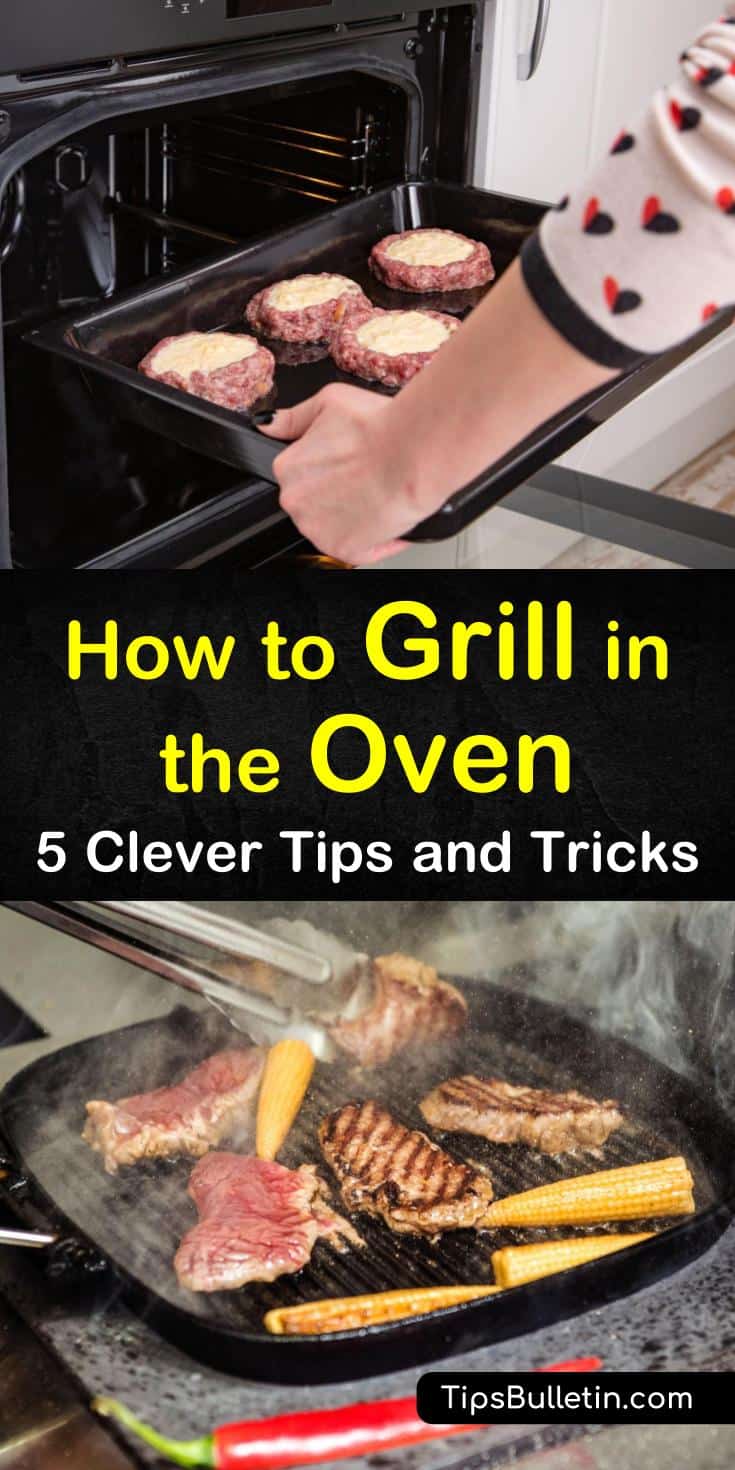 We hope you've enjoyed our ideas for how to grill without a grill. If you liked these indoor grilling tips, remember to share how to grill in the oven with the grillmasters in your life on Facebook and Pinterest!