Growing a pineapple plant from the fruit you buy at the grocery store is a fun and easy indoor gardening project. Although it takes several years before it'll produce fruit, keeping pineapples as houseplants is an excellent way of bringing a taste of the tropics to your home. Read on to find out how to grow a pineapple plant.
Pineapple plants, or Ananas comosus, are native to southern Brazil and Paraguay. Pineapples are a widespread tropical fruit crop grown in Hawaii, Puerto Rico, and Costa Rica.
Although they aren't grown commercially in Florida, they are a popular outdoor garden addition. Pineapples are bromeliads – flowering tropical plants that need plenty of light and moisture.
In this article, you'll learn everything required about how to start a pineapple plant and adequately care for it indoors. All you need to grow your own pineapple is a source of bright, natural light, a large pot, soil, and fertilizer.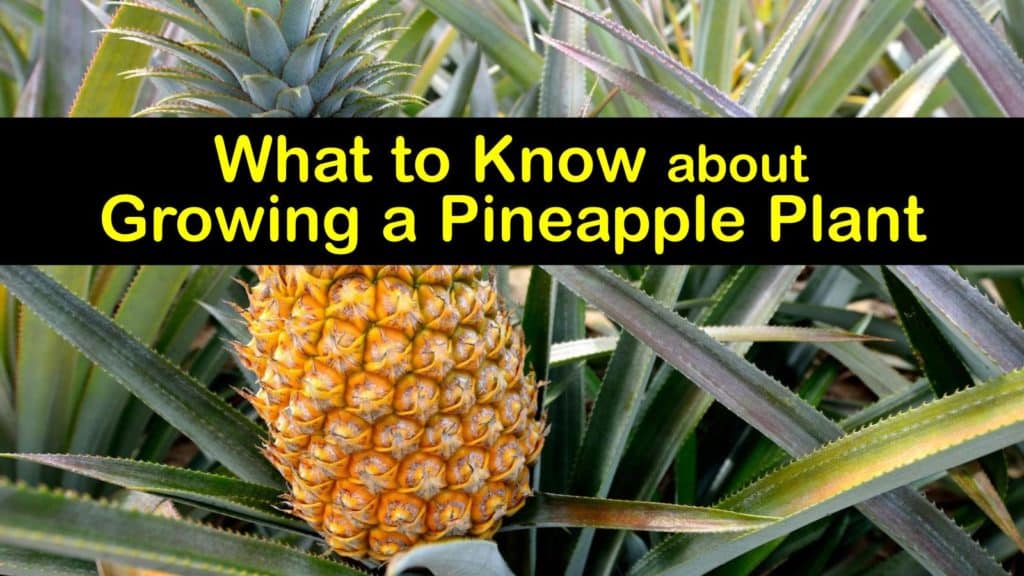 Growing a Pineapple Plant
Although they grow slowly, a mature pineapple plant reaches up to six feet tall under optimal growing conditions. In cooler climates with short winter daylight hours, grow lights may be required for the plant to produce fresh pineapple fruit.
Common types of pineapples demand full sun, which means at least six hours of direct sunlight per day. They prefer well-draining soil and nitrogen-rich fertilizer.
Pineapples grow best when their roots aren't restricted, so it's essential to increase the pot size frequently until the plant reaches maturity.
How to Start a Pineapple Plant
It's easy to propagate a pineapple top from store-bought fruit, rather than growing pineapple from seed. Begin by selecting a healthy, ripe pineapple from the grocery store. The fruit should be deep golden, with bright green leaves that are free from insect damage.
When considering how to start a pineapple plant, you can regrow a pineapple by taking off the crown. Remove the leafy top by grasping it firmly near the base and twist.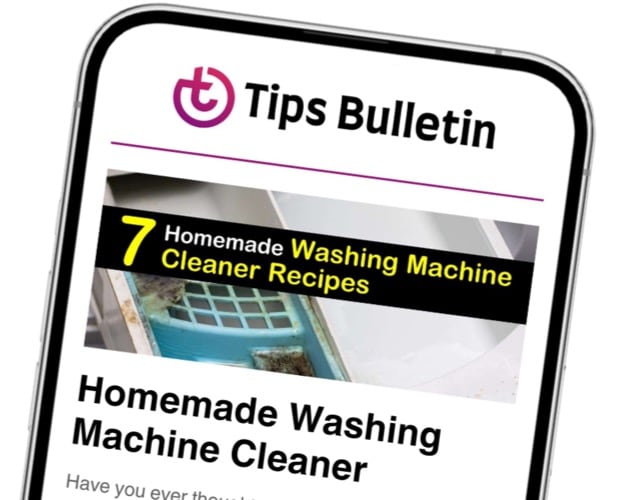 Finally, an email that Transforms Your Home.
Get the latest home and garden tips from our experts, delivered straight to your inbox.
After separating the pineapple crown from the fruit, remove a few layers of the lower leaves to expose one or two inches of the crown. Look for small brown nodes around the base of the crown where new roots begin growing.
Place the pineapple crown on its side and let it dry in direct sunlight for one or two days to prevent rotting. Then, suspend the crown on top of a glass or jar of clean water, with only the leaf-free section submerged.
To keep the water clean and fresh, change it every other day. Once the roots are at least three inches long, your new pineapple plant is ready to move into a four- to six-inch pot with soil. Typically it reaches this stage in about one month.
Some of the bottom leaves may turn brown. As long as the crown starts growing roots, this is no cause for concern. Occasionally, a pineapple crown doesn't root. In this case, discard the old crown and try a different pineapple.
Choosing the Best Potting Soil
Pineapple plants, as well as when you grow dwarf fruit trees in pots, require well-draining soil. A succulent or cactus potting mix works well. Always use a pot with drain holes at the bottom. The pot should be roughly two inches wider than the pineapple crown to start.
Purchase an appropriate potting mix from your local garden shop, or try making your own using this recipe.
Mix the ingredients in a 5-gallon bucket or large plastic bag. Fill your pot with soil and use a trowel or your fingers to create a hole large enough for the roots.
Gently place the crown and roots into the hole and carefully fill it in. Softly press the soil around the base of the plant with your fingers to secure it in place.
While pineapples are somewhat drought tolerant, they only produce fruit with consistent moisture. However, if the soil stays too soggy, the plant may suffer from root rot.
How to Grow a Pineapple Plant
When it comes to how to care for a pineapple plant, it's crucial to keep a few factors in mind. During the first few weeks after transplanting your pineapple crown, keep it out of direct sunlight.
Ensure that the soil is consistently moist but not over-saturated. It should have the consistency of a wrung-out sponge. When the uppermost few inches of soil are completely dry, it's time to water your pineapple plant.
Use the tip of your finger to test for moisture. If soil sticks to your finger, wait another day or two before watering. If your finger tip comes out dry, water the plant until it starts to flow out of the bottom drain holes.
In two months or so, the plant begins to produce new leaves, and the root system becomes established. To test it, gently tug on the base of the crown to feel if the roots are taking hold. Be careful not to dislodge the plant.
Once the leaves extend beyond the edges of the pot, it's time to transplant your pineapple plant into a larger container. As the plant grows, continue to replace the pot in this manner until it reaches its full size.
Avoid increasing the pot size too much at a time, as an excess of moist soil that the roots don't touch may lead to fungal growth. A mature pineapple plant should grow in a five-gallon pot.
The ideal temperature for pineapple plant growth is between 68-86°F. Your pineapple plant can move outdoors to a protected area during the warm summer months, but make sure to bring the plant back inside before the danger of freezing temperatures.
Fertilizing Your Pineapple Plant
Plant fertilizers typically have three principal components: nitrogen (N), phosphorus (P), and potassium (K). Nitrogen promotes green leafy growth. Phosphorus encourages a robust root system. Potassium assists with flowering and fruiting processes.
It's best for the first few months to use a nitrogen-rich fertilizer to encourage strong leaf growth. After that, switch to a more balanced fertilizer. Fertilize your pineapple plant every other watering.
How Long Does a Pineapple Plant Take to Mature?
Growing a pineapple plant requires plenty of patience. Depending on your growing climate, allow between one and three years for your pineapple plant to reach its full size and begin fruiting.
To speed up the process, supplement natural light with artificial grow lights during the winter months. Be sure to keep your pineapple plant near a south-facing window in a location where it's safe from cold drafts.
To accelerate fruit production in shorter growing climates, expose the plant to supplemental ethylene gas. The easiest method is to place ripe bananas or slices of apple at the plant's base when it has immature fruits.
Both of these plant byproducts release ample amounts of ethylene gas, which promotes the ripening of fruit. Once a pineapple plant reaches maturity, it develops a flower that turns into a ripe pineapple fruit after several months.
A mature pineapple plant flowers only once. After that, it produces ratoons, or clones, that eventually grow into a new pineapple plant.
Remove these plantlets for propagation by twisting at the stem's base to separate the ratoon from the mother plant. Plant the ratoon in a four- to six-inch pot and follow the growing tips listed here to keep pineapple growing indoors year after year.
Common Pineapple Plant Problems
Even when growing pineapples as houseplants, various common pests and plant diseases may occur, but most are simple to eradicate.
Mealybugs and scale are two of the most prevalent insect pests that attack indoor pineapple plants. Both insects feed on pineapples' juicy sap and cause diminished fruit production and poor overall plant health.
Mealybugs are relatively obvious, as they produce a white, sticky material in the areas where they feed. Scale tends to be less evident at first, especially early in the infestation. The juveniles are small and highly mobile.
They are typically a reddish-brown color. Mature scale insects develop a hard shell and excrete a black, sticky substance that coats the plant's leaves. Treat both using a horticultural oil spray, which coats and smothers eggs, larvae, and adults.
The top fungal diseases for pineapple plants are top and root rot. Both conditions have similar causes and treatments, although they are caused by different pathogens.
The most well-known symptoms are drooping and discolored, yellowish leaves around the center of the plant. Blisters might form on the leaves, which later develop into sunken scars.
Both are a result of overwatering. Repot the plant with fresh soil, removing as much old dirt as possible from the root ball without damaging it. Ensure that the soil dries out sufficiently between waterings in the future.
Growing your own pineapple plant is a fun and rewarding process for novice houseplant enthusiasts and experienced growers alike. All that's required is a bright, sunny location, a big enough container, and well-draining soil.
You'll be savoring fresh pineapple fruit within a few years of transplanting the crown of a store-bought pineapple.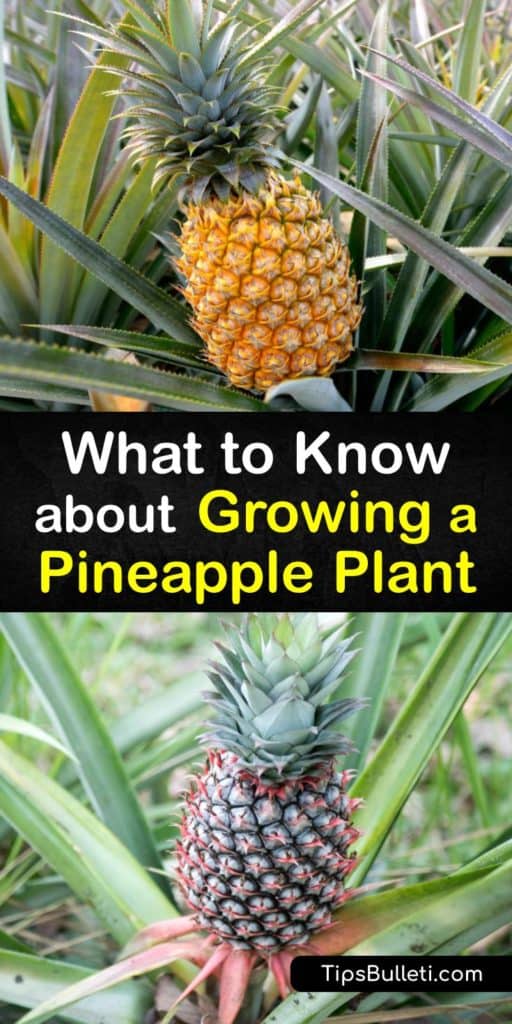 If you enjoyed these tips for growing a pineapple plant, we'd appreciate it if you share this article about how to grow a pineapple plant with fellow green thumbs on Facebook and Pinterest.