The aloe vera plant has become one of the most popular and beloved houseplants across the globe. Most people prefer to pick one up whenever they run into one at the store, yet growing them from seed is cheaper and more satisfying. If you don't know how to grow aloe vera from seed, this article shows how simple the entire process is.
Growing aloe vera from seed typically starts with cuttings of aloe vera leaves and repotting them. Learning how to plant aloe vera seeds is easy, rewarding, and the plant has health benefits such as cleaning the air and healing sunburn.
Even if you only like to have them around because you think they're pretty, planting aloe vera seeds isn't something you regret. After a few weeks of caring for the new plants, you'll be left with a rosette of big, vibrant succulent leaves.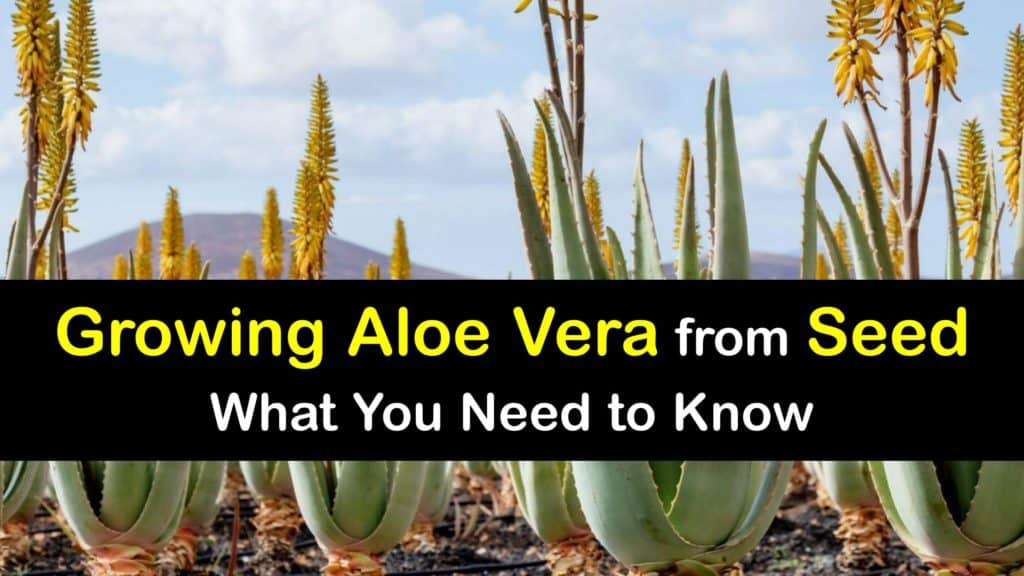 How to Plant Aloe Vera Seeds
Even for people with different levels of gardening experience, understanding how to grow aloe vera from seed can be an extremely satisfying hobby. They are some of the best drought resistant plants around.
Once you grow one type of aloe barbadensis plant, you can start branching out and attempting to grow species of aloe cultivars.
Those looking for rarer baby aloe plants should try to contact a local nursery or botanical garden to ask if it would be possible to obtain some seeds.
The First Step of Learning How to Grow Aloe Vera from Seed
Growing aloe vera from seeds starts by purchasing or extracting the seeds from the pods of mature plants. Remember that extraction may be challenging because it takes some cultivars between four and nine years to mature.
If you have a mature succulent plant, you can see the seeds inside the flowers when the petals finally fall from the plant.
Aloe vera seeds are flat and grayish-brown or black. Try not to collect seeds that are lighter in color because they most likely won't germinate.
To extract the seeds, split the pod in half only when brownish-green. This color is a sign that they're ready to harvest. Carefully extract the seeds from the pod over a bin to catch the seeds if any fall.
Storing Harvested Aloe Seeds
Growing aloe vera from seed immediately after extraction is possible. Some gardeners may wait to sow seeds as outdoor plants instead of indoor plants.
Save your aloe vera seeds in a paper envelope and set them in a cool and dark space. Make sure to use the seeds before the end of the year.
Growing Aloe Vera from Seed
Planting aloe vera from seed is easy because of how quickly the seeds sprout after propagation. Choosing a suitable medium is crucial for these fast growers.
Their root system thrives when grown in a mix of half peat and half coarse sand because it creates good drainage, but there are other options as well. Remember to drill drainage holes into your container.
If you don't want to make a DIY soil mix, purchasing some potting mix for succulents works well. As long as the chosen soil is loose and well-draining, you shouldn't have any problems.
Tending to Succulent Plants during Seed Germination
Though you can start growing aloe vera from seed outdoors, these medicinal plants are usually more successful when started in a container garden because you have more control over the growth cycle. Grow aloe vera inside easily but know that it won't flower.
Aloe is hardy in USDA hardiness zones eight through 11. The way to grow aloe vera starts with propagation. At the beginning of the process, use flat trays with less soil. Spread the seeds one inch apart and lightly water them.
Set the seeds in an indirect bright light where temperatures are around 75 degrees Fahrenheit. This temperature is necessary for the seeds to germinate.
You may need to use a gardening heat mat to keep the potting soil warm. Keep this in mind when considering when to plant aloe vera seeds this growing season.
If possible, water the seedlings from below to prevent damping off, which happens due to fungal growth. When ready to repot the seedlings, use a DIY potting mix before transplanting them to their new container.
Mix two parts sand and perlite in a large bucket with one part peat moss and sterile compost. Stir each ingredient until it is uniform throughout, and add some water to ensure that everything is moist.
Caring for Aloe Plants as they Mature
Bury the seedlings about a quarter-inch deep in their new containers with your potting mix. Sprinkle some pumice over the top of the soil surface and move them to a place that receives bright light or direct sunlight.
Don't overwater when possible to avoid aloe vera plant care problems. Try misting the plants and covering them with plastic bags for a few hours to retain moisture.
Aloe plants require eight to ten hours of sunlight per day. If temperatures drop, place them back on the heat mat and cover them again with plastic bags.
Figuring out how to plant aloe vera seeds is quick and easy. Over time, your mother plant will flourish and eventually produce seeds for you to grow even more succulents at home.
These beautiful plants attract hummingbirds and other beneficial wildlife to your outdoor gardens. Aloe plants are incredibly easy to grow, and more homeowners should take advantage of their succulent leaf cuttings.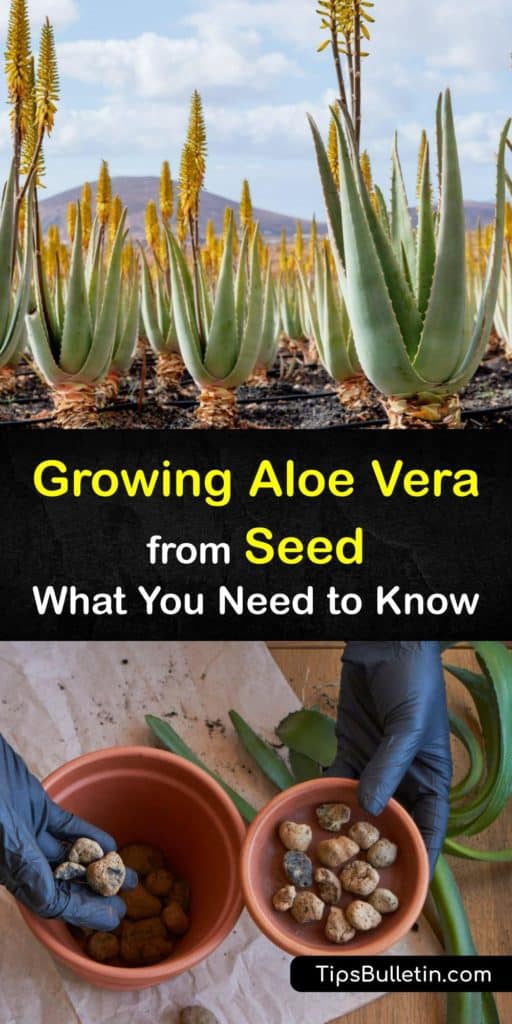 If learning how to grow aloe vera from seed has filled your home with new greenery, share this article explaining the steps for growing aloe vera from seed on Facebook and Pinterest.