You've probably heard of aloe vera juice or used aloe vera gel to treat a sunburn, but did you know that the aloe vera plant is one of the easiest to grow in your home, even if you are a beginner or lack a green thumb? Learn how to grow aloe vera indoors and give your houseplant the care it needs to flourish.
Aloe vera plants are one of our favorites since they have more than one purpose. While they are aesthetically pleasing to look at, they are a succulent plant, and the aloe vera leaves contain a sticky substance that works wonders for healing and soothing.
They commonly grow outside in hardiness zones 8 through 11 but are easy to grow as an indoor plant. However, there are some things to know before you grow aloe vera indoors.
This succulent grows best with a good amount of sunshine and the right potting soil. It also has specific watering requirements. Give the aloe vera plant what it loves, and enjoy its beauty inside your home year-round.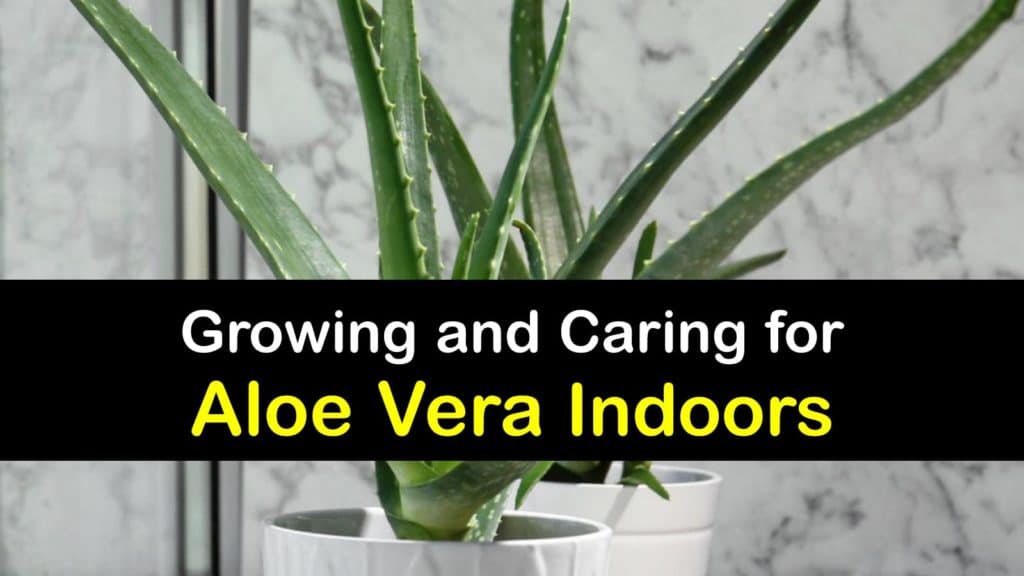 Growing Aloe Vera Plants Indoors
Aloe vera plants adorn the outdoor gardens of many southern areas, but can you grow aloe vera indoors?
Yes, it grows just about anywhere under the right conditions and is a fast-growing succulent compared to other succulents like the cacti. There are also different types.
While growing aloe vera indoors is easy, there are some things to know about this plant before planting it in your home. Learn ways to grow aloe vera and give it the care it needs to thrive. Find out how to use aloe gel to make a homemade healing salve.
Can You Grow Aloe Vera Indoors?
There are many types of houseplants that love growing inside the home, but can you grow aloe vera indoors as a houseplant? Yes, this plant thrives in the home as long as you give it the right growing conditions. This easy plant for apartments and other dwellings couldn't be simpler to grow.
Discover what an aloe vera plant is and the different types to help you choose the perfect one for your personal taste.
The aloe plant is native to Southern Europe, North Africa, and the Canary Islands, and it's widely known for healing wounds, but this amazing plant does more than that.
It is a natural laxative, provides heartburn relief, lowers blood sugar, keeps your skin clear and hydrated, and is also an alternative to chemical-based mouthwash.
Aloe vera (Aloe barbadensis) is the most common type of aloe plant. It has medium green, thick succulent leaves with toothed edges and grows up to three feet tall and two feet wide.
It is also called True aloe, Chinese aloe, and Indian aloe, and it has many medicinal purposes.
There are many other types of aloe plants, too. Sunset, Spiral, Carmine, and Crosby's Prolific are some of our favorites. Sunset aloe is an evergreen succulent that grows 12 inches tall and is light green in partial shade and red in full sun.
Spiral aloe is a 12-inch plant that forms a rosette of blue-green leaves that forms a spiral pattern as it ages. If you're looking for a contrasting variety, the Carmine aloe plant grows eight to ten inches tall and wide, and the leaves have dark orange edges.
Crosby's Prolific aloe is a miniature plant that only reaches six inches tall, and its deep green foliage forms a rosette that turns reddish-orange in the sun.
How to Grow Aloe Vera Indoors
Aloe vera is a great addition to the indoors. It adds appeal, has healing properties, and cleans pollutants out of the air. Discover how to grow aloe vera at home, propagate it from a mother plant, and repot it after it outgrows its original container.
The most common way to plant aloe vera is to purchase a young plant from the nursery or garden center. However, the container the plant comes in is usually too small for optimal growth, and your new plant requires transplanting.
This is also important if the existing mother plant has pups or offshoots or gets droopy and leggy.
To repot the plant, take it out of its current container. If pups are present, gently pull the smaller plants from the main root system. If the aloe plant is root bound, use a sharp knife to separate them.
This form of propagation doesn't harm the plant since aloe vera is very hardy. After separating the plants, leave them out in a warm, dry place overnight to heal wounds on the roots.
Choose pots according to plant size and make sure they have drainage holes to drain away excess water. Small plants are suitable for planting in containers that are four inches across, while a larger mother plant requires a pot that is five to ten percent larger than the size of the plant.
Aloe plants adapt to growing in dry conditions and suffer root rot if you plant new roots in moist soil. Use cactus soil, sandy soil, or a soil mix with coarse sand and perlite when transplanting a mother plant or plantlets.
Position the plant in the pot of dirt with the root ball just below the surface without covering the leaves, and place rocks or pebbles on top of the dirt around the plant's base to keep it in place and prevent it from toppling over.
How to Care for Your Plants while Growing Aloe Vera Indoors
Growing aloe vera indoors is relatively simple, but this plant grows best with the right care. Discover where to place your new plant for optimal sunlight and how to water your aloe vera indoor plant and feed it for healthy growth.
Set these ideal plants for bedroom settings in an area with indirect sunlight in a west or south facing window if you live in a northern region and west or north if you live in the southern hemisphere. Do not water your aloe for the first couple of days to help the roots heal.
Watering aloe vera indoors is pretty straightforward. Give it a light watering whenever the top couple inches of the soil dries, and avoid overwatering after repotting to prevent root rot.
Fertilizing is unnecessary, but if you decide to feed the best house plant to purify air inside, give it high phosphorus, low potassium, and nitrogen fertilizer once a year in late spring.
If you choose to take your aloe outdoors during the summer months, avoid setting it in an area with too much full sun since direct sunlight burns the leaves, and keep an eye out for mealybugs.
These pests suck out the sap from the leaves, causing distortion and stunted growth. They appear at the plant's base and look like white fuzz. To eliminate them, spray them with a stream of water and use a soft cloth to rub them off the plant.
Making a Homemade Salve from Your Aloe Vera Plant
The gel of aloe vera leaves has antiseptic, antibacterial, and antiviral properties that help heal wounds, minor burns, and dry skin. What better way to enjoy these wonderful benefits than to prepare a homemade healing salve from your indoor plant?
Wash your hands thoroughly before handling the aloe leaves to prevent contamination. Slice off the desired amount of outer leaves from your plant near the base since these tend to be more mature.
Set them in a tall glass with the cut side down for ten minutes to drain the resin, which contains latex and may irritate the skin.
Remove the green portion of the leaves with a vegetable peeler until you get to the inner white layer of gel. Scoop the gel out from the inside and place it into a bowl until there is nothing left but the bottom of the leaf.
Combine the aloe gel with powdered vitamin C to naturally preserve it for a month or two.
Mix 500 mg of the vitamin with each 1/4 cup of gel in a blender, pour it into a sterilized Mason jar and keep it in the fridge. If you do not have any vitamin C, the gel refrigerates for one to two weeks.
Apply the aloe as needed for burns, skin irritations, insect bites, and minor wounds. To make a moisturizing lotion, combine a half cup of aloe gel with one-quarter cup of melted coconut oil.
Aloe vera is a multi-purpose plant that even a beginning gardener can grow. Give it the right amount of sun, water, and food, and this succulent rewards you with unusual beauty and natural healing properties while purifying the indoor air.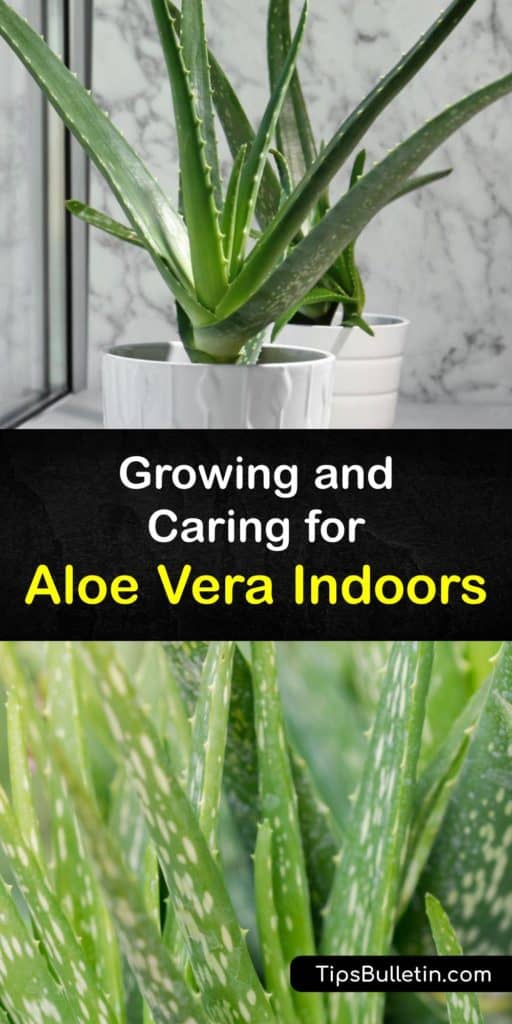 We hope that learning how to grow aloe vera indoors brings natural beauty to your home, and we'd love it if you'd share our aloe vera indoor planting guide with the nature-lovers in your life on Pinterest and Facebook.