Aloe vera plants are a great addition to both outdoor and indoor plants. They are also top on the list of easy-growing houseplants, even if you have a brown thumb. Learn how to grow aloe vera, how long they take to grow and the conditions they need to thrive.
Aloe vera plants have a unique appearance with their rosette of leaves edged with soft prickles. However, there are many other advantages to growing an aloe vera as a houseplant than its aesthetic appeal. This succulent is an air-purifying plant that removes formaldehyde, benzene, and other harmful solvents from the air.
If that's not enough, an aloe vera plant also has a variety of health benefits. The aloe leaves contain a sticky gel on the inside that works wonders for healing sunburn and dry skin. Aloe vera juice is nutrient-rich and good for hydration, liver function, constipation, and digestion.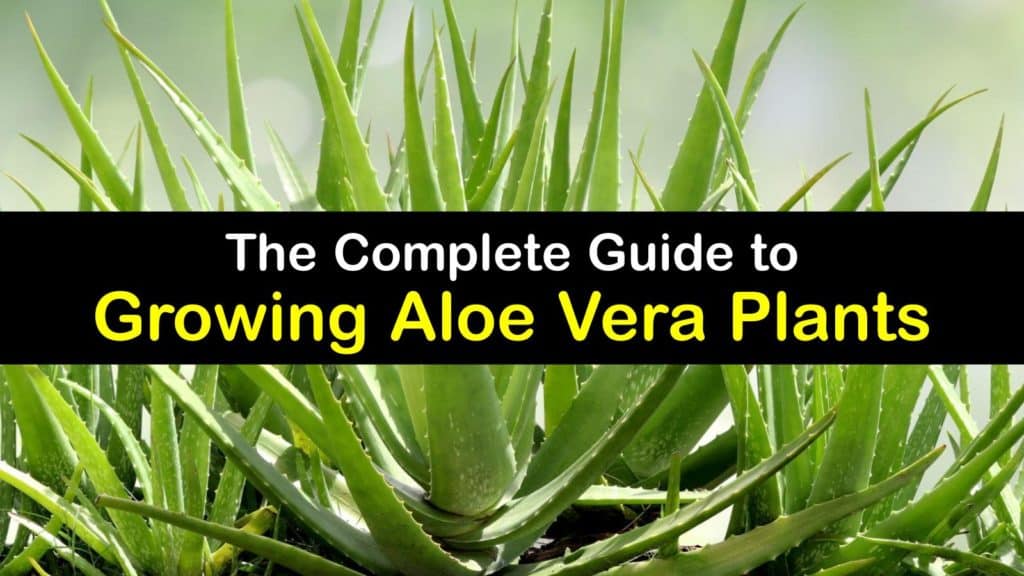 Growing and Caring for Aloe Vera Plants
Growing aloe vera is simple and a great way to bring nature to your home, whether growing aloe vera inside or outside on the patio. It's the type of plant that almost takes care of itself, and it is beneficial to you and the environment.
How long does aloe vera take to grow? We answer this question and more as we show you how to propagate and grow aloe vera as a houseplant. Explore the many uses for aloe vera, how to care for your plant year-round, and fantastic recipes for preparing the aloe leaves.
The Many Uses of Aloe Vera
While we consider an aloe plant a houseplant that adds beauty to the home and garden, it's actually a multi-purpose plant with a range of medicinal uses. Learn about some of the more popular purposes for this plant and how it is beneficial to your health and beauty.
A common use for aloe vera is to heal burns. The gel has a moisturizing, soothing, and cooling effect that aids pain relief and wound healing. Apply the gel to the sunburn or minor burn several times a day and watch it heal.
Aloe vera is also good for clearing up skin and acne since this gel is less irritating than many commercial products, and it is proven to reduce inflammation.
Aloe vera mouthwash or toothpaste is a great natural alternative to traditional toothpaste that contains triclosan. Studies show that aloe vera oral products lower levels of plaque, candida, and gingivitis better than other brands, promoting overall oral health without adverse reactions.
This plant is packed full of nutrients, containing essential minerals and vitamins such as folic acid, C, E, and B, including B12. It may also improve digestion, soothe stomach ailments like irritable bowel syndrome, and inhibit H. pylori bacteria growth that leads to ulcers.
How Long does Aloe Vera Take to Grow?
Some plants are fast growers and fill a container or garden space quickly, and others take quite a long time to reach maturity. The growth rate depends on the plant type and the growing conditions. So, how long does aloe vera take to grow?
Aloe Vera Growth Rate
An aloe plant's growth rate depends on how old it is when you transplant it. A nursery plant is often older than a baby you transplant from a mother plant. Generally, a pup takes three to four years to become a full-grown plant with mature leaves up to ten inches in length.
However, providing your plant with optimal care and fertilizer boosts the growth rate. The average height of a household aloe vera plant is roughly 24 to 39 inches tall, depending on the container or garden size and growing conditions.
Different Types of Aloe Plants
While aloe vera is the most famous of aloe plants, there are many different types of aloe vera, ranging in size and appearance, and they are some of the best houseplants for air quality. Here are some of the more popular aloe plants if you want to add variety to your collection.
The most common type of aloe plant is the aloe vera which comes from the Arabian Peninsula and the Mediterranean area. However, there are over 500 species linked to the aloe family. Most of them have fleshy, thick, and pointy leaves in varying shades of green, but some of them are uniquely different.
The Spider Aloe has white spots, is covered with spiked bumps, and resembles a cactus, and the Aloe Variegata has green leaves with white stripes. The Aloe Arborescens resembles small trees, growing over five feet tall, while the Aloe Descoingsii only reaches up to three inches tall.
The Aloe Cameronii has sharp and narrow leaves that are bright red, and it lives up to 40 years with proper care. Aloe Polyphylla grows with a tightly packed spiral shape and shallow roots.
How to Grow Aloe Vera
While aloe vera is simple to grow at home, it requires the proper potting soil and container or bed to thrive. Discover how to plant aloe vera in a larger pot after purchasing a new plant from the garden center and propagate pups or baby plants from the mother plant to produce more plants.
For the best results, plant the aloe vera in a terracotta pot with drainage holes. These plants hate sitting in wet soil, and terra cotta dries faster than a plastic or glazed container.
If you plant the aloe in a garden bed, ensure the soil is sandy and well-draining with a neutral pH. Aloe plants cannot handle freezing temperatures and require a warm climate, like USDA hardiness zones ten and higher, to survive.
The way to grow aloe vera in a pot is to fill the garden pot or dig a hole in the garden slightly larger than the plant's base, remove the aloe carefully from its original pot, and set it in the soil. Push the dirt around the roots and pat it down lightly.
Aloe plants tend to be top-heavy with a shallow root system, and placing some rocks around the bottom of the plant helps it stay upright while the roots establish. Water the aloe right after planting and set the pot in a bright and sunny area of your home in direct sunlight.
Another way to grow aloe vera plants is through propagation. As the plant matures, it produces pups, and it's easy to remove these small plants from the mother plant for repotting.
When the pup, or offset, is about a fifth the size of the mother plant, or has several sets of true leaves, remove the dirt from around the base of the small plant and use a knife to cut the baby's roots away from the parent plant.
Repot the young plant in a container of coarse sand, potting soil, and perlite, water it lightly, and set it in a bright area with periods of indirect sunlight.
Caring for Your Plants While Growing Aloe Vera
Some plants want constant attention from you as they grow. Fortunately, aloe vera isn't one of them. However, they do still need a little TLC from you now and then. Find what your plants want to flourish while growing aloe vera indoors and outside.
Unlike many other houseplants, aloe vera likes dry conditions, and it's vital to let it dry out between watering. Overwatering is the most common reason an aloe dies from root rot. Wait until the soil dries completely and water it to drench the soil, allowing the excess water to drain freely from the pot through the drainage holes.
Aloe vera plants enjoy growing in a sandy soil mix and generally do not desire fertilizing. However, feeding your plant promotes faster growth. Fertilize the aloe plant once a year during the spring growing season as part of your aloe vera plant care routine.
Since this plant is a succulent, aloe vera grows ideally in direct sunlight for part of the day and requires six to eight hours of full sun with some partial shade.
If you grow your plant indoors, consider placing it in front of a south facing window. While they may grow with indirect light, they often struggle and do not produce as many new leaves.
If you reside in a warm area and grow your aloe outdoors, keep an eye out for mealybugs. These are small and oval insects covered in a white, cottony wax that quickly infest all plant areas, including the roots. To eliminate these pests, apply rubbing alcohol or Neem oil and soap to the affected areas or make a DIY spray for plants to kill bugs.
How to Harvest Leaves from an Aloe Plant
If you grow your aloe for purposes other than the visual appeal they add to your home, it's helpful to know how to harvest the leaves, whether you use them for skincare or recipes.
The best and safest way to harvest aloe vera is to choose a thick, mature leaf from your aloe plant, and use a sharp knife to cut it away from the plant at the base. Lay the leaf on a cutting board and slice it in half lengthwise to reveal the thick gel inside.
Squeeze the clear gel out of the leaf into a container, put the lid in place, and put it in the refrigerator for up to seven days, or freeze it for up to one year.
Using Aloe Vera to Make a Healthy Juice
The most common way to use the sticky gel from aloe vera leaves is to apply it to your skin as a healing ointment. However, there are many other ways to use this plant, and one of our favorites is to make a homemade healthy-boosting beverage.
Use a sharp knife to remove a mature, thick leaf from your plant, rinse it with clean water, and pat the leaf dry. Slice the leaf in two, and use a spoon to gently scrape the clear gel into a bowl.
Do not use any gel with a yellow or green tint since these parts are toxic. The final result should be a clear or white gel without any other coloring.
Pour the filtered water into a blender, add the honey and two tablespoons of the clear aloe gel. If you prefer something a bit sweeter, use a cup of fruit juice or coconut water in place of the water. Blend until smooth, pour into a glass, and drink the aloe juice right away.
Making a Homemade Face Cream with Aloe Vera Gel
You may not know it, but your skin is the largest detoxifying organ in the body. It's essential to avoid putting harsh chemicals on your skin's surface. This homemade face cream hydrates the skin naturally and improves oil production for a healthy glow.
Combine the coconut oil, jojoba oil, and beeswax pastilles in a double boiler, and heat until melted while stirring with a whisk. Take it off the stove burner and let it cool for an hour or so before pouring it into a blender with the aloe vera gel.
Blend the ingredients until they are light and fluffy, and add the lavender essential oil. Spoon the face cream into a glass jar, put the lid in place, and use it as needed for three to four months.
Aloe vera is a unique succulent plant, and the various benefits aloe offers make it a desirable houseplant and garden plant for any home. It's also an easy-grower that needs only a little assistance from you to flourish.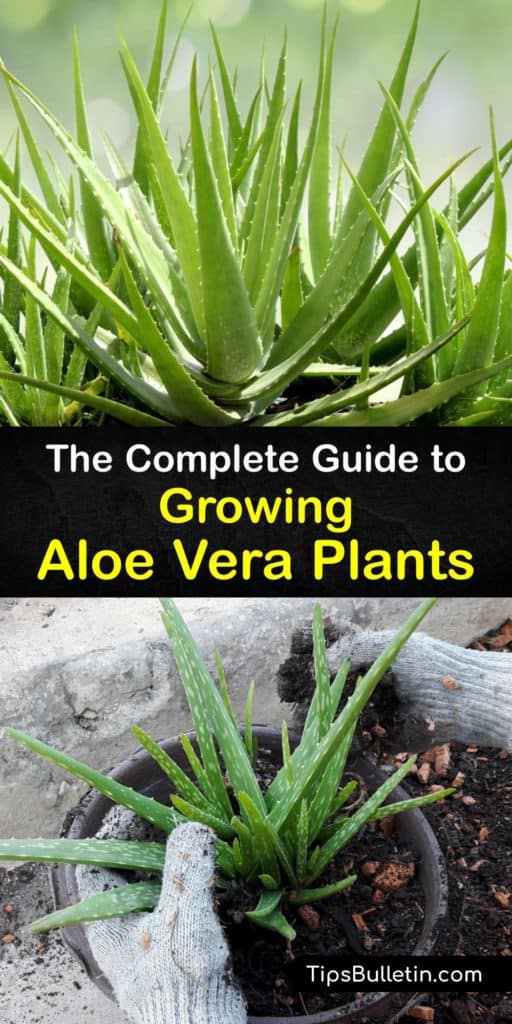 Now that you understand how to grow aloe vera with the right growing conditions, we'd love it if you'd share our aloe vera growing tips and plant care guide with the plant-lovers in your life on Pinterest and Facebook.