Avocados are versatile fruits that are healthy and packed with many vitamins, minerals, and beneficial fats. However, did you know it's possible to grow an avocado tree from the pit you usually toss in the trash can? Find out how to grow an avocado seed in water and transplant it in the soil.
Regrowing food from leftovers is one of our favorite pastimes; there are many fruits and veggies to grow. We love to regrow potatoes, onions, pineapple, celery, lettuce, and a range of herbs this way. We were surprised to discover that we can grow avocado from seed.
While it takes many years for an avocado tree to produce fruit, regrowing a plant from the avocado pit is a great way to grow unique houseplants. Watching avocado pits or seeds go through the rooting and sprouting stages is enjoyable for kids and adults alike.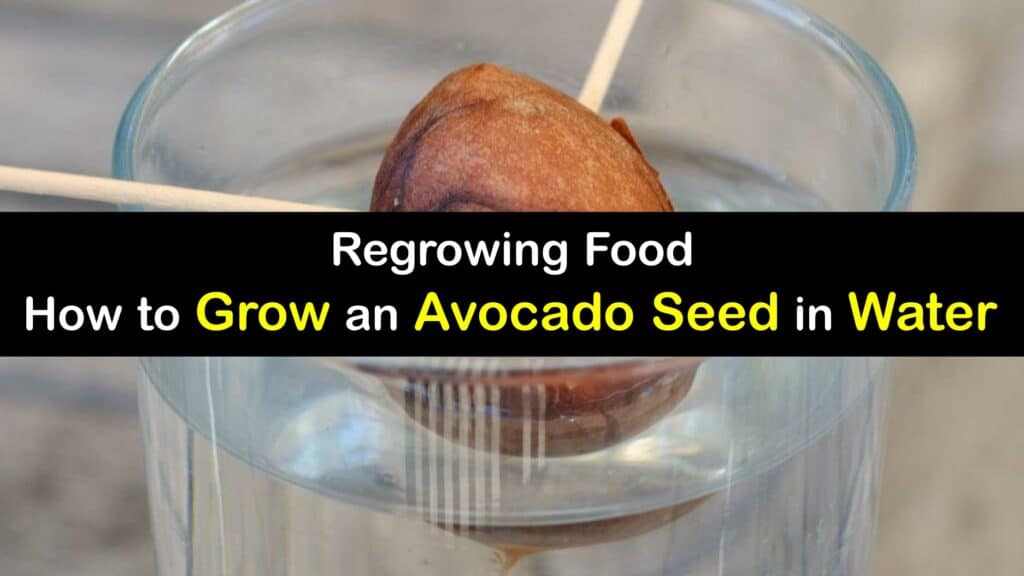 How to Grow an Avocado Plant from an Avocado Seed
A great way to produce a new plant and prevent food waste is to grow avocado in water. It takes little work, and your avocado seed has roots and leaves before you know it.
Learn how to turn an avocado pit into a houseplant by growing avocado seeds in water. Additionally, discover how to transplant it in soil and give it care as it matures to help you grow your own avocado tree. Discover common types of avocados that you can grow indoors for fresh fruit at home.
How to Grow an Avocado Seed in Water
Growing avocado from pit in water is as simple as filling a cup with water and grabbing some toothpicks. Encourage germination and root growth from the pit of a ripe avocado.
Rinse the avocado seed with water, leave the brown skin undisturbed, and set it on a paper towel to dry. Insert four toothpicks around the broadest part of the dry seed and suspend the pit in a glass of water. Place it with the pointed half of the seed up and the broad end or flat end beneath water since this is the part where roots grow.
Set the glass in a sunny, warm area, with the room temperature no lower than 60°F, and refresh the water as needed. The avocado seed sends out tiny tap roots beneath the water in two to six weeks. The pit then splits open at the top, and a sprout emerges.
Transplanting an Avocado after Growing Avocado Seeds in Water
While it's not impossible to grow an avocado tree from seed, most people grow them as indoor plants. Whatever your purpose, it's essential to transplant them in soil after growing avocado seeds in water.
After the seed grows in water for about two months, it's time to transplant it in a pot of soil. Fill a container with loose, sandy potting mix, and dig a hole just deep enough to cover the bottom half of the avocado seed.
Place the root system of the seed in the container, and push dirt in the hole, leaving the top half exposed. Water it and set it in a full sun location. Once the avocado plant establishes, prune away a few sets of leaves to promote new leaves and growth.
Avocado trees can thrive inside as long as the temperature stays stable, and avocado trees can grow in pots outdoors if you live in Florida, California, or another region with year-round warm temperatures. For outdoor growing, transplant the sapling to an area with direct sunlight and rich humus soil.
Keep the soil damp and avoid overwatering, and in ten to 13 years, you can harvest avocados when your California avocado or Hass avocado tree is full grown and can produce full sized fruit.
Preparing Spicy Guacamole after You Grow Avocado in Water
After you grow avocado in water, you now have fresh avocado fruit to prepare in a dish. Make spicy guacamole dip with fresh avocados and hot peppers.
Cut the avocados in two, take out the seeds, and scrape the insides into a large bowl. Mash them with a potato masher and squeeze the lemon juice over the top. Add onion, serranos, tomatoes, garlic, and cilantro to the bowl and stir the veggies. Stir in the cumin, black pepper, and salt, and serve with tortilla chips.
Regrowing a plant from a grocery store avocado is fun and rewarding. While it's not possible to grow an avocado tree in all regions, the seed produces a beautiful plant for indoors or on a patio.
Now that you know how to grow an avocado seed in water, why not share our avocado seed growing guide with your family and friends on Pinterest and Facebook?