Many gardeners have finished a delicious avocado fruit, looked down at the avocado pit, and wondered how to grow an avocado tree. Thankfully, your grocery store avocado seed and a few household items are all that's needed to grow your own avocado tree with ease.
Avocado trees (Persea Americana) are indigenous to Mexico, notably the south-central region. There are three types of avocado trees, Guatemalan, Mexican, and West Indian. The Mexican variety is the most cold-tolerant, while the West Indians are the least. The Hass, the most common type in the United States and the kind you usually buy in the grocery store, is a Guatemalan and Mexican cross.
The pear-shaped fruits are a delightful, nutrient-dense snack also used as a condiment, in guacamole, or eaten independently. The avocado plant is a warm-season tree susceptible to cold and frost damage.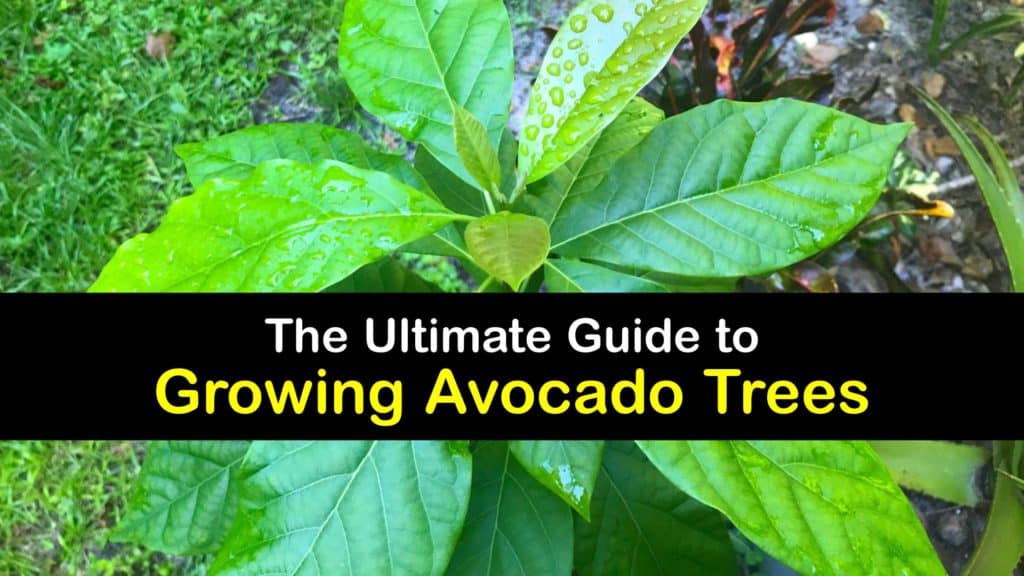 Growing an Avocado Tree From Seed
The popularity of the avocado tree and the widespread interest in growing an avocado tree from seed is no surprise given the delicious ripe avocado growers enjoy when they bear fruit.
Products like the Avoseedo, a kit for growing avocado trees from seed, and the current research at the University of California to advance avocado science, are a testament to how well-loved avocados are. Home gardeners to collegiate researchers want to produce them. Though commercial grow kits like the Avoseedo are available, this article focuses on growing an avocado tree from seed using DIY items you find around your house.
It's easy to understand how to grow an avocado tree once you have basic knowledge of each step, from sprouting your avocado pit in water to eventually transplanting in a sunny spot in your home, and maybe later in your garden.
Though kits like the Avoseedo are available to help new growers start growing an avocado tree, all that's required are a couple of things from around the house and the avocado pit from your grocery store-bought avocado.
How to Grow an Avocado Tree – Sprouting
If you went to the grocery store and purchased an avocado, have eaten the fruit, and are left with the avocado seed, you already have the main part needed for sprouting and eventually planting an avocado tree.
When you want to start growing an avocado tree indoors, remove the seed from your ripe avocado and rinse off excess fruit or flesh. Once your avocado pit is clean, push the toothpicks into it to create a network for support while hanging with the toothpicks resting on the edges of the glass.
To get the right diameter pot, you may have to try several glasses, so the toothpicks sit around the rim with the avocado pit hanging down inside. Fill the glass with warm water until the top half of the avocado seed is above the surface and the dented or dimpled end is about two inches under the water.
Place the glass in the direct sunlight – the kitchen windowsill is a great sunny spot for this – at room temperature, ensuring the pit is never exposed to temperatures lower than 65°F.
Replace the water regularly, every 2-3 days. The pit soon generates a root system extending down into the water and growing into a root ball. Stems and leaves eventually grow from the seed, and an avocado seedling is your newest houseplant. It's time to transplant to a pot when the roots have filled most of the glass, like dwarf apple trees can start in the house.
Transplanting your Avocado Tree From Seed
It's time to transplant when your seedling has sprouted and its root system is outgrowing its container. However, transplanting is not essential if you live in a small space or prefer hydroponic gardening. Your avocado plant is fine living in water, though it may be somewhat stunted and achieve a smaller mature height.
If you want to transplant and offer your avocado plant access to extra nutrients, you'll need some potting mix and a new container. To grow a potted fruit tree of the avocado variety, choose a pot at least 10 inches across and about twice as deep as the roots on your avocado seedling and adequate drainage holes.
Fill the pot 3/4 full with potting soil to get started, and dig a hole where the avocado roots sit. The idea is to bury the roots while the pit sits on top of the potting mix.
Set the roots in the hole and gently cover them until completely enclosed in soil, while the avocado seed and the sprouts are still sitting on top. Gently pat down the potting mix to ensure everything stays put, and water your newly transplanted avocado plant.
Growing an Avocado Tree – Care
Once your avocado seedling is successfully transplanted, making sure to meet your new avocado plants needs is the next step.
Common troubleshooting issues with how to grow an avocado tree involve too much water. Avoid overwatering to keep your plant healthy. Most avocado plants only require water every two weeks and the occasional deep soak where the water reaches a depth of about 8 inches below the surface of the ground.
The goal is to keep the soil moist but never wet. Check by touching the soil to see if it's dry. If it's still damp, your plant doesn't require water.
Even as indoor plants, avocado trees require full sun. Be sure to keep your plant in a sunny spot as, without enough sunlight, it loses condition and becomes straggly. Prune new leaves and excess growth. When you prune the top leaves, this encourages them to come back bushier for a more vigorous plant.
Although avocados don't need fertilizing often (once every two or three months), use an organic avocado plant fertilizer that you purchase or make yourself to ensure your plant has the nutrients it needs to thrive.
Your endgame is to grow an avocado tree to bear fruit. Once your avocado plant is thriving, the next step is patience. Indoor plants take up to ten years to produce fruit, though ripe avocados grown in your home are well worth the wait.
Growing an Avocado Tree Outside
Unless you're located in an area with a temperate climate such as Florida, California, Hawaii, or South Texas, growing an avocado tree outside is likely not possible. However, when mature and with the right amount of space, avocado trees may reach 30 feet in height and be an impressive addition to your home landscaping.
Choose a shielded site if your area receives occasional subfreezing conditions. Although some Mexican avocado plants may withstand a bit of frost, you should still shelter them.
Avocado trees prefer full sun and dislike crowding, so don't place them too close to other trees, structures, or power lines. These trees favor gritty, well-drained soil but do endure a wide range of soil types and aren't picky about the pH of the earth.
Dig a hole three times the diameter and three times the depth of the container your seedling is in and remove all turf grass from the planting area, including a 10-foot radius around the hole.
Place the tree so the top of the soil surface around the root ball is level with or a little higher than the surrounding soil level. Fill in the area around the roots with the soil you dug out of the hole, gently tamping it down. Apply a generous amount of mulch and water thoroughly.
Of course, you can plant an avocado tree in a pot outside if you don't have the yard space. Add your tree to an attractive planter and place it on your deck or patio. Containers are easily moved inside if the weather gets too cool.
Other Avocado Growing Considerations
Several pests afflict avocados, but only a few can cause substantial damage to production. Look out for scales, mites, borers, lace bugs, caterpillars, and thrips, especially if you plant your avocado plant outdoors. Treat them promptly.
Take action if you have avocado tree leaves turning brown. This is likely due to a fungus and must be treated quickly.
Though avocado trees self-pollinate, they've devised a unique approach for achieving genetic variation. Although the plant's flowers have both male and female components, only one gender is active and open for pollination at any given moment.
Pollination occurs only when the temperature is above 70°F during the day and night, and beneficial insects are present and willing to help with cross-pollination.
Harvesting Ripe Avocado Fruit
Avocados do not ripen until removed from the tree, unlike similar fruits like figs that do not ripen once harvested. The trick is figuring out when the fruit is ready to be picked. Watching the fruit closely is the key to the best time to pick avocados so you don't have one too ripe or one not ripe enough.
Keep a close eye on your fruit as its calendar maturation period approaches. It changes hue and becomes slightly duller and may have small rusty-brown markings.
Pick one of the larger fruits and store it at room temperature for 3-7 days. It's easy to tell if an avocado is ripe after picking it. If it softens to a decent consistency, does not shrink, and is not leathery or bitter, it's ready to eat.
Probably the easiest and best way to preserve and store avocados is to take the flesh from inside the fruit and freeze it with a little lemon or lime juice.
Growing an avocado tree from seed makes an exciting project requiring minimal supplies with the potential to be an exciting houseplant now and produce tasty ripe avocado fruits later. Delicious in salads, soups, or guacamole, avocados are rich in nutrients, high in protein and other health benefits, and tasty.
If you buy avocados frequently at the grocery store, you've probably considered how to grow an avocado tree from seed. While growing an avocado tree requires a lot of patience (it may take up to ten years for it to start producing fruit), you'll have everything to give it a try the next time you cut open an avocado for dinner.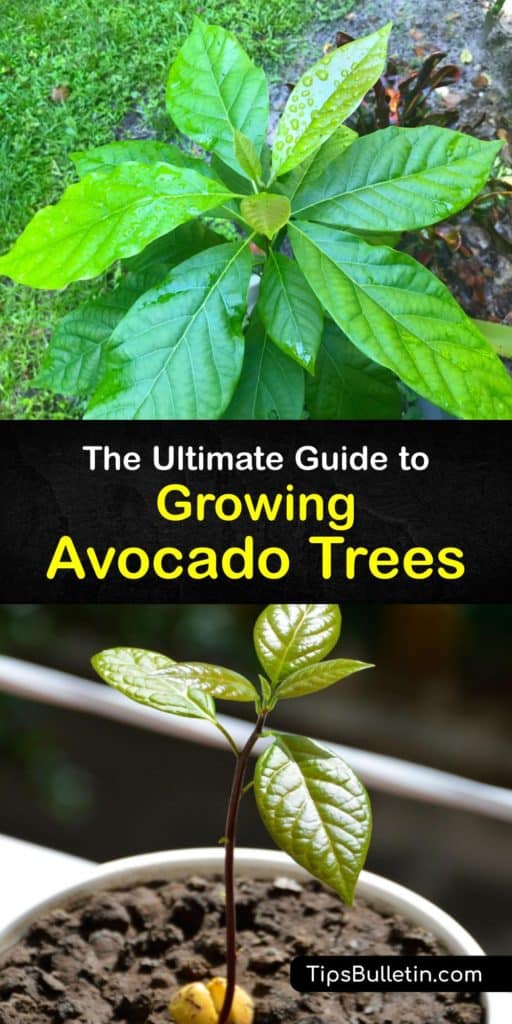 If you loved this article on how to grow an avocado tree, consider sharing these brilliant ways to grow an avocado tree that bears fruit with your family and friends on Pinterest and Facebook.