When you think of houseplants, leafy green vegetables like arugula might not be the first thing that comes to mind. However, growing arugula indoors is a magnificent way to have easy access to fresh salad greens right on your kitchen windowsill.
In this article, learn how to grow arugula indoors and have a continuous harvest of deliciously tart arugula leaves year-round.
Arugula plants are typically low-maintenance, making them a beginner-friendly crop to try growing at home. All you need is well-draining, nutrient-rich soil, consistent watering, and a location that gets at least four hours of bright light each day.
Essential Tips for Growing Arugula Indoors
If you love your salad greens, it's worth it to grow arugula at home or take care of planting romaine lettuce indoors. Growing lettuce inside gives you arugula leaves with a bright, peppery taste that adds an exceptional kick to fresh salads and sandwiches.
They have a short growing season and mature in five to seven weeks. Arugula types thrive in cool weather with full sun to partial shade.
Arugula microgreens are ready to eat in just 20-30 days and have a milder taste than larger leaves. Expect full-size arugula leaves after six or seven weeks.
If desired, move your arugula pots outdoors for the summer, and bring them inside again before the first frost, or grow a mini vegetable garden on a sunny windowsill year-round.
It's also possible to regrow arugula in water or regrow iceberg lettuce in soil. Enjoy tasty greens all year.
Do you know when to plant arugula in zone 7? What about your growing zone? This cool-season veggie grows best between 60-70℉. In mild climates, it's biennial and lives for two years. However, it doesn't usually survive temperatures below 20℉.
Eruca sativa ssp. vesicaria by its botanical name, arugula goes by "rocket" or "roquette" in some countries. It's in the Brassica plant family with broccoli, cabbage, kale, and radish.
Native to the Mediterranean, arugula is used in many Italian dishes. Try growing outstanding heirloom varieties like Astro or Sylvetta.
One benefit of container gardening is that the risk of plant diseases like powdery mildew or pests like aphids and flea beetles is much lower. When you keep them as indoor plants, it's still crucial to regularly monitor for signs of distress, though.
Choose a container at least six inches deep and 12 inches wide with drainage holes at the bottom to prevent problems with root rot. There is little to no difference between arugula and spinach when it comes to growing them indoors or out.
Follow many of the same guidelines when planting radishes in pots indoors, as well.
How to Grow Arugula Indoors
Have you ever wondered, "Can you grow arugula indoors?" The answer is, absolutely. Just like growing any other plant indoors, including the way to grow romaine lettuce, it's vital to provide adequate amounts of light, nutrients, and water when growing arugula in a pot.
The way to grow arugula from seed is to sow arugula seeds directly in your container. Since they're so tiny, it's easiest to scatter the seeds over the soil surface, then cover them with a quarter-inch of soil. It's helpful to pre-moisten your potting soil to avoid disturbing the seeds after planting them.
Germination usually takes seven to ten days, whether you are growing kale in pots or containers or arugula. To speed things up, soak the arugula seeds in water overnight before planting to begin breaking down their protective outer coating. Keep the potting soil moist but not oversaturated while your arugula seeds are germinating.
Though your arugula is in pots, you can still take advantage of companion planting if your containers are large enough. What to plant with arugula includes tomatoes, carrots, and beets. There are more vegetables you can grow inside. The possibilities are almost endless. Consider the best windowsill herbs, too. There's no need for a lot of yard space for many of your favorite plants.
This type of lettuce to grow indoors requires thinning out some of the plants to give them space. Once the seedlings reach three or four inches tall, thin out the weaker ones so that your arugula plant spacing is about six inches. Use them as microgreens or add them to your compost pile.
Best Soil and Fertilizer for Growing Arugula in Containers
As long as you use rich soil when planting arugula in pots, it's not usually necessary to fertilize the plants while they grow, unlike when you grow green bell peppers indoors.
Look for an organic potting soil mix with added perlite for drainage and peat moss or coconut coir for moisture retention, or try making your own potting soil blend.
Blend the ingredients in a large bucket or wheelbarrow. Try to use all of your homemade potting soil at once and adjust the measurements accordingly. Keep any leftovers in a cool, dry location in an airtight container.
This soil is also ideal for indoor tomato plants and other veggies.
Caring for Arugula Plants
When growing arugula in containers, keep the plants in an area that gets four or more hours of bright light daily. They grow slower in low-light conditions.
On average, give arugula plants one inch of water per week. However, avoid overwatering and allow the top few inches of soil to dry out.
If your potting soil stays waterlogged too long, the roots cannot absorb oxygen and nutrients and might rot or develop fungal diseases. Cover the potting soil with a layer of mulch to retain soil moisture.
If you keep your arugula pots outdoors in the summertime, wait until after the last frost in early spring before bringing them out. Although mature plants are cold-tolerant, new seedlings require extra protection.
Bolting or premature flowering happens from heat or drought stress. If you get hot summers, arugula plants may perform better indoors than outdoors until the cool weather of late summer arrives.
If you start to have problems with bugs, use a natural pesticide for lettuce such as neem oil or insecticidal soap.
Harvesting and Storing Arugula
How long does arugula take to grow? After a few weeks of growing arugula indoors, it's time to harvest arugula. As your plants mature, snip the arugula leaves or pick leaf lettuce as needed. Pick baby greens once the plant forms a rosette of six or eight leaves.
Arugula stays fresh in the fridge for up to ten days. After harvesting, rinse the leaves and pat them dry, then store them in a lidded container in the crisper drawer of your refrigerator.
If you've been considering giving indoor gardening a try, planting arugula in pots is an excellent way to start. The plants are fast-growing and low-maintenance, and you'll be harvesting Eruca vesicaria microgreens in about three weeks.
All you need for growing arugula in containers is rich soil, plenty of light and water, and a large pot with drainage holes.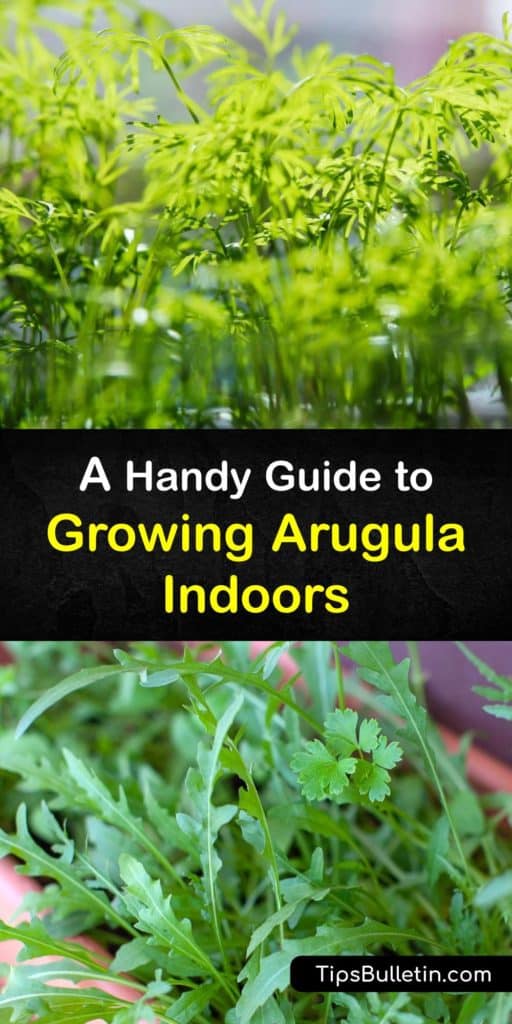 If you found these gardening tips helpful, please share this article about how to grow arugula indoors with your fellow gardeners on Pinterest and Facebook.