Asparagus is a perennial vegetable crop and one of the first veggies ready to harvest in the spring. Growing asparagus is very rewarding, but it requires plenty of patience. In this article, you'll learn how to grow asparagus from seed, how to choose the best location in your garden for your asparagus bed, and useful tips and tricks for getting the best asparagus harvest year after year.
Growing asparagus from seed is much more cost-effective than purchasing mature crowns. For the average household, growing ten asparagus plants per person is usually sufficient.
Asparagus takes two to three years before it's ready to harvest. The advantage of planting first or second-year asparagus crowns is the ability to collect the asparagus spears sooner.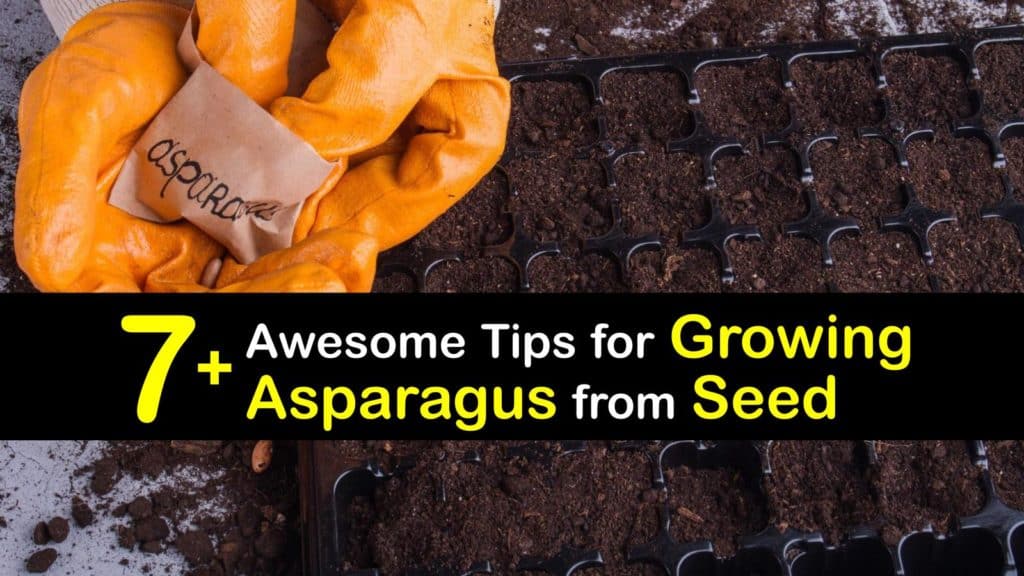 Best Tricks for Growing Asparagus from Seed
For a few dollars and a bit of effort, growing asparagus from seed, like when growing eggplant from seeds, is easy and worthwhile. Read on for everything you need to learn about planting asparagus seeds and producing the best crop.
When growing asparagus from seeds, it's critical to start early since germination takes up to three weeks. The seedlings need to grow indoors for 12-14 weeks before transplanting.
Once your seedlings are ready, plant them deeply in the soil. How deep to plant them depends on how well the garden soil drains. Leaving enough space between plants is crucial for an abundant harvest.
Companion planting utilizes the properties of compatible plants to cultivate a healthier garden ecosystem. Find out which plants are good neighbors for asparagus and which ones to grow separately.
Male plants produce more edible spears than female plants, which use energy for seed production. Commercially sold asparagus crowns are guaranteed to be male.
For higher yields, remove female plants from your seed-grown asparagus patch in the fall when they develop red berries.
When growing asparagus from seed, Jersey Knight and Jersey Giant, developed by plant breeders at Rutgers University in New Jersey, are among the best varieties. They are higher-producing and more likely to be male.
Heirloom varieties like Martha and Mary Washington are known for their resistance to common plant diseases like asparagus rust, but not for their male-dominant seeds.
For some fun diversity in your garden, try a colorful heirloom variety like Purple Passion, both disease-resistant and male-dominant.
Planting Asparagus Seeds
Depending on when the last danger of frost is in your area, plant different types of asparagus seeds between mid-January and early February. Use a seed starter potting mix to fill a seedling tray with two-inch cells.
Soak the asparagus seeds in water for at least two hours, then plant them a quarter-inch deep and cover lightly with soil. Keep the soil steadily moist but never soggy.
It's beneficial to cover the seedling tray with a humidity dome or a sheet of plastic wrap to hold moisture. The optimal soil temperature for germination is between 70-75°F.
Typically, the top of the refrigerator is a perfect location for germinating vegetable seeds. Alternatively, purchase a seedling heat mat at your local garden shop.
How to Grow Asparagus from Seed Indoors
Since asparagus has a lengthy germination and growth period, plant asparagus seeds indoors in late winter. Grow these edible perennial veggies seedlings indoors until the danger of frost has passed, and you can transplant them into your garden.
Once the seedlings' roots emerge from the drain holes at the bottom of the seedling tray, transplant them into two to four-inch pots. The plants take roughly one month to reach this size.
To prevent your seedlings from becoming elongated or "leggy," ensure that they get plenty of light. Keep them on a sunny windowsill and rotate the pots a quarter-turn once per week.
You could also supplement the natural lighting with fluorescent grow lights. The seedlings need a minimum of six hours of light per day.
Choosing a Location for an Asparagus Patch
Mature asparagus fronds grow four to five feet high. The best place for an asparagus bed is on the north or east side of the garden, so the fronds don't shade other plants. Carefully select your asparagus bed site because once established, it grows for up to 20 years.
Choose a location with full sun and deep, rich soil that is irrigated but drains well. Late spring frosts damage emerging asparagus shoots, so avoid planting in low-lying or exposed areas. Asparagus plants have deep root systems that don't like to stay too wet.
Make sure your location isn't rocky or prone to long periods of saturation. To prepare the bed, remove all weeds. Incorporate a four-inch layer of compost or other soil amendments with a rototiller.
Loosen the soil 12 inches deep so the asparagus plants develop strong roots. If you don't have a well-draining site with appropriate soil, consider growing asparagus in raised beds.
Transplanting Asparagus Seedlings
Plant seedlings in early spring after the last danger of frost. Spend a couple of weeks hardening off your baby plants by leaving them outdoors for progressively longer periods of time before transplanting them into the garden bed.
The method of transplanting is critical for the success of your asparagus crop. Asparagus roots reach several feet into the soil.
There are several techniques for transplanting asparagus seedlings. Either dig a long trench or create individual holes six to eight inches deep. Plant each row at least six inches apart.
For asparagus crowns, which already have an extensive root system, the spacing between plants should be about 18 inches. Plant seedlings closer together, about six to twelve inches apart, to compensate for potential dieback.
For thinner spears, plant the seedlings closer together. For thicker spears, give them more space. If most of the seedlings survive to maturity, thin out or move them later.
Take care when handling the seedlings and avoid damaging roots when removing them from the pots. Add one tablespoon of phosphorus-rich fertilizer per plant to the trench or hole, and gently place the seedling in the bottom.
Cover the root ball and crown with a mixture of two to three inches of soil and compost. As the asparagus plants grow, keep building up the soil bed by covering the crown with more soil and compost.
Be careful not to smother the growing seedlings completely, adding only a few inches of soil at a time.
Ideal Growing Conditions for Asparagus Plants
Asparagus plants require full sun and plenty of space. They tolerate a bit of shade, but you'll enjoy a larger harvest if they get at least six hours of direct sunlight daily.
Asparagus thrives in soil with a neutral to slightly acidic pH level. In addition to applying an all-purpose organic fertilizer to your asparagus bed in early spring, the plants greatly benefit from receiving additional phosphorus.
Bone meal, rock phosphate, or composted manure keep the soil rich in phosphorus and promote strong, healthy roots.
During the first year, don't harvest any asparagus spears and allow them to use their energy to grow a robust root system. Focus on weeding and building a balanced soil environment.
For a larger harvest, remove the female plants after they've flowered and are identifiable by their red berries. Wait until the third year before harvesting asparagus for the first time.
Applying a two-inch layer of mulch around the asparagus patch helps hold soil moisture and suppress weeds. Use lightweight material like leaves, grass clippings, or straw, so the emerging asparagus shoots aren't blocked or smothered.
Over the years, your asparagus patch may decrease in production. If you notice a diminished crop, refrain from harvesting that year to allow the plants to store energy. Dig up the old crowns in late fall after the plants have gone dormant and divide the roots.
Use a sharp, clean knife to separate the asparagus crowns into several pieces, each with plenty of healthy roots attached. Crown division is an easy and efficient technique for how to regrow asparagus.
Companion Plants for Asparagus
The idea behind companion planting is emulating a natural ecosystem in the garden. Plants have inherent properties that either benefit or harm their neighbors.
When planning your garden layout, it's useful to keep these factors in mind. Companion planting attracts beneficial insects to your garden and helps your plants thrive.
Asparagus does well when they grow next to tomatoes and other nightshades like grown alongside nightshades like tomatoes and eggplant. These plants have high concentrations of solanine, which repels asparagus beetles. In return, asparagus plants repel root-knot nematodes, which attack the nightshades' roots.
Basil and parsley deter asparagus beetles and other insects that wreak havoc in the garden, like tomato hornworms. Herbs like coriander, comfrey, and dill repel aphids and spider mites.
Members of the Aster family, like marigolds and nasturtiums, also repel aphids and harmful soil nematodes.
Plant early season crops like lettuce, spinach, and beets in between the asparagus rows. Then, in mid-summer, plant a second crop of lettuce and spinach beneath the tall asparagus fronds to provide the greens with shade.
There are a few plants to avoid having near your asparagus patch. While a tomato grows well with garlic, asparagus does not. Members of the allium family, including onions, garlic, and leeks, stunt asparagus growth. Although they are a nightshade, potatoes also hinder the development of asparagus plants.
Harvesting Asparagus Spears
The third year after planting asparagus seeds, the shoots are ready to harvest in early spring when they reach six to ten inches tall.
After transplanting asparagus seedlings, resist cutting any emerging spears in the first and second years, as it either kills the plants or significantly stunts their growth.
The following year, harvest your asparagus starting in early spring for six to eight weeks – no later than July. Use a sharp knife or clippers, or snap off the asparagus spears by hand at soil level.
Allow any asparagus spears that grow larger than ten inches in height to reach maturity and store energy for the following growing season. Stop harvesting when the remaining fronds start flowering.
For the short term, store fresh asparagus in the refrigerator. Canning and pickling are options for longer preservation.
In late fall, cut back the fronds to roughly six inches above soil level to prevent pest and disease problems from persisting into the following year. Fertilize your asparagus patch with an organic, all-purpose fertilizer in early spring and late fall each year.
Apply one pound of fertilizer per 40 square feet. To avoid burning the plants, spread the fertilizer at least three or four inches away from each plant's crown.
Most Common Pests and Diseases for Asparagus Plants
Although asparagus plants are generally low-maintenance, they are occasionally affected by insect pests or plant disease. In most cases, it's easy to solve the problem using natural methods.
Aphids, spider mites, and asparagus beetles are the most common insects that attack asparagus. To eliminate an infestation, thoroughly spray the plants with insecticidal soap or neem oil.
It's also helpful to attract beneficial predatory insects, like ladybugs and lacewings, through companion planting.
Asparagus rust is a fungal disease prevalent in areas with high humidity levels. Symptoms include orange blisters on spears and fronds, yellowing leaves, and plant dieback.
Fungal rust is often a result of overwatering. Remove diseased plants immediately and apply an organic sulfur fungicide.
Fusarium wilt is one of the worst plant diseases of which an asparagus grower must be wary. The signs include weak, spindly asparagus spears and reddish-brown discoloration of the stems.
Unfortunately, once a plant is affected by fusarium wilt, there's no effective treatment other than prompt removal to stop the spread.
The best prevention is to plant a disease-resistant variety like Jersey Knight or Jersey Giant and regularly fertilize and water to minimize plant stress.
Although asparagus is a relatively slow grower and requires patience for a few years after planting, it's worth the wait. Homegrown asparagus is tastier and healthier than the store-bought equivalent, and it's easy to grow in your garden.
Growing asparagus from seed tends to be more cost-effective than growing asparagus from scraps or divided roots. If they get plenty of water and sunlight and grow in well-draining soil rich in phosphorus, you'll enjoy a bountiful asparagus harvest every spring for years to come.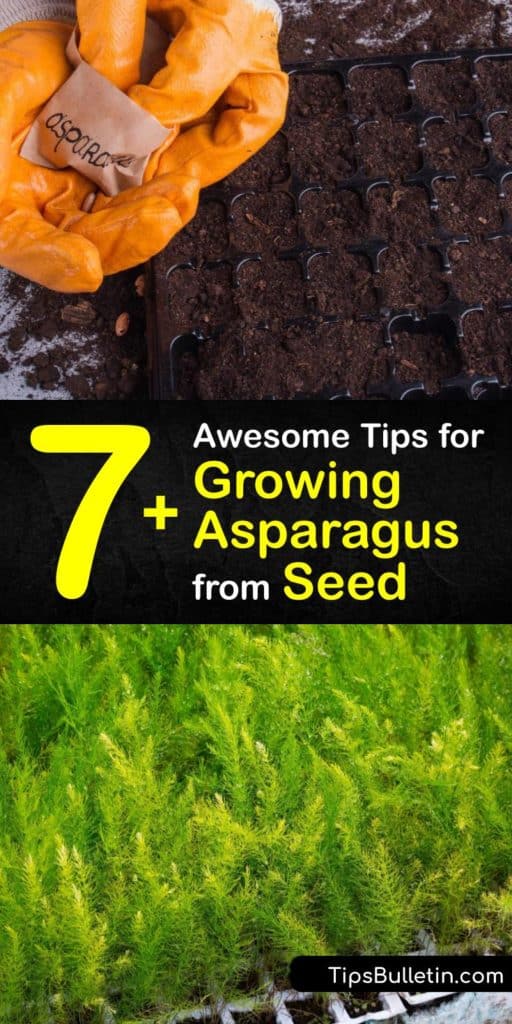 If you found these tips for how to grow asparagus from seed helpful, please share this article about growing asparagus from seed with your friends and family on Pinterest and Facebook.