The first thing we think about when gardening is tomatoes and peppers, and we often take a trip to the grocery store for a bunch of asparagus. However, these forgotten veggies are almost as easy to grow as long as you have a bit of patience. We'll show you how to grow asparagus to enjoy a fresh crop year after year.
Who doesn't love asparagus spears sauteed in butter and garlic, baked with olive oil, or grilled and drizzled with lemon juice? No matter how you like them, these delectable veggies have a distinct earthy flavor that is hard to pass up.
Not only that, but this nutritious, well-balanced vegetable is a good source of potassium and fiber and high in folic acid. While we all know that asparagus is tasty, we often overlook it when it comes to gardening.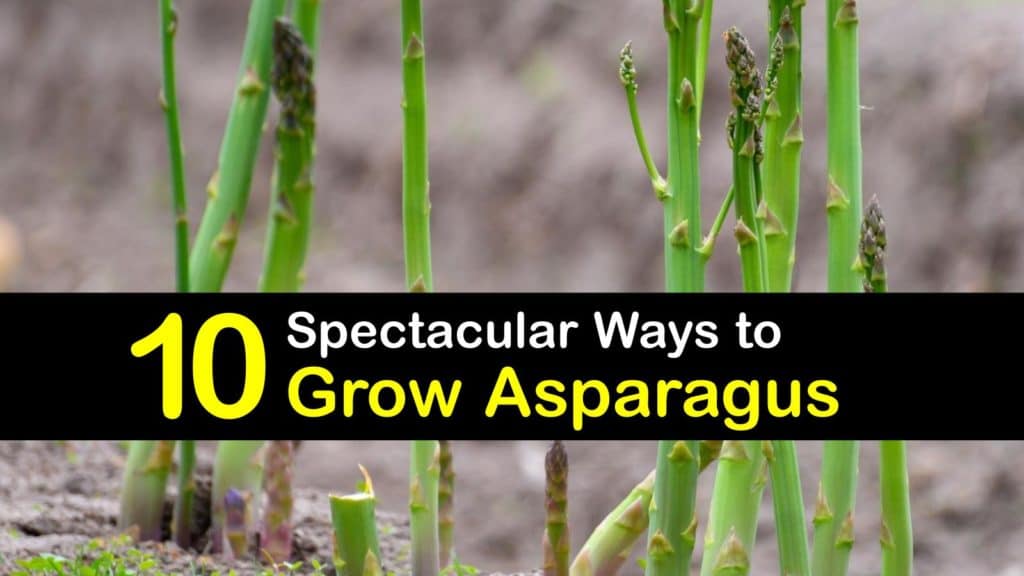 How to Plant, Grow, and Harvest Asparagus
If you have space and time, growing asparagus plants is both enjoyable and fulfilling. They are simple to grow in a prepared asparagus bed in your garden or raised beds under the right conditions.
If you have space and time, growing asparagus plants is both enjoyable and fulfilling. They are simple to grow in a prepared asparagus bed in your garden or raised beds under the right conditions.
There are several steps in the asparagus growing process, and understanding how they grow and what they need rewards you with a bountiful harvest each growing season. We'll show you how to grow your own asparagus patch in a vegetable garden or bed.
Things to Know Before Asparagus Growing
What is asparagus, and are there different types? These are common questions and knowing the answers is useful when gardening. Here is some important information to know while growing asparagus to ensure that your yearly crop is healthy and tasty.
Asparagus
Unlike most other vegetables, asparagus (Asparagus officinalis) is a perennial vegetable. This means that you are greeted with a fresh batch of spears each spring without replanting them.
The only downfall is that patience is involved after you first plant them since it's best not to harvest them for the first couple of years. However, once they mature, you are rewarded with 15 to 30 years of productivity.
There are also many different asparagus varieties, from Martha Washington and Mary Washington to Jersey Giant and Jersey Knight. There are four basic types of asparagus, green, white, purple, and wild asparagus.
Green asparagus is the most common and seen on many grocery store shelves, and the only thing that differentiates it from white asparagus is the color.
Purple asparagus is very tender, has low fiber content, and has more sugar than other types. Wild asparagus is commonly found in western Europe and Great Britain.
Growing Asparagus from Seed Indoors
There are a few types of asparagus that you start indoors with seeds, and these include the hybrid Sweet Purple and the open-pollinated Purple Passion.
Growing asparagus from seed is not hard but it takes a while to produce spears that are ready to eat. When to plant asparagus ideally starts 12 to 14 weeks before the last spring frost.
When planting asparagus seeds, soak the seeds in water for about 24-hours before planting to soften them. Fill a seed tray with seed starting soil and moisten it with water. Place the seeds into each compartment by following the instructions on your seed packets.
Set the tray in front of a full sun window where the temperature is about 77°F and spray the soil as needed to keep it damp. After the seeds sprout, lower the temperature to 70°F until they are about a foot tall when they are ready for transplanting outdoors.
Choosing and Preparing the Asparagus Planting Site
These veggies grow back year after year and are a permanent garden addition. Choosing the perfect planting site and preparing it for gardening are essential steps in the asparagus growing process.
While waiting for your asparagus seeds to sprout, head outdoors and look for the ideal place to plant your new asparagus. Choose an area that receives at least part sun and pick a spot where the plants aren't easily disturbed by other gardening chores. They are not one of the best shade plants for pots.
Asparagus hates having wet feet, so make sure you have well-drained soil and switch to a raised bed if your dirt is not optimal.
Pull out all the weeds, loosen the dirt to about 15 inches in depth to encourage the crowns to root properly, and work in a couple of inches of soil, aged manure, and compost.
How to Grow Asparagus in the Garden
The best way to grow asparagus in the garden is to plant the crowns in early spring once the soil is easy to work. If you do not have space, consider planting asparagus crowns in a raised bed instead.
To transplant seedlings, dig a hole in the prepared soil about three inches deep. Place the plant carefully into the hole, cover the asparagus roots with soil, and pack it down lightly.
As they grow and produce flowers, remove the female plants. The females have small flowers, while the male plants have long and large flowers. After an entire growing cycle passes, transplant the male asparagus to a permanent bed.
Just like spacing between tomato plants and other vegetables, placing asparagus the right distance apart helps them grow to their full potential.
To plant crowns, dig a trench approximately 16 inches wide and seven inches deep, and space the trenches three feet apart for proper asparagus plant spacing. Make a two-inch ridge along the center of each trench for the crown placement.
Soak the crowns in water a short time before planting and then set them on the ridge by spreading the roots outward. Space each one roughly 12 to 18 inches apart and fill in the dirt over the roots.
How to Divide Asparagus Crowns
As years pass, what was once the perfect spot for growing asparagus may not be so feasible anymore. If the growing conditions change, these plants require dividing and transplanting in a new location to increase growth.
The best time to divide and perform asparagus propagation is before the first fall frost or in early spring while they are dormant. Use a garden fork to lift the old crowns gently from the dirt while not disturbing the roots.
Separate them into two or three clumps and transfer them to their new location. Don't forget to water the transplants after lightly packing down the soil.
How Long Does it Take for Asparagus to Grow?
You plant sweet peas, cucumbers, and other garden vegetables and expect to harvest them the first year of planting. Asparagus has an entirely different growth rate, and a bit more patience is required.
However, fertilizer can be used to accelerate the growth rate of asparagus. Consider learning more about the benefits that magnesium and sulfur can have on the soil. Follow our tips on using Epsom salt for asparagus to speed up growth and increase yield.
Asparagus Growth Rate
You have some time to wait after planting your new asparagus since it often takes two to three years for asparagus plants to produce, whether you grow asparagus in a container or the ground.
After that, these plants are productive for decades and provide you with asparagus spears each spring, sending up new spears every few days for a couple of weeks. After the third year, expect approximately a half-pound per foot of row.
How to Maintain Garden Asparagus
After you learn how deep to plant asparagus and where to grow it, the next step is to maintain your new asparagus and provide proper care during the growing process by mulching, watering, and fertilizing.
Spread four to six inches of mulch after planting your asparagus to retain soil moisture and help keep the space weed-free.
Weeding is a problem during the first couple of years, so use caution when pulling weeds. Use your hand to pull the weeds out gently without disturbing the asparagus root system.
Water your new plants to provide them without about one to two inches of water per week during the first two years, particularly during dry periods. The way to fertilize asparagus is to use an organic fertilizer during the growing season by following the instructions on the label, whether in powder or liquid form.
Common Asparagus Diseases and Defects
One of the biggest problems to deal with when growing your own veggies is plant disorders. Several different diseases affect asparagus, and knowing how to spot them makes curing them easier.
Fungus is a common problem for asparagus, and there are two main culprits. Fusarium crown root leaves fronds yellow, wilted, and stunted and rots the spears, and it's vital to destroy infected plants immediately. Disinfect your tools, and do not plant new asparagus nearby for five or more years.
Asparagus rust is another issue that kills asparagus. This fungus creates pale green spots on emerging spears that eventually turn to blisters and rust-colored spores, and it's essential to destroy the plant matter to stop the spread.
To prevent rust, avoid getting water on the ferns or spears, and make sure there is good air circulation to the plants.
Ways to Protect Asparagus from Pests
Unfortunately, you aren't the only one who loves to eat asparagus. Many insects and garden pests enjoy munching on your plants as well, and it's important to eliminate them from the space right away to stop them from destroying your hard work.
If you notice the asparagus spears turning brown, wilting, or bending into a hook shape, this is a good indication your garden has asparagus beetles.
If young spears are wilting and appear severed or cut, your plants probably have cutworms. Both of these insects are simple to eliminate by removing them from the plants by hand.
How and When to Harvest Asparagus
We often think of harvest time as the end of summer and the beginning of fall. However, asparagus plays by its own rules. Not only that, but harvesting asparagus spears too soon weakens the root system.
After the third year of planting, check your asparagus every other day during the spring to see if they are ready for harvesting. Once they reach eight to ten inches, use a pair of garden scissors or a knife to cut them at ground level.
After harvesting in the early summer, spread organic matter or compost over the decomposing mulch to prepare the bed for the following year. Do not cut back the ferns until after the foliage turns brown in early winter.
After harvesting, ensure that you know how to preserve asparagus spears so you don't end up with slimy asparagus that is not worth eating. For long-term storage, prepare asparagus for freezing, or store asparagus in fridge if you will use it within several days.
Unfortunately, the shelf life of asparagus on the counter is not long at all so act quickly after harvesting to keep your asparagus fresh until you are ready to eat it.
While planting asparagus is not the same as growing tomatoes, peppers, or other garden delights, the result is well worth the time, effort, and patience.
Understanding what your plants need to thrive and using the right growing method gives you tasty results year after year.
Once you know how to grow asparagus, you get the benefit of harvesting asparagus spears every spring for years, so why not share our asparagus growing guide and tips with the veggie-lovers in your life on Facebook and Pinterest?