Wouldn't it be nice to walk outside to a big, beautiful tree that drips with ripe avocados? Having an avocado tree at your house is something most people dream of, but few can achieve. To understand how to grow avocados successfully either outdoors or as a houseplant, you've come to the right place.
Growing avocados isn't an easy task. Do you live in the right zone, and if you do, how long do avocados take to grow?
This article contains answers to every possible question you have about avocado fruit trees and teaches you how to get the tree to bear fruit and turn them into favorites like guacamole and avocado toast.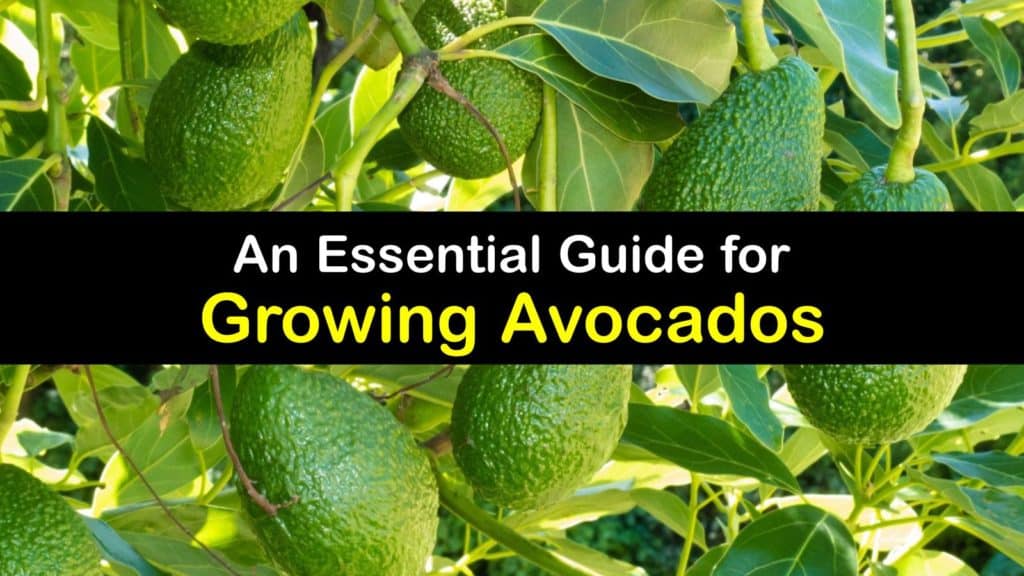 Avocados and Varieties
Persea Americana is the name of the Mexican fruits that we call avocados. Where do avocados grow? Avocado fruit is native to central and southern Mexico.
In the 1930s, the Hass avocado made its debut in America, and it started growing in popularity in the 1970s.
The majority of growers are located in Mexico and southern California, but people who live in other hot regions, like Florida, have had some success growing their own avocado trees.
Learning how to grow avocados at home requires a basic understanding of the different avocado varieties. You've likely only tried a handful of different varieties of avocados from the grocery store.
There are many of these fruits, all with different sizes and flavors, but most don't make it to your local market because they aren't hardy enough to withstand shipping and processing. Growing avocados at home is an excellent way to explore your options.
Every avocado plant falls into two categories: Type A or Type B. Planting both types of avocado trees close to one another is a great way to encourage pollination and fruit development.
The type A avocado plants have female flower parts that open simultaneously with the type B male parts. Having these two different plant types near each other doubles your chance at successfully growing avocados.
However, planting avocado trees and getting them to bear fruit doesn't require both types to produce a successful crop.
Popular type A avocados are Hass, Carmen Hass, Reed, Mexicola, and Stewart. Popular type B avocados are Fuerte, Sir Prize, Bacon, and Zutano.
There is a particular avocado seed classified as both type A and type B. This cultivar is called the Wurtz avocado and is a dwarf variety.
It is one of the best types for small backyards if you desire to grow your own avocado tree at home because of the small size and ability to fertilize itself.
How long do avocados take to grow? Keep reading to learn how to grow avocados as either outdoor or indoor plants.
Tips for Growing Avocados
Did you know that growing avocados from pits is possible? You may have seen the hack where you stick toothpicks into an avocado pit and put it over a glass of water. After it sits on the windowsill, the avocado seed starts sprouting, and it seems like you've successfully created some avocado seedlings to plant.
Although you can grow an avocado tree from a pit when learning how to grow avocados, it isn't the most efficient strategy and takes quite a while.
How Long do Avocados Take to Grow?
Trying to grow avocados from the pit isn't a time-effective method. An avocado tree takes a minimum of ten years to produce fruit when you grow it from the seed.
Even if you have the time to commit to it, your plant's seed won't necessarily produce the same quality fruit as the pit you chose.
Most growers choose grafted nursery trees that have a hardier root system and quicker fruit production. These saplings are available at your local nursery or by special order.
How to Grow Avocados
Avocados don't have cold hardiness and require a growing season that is long, warm, and humid.
Most American gardeners who grow avocado trees live in California, Florida, Hawaii, and Southern Texas. They have the best chance at providing these plants with full sun, rich soil, and the appropriate amount of water.
Temperature
Avocados grow best where there is a lot of direct sunlight and medium to high humidity. They are most often grown in USDA hardiness zones eight through 11, but that doesn't mean that every area in these zones is suitable.
Avocados have an ideal temperature range of 60°F to 85°F. If you are growing an avocado tree from seed indoors, room temperature is usually okay so long as they stay within this range.
If the temperatures get too high and go over 90°F, then the tiny pores in the leaves, called stomata, start to close and stress the tree. If they go over 100°F and you notice avocado plant leaves curling, both the fruits and flowers fall off and damage the overall health of the tree.
Growing Avocados in Colder Climates
Even if it seems like it's impossible to grow avocados in your area, it isn't too far out of reach if you choose suitable varieties and give them their preferred growing conditions with added protection.
If you reside in a growing zone where the winter temperatures occasionally drop to 20°F, some types could survive with the protection of frost blankets.
They might also survive in a sheltered location near a south-facing wall to keep the soil warmer in this location than other parts of your garden.
Soil
Avocado trees do best in well-draining soil with a pH level from 6.0 to 6.5. Avoid areas with heavy clay and fertilize the soil with mulch or compost if it doesn't drain well. Sandy and loamy soil types are excellent, but they do fine in other types, too.
Water Levels
Avocado plants require a lot of water for their fruits to ripen, but they will not tolerate soggy conditions because they are prone to root rot. If you have sandy soil, you'll have to water more than other soil types.
Give them a large drink of fresh water twice every week. Their small root system dries out more quickly than other fruit trees. Try only to water them once the soil is starting to dry out.
Growing Avocados in Containers
Container gardening is ideal for many people, and it is beneficial for those who want to bring their trees inside during the winter. Potted avocado plants don't bear as much fruit as outdoor plants and require a bit more work.
A large container with a 12-inch diameter is a good starting place. Use rich potting soil and ensure that there are plenty of drainage holes in the bottom.
Keep the potted plant near a sunny window that gets direct sunlight, or use grow lights if they aren't getting enough. Avoid overwatering these plants, but keep the humidity level above 40 percent.
Planting Avocados Outside
Remember to keep the plant's likes and dislikes in mind regarding sun, heat, soil, and water. Planting avocados isn't all that different from planting other trees around your home or in your garden.
Choose a sunny location protected from wind or other extreme weather. Keep each tree 15 to 20 feet apart. The ideal time to plant these trees is in the spring in colder regions or fall in hotter areas.
Use a regular shovel to dig out a hole that is slightly larger than the existing root ball. Loosen the avocado roots if they are tightly wound and backfill the hole with the same soil.
Add a support stake for the first two years after transplanting it. Water your new tree thoroughly without drowning it and check on it every few days to look for any issues. Prune the plant lightly anytime it starts to look overgrown.
Common Avocado Pests
One significant advantage to growing avocados is that they are relatively pest and disease-free. You might find a few insects hanging around, but they're so small you won't notice much damage.
Mites, thrips, and caterpillars are the most common pests to avocado plants. They chew on the leaves and leave small brown spots and holes. If you notice them, use some insecticidal soap or neem oil spray.
Add a few tablespoons of neem oil and a few drops of Castile soap to a spray bottle. Fill the container with water and replace the cap.
Shake the bottle to make the oil, soap, and water mix. Spray the solution over your avocado leaves to keep pests from eating them. Apply this solution one to two times per week for the best results.
Harvesting Avocados
Knowing when to harvest avocados ensures you have yummy fruit. Avocados don't soften on the tree like other fruit plants unless they are grossly overripe. Harvest a single avocado fruit and allow it to ripen at room temperature over three to seven days to determine if the rest are ready for harvest.
Ripe avocados have a small amount of give when you squeeze them, and the inner flesh is creamy and soft.
One tip for keeping avacado fresh longer is to put them in the crisper drawer of your refrigerator once they ripen to slow the process and keep them from turning too soft or brown. The fridge is the best place to store avocados short term.
Avocados add a creamy texture and pleasant flavor to an assortment of recipes. Turning them into fresh guacamole or adding some slices to the top of a sandwich is an easy way to transform something dull into a mouthwatering dish.
Growing avocados at home isn't possible for everyone, but those who live in the right regions should take advantage and attempt it at least once.
If learning how to grow avocados has inspired you to challenge your gardening skills, share these tips for growing avocados at home on Facebook and Pinterest.