We're so used to throwing away our kitchen scraps that we don't even realize what we're missing out on. Root veggies don't require seeds to grow like other veggies because they can regenerate themselves with a little bit of sunlight and water. Using beet scraps allows you to learn how to grow beets from beets.
How do beets grow without beet seeds? Keep reading for a kitchen hack that enables you to stop spending so much money at the grocery store.
When learning how to grow beets from scraps, don't overlook the entire plant. The reddish-purple interior makes delicious side dishes, appetizers, and sandwiches, but the beet greens are just as tasty and what grows from scraps.
Benefits of Beetroot
Fresh beets, also known as Beta vulgaris, aren't most people's favorite root vegetable, but your mind might change after you understand all the benefits of eating them. One beet has only 40 calories to aid in a healthy diet.
Within that beet, there are high amounts of protein, fiber, folate, and vitamin C. Some of the beneficial minerals include magnesium, manganese, potassium, iron, and phosphorus. They are also high in antioxidants.
Eating beetroot lowers high blood pressure numbers due to their high concentration of nitrates. These nitrates also improve mitochondria efficiency and give our cells more energy to make us feel and perform better.
Beets improve our digestion, fight inflammation, and even support brain health. If you haven't already incorporated beets into your diet, try making a beet salad, dip, juice, or snacking on the beet leaves.
Some people's favorite beet varieties are the Detroit dark red, Chioggia heirloom, baby beets, and Golden beets.
Beets and their greens make an excellent salad.. People are becoming more and more curious to know how to regrow beets, and there's a good reason for it.
How do Beets Grow?
Before learning how to grow beets from beets, you might want to learn how to plant beets from seeds from this beets growing guide.
One of the ways to plant beets is by seedlings that are available at your local garden center. Plant a variety of beets and similar root crops in the spring after frost is no longer a danger to them.
Before growing beets from seed, prepare your garden by mixing in organic matter from your compost pile so you have a growing season full of nourished veggies. Choose a location that gets full sun with either a slightly acidic or neutral soil pH.
Sow seeds a few inches under the fertilized soil and water them regularly. Beets are cold weather crops and do better in northern regions. If you live in warmer areas, purchase a bolt-resistant variety that won't mature too fast.
Germination occurs when the soil temperatures remain between 50°F and 80°F. Mulch with organic matter on top of the soil to retain moisture and soil temperature.
Keep spacing of one to two inches between each seed cluster. It's time to harvest the beets after roughly six to eight weeks.
How to Grow Beets from Beets
Planting beets from seeds is fine if you want to wait for them to grow, but there is an even faster way to get these roots sprouting. Before you throw your beet top on the compost pile, try to learn how to grow beets from scraps. It's easy to learn the specifics of growing vegetables from scraps. Apply the same basic principle to grow cabbage from scraps and a variety of other veggies.
How to Grow Beets from Scraps
Beets are biennial plants and take two years to complete their growing season. It's easy to save yourself this time by growing beets from scraps.
This DIY hack is useful for people who incorporate many beets into their diet and are looking for ways to save money and skip the grocery store.
Take your first step for learning how to grow beets from beets by purchasing your favorite varieties with the tops still attached. Trim the greens from the top of the beetroot but make sure to leave at least half an inch of the beet itself intact.
Use the rest of the beet for cooking with and making yourself a delicious meal. Take the chopped end of the root and leaves and put them cut-side down in a dish of water for one of the easy vegetables to grow all year round indoors. Place the container on a windowsill that gets lots of sunlight.
Change the water in the dish every couple of days so that bacteria don't grow. After about a week, the beet leaves reach full size for you to use again.
Continue changing out the water for several weeks to get the most use out of the beet top. When the beets stop performing, add the tops to your scrap bin and mix them into your soil in your outdoor garden.
You can also grow beets in containers. After your beet plant develops roots, transplant it into a pot and follow the same guidelines above.
Pests and Diseases of Beets
Like all other plants, there are some bugs and diseases that attack beets. Some of the most common issues beets face are with flea beetles and leaf miners. Keep an eye out throughout their growing season to make sure you don't have these issues.
Look for leaf damage and discoloration to indicate whether or not you have a pest problem. To prevent these pests from snacking on your root veggies, add a row cover to your garden to let the sun in but keep the insects out.
When to Harvest Beets
Beets are typically ready for harvest after eight weeks in the ground or when you are growing beets in containers. Younger crops are milder in taste, but they are often grown larger with more robust flavors. Test if you're ready to start harvesting beets by pulling a single beet from the ground.
The beetroot should be at least the size of a golf ball. Pull the remaining plants up from the base of the stems. Wash them to remove dirt and grime and allow them to dry before storing.
How to Store Beets
There are various ways to store red beets and other varieties for longer periods of freshness. The shelf life of beets at room temperature is pretty short. Most beets spoil after only a few days when left on your countertop. Storing them in your fridge only keeps them edible for around ten days.
For longer results, when storing beetroot, try pickling them or storing them in sand or sawdust in a root cellar with a controlled temperature set between 32°F and 40°F. Beets last two to three months using these methods.
Unique Beet Recipes
Beets aren't overly utilized in the kitchen. People tend to think of canned beets and their bland flavor when they're mentioned, but try cooking beets in a way that you've never heard before. They are filling and bursting with flavor when combined with the right ingredients.
Preheat your oven to 425°F and grease a large baking sheet with oil. In a large mixing bowl, toss the beets and the olive oil with the salt. Spread the beets on the baking sheet and bake them in the oven for 20 minutes.
Stir the beets halfway through. Make sure the beets are soft to the touch before moving ahead. Whisk the honey and balsamic in a small bowl.
Pour the balsamic and honey mixture over the roasted beets on the baking sheet and toss them, so the sauce covers the veggies. Put the baking sheet back in the oven for ten minutes, so the sauce thickens. Remove the roasted beets from the oven and dig in.
If you're amazed that it's possible to learn how to grow beets from scraps, you'll also like to know that sweet potatoes, turnips, lettuce, and green onions are some of the other plants that regenerate themselves with a little bit of water.
How do beets grow so well this way? It's because the foliage gets all their needs met while you keep a close, caring eye on them. Beets are delicious veggies that brighten up many dishes and should be used as much as possible before throwing them away.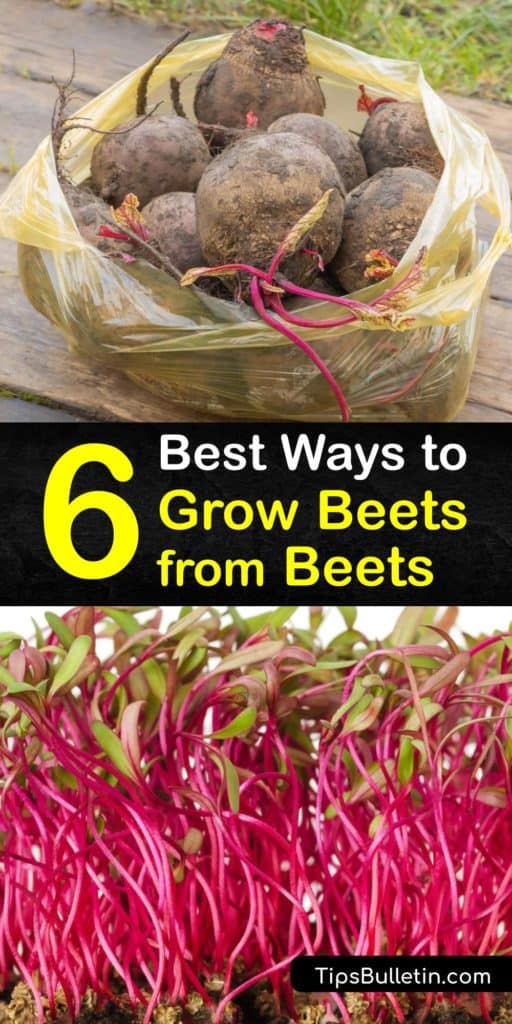 If learning how to grow beets from beets has taught you a new skill, share these tips for growing food from scraps on Facebook and Pinterest.