Blackberries (Rubus spp.) come in erect, semi-erect, and trailing varieties, each with advantages and disadvantages. Blackberry propagation methods include cuttings, division, and seeds. Learn how to grow blackberries from seed to watch the plants grow from seed to harvest.
Blackberry bushes are self-fertile, meaning that you only need one plant in your home garden to enjoy luscious berries. It's the floricanes that bear fruit—primocanes only grow vegetatively.
Have you been wondering how to plant blackberry seeds? You'll need to stratify the seeds in the fridge in the first year. The plants won't produce fruit until their second year.
Blackberry plants do best in USDA zones 5 to 10. They prefer mild winters and cool summers.
Try planting blackberries from seed to take advantage of their numerous health benefits. They're rich in antioxidants, fiber, manganese, amino acids, and vitamins C and K. The berries are also low in carbohydrates, cholesterol, fat, and sodium.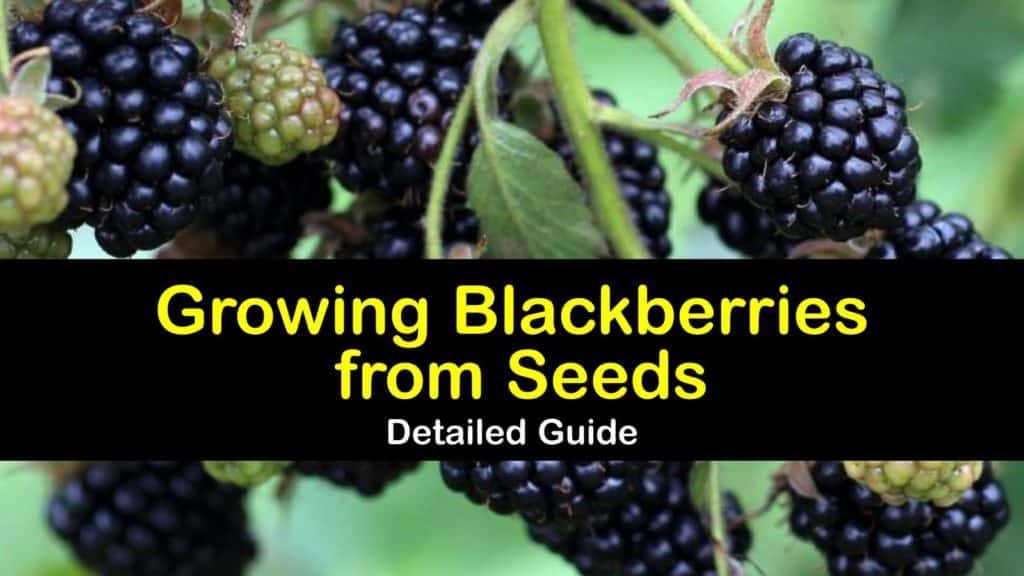 Tips for Growing Blackberries from Seed
It's possible to separate seeds from whole blackberries. Place the blackberry seeds in a bag of peat moss in the fridge for several months. Transplant the seedlings outdoors in the spring.
Growing blueberries from seed is just as easy. Note that growing fruits from seed takes a lot longer than planting a bare-root plant.
Choosing a Blackberry Variety
The two main types of blackberry bushes are erect and trailing. Erect varieties have stiffer canes, making them suitable for containers and small gardens. They're also more cold-hardy.
Trailing blackberries grow in vigorous brambles, which you can train to form a hedge. They tend to produce higher yields and tastier fruit.
There are cultivars with features like disease resistance, tolerance to cold or heat, and being thornless. Thornless varieties are easier to handle but also more vulnerable to pests and the cold.
How to Plant Blackberry Seeds
To extract the seeds from berries, pulse the berries on low in a blender. Transfer the pulp to a sieve, gently pressing it through the holes with a spatula. Rinse the seeds to remove bits of flesh, then spread them on a clean coffee filter to dry.
Part of how to plant blackberry seeds is stratification. Fill a sandwich bag with damp peat moss and insert the seeds. Seal the bag and place it in the fridge at 33 to 35℉ for three to five months.
In terms of when to plant blackberry seed, remove the bag from the fridge six to eight weeks before the last frost. Fill a seed tray with seed starter mix. When planting blackberry seeds, similar to when you grow strawberries in pots from seeds, sprinkle them on top of the potting mix, then cover them with a thin layer of soil.
Mist the blackberry soil when it starts to dry out. Keep the tray somewhere warm and provide plenty of bright light once the seeds sprout. This also applies when growing raspberry from seed and many other plants.
Transplanting Blackberry Seedlings
When growing blackberries from seed, transplant the seedlings outdoors in early spring. Late fall also works in warm regions. The site for growing blackberries should have full sun or part shade. Ideally, find a planting site with protection from the wind.
Ensure that the soil for blackberries has good drainage and does not contain too much sand or clay. Avoid planting in soil that has held members of the nightshade family within the past five years.
The ideal soil is slightly acidic and humus-rich. To increase the nutrient level, mix in well-rotted compost before planting. Spring is the best time to fertilize blackberry bushes.
Dig holes that are large enough for the blackberry plant roots. The holes should be two feet apart. How far apart to plant blackberry bushes is about seven feet. Insert the seedlings, then gently pack the soil into place. Water until the earth turns muddy.
How to Grow Blackberries from Seed: Plant Care
Install a trellis after transplanting to support the canes, especially for trailing varieties. Trellising increases exposure to the sun, encouraging more leaf growth and a higher yield. There is no difference between blackberry and mulberry plants regarding trellising.
Spread organic mulch to prevent weeds, retain moisture, and keep the roots warm. Give one inch of water per week during the growing season. Fertilize with 10-10-10 fertilizer in mid- and late spring.
Caring for blackberry bushes includes pruning trailing canes to seven to eight feet long. For the erect type, cut off the top four inches of cane once the plant is four feet tall.
In late summer, cut away floricanes that have fruited to encourage new canes the following year. The floricanes are gray and dry-looking, compared to the green or reddish primocanes.
Trim off any suckers as well. Consider cutting off the tips of the canes in the spring to promote vigorous growth.
Preventing Pests and Diseases on Blackberry Plants
Blackberries are susceptible to fungal disease in humid, cold, or wet conditions. As a preventative measure, use soil that's well-draining and nutrient-rich. Ensure that the plants receive adequate sunlight and air circulation.
If your blackberry bushes suffer from fungal disease, apply a copper fungicide or remove infected parts and burn them. Remove any wild blackberries growing nearby as well. Planting disease-resistant blackberry varieties is always helpful.
To discourage borers, prune dead canes. Be sure to learn the proper way to prune blackberries so you don't harm the plant. If you have a Japanese beetle infestation, an insecticide may be necessary.
How to Harvest Blackberries
Floricanes typically start fruiting between May and July. Water more deeply before harvesting to encourage plump, juicy berries.
Blackberries are ready to pick when they're dark-red, purple, or black and come easily off the cane. Watch for shiny berries—they're ready as soon as they lose their shine.
Harvest blackberries in the morning on a cool, dry day. Be careful not to crush the soft berries as you pick them. Wear gloves if your blackberry bush has thorns. Place the berries in a shallow tub. They keep for four to five days in the fridge.
Try growing blackberries from seed to enjoy delicious homegrown berries raw and in recipes. The first step is choosing between erect and trailing varieties. After extracting the seeds from the berries, store them in peat moss in the fridge for several months.
Transplant the seedlings to a sunny location with nutrient-rich, well-drained soil. How to grow blackberries from seed includes installing a trellis and pruning the blackberry bushes.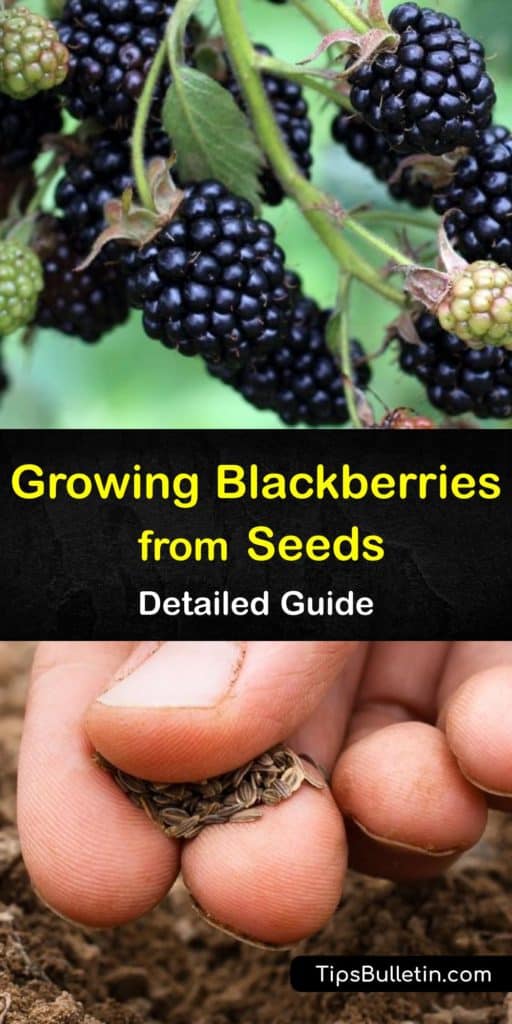 If you found this blackberry planting information helpful, please share these tips for growing berries from seed with your friends on Facebook and Pinterest.