Blackberries are delicious when you pop them straight into your mouth or make them into jam, smoothies, and pies. Unfortunately, these nutritious berries are only in season during the summer and are difficult to find at the market at other times of the year. We show you how to grow blackberries in a backyard garden, care for your plants, deal with common problems, and what to do with your berries after a bountiful harvest.
Blackberries are succulent and juicy with a sweet and slightly tart flavor. When ripe, they are purple with a deep inky sheen and are one of the largest berries.
Blackberries are high in antioxidants and vitamin C and a good source of fiber, so snacking on them leaves you feeling guilt-free. They are even better if you grow them in an organic garden setting. Everyone wants to enjoy homegrown fruits with their fresh, sweet taste, but not everyone has the space to grow a large apple or pear tree.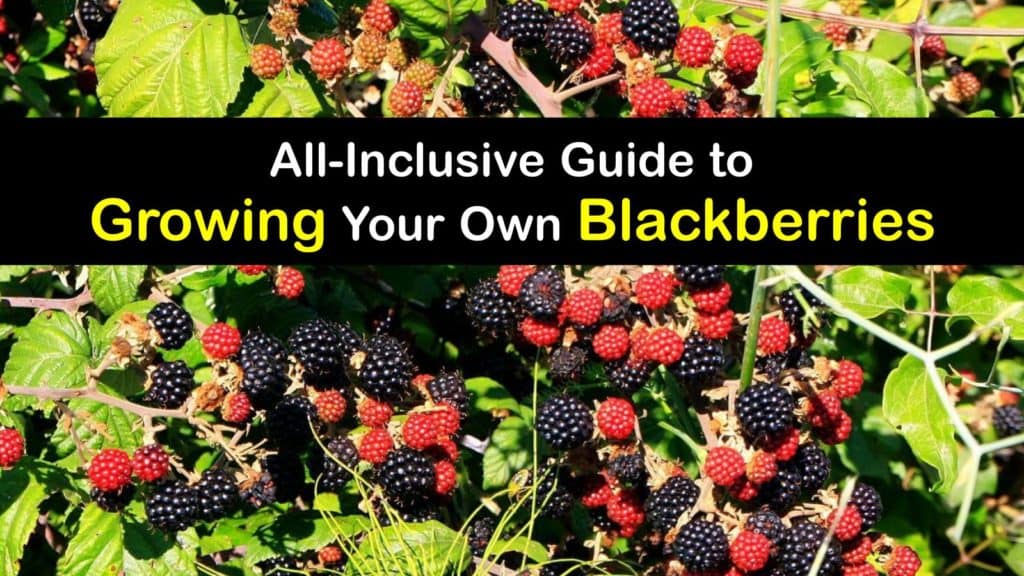 Growing and Caring for Blackberry Shrubs
Berries are the perfect substitute for fruit trees in a home garden since they take up less space. Like raspberries, blackberries are easy to grow and require little maintenance to thrive.
While blackberry planting sounds like a difficult task, it's actually quite simple as long as you provide them with everything they demand to grow and produce. There is little difference between blackberries and black raspberries regarding planting and care.
Growing blackberries is also a great way to produce fruit that is healthy, tasty, and chemical-free. However, there are many things to understand to ensure that your plants reward you with a delicious harvest of berries.
How long do blackberries take to grow, how much fruit do they produce, and what's the best way to store them? These are common questions beginning growers have when deciding to grow berries for the first time.
We answer these questions and others to help you get started in your blackberry-growing endeavor. Learn the different blackberry varieties, how to plant and care for them, and when they are ready for harvesting.
Important Facts to Understand When Growing Blackberries
While growing blackberries is reasonably straightforward, there are a few essential facts to know before planting them in the garden or raised beds.
It's important to know where to plant blackberries so they thrive and provide you with a bumper crop of berries. They enjoy a specific soil type and the right amount of sunshine to thrive, and understanding a blackberry plant's needs goes a long way to growing the healthiest blackberries. Follow the way to grow blackberries in pots or the garden or both.
Blackberry Plants
While the blackberry roots are perennial, the canes are biennial, which means that the plant grows year after year, putting up new canes with foliage the first year and bearing fruit the second year. This is why pruning is essential when growing blackberries.
Check your USDA hardiness zone and compare it to the blackberry plant type of choice. Most blackberries grow in zones 5 through 8, where the temperature and humidity are just right.
Each blackberry plant produces ten or more pounds of berries each fruiting season, depending on the type. They want full sun for optimal berry and foliage production.
While they still grow in a shady location, they don't produce fruit as well as in sunny areas. They also desire one to two inches of water each week, so regular watering is crucial when you experience low rainfall.
They also grow ideally if the soil pH is a little bit acidic. Avoid planting them in heavy, clay soil, ensure the dirt is well-drained, and add two inches of manure or organic matter if it is not fertile.
Blackberries do not grow as deep as they do tall. Their root system only grows 12 to 16 inches below ground level, taking up less space than a large fruit tree. They need two to ten feet spacing in-between plants, depending on which blackberry variety you grow.
Are There Different Types of Blackberries?
We often think of a blackberry plant as a rambling shrub similar to a raspberry, but there are different types, each with a unique growth habit and fruit. The same applies to dewberry vs blackberry plants.
Explore the three main types and some of the most popular varieties to help you choose your favorite blackberry to plant in the garden.
There are three main types of blackberries, and these include erect thorny, erect thornless, and trailing thornless blackberries. Erect thorny types grow upright and do not require support like a trellis, but they have very sharp spines on the canes.
A support system is not necessary for the erect blackberry, and it doesn't have painful spines. What fruits grow on vines? Unlike erect varieties, trailing thornless blackberries have long, sprawling canes that are vine-like, and a wire system or trellis is necessary to keep them off the ground.
There are also different cultivars within each type. For example, Shawnee blackberries have self-supporting thorny canes, and they are cold-resistant, while Natchez, Arapaho, and Navaho types grow thornless and erect, forming a hedgerow while spreading suckers.
Another popular blackberry type is the Prime-Ark Traveler, which grows fruit on new and old canes throughout the growing season.
How to Grow Blackberries from Seed
Once you pick a suitable plant for your area, it's time to get gardening. While growing blackberries from seed instead of a bare-root plant takes a bit more time, it's still easy.
Learn how to grow blackberries from seeds indoors in a few simple steps, and transplant blackberry bushes outside in the garden or raised bed the following year.
The way to plant blackberries starts with the seeds. Prepare your blackberry seeds for planting by cold stratifying them. Wrap the seeds in peat moss, place them in a plastic bag and store them in the fridge where the temperature is between 32 and 35°F for three to five months. During this time, the seeds begin to open in the cold.
After cold stratification, fill a pot with a soil and compost mixture and press a couple of seeds into the center. Make sure it has good drainage and place rocks at the bottom if it doesn't.
Spray the dirt with water to moisten it without making it soggy and keep it damp to encourage germination. Keep the pot on a sunny windowsill while watering it and adding compost as necessary until the following year.
In the spring, prepare the garden bed by tilling the dirt and removing weeds. Test the soil pH at your local cooperative extension office or with a test kit and adjust it if necessary.
Dig a hole slightly larger than the container and mix compost into the ground. Carefully remove the plant from the pot, set the roots in the hole, and push dirt in around the base. Pat it down firmly and water it immediately.
If you're planting more than one blackberry, proper spacing is necessary. Plant them two feet apart in rows seven feet apart and spread mulch over the surface to hold moisture and halt weed growth. Consider companion planting blackberries with bee balm, mint, or roses to encourage pollinators.
Don't forget to position a trellis behind your plant if you're growing a trailing blackberry variety.
How Long Do Blackberries Take to Grow?
Many garden fruits and vegetables are productive the first year you grow them, rewarding you quickly for all your effort.
Unfortunately, berry bushes take a little longer to grow before you get the results you're looking for. So, how long do blackberries take to grow, and when do they begin to bear fruit?
Blackberry Growth Rate
It takes roughly one year to start your seeds indoors before they are ready to transplant outdoors. Once your blackberry plants are seated in the garden or raised bed, they grow foliage on the first-year canes with fruiting floricanes in the second year.
At this point, you get to enjoy the blackberry season during the first weeks of summer, with summer varieties bearing fruit in late summer.
Pruning and Caring for Your Blackberry Plants
After transplanting blackberry plants in the yard, it's vital to perform routine maintenance. Watering, pruning, training, and fertilizing your new plants ensure they get a great start and produce a healthy crop of berries each fruiting season.
The first step in blackberry care is to spread a good layer of mulch in the blackberry garden to feed the plants while retaining moisture and preventing weeds.
When to fertilize blackberries is when the plants come out of dormancy in the early spring. Fertilize them with a well-balanced formula and apply manure or compost in the late fall.
To prune trailing blackberries, remove the old fruiting canes to the ground after they die back, and train the primocanes up on wires.
If you have erect blackberries, prune the top one to two inches of the new primocanes in the summer after they are four feet tall to encourage branching. Remove the dead floricanes in the winter and trim the lateral branches to about two feet.
Prune semi-erect shrubs in the summer by removing the top two inches after they grow to five feet tall. Remove old floricanes in the winter and spread the new floricanes out along the trellis.
Ways to Deal with Common Blackberry Plant Problems
We'd love to tell you that your work is done after you plant your blackberries in the yard, but we can't.
Unfortunately, problems arise as your plants grow, and it's vital to keep an eye on your berry garden to ensure they don't succumb to diseases and pests. Here are a few signs to watch for and ways to prevent your berries from suffering or dying.
Stem blight, anthracnose, and crown gall are common diseases that affect blackberries. The best way to keep your berry plants safe from diseases is to plant them away from wild brambles where diseases are prevalent.
In addition, watering your plants at the base and spreading mulch over the dirt to avoid splashing upon the foliage helps to prevent the spread of fungal disease.
Viral diseases are also a common blackberry problem, including the blackberry calico virus and raspberry bushy dwarf virus, which cause yellow spots on the leaves.
If your plants suffer from these viruses, it's crucial to remove and destroy the affected plants immediately to prevent spreading.
Two of the most bothersome insects for blackberry plants are raspberry crown borers and stink bugs. Crown borers are black and yellow moths that look like yellow jacket wasps.
They lay their eggs on the underside of leaves, and the larvae eat the blackberry canes in the spring and summer. Stink bugs are bright green, shield-shaped insects that munch on the foliage and suck plant sap.
The easiest way to discourage these pests from finding your plants an attractive place to feast is to keep your blackberries as healthy as possible. But, if you discover you have a problem, prune away the infested canes, and use insecticidal soap to kill them.
How to Harvest and Store Blackberries
It's the end of the season, and the time finally arrives when you get to start plucking ripe berries from your blackberry bushes. Find out when and how to harvest your berry crop and tips for storing berries to keep them fresh as long as possible.
Blackberry Harvest and Storage
Blackberries do not ripen after you harvest them, so it's important to pick only ripe berries. They generally start fruiting in July and August, but some types ripen as early as June.
Pluck the berries off the plant by hand once they are plump and dark black. If they are still rather firm and light purple or red, they are unripe and aren't ready to pick for another week or so.
Individual berries ripen at varying rates, so once harvest season begins, expect to pick the berries every couple of days until the end of the season and leave the central plug intact.
To store your fresh-picked berries, place them in a shallow container and store them in the fridge for up to three days. Keep them dry and well-ventilated during storage, and do not wash them until you're ready to eat them.
Preserving Blackberries for Long-Term Storage
Sometimes, it's impossible to eat all the berries after harvesting them before they begin to spoil, especially if you plant more than one blackberry bush.
Discover the proper way to freeze blackberries to preserve them for long-term storage and prevent them from going to waste.
Rinse the fresh berries under cool, running water and dry them gently with a paper towel. Lay parchment paper on a large baking sheet and spread the berries on it in a single layer.
Place them into the freezer for a few hours to flash freeze, and pour the frozen berries into freezer bags. Use your hands to carefully press out the air without crushing the blackberries, write the date on the top, and return them to the freezer, where they last up to one year.
How to Make Blackberry Jelly
Unfortunately, blackberries do not have a long storage life once they are ripe. If you find it challenging to use all the fresh berries before they spoil and want an alternative to freezing, why not make homemade jelly?
This recipe makes about eight cups of sweet-tart jelly that tastes divine on toast and sandwiches.
Start by making the blackberry juice for the jelly. Pour the berries and water into a pot and set it over medium heat. Lightly mash the berries with a potato masher as you bring the mixture to a boil.
Continue boiling the juice for 20-minutes, and take the pot off the stove. Strain the berry liquid through a fine-mesh strainer into a large bowl and discard the berry seeds and remnants.
Pour the blackberry juice back into the pot, add the pectin, and stir well to dissolve before adding the butter. Set it on high heat and bring the mixture to a full boil before pouring in the sugar.
Stir it constantly while boiling for one minute, and then remove it from the heat. Skim off any foam and ladle the liquid into pint jars, leaving some space at the top.
Screw the lids in place and let them sit at room temperature to cool before refrigerating. Set them in the fridge for up to four weeks or freeze them for up to five months.
Planting blackberries is a great way to grow fruit when you have limited space, and there is more than one type to suit your taste and growing style. They are simple to grow, and providing them with proper care rewards you with a seasonal harvest of fresh berries.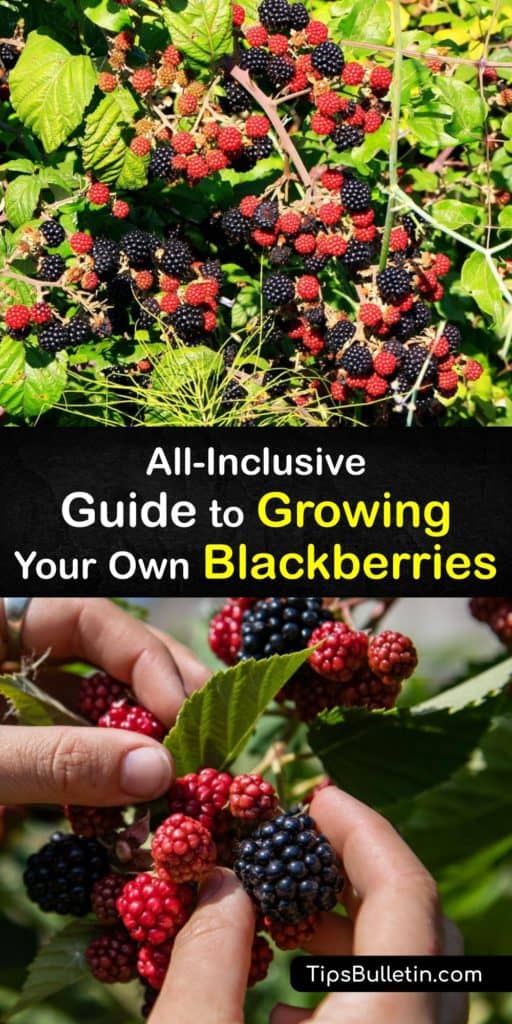 We hope that reading our information on how to grow blackberries in your yard helps you grow healthy plants and keep your fridge well-stocked with delicious berries, and we'd love it if you'd share our blackberry growing guide with the berry-lovers in your life on Facebook and Pinterest.