Blueberries are delicious and versatile little berries that are deliciously sweet and loaded with vitamins. Are huckleberries blueberries? They're related but not the same. The blueberry's popularity, combined with the growing popularity of container gardening, means it's no surprise many growers want to know how to grow blueberries in a pot.
Gardeners with small spaces or those outside the blueberry growing season are eager to learn how to grow blueberries in containers to produce these delectable berries in their homes. Even if you have plenty of space to plant antioxidant-rich blueberries in your garden, growing them in pots is incredibly simple and effective.
If you want to cultivate blueberry plants, but your soil isn't ideal for producing the fruit, growing blueberries in containers is the way to go. Provided the area they're in receives full sun, blueberry plants grow and bear fruit in containers.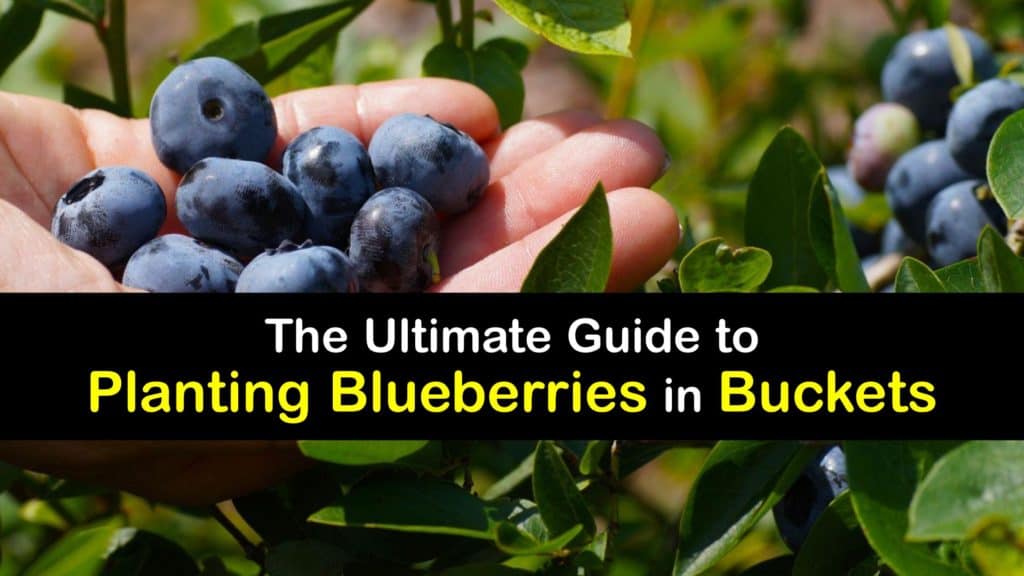 Everything to Know about Growing Blueberries in Containers
Growing blueberries in pots is a lengthy project if you've grown fruiting plants previously. With a bit of care, your blueberry bushes happily grow fruit for years if given a good start the first year. Growing elderberry in pots is the same way.
Choose the biggest pot feasible and grow one plant per container for blueberry bushes or if you grow cranberries in containers. Select a pot with at least 18 inches of depth and plenty of drainage holes when planting blueberries in containers.
Place your blueberry containers on top of blocks for even better drainage. Keep blueberry bushes in wooden half-barrels and other broad, deep, and weatherproof containers for long-term growth.
How to Grow Blueberries in Containers – Planting
Once you understand how to plant blueberries in pots, the next step to grow blueberries at home is to care for your plants. In most places, blueberries best grow when planted in containers in early spring or late fall. Good months to plant blueberries are October/November and March/April. If you have cold winters, wait until the middle of spring to start growing blueberries indoors.
To begin your blueberry container garden or the best way to grow strawberries in pots, either collect seeds from fruit or purchase them. Ensure you get one of the pollinated blueberry varieties when you buy seeds.
Freeze the seeds for 90 days before planting them on a flat tray with damp sphagnum moss. To germinate blueberry seeds, sprinkle the seeds over the moss and softly cover them with more moss. Cover the entire tray with newspaper and place it in a room with a steady temperature of 60-70 ℉.
In approximately a month, you should see seedlings if you keep the moss moist. Remove the newspaper and place the dish in bright, indirect sun until the seedlings reach a few inches. Plant your seedlings in moist peat moss, potting mix, and sand until transplanting to larger containers.
Transplanting Blueberry Seedlings into Containers
Plant one seedling per container, taking care not to disturb the shallow roots. If required, add more potting soil to the top of the container, leaving the top 1-2 inches unfilled. Water the container thoroughly right away to settle the dirt and close any air holes around the roots.
You may have to move your pots around throughout the day to ensure your blueberry plants receive sufficient sunlight. When working with large vessels, placing them on movable casters makes it easy to follow the sun.
Blueberry bushes are not self-pollinating, so you'll need more than one. Grow at least 2-3 containers of blueberries for cross-pollination.
How to Grow Blueberries in a Pot – Care
Blueberry plants require 6-8 hours of full sun per day. Blueberry bushes prefer acidic soil, with a soil pH level of 4.0 to 4.8 necessary for the plants to absorb water and nutrients while producing berries.
Because most garden soil isn't high acid soil and tends to be more alkaline, growing in containers allows you to manage the acidity of your soil better. To ensure your blueberry plants grow, purchase or make a blueberry-friendly potting soil mix designed for acidity-loving plants like rhododendrons, azaleas, and camellias.
Blueberries require lots of water because their root system is short and dries out quickly, but they also prefer sandy, well-draining soil. Keep the earth moist but not soggy and free of other organic matter.
To save water, relocate your blueberry bushes toward a more shaded spot if you won't be able to water them for a week or more. To maintain moisture, a layer of compost with a topping of pine needles and pine bark mulch is also beneficial.
Fertilizing While Growing Blueberries in Containers
Blueberries don't like an abundance of fertilizer. The time to fertilize blueberries is in the early spring – just once is recommended. Select an organic fertilizer, like cottonseed meal or a blend specifically designed for acid-loving plants.
Spread fertilizer mix on earth around blueberry bushes and water well.
How to Grow Blueberries in a Pot – Pruning and Protection
Blueberry bushes may grow huge, but don't prune them until the fourth year in the container. More growth will result after you prune.
Blueberries are as popular among birds as they are among humans. The most straightforward approach to keep avian poachers away from your fruit is to cover your bushes with bird netting or burlap a few weeks before the fruits ripen.
How to Grow Blueberries in Containers – Types
It's critical to select blueberry species and cultivars appropriate for your climate and USDA hardiness zone. There are four main blueberry varieties, and each has popular cultivars.
Within the species, there are many different varieties. You might choose a cultivar based on the size of the plant or the size of the berry you want to grow. Larger specimens are ideal for eating fresh berries from the bush, while small berries taste better in baked goods such as pies and preserves.
Keep in mind growing blueberries in pots take time, just like producing them elsewhere. Blueberry plants may take several years to bear fruit, which is not uncommon for many fruit-bearing species.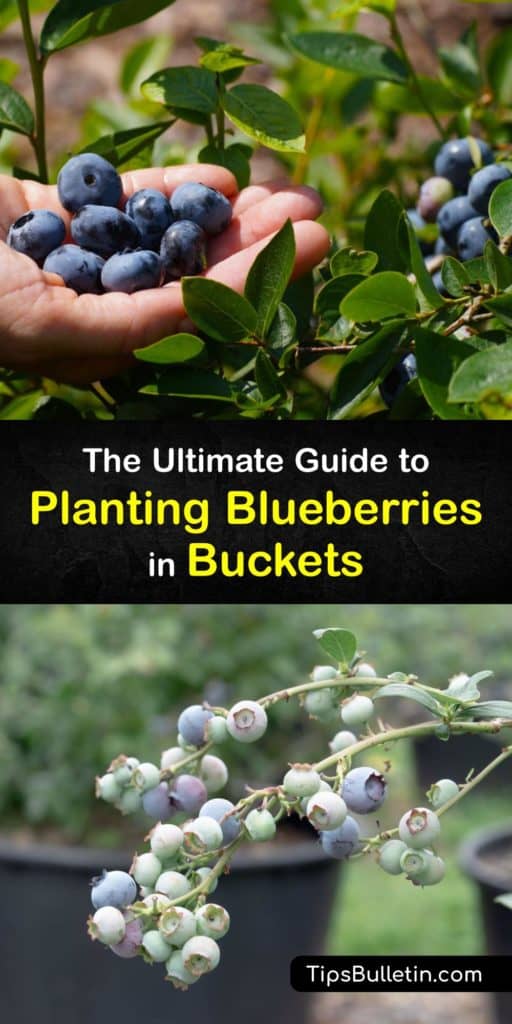 If you loved this article on how to grow blueberries in a pot, please share these clever tips on how to grow blueberries in containers with your family and friends on Pinterest and Facebook.