Did you know that it's possible to regrow new plants from the bok choy stem you throw away while preparing stir fry or another Asian dish? As strange as it seems, the white stem of the veggie is still capable of producing a new plant. Learn how to grow bok choy from stem and care for your plants as they grow.
While doing our research, we were amazed at how many fruits and veggies regrow from the parts we normally toss into the trash or compost, from pineapples, basil, carrots, and celery to green onions, garlic, and bok choy. All you need to reproduce food is a dish of water, a pot of soil, and a warm, sunny area of your home.
Regrowing food from leftover scraps is not only a great way to recycle and prevent food waste, but it's also very easy to do and an excellent project for young gardeners.
The bok choy plants provide you with another harvest of fresh veggies, and the bright green leaves of the plant are a wonderful addition to the kitchen windowsill as it grows.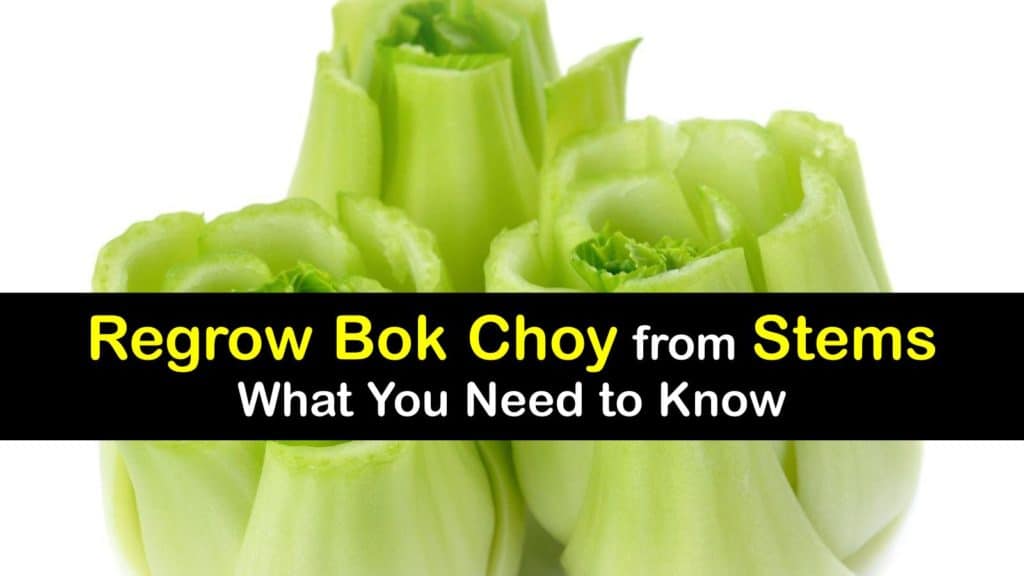 Regrowing Bok Choy from Scraps
Regrowing bok choy (Brassica rapa) eliminates some of the waste going into your trash, and you get to reap the benefits of more fresh bok choy leaves when the plant is done growing. While growing different types of bok choy from the Chinensis group takes a little time, the process is quite easy, even for a beginner gardener.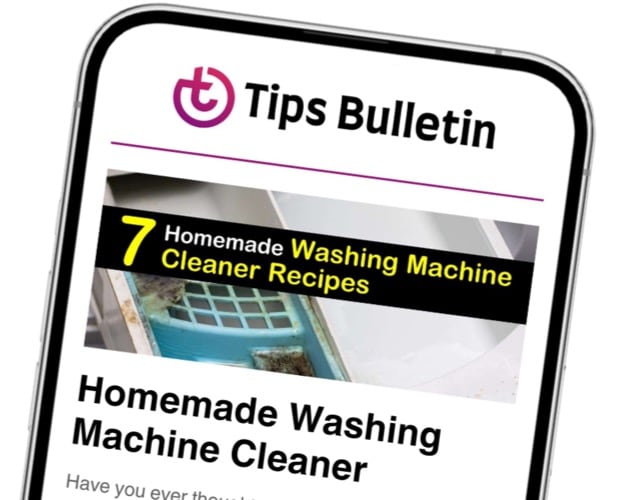 Finally, an email that Transforms Your Home.
Get the latest home and garden tips from our experts, delivered straight to your inbox.
Find out how to regrow-bok-choy and what your plant wants while growing bok choy from stalk. Discover when the leaves are ready for picking, how to harvest them, and a simple recipe for using your homegrown bok choy plant.
How to Grow Bok Choy from Stem
The first step to regrow bok choy (Brassica rapa) or to regrow cabbage from stem is to keep the white stem of the plant instead of throwing it in the garbage. However, there are other things to do to get it to regrow, and we walk you through the steps to help you grow a new bok choy plant.
When regrowing romaine lettuce or bok choy, start by cutting the base off the bok choy, or lettuce similar to how you slice the bottom of a celery bunch. Pour warm water into a cup or container and place the bok choy stalk in the water with the cut side facing upward.
Set it on a sunny windowsill and keep the water level while it sits for about a week. During this time, the veggie begins to germinate and change appearance every couple of days. The outside deteriorates and turns yellow, and the center begins to grow, turning from pale green to dark green.
After seven to ten days, when the plant begins sprouting, transplant the bok choy to a container of potting soil by burying it almost entirely with only the tips of the new green leaves pointing up. Make sure to choose a garden container with drainage holes to prevent root rot and water the bok choy right after planting.
Whether growing butterhead lettuce or bok choy this way, keep the soil moist and set it back in front of a sunny window. If you plan on keeping the pot outside on a patio after the last frost, knowing when to plant bok choy outdoors is important. Make sure the outdoor temperature is between 55 and 65°F.
Caring for Your Plants While Growing Bok Choy from Stalk
After soaking the bok choy stalk in water and transplanting it into a pot of dirt, there's still some work to do. Here is what your plant needs while growing bok choy from stalk to promote healthy growth.
Water your bok choy plant about an inch of water each week after germination and transplanting. Fertilizing isn't necessary if you plant it in soil rich in phosphorus, potassium, and nitrogen.
Outside temperatures and bok choy companion plants are worth considering if you decide to move your plant outdoors. Bok choy is a biennial that loves growing during cool weather in the early spring or late summer in full sun to partial shade so plant it with neighboring plants that like the same thing. However, putting the plant outside before the last frost date when the weather is too cool causes bolting.
For outside gardening, keep an eye out for aphids, flea beetles, the cabbageworm, and other garden pests that destroy plants. Remove them with your hands as soon as you discover them, and apply insecticidal soap if necessary to prevent an infestation.
Bok choy is ready to harvest in two to three months, depending on the growing conditions. After the bok choy is regrown, use the entire plant or harvest it like chard by carefully removing the outer part to allow the inner plant to keep growing,
How to Make a Lemon Garlic Side Dish after Regrowing Bok Choy
While there are many ways to prepare this veggie after regrowing bok choy, otherwise called Chinese cabbage or pak choy, one of the easiest is to saute them with herbs and seasonings. One of our favorite saute recipes is a lemon garlic bok choy. It is zesty and flavorful and only takes ten minutes to make.
Start by preparing the bok choy by removing discolored outer stalks. Rinse the bok choy under cool water to remove dirt from between the leaves. Trim off the ends, slice each bok choy in half lengthwise, and pat them dry with paper towels.
Place a skillet on medium heat and add the extra virgin olive oil, garlic, and a pinch of red pepper flakes. Stir occasionally until the oil bubbles around the garlic, and add the bok choy.
Spread the veggie in a single layer and sprinkle with a quarter teaspoon of salt. Cook for two minutes without stirring, flip them over and cook for two more minutes. Transfer the sauteed bok choy to a platter, squeeze two lemon wedges over the top and serve the veggies hot.
While your local grocery store usually has what you need to prepare meals, regrowing veggies like bok choi or pak choi is both easy and convenient. Save the stem scraps after making a recipe, soak them in water and plant them in soil, and they reward you with a new plant for cooking.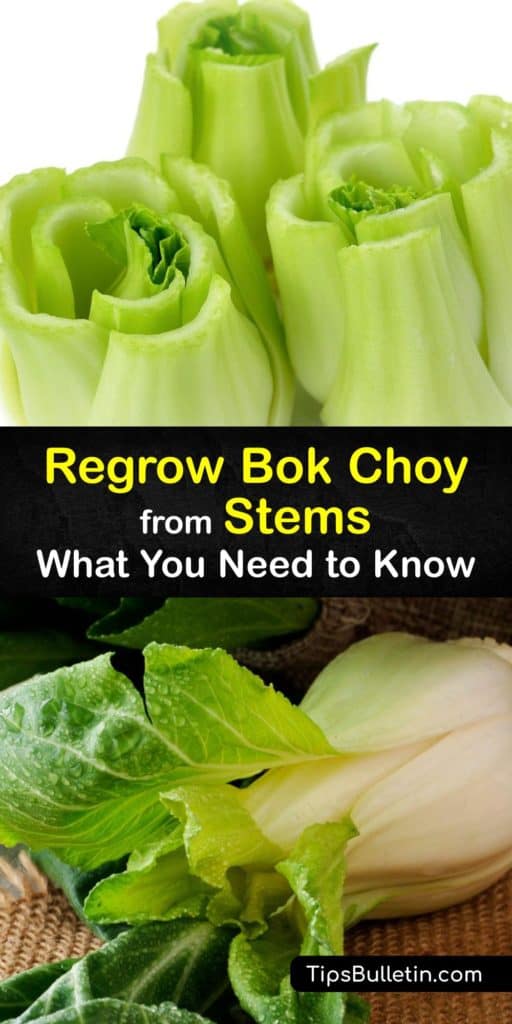 Knowing how to grow bok choy from stem means there is less food waste in your home and keeps your kitchen windowsill full of homegrown vegetable plants, so why not share our bok choy regrowing guide with the veggie-lovers in your life on Facebook and Pinterest?