Broccoli is one of those rare veggies that you either devour or spit out when it hits your tongue, though most people usually end up loving it once the palate matures. Once you grow to appreciate them, broccoli plants are a fantastic source of nutrients, and most gardeners enjoy growing them at home. Even if you don't have the space, learning how to grow broccoli in a pot could be your answer.
The best way to consume broccoli is to pick it straight from the garden instead of trekking to a nearby grocery store. Growing broccoli in pots has allowed more people to learn the ways of container gardening and has given them ways to enjoy fresh florets throughout the year.
A container garden doesn't require too much space; plus, it's much more manageable to keep an eye on your broccoli heads to protect them from pests like cabbage loopers and cutworms. Planting broccoli in pots may seem a little unusual at first, but once you get started, you'll realize that this type of gardening is the best way to keep fresh and nutritious food on the dinner table.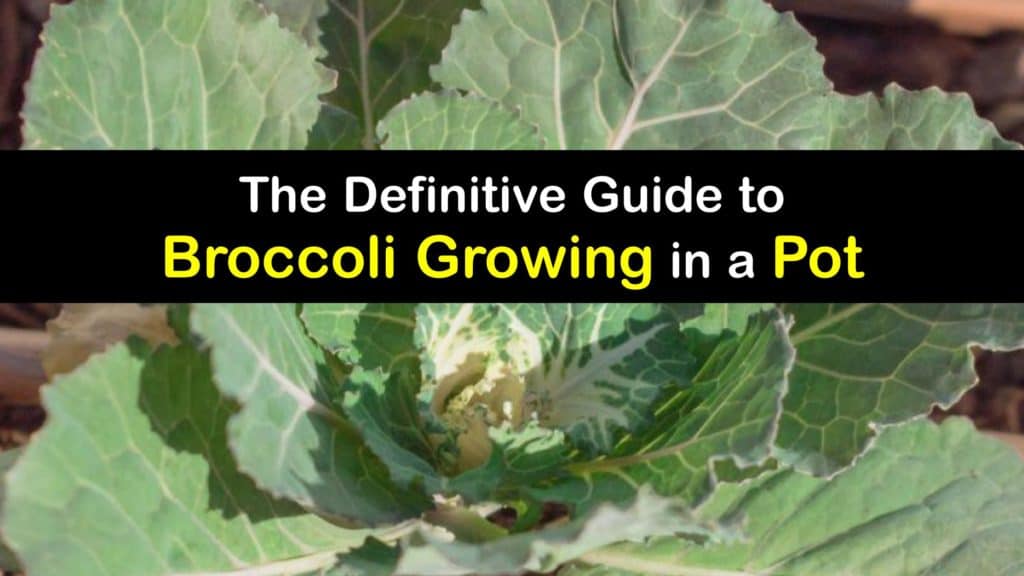 Benefits of Growing Broccoli in Pots
Learning how to grow broccoli in a pot may be a bit daunting at first because you've probably never done it before.
The veggie that we eat is actually the flower heads. The plants belong to the Brassicaceae family and are given the name Brassica oleracea. Broccoli is related to Brussels sprouts, cauliflower, cabbage, kale, and turnips.
As a cool weather crop, most people have no issues growing these plants in the garden. However, those living in warmer regions might not have the same access to cool weather.
The great thing about growing broccoli in pots is that you get to move the plants outside as a winter or fall crop or bring them indoors once summer's heat becomes too unbearable for them.
Why should you be planting broccoli in pots? This growing season, learning how to plant broccoli in pots allows you to save on space when your outdoor access is limited.
Common heirloom cultivars typically grow three to four feet wide. Even growing one on a small deck or patio gives you access to more space in the garden beds for other crops.
Before You Start Planting Broccoli in Pots
Growing broccoli in containers or when you grow cabbage in pots comes down to a few factors like the size of the container. Either plant a single seed in a one-gallon container or crowd a couple of them and have a smaller main head with more side shoots.
Plant three broccoli seeds or transplants in an 18-by-18-inch pot if you go this route. The minimum depth a container should be is 12 inches.
The type of gardening container you use is also vital to their growth. Transplanting broccoli seedlings to a dark-colored pot could create too much heat in the soil.
Terra cotta pots or light-colored containers work best for growing broccoli indoors. However, be mindful that porous materials often dry out faster than plastic ones.
Prepping Your Containers
To prep your container, start with good potting soil before sowing seeds. Fill your chosen pot with a rich potting mix or well-draining garden soil mixed with compost or rotted manure.
Perform a soil test whenever using outdoor dirt to ensure the pH is between 6.0 and 7.0 and that there were no other brassica plants growing in it to prevent the spread of diseases like clubroot.
How to Grow Broccoli in a Pot
The most important thing to remember about the different types of broccoli plants is that they love cool weather and full sun.
It's important to know when to start broccoli seeds so you have the greatest chance of a big crop. Sow seeds indoors roughly eight weeks before the last frost date for an early spring planting. When to plant broccoli indoors is two or three weeks before the last frost date.
For fall planting, sow seeds eight to ten weeks before the last frost date in the late summer. Planting in the fall reduces the chance of aphids and cabbage worms damaging your crops.
Sow seeds directly in their containers, where they will grow about a half-inch deep. Drop two broccoli seeds in each hole in case germination fails for one.
Cover the seeds with potting soil and a layer of mulch to keep the soil moist. Do not overwater them to prevent mildew from growing and damaging the central head.
Once the seeds begin sprouting, check on them every day to keep them maintained. If you prefer, start transplanting broccoli outdoors when they have two or three sets of true leaves.
Keep an eye on your broccoli plants and remove any pests with a DIY insecticide or floating row covers. Be aware of broccoli aphids and other unwanted bugs to treat them quickly before they become a real problem.
Fill a clean glass spray bottle with water and add a few drops of soap and peppermint oil. Shake the ingredients and spray your crops once per week to deter pests like cabbage loopers, squash bugs, whiteflies, and flea beetles.
How to Harvest Broccoli
Monitor your containers once you notice that the central stalk starts becoming firm. The head is ready about four to seven days after seeing the first florets and is typically three to five inches across with tight buds.
Broccoli heads are some of the most nutritious veggies that are easy to grow.
If you're limited on outdoor space, growing broccoli in pots is a straightforward solution that prevents you from having to pick and choose between your favorite crops.
If this article helped teach you how to grow broccoli in a pot, share these simple steps for planting broccoli in pots on Facebook and Pinterest.