Although it's possible to grow flowering plants indoors, many wonder if it's possible to produce nutritious and delicious vegetables in the house. Luckily, learning how to grow broccoli indoors is simple with the right supplies.
Along with Brussels sprouts, broccoli is a vegetable in the cabbage family. A cool weather crop, broccoli does well with early spring planting after the last frost of the season passes. Some varieties handle cooler temperatures as fall crops; however, broccoli plants start bolting when temperatures get high in late summer. While growing broccoli in your home provides freedom with planting, temperatures should remain between 45 – 70°F.
Whether you grow broccoli plants indoors with a plan to transplant outside or want to harvest your florets indoors, container gardening for broccoli is a rewarding experience for home growers. Some leafy veggies can grow indoors with adequate sunlight and soil nutrition. Few plants are perfect for growing inside, but broccoli requires less sunlight than most vegetables. These specific light conditions make broccoli ideal for growing in the low light conditions of your home.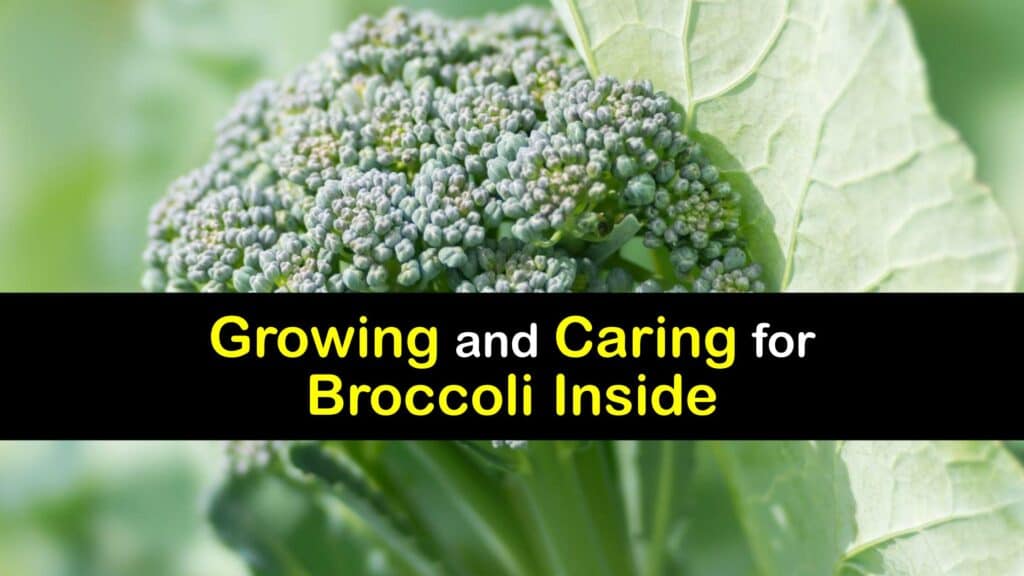 Can You Grow Broccoli Indoors?
Growing broccoli indoors is possible by providing your plant with all the necessary elements to mimic the experience of growing outdoors. With the right tools and proper knowledge of how to grow broccoli, you'll have a delicious harvest in no time.
Before Growing Broccoli Indoors
An essential part of growing broccoli in containers is deciding which broccoli to grow first. Different types of broccoli develop florets in various sizes and varying harvest times.
De Cicco broccoli is among the smallest varieties, allowing it to reach harvest more quickly than other types. De Cicco is an Italian heirloom variety that grows small main heads with a large yield of side shoots.
Waltham #29 is a fast-growing variety typically ready for harvest 30 days faster than most others. This cold-resistant variety grows large blue-green heads on long stalks.
Atlantic broccoli is a hybrid with small florets. It has high yield potential and good flavor. As the plant matures, harvest broccoli florets up to two times per week for up to six weeks.
Romanesco broccoli is a favorite among gardeners for its appearance. Romanesco broccoli heads develop a unique fractal pattern as they grow. This variety matures between 75 to 100 days, and its growth pattern makes it an excellent ornamental plant to grow indoors.
How to Grow Broccoli Indoors
Growing broccoli indoors starts with seeds or store-bought transplants. Either way works, but transplants are a great way to get a head start on the growing season, especially if you are concerned about germination.
Select a three to five-gallon pot with drainage holes to plant your broccoli. Combine potting soil with compost so that your potting mix has an even ratio of both.
When asking, "Can you grow broccoli indoors," the most significant factor is the amount of sunlight your plant receives. Broccoli requires full sun, or at least six hours of direct sunlight daily, to grow healthy.
Because broccoli grows in larger pots, if you do not have a large windowsill for the pot to sit in, consider using grow lights to provide your plant with enough light.
You might also consider growing a companion plant alongside the broccoli for optimal growth. Leafy plants like lettuce and Swiss chard that grow quickly can be beneficial to plant next to broccoli as they can encourage faster growth.
To start broccoli indoors before transplanting outdoors, sow seeds a month or two before your growing zone's last frost date. Sow seeds into biodegradable peat moss pots to avoid disturbing your broccoli's roots after sprouting.
To establish broccoli plants indoors, plant two seeds in each container half an inch deep with a spacing of a few inches between seeds. Cover the seeds with soil and water thoroughly. Place your pot in a location to receive sunlight and keep the soil moist until your seeds sprout.
Caring for Broccoli Plants
Broccoli seeds germinate in about a week; if both of your seeds sprout and develop true leaves, snip the smaller of the two. Organic fertilizer is essential to providing your broccoli plant with all the nutrients it may miss from growing outdoors. However, if your potting mix was amended with compost, adding fertilizer is not necessary.
Monitor soil temperature to ensure it remains below 70°F. Even if the temperature in your home is cool, the containers that plants grow in tend to absorb heat, especially if the containers are dark.
If high temperatures are a concern, position your plant so the pot remains in the shade while your plant's foliage receives daily sun. Adding a layer of mulch is one way to control the moisture and temperature of your soil.
Be mindful of pests that target your crops if you move pots outdoors. Aphids, cabbage loopers, and cabbage worms all target Brassica plants and feed on the foliage. Protecting your broccoli with row covers is a simple way to prevent pests from feeding and damaging your plants.
Broccoli is among the healthiest vegetables available. After learning how to grow broccoli at home, you'll always have access to organic veggies for meals.
If our article answers your questions about can you grow broccoli indoors, please share our simple tips on how to grow broccoli indoors with your fellow gardeners on Facebook and Pinterest.