Brussels sprouts (Brassica oleracea) belong to a family of plants that includes superfoods like kale, mustard greens, collards, and cauliflower. While Brussel sprouts are a favorite for many people to eat and grow, not everyone can grow them in a yard. Luckily, container gardening is available to all, and knowing how to grow Brussel sprouts in a container is easy with the proper steps in mind.
Although Brussel sprouts are native to the Mediterranean, along with other cabbage family members, Brussels sprouts appear in northern Europe, too. They have become a favorite in Brussels, Belgium, where they got their name.
What are the first steps to beginning your very own container Brussel sprout journey? When is it safe to bring your plants outdoors? Are there any dangers to growing Brussel sprouts indoors? To begin your DIY Brussel sprout garden, read this article on how to grow Brussel sprouts in containers.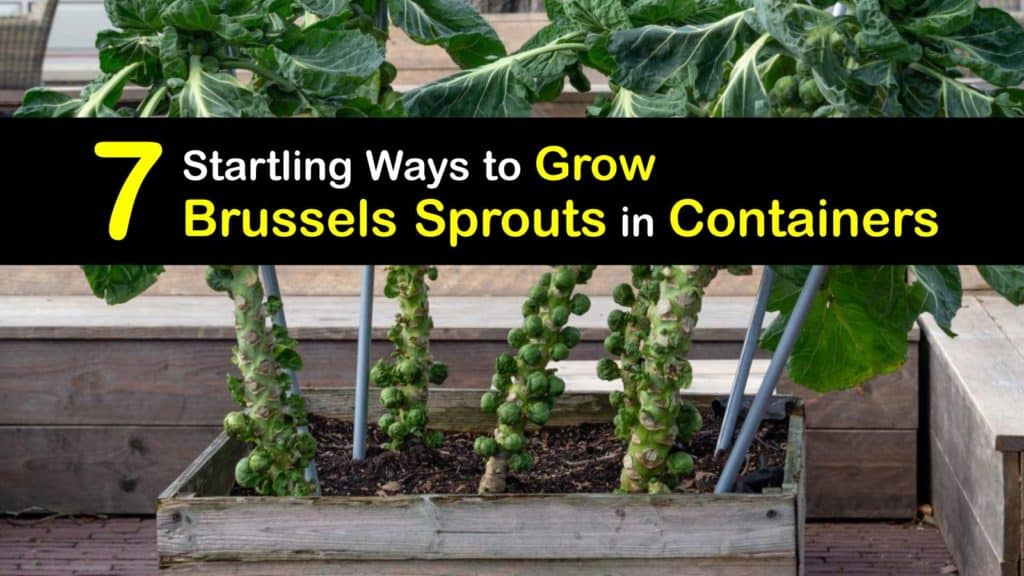 Getting Started: Growing Brussel Sprouts in Container
Like any plant, knowing how to grow Brussel sprouts in containers or when you grow cabbage in container, requires the right conditions to provide a good yield. Brussel sprouts prefer cool weather, and its best growing zones are two through nine, with preferred temperatures between 45-75°F in their growing season of early spring to late summer.
Picking a Location for Your Brussel Sprouts
Before putting down your Brussel sprout roots, it's essential to find the ideal location on your property to begin your journey to harvest Brussels sprouts.
Like most plants, Brussel sprouts require sunlight to grow, so find a spot with good sunlight and air circulation but with protection against excessive wind should a storm happen.
The location is important; however, your Brussel sprouts may need to spend eight to ten weeks indoors, like when growing cauliflower indoors, before the final frost date in your area, depending on the temperature.
Planting Brussel Sprouts in Containers
Due to the size of Brussel sprouts, find a pot that is five to seven gallons, 12-14 inches in diameter, and 12 inches deep to ensure you appropriately gauge how far apart to plant Brussel sprouts. The pot needs drainage holes to avoid Brussel sprouts sitting in standing water.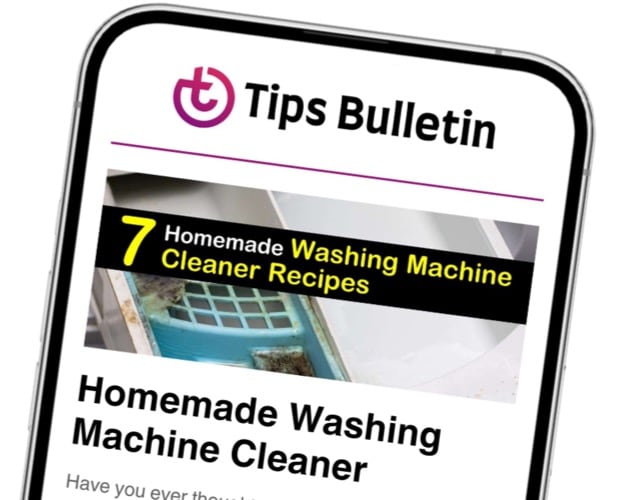 Finally, an email that Transforms Your Home.
Get the latest home and garden tips from our experts, delivered straight to your inbox.
Similar to other cool weather crops, like when growing radishes in pots or the garden, Brussel sprouts work well in moist soil, make sure to use well-draining soil that holds moisture well but does not get soggy after even watering.
Brussel sprouts also prefer neutral soil pH. If you have excessively acidic soil, add lime to neutralize it, and if your soil is too alkaline, add peat moss or wood ash to increase acidity to a neutral level for your Brussel sprouts.
How to Grow Brussel Sprouts in a Container
Once you have your pot and soil, begin planting Brussel sprouts from seed in the containers or seed pots, depending on the temperature. Plant seeds in the potting soil ½ inch deep, then cover with soil and wet the soil until it is moist. Seeds take up to 20 days to germinate in a place with light and humidity.
The way to grow Brussel sprouts if you have more than one plant in the same pot is to use a larger container that can accommodate two plants. Compared to the five to seven-gallon container for one plant, use a container that is at least 15-gallons with an 18-inch diameter.
Growing Brussel Sprouts in Pots
Once your Brussel sprouts begin growing in their containers, paying close attention to your sprouts is crucial to their survival. Growing in a pot means your Brussel sprouts' soil may dry out faster than it would if you had planted the seeds in the earth.
Brussel sprouts thrive in full sun with access to sunlight for at least six hours, but don't let your plant dry out in direct sunlight as this stunts growth and decreases the size of your sprouts.
Stick your finger into the soil once per day and water your plant if the top two inches of soil feel dry.
Unless you are growing a dwarf variety, staking Brussel sprout is an important step to keep your plant from toppling over as it grows. Stick a stake into your pot and use twine to hold the plant to the stake as it grows larger.
How to Grow Brussel Sprouts in a Container Outdoors
You can bring your plants outside two to three weeks before the final frost date in your area. If you live in a moderate climate, bringing the plants outside in late summer or early fall provides you with a fall harvest or one in early winter. If you live in frost-free areas, bring the plants out in fall to harvest in winter or early spring.
Mulching Your Indoor Brussel Sprouts
Mulch boosts the benefits of locking moisture into the soil, suppressing weeds, and nurturing your soil in spring. In winter, mulch protects bare soil, prevents erosion, and covers any plants growing during the cool season.
If you are growing Brussel sprouts in a container, you may not see the need for adding mulch as you won't be dealing with weeds. However, using mulch in your Brussel sprout containers helps keep your soil moist and cool, benefiting your harvest.
How to Grow Brussel Sprouts in Containers with Compost and Fertilizer
When you start growing Brussel sprouts in container, provide your plant with an initial source of food – either manure or compost that allows the plant to grow fast in its early stages.
Side dress your plants three to four weeks after planting with more compost, manure, or fertilizer. Fertilizing your Brussel sprouts is best with fertilizers that are 10-10-10, 5-10-5, or 5-10-10.
Caring for Brussel Sprouts
Pests are drawn to all plants within the cabbage family, making aphids and cabbage worms common pests for your Brussel sprouts. If you are growing Brussel sprouts without the aid of beneficial plants to repel pests, spray them with organic pesticide-containing neem oil.
A biological insecticide called Bacillus thuringiensis (Bt) kills cabbage worms and cabbage loopers. An alternative to spraying your plants is to lay a sheet of foil under your container. The sun warms the foil, which warms the lower leaves of your plant and deters pests from landing on them.
If you transplanted your Brussel sprouts to the outdoor garden, clubroot, a disease found in soil from previously infected plant roots, can affect your Brussel sprouts and stunt their growth.
Keeping cabbage family members away from diseased soil is recommended due to clubroot lingering in soil from five to 20 years; it is not wise to plant any cabbage plants in this area.
Harvesting Brussel Sprouts Grown in Containers
The typical time to harvest Brussel sprouts is roughly three months after transplanting them outdoors, about 120 days after planting your seeds if you've kept them indoors. It is possible to harvest from indoor plants as long as they've received adequate sunlight (six to eight hours a day).
The way to harvest Brussel sprouts is to start at the bottom of the plant. The lower sprouts are the healthiest and most mature. Slowly twist the Brussel sprout until it comes loose; this avoids damaging your plant.
There are a variety of ways to store Brussel sprouts after you pick them. The fridge, freezer, and canning are all viable options.
Transplanting after Growing Brussel Sprouts in a Container
After you start growing Brussel sprouts in pots and relocate them outdoors, keep a few things in mind before transplanting. Brussel sprouts are a cool-season crop and mature better in cold temperatures.
Plant Brussel sprouts in fertile soil at the same depth as the container you originally planted it in. Once you dig a hole to match the size of your container, cover your plant with soil and water well to help the roots establish in the hole. If you transplant multiple plants, they need adequate spacing; two plants fit in one square foot.
Types of Brussel Sprouts
Numerous types of Brussel sprouts come with different advantages over other varieties. Your culinary need for Brussel sprouts determines which variety you grow.
Long Island Improved is a variety of the Brussels sprout plant that is highly tolerant to cold and frost, which helps with the flavor of your harvest. One of the most common Brussel sprout varieties on the market is Long Island Improved due to its ability to withstand frost.
Jade Cross is a smaller variety of Brussel sprouts that is excellent for freezing because the smaller vegetable retains its flavor even after freezing. This variety of Brussel sprouts is a hybrid plant that is disease resistant.
We hope this article helps you give planting Brussel sprouts in containers a try and empowers you to explore gardening in pots.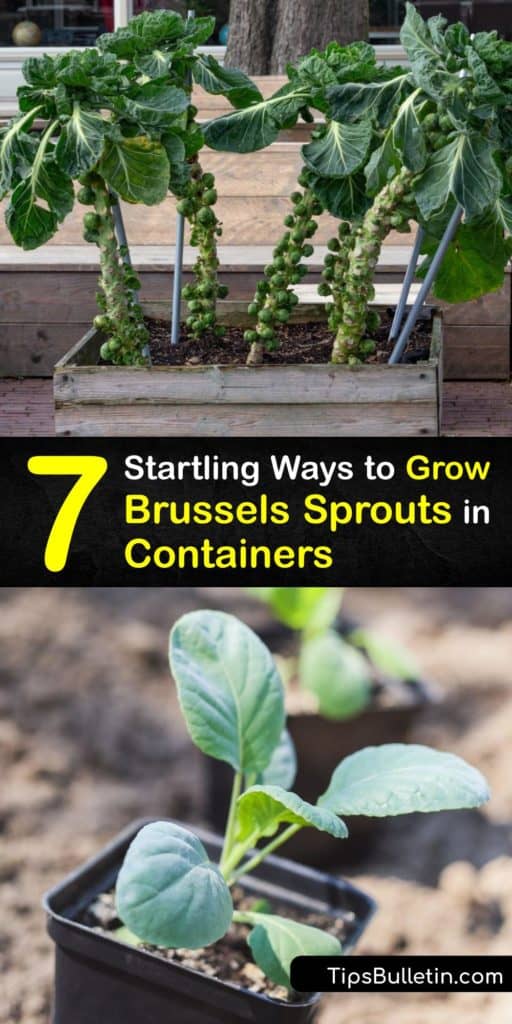 If this guide on how to grow Brussel sprouts in a container was helpful, we'd love it if you'd consider sharing these methods on growing Brussel sprouts in container with your friends on Facebook and Pinterest.