People with zero gardening experience wake up every day and decide to try to grow fresh veggies at home. Aside from tomatoes, beans are the most popular vegetable in gardens. Learning how to grow bush beans is something that anyone can do successfully, whether you have zero gardening experience or years' worth.
Bean plants are an excellent choice for garden beds because they enrich the soil and are not as finicky as other fruits and vegetables. It doesn't matter if you are growing bush beans in containers, raised beds, or traditional garden beds.
There are dozens of types of beans to choose that match your growing zone and complement what you're looking for in an ingredient for family recipes. We compiled a thorough list of some of the best bush beans to grow. Learn how to grow them to have the vegetable garden of your dreams at the end of the growing season.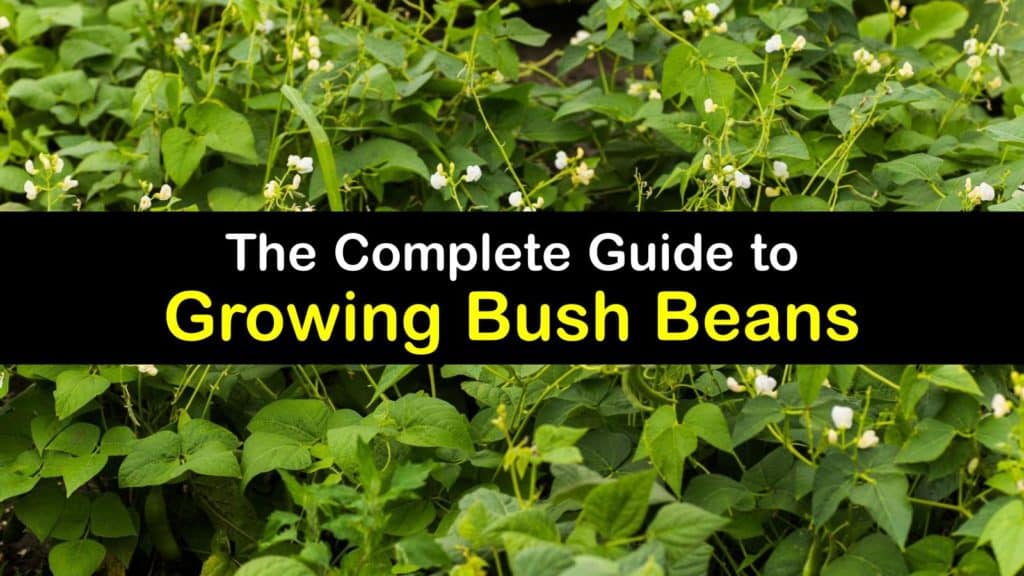 The Best Bush Beans to Grow
There are so many types of bean varieties that it is hard to distinguish the difference between bush beans and pole beans, as well as beans vs legumes. There are many of the same heirloom varieties within the two bean categories.
Vining bean plants are known as pole beans. The different types of bean plants grow to their full size within seven weeks and then produce bean pods throughout another few weeks.
Whether you plant pole beans from seed or seedling, pole beans produce pods much later but continue to create new beans once plucked. In general, bush beans are a lot easier to take care of and more convenient.
When starting to learn how to grow bush beans, decide which bean seeds to plant. Bush beans may be purple, yellow, or green. The yellow pants are usually referred to as wax beans.
There are dozens of other types of beans that grow in bush form. Snap beans, string beans, kidney beans, and green beans are only a few. There are also specific cultivars that most people gravitate toward.
The cultivars are divided into four categories: snap, shelling, dual-purpose, and dry beans. Snap beans are Phaseolus vulgaris or common green beans and are best when eaten fresh.
Shelling beans have tough pods, so you only eat the seeds. Dry beans must fully ripen and dry on the plant before harvesting and are usually stored throughout winter. Dual-purpose beans are used for either shelling or drying and can be eaten when young or mature.
Some of the most popular beans and legumes are well-loved because they have built-in disease resistance and produce high yields.
These cultivars include Blue Lake, Stringless, Filet, Contender, Haricot, and Kentucky Wonder. These are some of the best bush beans to grow, especially for beginners.
How to Grow Bush Beans
It doesn't matter if you're growing bush beans in containers or traditional beds; they almost all have similar steps for planting, caring, and harvesting.
Follow this guide for growing bush beans or growing chickpeas in raised beds, containers, and garden beds, and we know you'll have a large harvest at the end of the summer.
When to Plant Bush Beans
Bush beans are a bumper crop, meaning they produce high yields at the end of the growing season. When you plant them at the right time and under the right conditions, these plants thrive and make gardening well worth your while.
Bush bean seeds are best when sown directly outdoors, sometime after the last frost of spring or when the danger of frost is gone.
If you plant them too early, the cold, wet soil delays germination and makes the seeds rot. Bush beans do fine once the soil temperature remains above 48°F.
Choosing Where to Plant Beans
Growing beans in well-draining soil that isn't overly fertile is best. If necessary, boost fertility with organic matter. Peas, beans, and legumes are all plants that bring nitrogen to the soil and help the other plants grow around it.
What some people don't know is that this only happens when a specific inoculant is added to the soil. Inoculants are a type of bacteria that help them multiply to enrich the ground.
If you want all the benefits from bush beans, purchase a legume inoculant at your local garden center and add it to the prepared beds. Bush beans prefer soil that is slightly acidic at a pH level from 6.0 to 7.0.
If you use any supports, add them before sowing the seeds because the plants have fragile roots. Trellises are a great form of support for beans.
How tall do bush beans grow? Most reach about two feet tall. If you don't have a trellis, fashion a teepee out of old wood pieces and place it over the designated area you are going to sow your seeds.
Growing Bush Beans in Containers
Growing bush beans in containers or growing a vanilla bean plant is fine as long as you don't plan to transplant them later. Sow the seeds in a large enough container for them to completely mature. If you transplant them, the roots might not make it since they're shallow and finicky.
How to Plant and Care for Common Bush Beans
Sow bush beans an inch deep in the soil, with each one about two inches apart. Keep row spacing 18 inches apart. To harvest all summer, sow beans every two weeks. Mulch around the soil to help the plants hold onto moisture during hot weather.
Water the beans regularly so that they get about two inches of water per week. Epsom salt is good for green bean plants so add some occasionally. Ensure they get full sun and weed diligently, and their root system doesn't get disturbed. Pinch off the top of bean vines when they get a lot of leafy growth.
Bush Bean Pests and Diseases
Bush beans are much more susceptible to pests than they are to diseases. Aphids, Mexican bean beetles, and spider mites are some of the most common pests found around your bean plants.
The only two diseases that usually appear are powdery mildew from improper drainage and anthracnose. If you notice pests on your beans, make a homemade insecticide to deter them.
Add about a tablespoon each of soap and baking soda to a spray bottle and fill the rest with water. Shake the bottle and then take it outside. Spray your bean plants with the soapy water solution and continue to do so every week until the bugs are gone.
If you are lucky enough to have a bumper crop of beans, try the many different ways to keep green beans fresh after harvest, including pickling, freezing, and drying.
Bush beans are the perfect starter plant if you're interested in growing a vegetable garden. They produce bountiful harvests and require minimal work.
Most cultivars are also disease resistant, and there isn't too much that could go wrong on your first try. They are delicious to cook with, and growing them is something you'll be grateful you tried.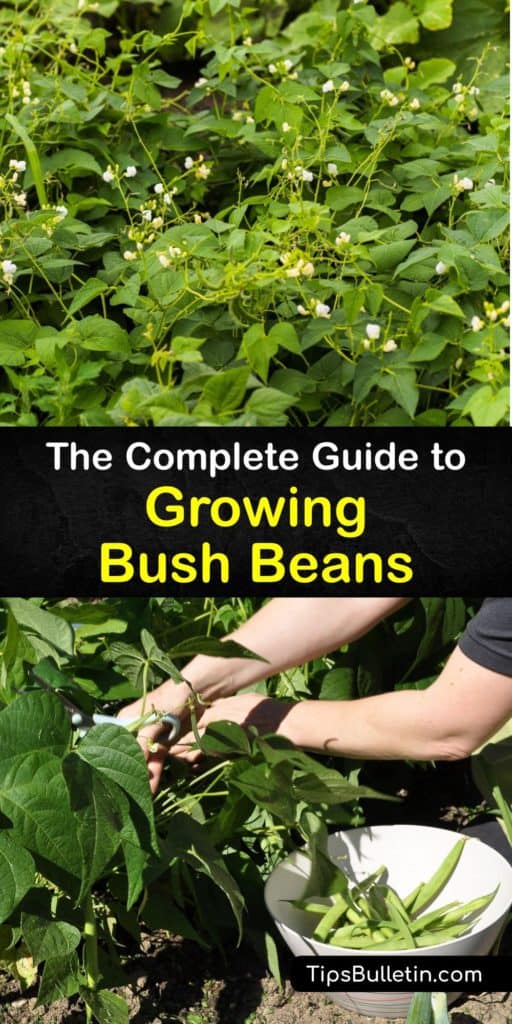 If learning how to grow bush beans has boosted your confidence as a gardener, share this list of the best bush beans to grow on Facebook and Pinterest.