It's that time of year again when you plan out your veggie garden. If this is your first time trying your hand at growing cabbage plants, you have nothing to worry about. We show you how to grow cabbage from seed, provide your plants with the care they need to thrive, and when to harvest them at the end of the growing season.
Cabbage (Brassica oleracea) looks like lettuce, but it's actually quite different in flavor and texture. It has less water content and is available in various shapes and colors of white, green, and purple with either smooth or crinkled leaves.
This veggie is a necessary ingredient in everything from kimchi and sauerkraut to coleslaw and stir-fry. We all know that green vegetables such as spinach, kohlrabi, broccoli, and kale are packed with nutrition, but we often overlook cabbage when eating healthy foods.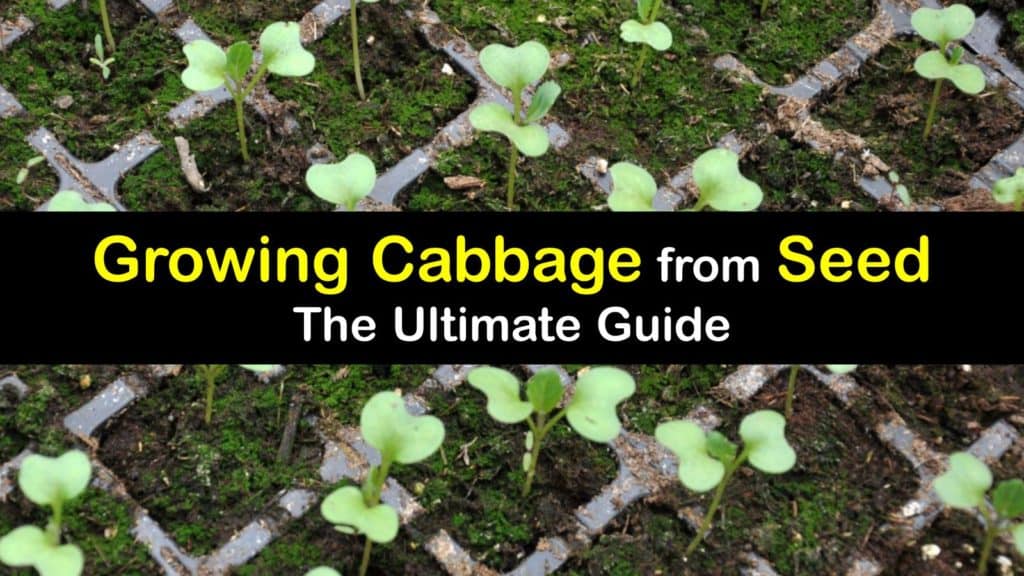 Growing and Harvesting Cabbage from Seed
Cabbage is also forgotten when planning a vegetable garden. However, this cruciferous leafy green is just as easy to grow as any other veggie. Vegetable gardens are a great way to ensure that your dinner table is never lacking in healthy food, and growing cabbages from seed is easier than you think.
While it does take more time than starting them from nursery plants, seeds are inexpensive and readily available. The key is to provide your garden with the right amount of water, sunshine, and nutrients and protect plants from pests.
Follow these steps to ensure your cabbage thrives and grows healthy. We explain how to plant cabbage seeds and ways to care for your plants for the best harvest. Follow similar procedures for growing kale from seed as well as other favorite veggies.
Things to Know before Growing Cabbages from Seed
Planning out a vegetable garden is a great idea. However, there are some important things to know before growing cabbages from seed or if you plant spinach seeds, such as when to plant cabbage seeds to get a head start on the growing season and where to plant them in the garden.
Cabbage (Brassica oleracea)
Cabbage is a cool weather plant that struggles during hot temperatures, so it's vital to plant them accordingly, much like when planting collard greens. They thrive when the weather is between 65 and 75°F and tolerate temperatures down to 25 degrees F.
If you reside in a location with warm summers, plant early at the beginning of spring. The heirloom cabbage, Early Jersey Wakefield, is an optimum choice.
For cool-summer climates, sow seeds in mid to late spring, but wait until mid-summer to plant them for a fall harvest if your area has a hot summer.
All cabbage varieties love growing in rich, organic matter and well-drained soil and need six to eight hours of full sun each day. They also need watering, so give your plants water when the top two inches of soil are dry and avoid getting the foliage wet.
How to Plant Cabbage Seeds Indoors
We all know that the weather is finicky, especially as winter draws to a close. One day it's warm and sunny, and the next, it's frigid with cold weather.
This is why it's always a great idea to start seed planting inside your home to give those seedlings a head start. Here is how to plant cabbage seeds by starting them indoors. Growing collard greens from seed is just as easy.
To grow cabbage from seeds or when starting asparagus from seed, start them indoors four to six weeks before the last frost for a summer crop or ten to twelve weeks before the first frost for a fall crop.
When planting bok choy seeds or any other seed inside, fill a seed flat or starting tray with damp soil and press the seeds a quarter-inch deep into the dirt. Place the tray in a warm spot of your home or on a sunny windowsill and keep the earth damp but not soggy.
Cabbage plants take five to eight days to germinate, and they are ready to transplant in the garden when they have two to four leaves and are four to six inches tall.
Harden them off beforehand by taking them outside each day for a week to help them adjust to the new weather.
How to Grow Cabbage from Seed in a Garden
After planting cabbage seeds indoors in front of a sunny window and watching them grow into seedlings, it's time to prepare them for the outdoors. Here is how to harden off your plants and transplant them into the garden.
Before planting the cabbage seedlings or knowing when to plant spinach outside, amend the soil with compost. Prepare the garden bed by making holes larger than the plant's base with cabbage plant spacing of 12 to 24 inches. If you're planting rows, make them 24 to 42 inches apart.
Set each seedling carefully into the holes, cover the roots with dirt, and pat the earth down gently around the plants. Give them a decent watering to help them settle and cover the young plants with row covers to protect them from cold weather and heavy rain.
To prevent weeds from taking over the garden and help the soil retain moisture, spread mulch around the cabbage plants.
Three to four weeks after planting the seedlings, side-dress them with an organic cabbage plant fertilizer. Cabbages love nitrogen and are heavy feeders, so this step is essential to healthy growth.
Of course, growing cabbage in pots is also an option. Be sure that your container has adequate drainage.
Common Problems While Growing Cabbage
As much as we'd love to plant veggies in the garden and forget about them until they are ready for picking, this isn't always the case.
Unfortunately, cabbages encounter various pests during the growing process, and it's important to catch the issue right away to save your plants and prevent diseases such as clubroot and black rot.
Aphids are tiny green bugs that hide on the underside of leaves while they feed. They leave a sticky trail in their wake. Use insecticidal soap to kill them since an infestation of aphids sometimes leads to black rot.
Cabbage loopers, cabbage worms, flea beetles, and cutworms are also a nuisance to these plants. They chew on the foliage and destroy entire crops if left alone. How can you tell if cabbage has gone bad? Appearance is usually enough.
Handpick these insects as soon as you notice them. Row covers are good for keeping out some of the pests while still allowing some rain and sunshine to get through.
Cabbage flies resemble a small housefly and are a common pest for cole crops such as Brussels sprouts, bok choy, red cabbage, and radishes. To keep cabbage root flies away, place a cardboard collar around the stem of your cabbage plants.
The female root fly lays eggs near the plant's base, and the collar keeps them away. It also prevents the larvae of a variety of insects from destroying the plants.
Cabbage Plant Care and Harvest
The best way to ensure a good cabbage crop at the end of the season is to give your plants the right care. Learn how to maintain your cabbages as they grow and when and how to harvest them at the end of the season.
As your plants grow, water them in the morning when the top couple of inches of soil is dry. Avoid getting the foliage wet while watering to prevent disease.
Stick your finger down into the dirt near the plant's base and if the soil is damp, wait until it is dry to water. Over-watering cabbage leads to common problems such as root rot.
Cabbage needs nutrients from the ground to flourish, so feed your plants with a well-balanced fertilizer or vegetable food as directed. Spread about three inches of straw or mulch around the plants as a weed preventative, and pull up weeds as soon as you spot them.
Keep your eye out for garden pests, remove them by hand right away, and use a natural pesticide, such as Bacillus thuringiensis, to kill them. If you expect the temperatures to dip below 32°F, cover the plants with a frost cloth.
If you grow your cabbage with other plants, consider companion planting. Cabbages love growing alongside celery, beets, onions, potatoes, and fragrant herbs. However, avoid growing them near tomatoes, strawberries, and pole beans.
After transplanting the seedlings in the garden, cabbages are ready for harvesting in 60 to 105 days. A cabbage head is ready for picking when it's firm, and the base is four to ten inches across.
Use a sharp knife to remove the head from the stem, or pull the entire plant out of the ground and remove the spoiled outer leaves. The best way to keep cabbage fresh until you are ready to eat is in the crisper drawer of the fridge.
We often think of tomatoes, cucumbers, and peppers when growing a vegetable garden. However, cabbages are a healthy addition, and growing them from seed is a great way to maintain their growth from start to finish.
In addition, they are inexpensive, and all they require is a bit of tender loving care to thrive.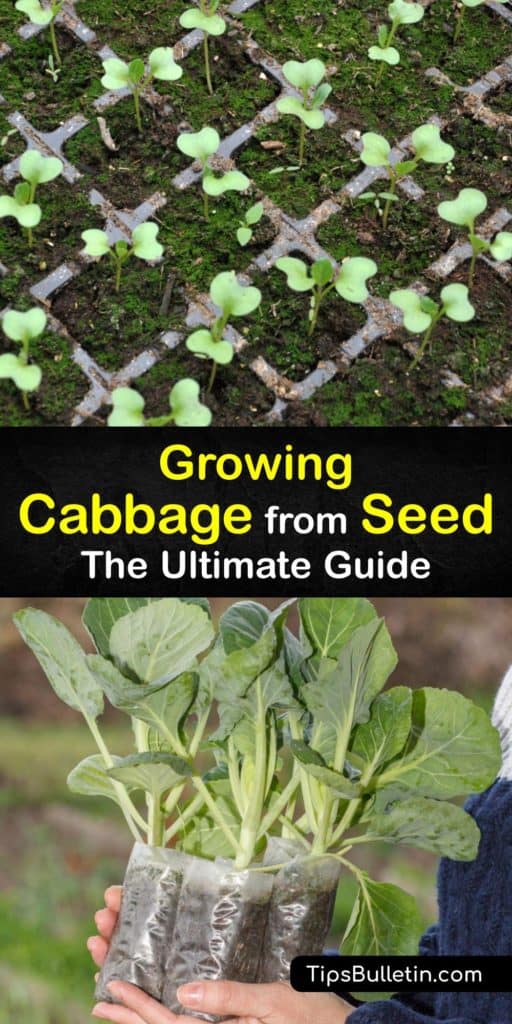 We hope that learning how to grow cabbage from seed keeps your garden full of healthy cabbage heads, and we'd love it if you'd share our cabbage growing guide with the veggie-lovers in your life on Pinterest and Facebook.