Cantaloupes are fun and easy to grow, but gardeners with limited space or a short growing season might feel put off by their space and heat demands. However, container gardening is the perfect solution for growing cantaloupe plants just about anywhere. In this article, discover how to grow cantaloupe in a container and keep it thriving until harvest time.
There are numerous advantages to growing cantaloupe in containers. A container garden is an excellent option for growers with limited space or if you don't have a garden plot or raised beds at home. It also gives you more control over plant growing conditions and reduces the risk of pest and disease problems.
When considering how to grow cantaloupe in containers, water, temperature, and sunlight are some of the most crucial factors.
These tropical vines require plenty of sunshine and consistent moisture and heat levels to produce those juicy, sweet melons we know and love. Read on to discover essential tips and tricks for planting cantaloupe in containers.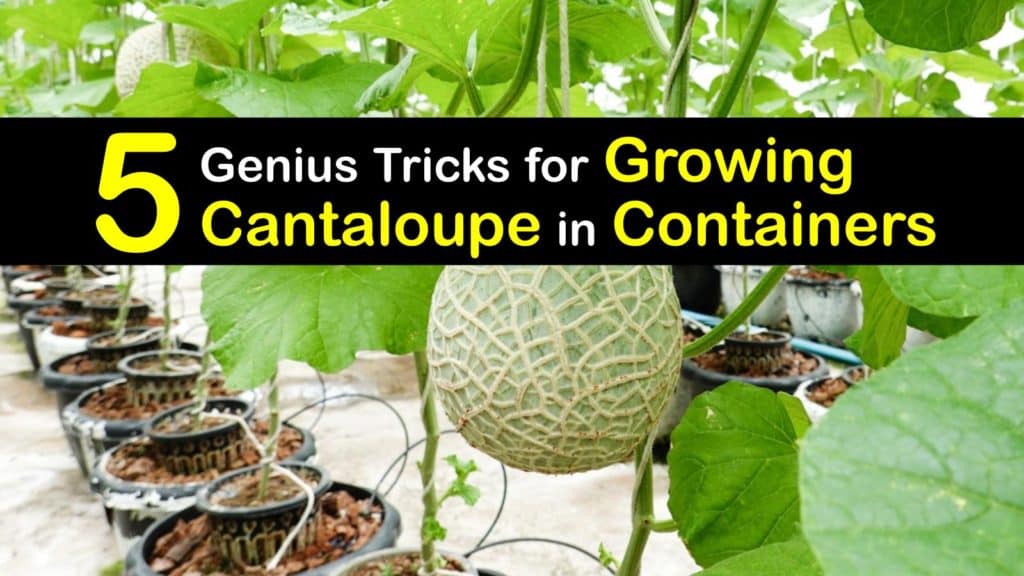 How to Grow Cantaloupe in Containers
Is cantaloupe and muskmelon the same thing? Yes, cantaloupe, also known as muskmelon or Cucumis melo by its botanical name, is in the Cucurbit plant family along with cucumbers, squash, watermelon, and honeydew melons.
Originating in Southeast Asia and Africa, cantaloupes were first commercially cultivated in the United States in the 1870s. Today, nearly three-quarters of US-grown cantaloupes come from California.
To set yourself up for success growing delicious cantaloupe in your container garden, choosing the right pot is the first step. Melon plants have shallow roots and don't need an overly large container unless you're growing multiple plants together.
Use a pot that's a minimum of twelve inches deep and wide and holds at least five gallons of soil. Ensure that it has several drainage holes at the bottom to reduce the risk of root rot and fungal diseases.
Next, select a location that's protected from the elements and gets full sun. Ideally, your cantaloupe plants should receive about eight to ten hours of direct sun each day. The ideal temperature for growing cantaloupe is between 75-95°F.
Growing cantaloupe in pots near a wall of your house to take advantage of the radiant heat is helpful. If you live in a zone with cool spring weather, consider using a cold frame or floating row covers to insulate your melon plants during cold spells to help prevent pests like cucumber beetles and squash bugs from laying eggs on the tender seedlings.
Although container gardening cuts down on the risk of pest and disease problems, it's still vital to monitor your plants for signs of distress. If you notice aphids or other insects on the leaves, spray all parts of the plant with an organic insecticide like neem oil or insecticidal soap.
Using drip irrigation keeps the leaves dry and minimizes the possibility of diseases like powdery mildew and leaf spot. When growing cantaloupe in a container, it's best to select compact varieties. Here are a few of the top cantaloupe cultivars for your container garden.
Growing Cantaloupe in Containers from Seed
The best approach for how to grow cantaloupe in containers depends on your climate. In warm regions with a long growing season, it's possible to directly sow cantaloupe seeds in your patio pots anytime the weather is consistently above 60°F in the spring.
Otherwise, plant cantaloupe seeds indoors three to four weeks before the expected last frost date in your area. You'll need a few propagation supplies to get started. If you don't already have any of these items at home, they're readily available at your local garden center or online.
Fill your seedling trays with a well-draining and nutrient-rich potting mix. Alternatively, use peat pots or a cardboard egg carton. Sow seeds an inch deep, then loosely cover them with soil. Lightly saturate the soil using a spray bottle. Cover it with a humidity dome or sheet of plastic to hold in moisture.
Germination usually takes between five and ten days. The ideal soil temperature for germinating cantaloupe seeds is between 75-95°F. The seeds won't germinate at temperatures below 60°F. Use a heat mat to keep the soil at a consistent temperature during germination and while the seedlings develop.
Once your cantaloupe seedlings begin sprouting, move them to a south-facing windowsill that gets a minimum of six hours of bright light daily. If you don't have a sunny window available, consider using grow lights to prevent the seedlings from becoming elongated or "leggy."
When you notice the roots emerge from the drain holes in the tray, transplant your cantaloupe seedlings into four-inch pots so they don't become root-bound. Keep the potting soil consistently moist, and rotate the pots regularly to encourage strong stem growth.
When to Plant Cantaloupe Outdoors
It's crucial not to plant your cantaloupe outdoors too soon, as the plants are highly cold-sensitive. To protect your plants from getting damaged in a late spring frost, wait two to four weeks after your typical last frost date before transplanting cantaloupe seedlings into your outdoor containers.
Another advantage of growing cantaloupe in containers or growing watermelon in pots or containers is the ability to adapt to weather changes quickly and easily. Monitor the forecasted nighttime temperatures closely, especially in early spring, and cover your cantaloupe plants or bring them indoors in the event of an unseasonably late freeze.
Best Soil and Fertilizer for Cantaloupe Plants
For a successful container garden, it's critical to use a high-quality potting soil blend rich in nutrients and organic matter. Look for a potting mix that has added perlite for drainage and peat moss or coconut coir for moisture retention.
Cantaloupe plants are heavy feeders that benefit from regular applications of organic fertilizer throughout the growing season. In addition, container-grown plants require more frequent fertilizing than in-ground plantings because nutrients get leached out of the soil faster as the water drains from the pot.
There are three primary macronutrients available in plant fertilizer: nitrogen (N), phosphorus (P), and potassium (K). Nitrogen encourages leaves, phosphorus supports strong root systems, and potassium stimulates fruiting and flowering.
When transplanting cantaloupe seedlings into your outdoor pots, it's a good idea to mix some organic, all-purpose fertilizer with the potting soil to give your plants all the nutrients they need to develop. Once the cantaloupe plant begins flowering, switch to a fertilizer with higher levels of phosphorus and potassium than nitrogen.
If you're using slow-release granular fertilizer, apply every three to four weeks. For liquid fertilizer, mix it with water according to the instructions listed on the product label and feed your plants every other week.
It's also highly beneficial to use organic matter like grass clippings, leaves, or straw as mulch around the base of your cantaloupe plants. Mulching helps to keep the soil warmer, retain moisture, and minimize weed growth.
How to Grow Cantaloupe in a Container with a Trellis
Melon plants tend to have a sprawling growth habit and take up a lot of space in the garden. Growing cantaloupe on a trellis is an optimal solution for saving space in your container garden. Trellising also provides better air circulation and reduces the risk of the fruits getting spoiled by pests or rot.
Be sure to use sturdy materials for the frame of your cantaloupe trellis so it can support the weight of the fruits as they develop. As the cantaloupe vines grow, loosely tie the new growth to the lattice and encourage the curly tendrils to wrap around your trellis.
If you're growing cantaloupe varieties that produce larger sized fruit, it's helpful to tie pieces of stretchy fabric to the trellis frame like hammocks to hold the heavy melons and prevent them from breaking off the vine too soon. It's a wonderful way to repurpose old T-shirts or pantyhose.
Add some marigolds nearby to grow next to watermelon or cantaloupe to keep bugs away. They are natural insect repellents.
Harvesting and Storing Homegrown Cantaloupe
To enjoy a bountiful cantaloupe harvest at the end of the summer, pollination is critical. Cantaloupe plants develop separate male and female flowers.
The male flowers typically emerge first and contain a central stamen that produces pollen. Female flowers have a pistil to receive the pollen and a small node at the base that eventually develops into the fruit.
If the flower remains unpollinated, that node turns yellow and falls off the plant. Consider companion planting with aromatic herbs and flowers to attract pollinators and other beneficial insects to your container garden.
Basil, bee balm, calendula, chamomile, goldenrod, marigolds, nasturtium, oregano, and tansy are ideal candidates for planting alongside your cantaloupes.
To determine when your melons are ready to harvest, pay attention to the color of the rind. Most varieties of cantaloupe turn from green to golden yellow when ripe. The veins or netting on the rind surface also darken from white to creamy beige.
At peak ripeness, the stem begins to separate from the top of the cantaloupe. There should be minimal resistance when you pull the melon from the vine.
For the best possible texture and flavor, eat your freshly picked cantaloupe within three to five days. Store cut cantaloupe wrapped in plastic wrap or packed inside a sealed container in your refrigerator.
For longer shelf life, harvest your cantaloupe just before fully ripe. You'll see a slight depression in the melon rind where the stem begins, but it won't have started cracking away from the fruit yet. The flavor isn't quite as sweet, but it stays fresh for around two weeks.
Freezing your cantaloupe is an excellent option for long-term storage. Use frozen cantaloupe within one year.
If you've never tried growing cantaloupe because they take up too much room, think again. Growing cantaloupe in containers is an ideal solution for gardeners with limited space.
Choose cultivars with a more compact growth habit, and train the vines to climb vertically up a trellis. Growing your own groceries is a fun and satisfying DIY project, so why not give it a try?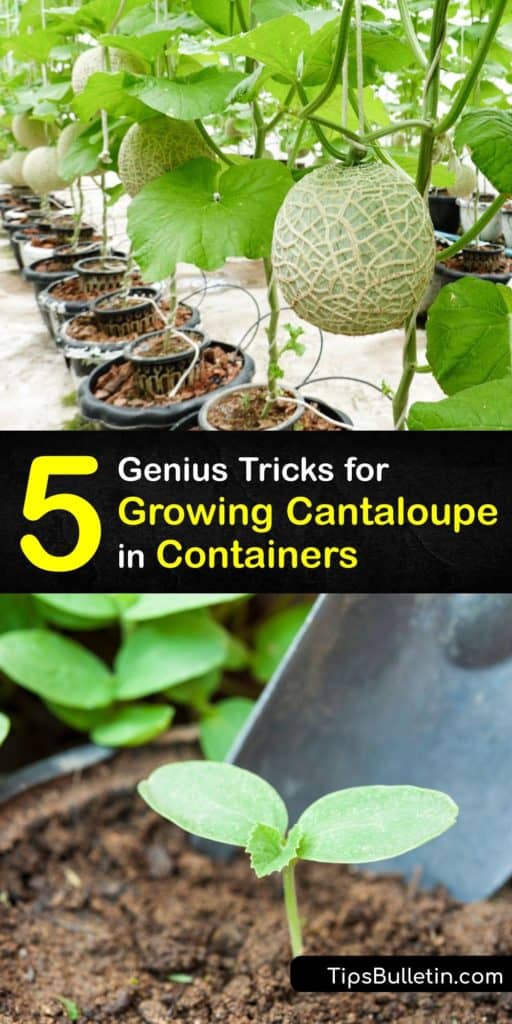 If you found these container gardening tips useful, please feel free to share this article about how to grow cantaloupe in a container with your fellow gardening enthusiasts on Pinterest and Facebook.