It doesn't matter if you call them muskmelons or honeydew; eating cantaloupe is like biting into juicy candy. We don't understand why watermelon gets all of the hype during summer when these sweet and succulent fruits exist. Figuring out how to grow cantaloupe isn't the easiest task, yet there are a lot of reasons why you might want to care for them.
Cantaloupe plants aren't only rich and healthy; they are highly beneficial to our health. These melon fruits are rich in vitamins A and C, folate, beta carotene, and potassium.
How long do cantaloupe take to grow? These summer melon plants may seem like they require a long growing season with lots of hot weather, yet there are ways to produce fruit regardless of the circumstances.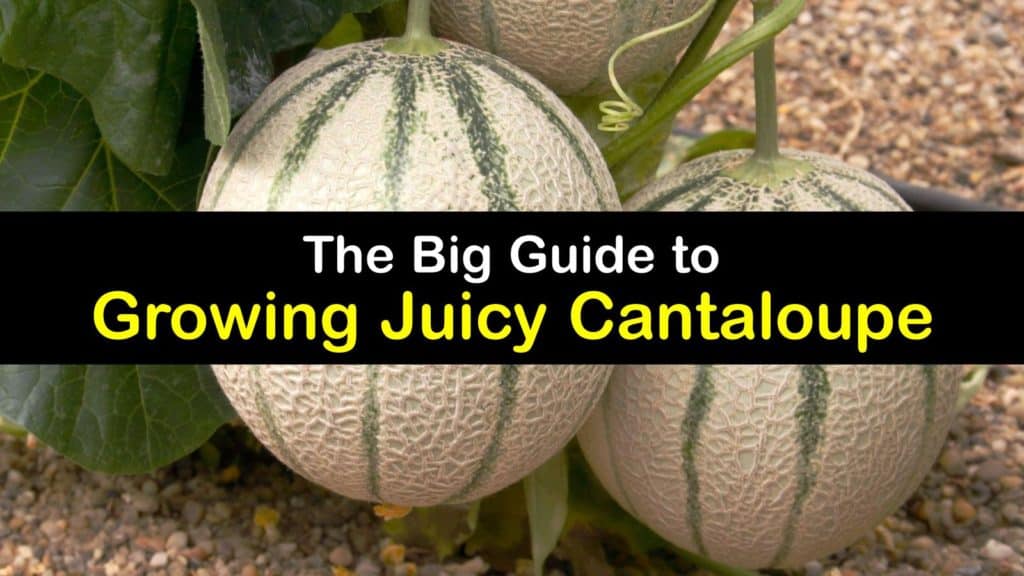 History of Growing Cantaloupe
Cantaloupe plants like a lot of warmth, but that doesn't mean that you can't grow them in your own garden if you don't live in warmer regions. Regardless of where you reside, it is possible to grow cantaloupe in almost all growing zones around the country.
The delicious cantaloupe fruits belong to the cucurbit family and are called Cucumis melo. Their closest relations are zucchini, squash, and pumpkins. Cantaloupe seeds are hardy in USDA hardiness zones four through ten.
The fruits grow on cantaloupe vines that are supported by a trellis to save space in garden beds. Most of the top cantaloupe varieties take 65 to 90 days to mature, and each fruit weighs three to four pounds.
Cantaloupes are a variety of muskmelons. The name cantaloupe refers to the fruit being a Northern American variety. They are filled with bright orange flesh that has pith and seeds in the center.
Cantaloupes originated from India, Persia, and other surrounding areas and made their way to Armenia, which jump-started their cultivation in European countries. Researchers believe that Columbus brought these seeds to the Americas on his voyage to the new world.
Today, people worldwide enjoy snacking on these tasty fruits. They go well in fruit salads or wrapped in salty meats like prosciutto. A more uncommon way to use them is to roast the seeds and eat them like pumpkin seeds.
Heat your oven to 320°F and line a baking sheet with parchment paper. Rinse the seeds and pat them dry with a kitchen cloth or paper towels.
Toss the seeds in the sesame oil and soy sauce until coated and spread them over the baking sheet. Roast the seeds for 20 minutes or until all the oil evaporates and they turn golden brown. Allow the melon seeds to cool completely before eating.
How to Grow Cantaloupe
You can harvest your fruits earlier in the growing season if you start growing cantaloupe indoors. However, many people find the way to grow melons is by sowing seeds outside, whether you follow the way to grow cantaloupe in a container, raised bed or garden.
Purchase seeds or seedlings at a garden center and choose one of the many different cultivars you think would grow well around your home.
Propagating from Seeds
Learning how to grow cantaloupe is a little more challenging if you live in colder climates. Sow seeds about four weeks before the spring's last frost date.
Like when planting watermelon seeds, starting cantaloupes inside is ideal where there is more cold weather because this allows them time to fully ripen before the first fall frost kills them.
If you live in warmer areas, when to plant cantaloupe is after the danger of frost passes. In warmer places, like zones nine through 11, sow the seeds in the fall for winter crops.
When sowing seeds indoors, fill seed trays with high-quality potting mix and place two or three seeds into each cell. Cover them with a half-inch more soil. Always set the seeds pointy-end down to help the roots emerge and germinate more effectively.
Germination still occurs if you put the other end up, but it makes them work harder to figure out which way to grow. It's a lot easier if you help them out from the start.
Lightly pat the soil down over the seeds and mist the tops with a spray bottle. Cover the trays in plastic wrap to trap moisture and create humidity. Keep soil temperatures around 70°F and remove the plastic wrap as soon as germination takes place. This process takes about one week.
After germination, thin the seedlings so there is only one per cell. Keep the tray near a window that receives full sun and has good air circulation.
Use a standard grow light if you don't have a sunny window. The seedlings are ready to harden off once they have two or three sets of true leaves.
Harden your plants off for seven to ten days before fully transplanting them outside. The spacing required for outdoor plants is holes that are a half-inch deep. Like watermelon plant spacing, go with 18 to 24 inches between each plant.
Transplanting Seedlings
Find a sunny location in your garden or a raised bed that gets eight to ten hours of direct light. Try using plants with both male flowers and female flowers for successful pollination.
The earth must have well-draining soil. Fertilize poor soil naturally with organic matter such as compost or rotted manure. Dig a hole that is about the size of the root ball, place the ball inside the hole and refill it with rich soil. Water the space thoroughly.
Caring for Cantaloupe
Cantaloupes thrive when they are living in organically rich and mildly acidic soil with a pH level between 6.0 and 6.5. Even though they enjoy the warmth, too much starts to bother them if the temperatures rise above 95°F for several days straight.
Help regulate hot temperatures, weed growth, and wilting by using mulch or straw around the bottom of the plants. If you live in colder climates, avoid moving them outdoors until the weather is consistently above 70°F.
Black plastic is one product that could help keep your soil warm. Row covers are also a great way to create a makeshift greenhouse during early growing days.
Keep cantaloupe plants well-watered during the growing and flowering stages. They require about two inches of fresh water every week to stay happy. If the top inch of soil feels dry, it's safe to add water. However, pull back when the vines start to set fruit.
How Long do Cantaloupe Take to Grow?
Most cantaloupe cultivars take anywhere from 65 to 90 days from the start of germination to full maturity. Choose ones that mature more quickly if you live in colder regions.
Cantaloupe Cultivars
There are many different kinds of cantaloupe that you could pick. Make sure the one you buy is going to grow well around your home.
Heart of Gold
Heart of Gold Cantaloupe is a sweet, medium-sized fruit that grows well in zones 3-10. This melon type is one of the most highly sought after in the United States, with Ambrosia being very similar in taste and familiarity.
Heart of Gold matures within 80 to 90 days, and melons weigh between two and three pounds. The growing vines reach 72 inches long and have a max height of 18 inches tall.
Honey Rock – Large Cantaloupe
This large, 3- to 4-pound beauty has sweet, rich flesh and is an heirloom cultivar that matures in as little as 75 days. It is hardy in zones four through 11 and has won several medals for its size and flavor.
Minnesota Midget
Minnesota Midget is the perfect cultivar for cold climes. It matures in 65 days and is hardy to Zones 3-10. They are also known for being less prone to fusarium wilt.
Managing Cantaloupe Pests and Disease
Cantaloupe isn't too susceptible to pests and disease, but there are a few things to watch out for.
Aphids
Of course, this is one pest that may appear. Aphids are annoying bugs that gardeners find on a huge range of plants. Aphids especially love this melon. These bugs have green to yellowish-brown bodies and are small but still visible when you look closely.
They suck the sap out of leaves and make them turn yellow. It is easy enough to hose off aphids with a strong water stream. You may need to try a different solution if you have an infestation.
Diatomaceous earth is an easy way to stop pests from taking over your plants. Neem oil and insecticidal soaps are nice options as well.
Cucumber Beetles
Cucumber beetles are fairly beautiful insects with their brightly colored and patterned bodies. Unfortunately, they aren't good for plants and contribute to bacterial rot. These insects munch on the fruits and leave ugly scars behind. The quickest way to kill beetles is with neem oil.
Cutworms
Cutworms are another nasty bug that finds their way onto your melon plants. These plump worms with segmented bodies eat holes through entire melons and completely kill seedlings.
Cutworms are most active at night and hide in the soil at the base of the plants. Handpick them off your plants or spread diatomaceous earth around the base.
Squash Bugs
Squash bugs are some of the most dreaded pests for melon gardeners. They feed on the leaves and leaves speckled brown spots on them until they start to wilt or die.
The nymphs of squash bugs have green bodies with black legs, while the adults are grey, black, or brown. Diatomaceous earth is most effective for getting rid of these pests.
Alternaria Leaf Blight
Watch out for leaf blight if you live in humid, hot, and rainy areas. This is a fungal infection. It attacks the oldest leaves first and slowly spread to newer growth. Avoid overwatering your plants or use a tarp to rainproof them if they receive too much water.
Downy Mildew
Downy mildew is another dreaded fungus affecting cantaloupe plants. It appears as brown spots on the leaves that usually kills them. The easiest way to fix this problem is with fungicide.
Powdery Mildew
Powdery mildew is a common plant disease that leaves a white, powdery fungus all over the plant's leaves. It doesn't typically kill plants.
However, they still look unsightly and sometimes alter the flavor of the fruits because they change their ability to reach full ripeness. Sanitize all your garden tools before working with melons and give the plants lots of air circulation.
How to Harvest Cantaloupe
Determining ripeness is probably the most challenging part of knowing when to harvest the fruits. Cantaloupe rind changes color as it ripens. It starts as white, then turns to a yellow color, then to cream.
Don't forget to take a big sniff of the melon. If it smells sweet, it is probably ready for you to pick it. Finally, look for a gap where the melon starts to pull away from the vine. This gap is usually a good sign that you can grab the melon with both hands and tug it off.
The easiest and best way to harvest cantaloupe is to pull them from the vines. When you finish harvesting them, take them inside and away from the sun to stop them from rotting.
Preserving Cantaloupes
Most of us enjoy cantaloupes best when they are fresh off the vine and served right away. Always scrub the rind with water to remove bacteria and prevent it from contaminating the flesh as you cut into it.
The best way to store watermelon and cantaloupe that are unwashed and uncut is in the fridge for up to a week, or seal cut melon with plastic and store it in the fridge for three days.
Whether you prefer to cube or ball your melons, layer them on wax paper and freeze them before dumping them into an airtight freezer bag and storing them in your freezer for up to three months. Use the frozen cubes to put into a smoothie or another fresh treat.
Place the frozen cantaloupe pieces into a food processor and pulse them until crumbly. Add the juice, water, and honey and pulse again until the consistency is slushy.
Taste the mixture and add extra honey if you prefer it sweeter. Dump the mix into a large bowl or container and serve immediately or freeze for two weeks.
Cantaloupe is a complex fruit for gardeners to wrap their heads around. If you don't have experience, it may seem like a challenge to grow large melons in a short amount of time.
How long do cantaloupe take to grow? Even though they take about 80 days to mature, growing cantaloupe is something anyone can do regardless of where they live.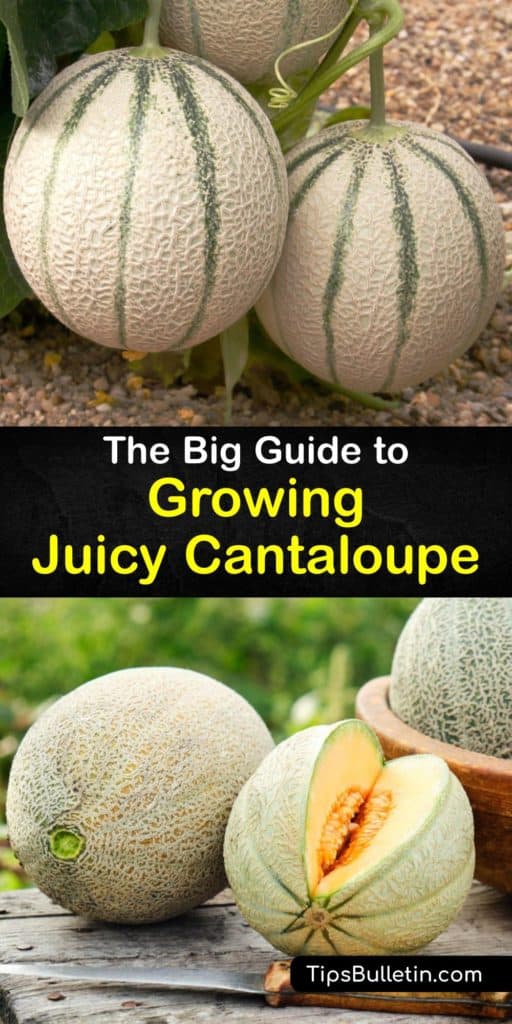 If learning how to grow cantaloupe has boosted your confidence as a gardener, share this guide for growing cantaloupe from seeds on Facebook and Pinterest.