Container gardening is a fun project for the early spring or late summer. Carrots are easy-to-grow veggies that prefer cooler temperatures than those grown in the summer. Learning how to grow carrots in a pot is not only more convenient, but it gives you a worthwhile harvest at the end of their growing season.
Like all gardening, growing carrots in pots comes with its own unique set of challenges.
Some carrot varieties are more finicky than others, but once you figure out which type works for you and your growing conditions, carrot plants are veggies that you will continue to grow year after year.
If you are interested in planting carrots in a pot, you've come to the right place. We've gathered all the necessary gardening information you need to succeed with this endeavor and have included some valuable tips you'll never forget.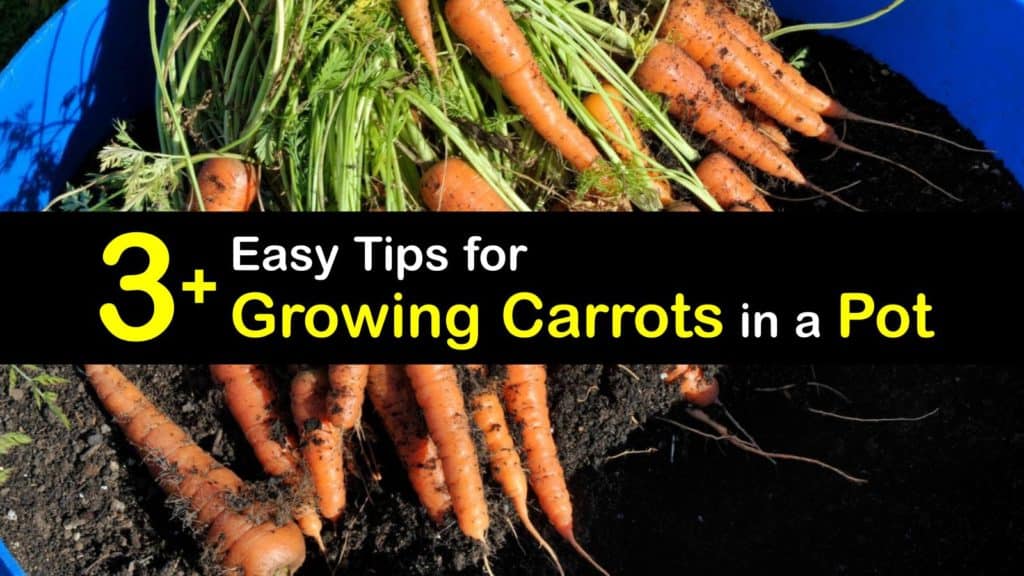 Planting Carrots in a Pot
So, you decided that you're ready to learn how to grow carrots in a pot. What carrot varieties are best for container gardening and beginner gardeners? Does it make a difference when to plant carrots?
Even though there is a large variety of carrots, not all carrot plants do well in pots. However, a few are sure to thrive in their environment and are full of crunchy, carroty flavor.
Nantes carrots are an excellent option for someone who has never tried planting carrots in a pot before. They grow about six to seven inches long and have a sweeter taste than other kinds.
Out of the many varieties of carrots, Nantes don't have bushy carrot tops, so all of the flavor and nutrients get packed into the carrot root.
Chantenay carrots are another good choice for growing carrots in pots. These are shorter, about four to five inches long, and best for canning or lengthy storage.
When you think of a traditional carrot, you're probably imagining the Imperator carrot. These are eight to 12 inches long and very sweet. They have heavy foliage and a long taproot.
If none of the previous root crops interest you, try growing Danvers carrot seeds. These cultivars are six to seven inches long and grow in almost any soil.
How long does it take to grow carrots from seed? These root vegetables germinate within six to 21 days, are ready to pick between 70 and 80 days, do well in containers, and taste as delicious as they look.
How to Grow Carrots in a Pot
Picking out the carrots you're going to plant is only the first step in a container-based vegetable garden.
The next step is to get planting so that harvesting begins sooner rather than later. Here are a few helpful tips to help you on your grow-carrots-in-pots journey.
Choosing a Container
The depth of your container is crucial to the life of your carrot, just as it is when you grow bell peppers in a pot. Because of the long taproots, shorter carrots are usually ideal for growing carrots in pots.
With that said, it isn't impossible to grow longer carrots in a pot, so long as they have the space to grow. For longer roots, growing carrots in buckets is acceptable as long as they have ample spacing, allowing mature root growth.
Ensure to put many drainage holes in the bottom of your container or raised beds so that the soil doesn't grow mold. Ideally, most carrot containers should be around 12 inches deep.
Soil for Growing Carrots in Pots
Growing carrots in pots and isn't possible without the correct potting soil. The same rule applies when you plant cucumber seeds in pots. Potting mix with peat moss, vermiculite, and sand is a wise choice for carrots because this is loose soil that the carrots can easily grow into.
Coco peat is another good ingredient found in potting soil because it adds potassium to the dirt.
Starting to Grow the Carrots
After you buy your seed packet, sow seeds in your container filled with the potting mix a couple of weeks before the very last frost in your area.
Cover them with an additional quarter-inch of soil. Water the seeds and keep the soil moist. Germination takes place within 21 days.
The ideal soil temperature for carrots is around 55°F to 70°F. They enjoy full sun, but partial sun is also okay. Mulch the top of the containers to help keep the soil moist and look out for common carrot pests like the carrot fly.
Harvesting Carrots
It's important to know when to harvest carrots so you have the tastiest roots. Carrots are ready for harvesting when the top of the roots are visible above the soil line. Carefully loosen the packed soil around the roots and pull them from the ground.
Once harvested, eating them is the most rewarding part of the process. We love roasting fresh carrots in the oven. Store carrots in the fridge for a couple of weeks, or freeze or can them for longer storage time.
A lot of people use baby carrots for roasting, but all carrots work great for this recipe.
Warm your oven to 425°F and grease a baking sheet with cooking spray. Melt the butter in a non-stick pan and stir in the garlic and let it cook for a couple of minutes until pleasantly fragrant.
Remove the pan from the stove and stir in the honey. Toss the raw carrots in the sauce and pour them onto the baking sheet. Season the veggies with salt and pepper and cook them in the oven for 25 minutes or until they are brown and tender all the way through.
Planting carrots in pots might not be the first choice for your veggie garden, but you'll soon learn how easy container gardening is compared to traditional gardening.
It is easy to keep a close eye on your plants, and it is a lot more manageable to move them around and ensure they're always getting their needs met.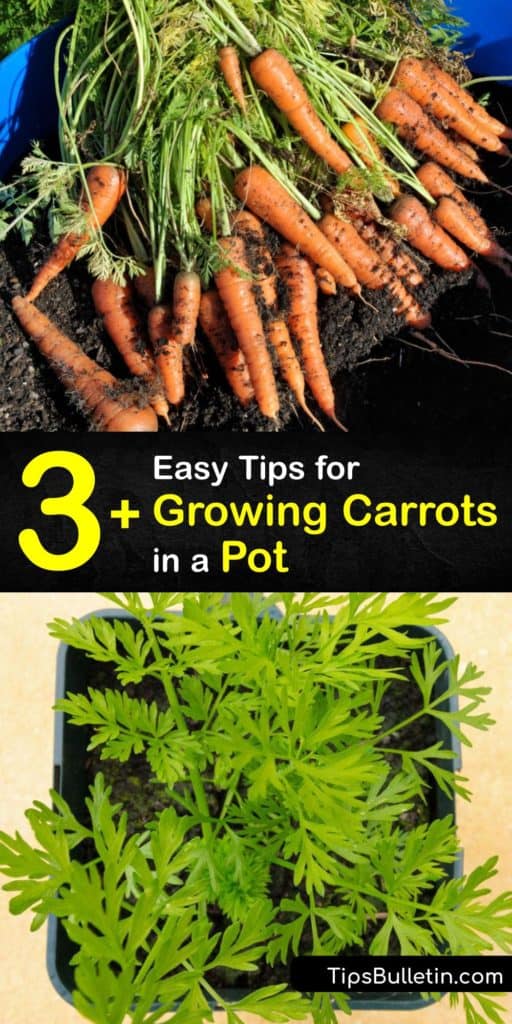 If learning how to grow carrots in a pot has helped make gardening more fun for you, share these helpful tips for growing carrots in pots on Facebook and Pinterest.