Carrots are sweet and crunchy, and the go-to snack between meals, and soup or stew is simply not complete without adding these tasty vegetables. Learn how to grow carrots of your own and give them the care they need to thrive, when to harvest them, and ways to store them.
Carrots are highly nutritious and provide you with a variety of healthy benefits. They are weight-loss friendly and a good source of antioxidants, fiber, vitamin K1, potassium, and beta carotene as a source of vitamin A.
Planting carrots is a great way to produce organic food since you know precisely where it comes from. Carrots, radishes, potatoes, and other root vegetables are great additions to the garden.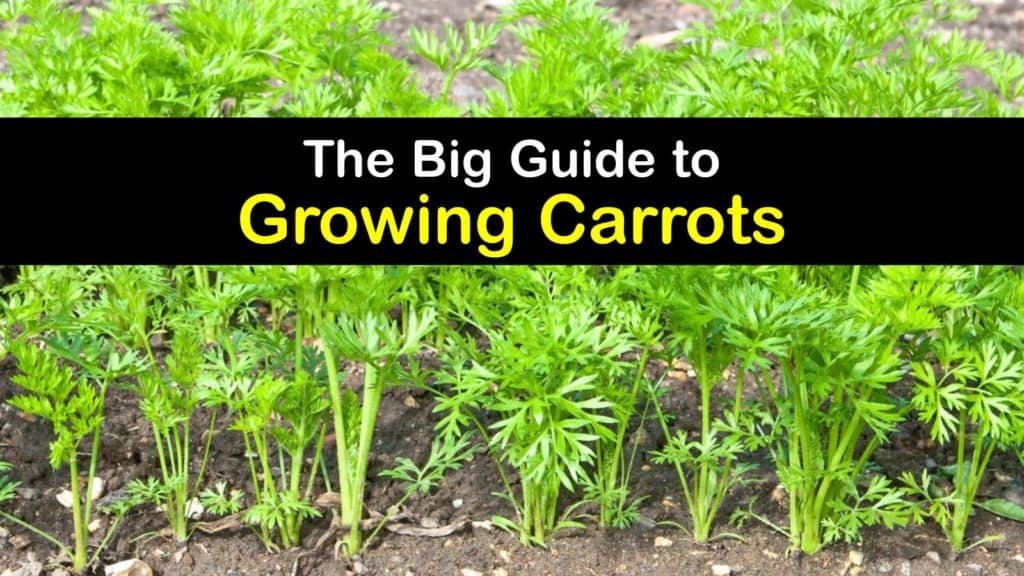 Growing, Harvesting, and Storing Garden Carrots
Gardening is a win-win for both you and the environment. Not only do you work harmoniously with nature, but it rewards you with an abundance of healthy food for your table.
They are relatively easy to grow and have a long storage life, giving you plenty of time to enjoy the benefits of eating them. There are also many carrot varieties to choose from, and some of them may surprise you.
To top it off, growing carrots in the garden or raised beds is easier than you think, and they grow from both seeds and scraps. However, there are many questions new gardeners have when planting carrots for the first time.
For example, what are root vegetables and are root veggies hard to grow? The way to grow parsnips is similar to growing carrots. How long do carrots take to grow, and when can I harvest them? We answer these questions and more to help you grow a healthy crop of carrots.
What to Know before Growing Carrots
While growing carrots seems pretty straightforward, there are some important things to understand before planting them in the garden. These root veggies are picky about the soil you plant them in and require the right conditions to produce healthy roots. It's not the best idea to grow carrots as a sweet potato companion plant.
Carrots (Daucus carota)
Carrots are root vegetables from the Umbellifers family, and they are biennial plants grown as annuals. They are related to celery, fennel, parsnips, and many aromatic herbs.
While carrots are generally orange, some are purple, red, white, yellow, and black. They are domesticated from wild carrots native to southwestern Asia and Europe.
There are many heirloom and hybrid carrots, from Danvers Half Long, Nantes, and baby carrots to Imperator, Little Finger, and Chantenay. Both the root and green tops are edible.
Carrots require the right soil to grow. They cannot grow in heavy soils with stones, so clean the soil surface of debris, rocks, and sticks. They also do not grow in clay soil, so make sure it is neutral to alkaline, well-drained, loose soil.
Till the garden space to aerate and soften the earth to ensure the carrots grow straight and long and mix fertilizer into the soil if your ground lacks nutrients. Situate the garden in a sunny location to provide the veggies with at least six hours of full sun daily.
Carrots are a cool-season crop, so prepare for planting in the early spring for the optimal carrot growing season. For a continuous harvest, plant them three weeks before the last frost and in two to three-week intervals after that until two months before the fall frost.
How Long do Carrots Take to Grow?
Many plants are clearly visible when they finish growing. For example, flowering plants grow colorful blooms, and tomato plants produce bright red fruits when they are ready.
Root vegetables, though, do most of their growing beneath the soil, and it isn't easy to understand their growing process. So, how long do carrots take to grow?
While carrots generally take 14 to 21 days for germination and 70 to 80 days to grow to maturity; the time frame varies between carrot types.
Imperator 58 is a classic heirloom that is nine inches long and ready for harvest in 68 days, while Little Fingers mature faster than others and are ready for picking in as little as 55 days.
The Deep Purple hybrid carrot grows 24-inch tall fronds and takes 75 to 80 days to grow.
How to Grow Carrots from Seeds
Growing plants from seeds is an inexpensive way to produce a garden, and there are so many seed varieties to choose from at the garden center.
However, this process takes a bit of patience and extra tender loving care. Here is how to grow carrots by starting them from seeds.
Three weeks before the last frost date, get your garden ready for planting. Carrot seeds are very tiny, so sow them shallowly according to the packet instructions, or a quarter of an inch deep.
Place four seeds in each hole and firm the dirt down lightly. Water the garden gently to dampen the earth without washing away the seeds and keep the soil moist but not soaked.
Learning how far apart to plant carrots is important since they don't grow well if crowded. After germination and the young plants are an inch tall, thin them out so they have at least four-inch spacing and spread a layer of mulch over the ground to stop weeds.
As the carrots grow and mature, hill up the dirt around them to prevent them from getting a green shoulder. Water them so they receive at least an inch of water each week.
Once the carrot greens reach three inches tall, feed your plants with fertilizer with less nitrogen and more potassium and phosphate. The ideal way to fertilize carrots is with homemade compost or manure tea.
Follow the same steps if you prefer container gardening. However, when you grow carrots in a pot, they want more watering than those in the ground. The way to grow carrots indoors in a container or outside involves choosing a pot that is at least 12-inches deep to accommodate the carrot roots.
Locate your pot in the right place as part of the way to grow carrots in a container so they have the best chance of success.
Can You Grow Carrots from Scraps?
Planting seeds is not the only way to grow many types of vegetables. There are a variety of veggies that regrow from the parts you toss into the garbage can.
It's simple to regrow everything from potatoes to carrots from scraps. While it's not possible to grow carrot roots from leftovers, it is easy to grow carrot greens.
Cut the top section off your carrot with a sharp knife. Use the bottom half in a recipe or store it in the fridge for later.
Fill a bowl with an inch of water and position the carrot, cut side down, in the water. Place it in a sunny windowsill and change the water each day.
Once the carrot top begins growing green shoots, fill a small pot with potting soil and cover the carrot with dirt without covering the shoots.
Set the carrot back in the sunny window and harvest the greens as needed, whether you prefer baby greens or mature greens.
Common Pests to Watch for While Growing Carrots
Even if you provide your vegetable garden with everything it wants to flourish, there are times when unexpected problems arise.
Insects are some of the most troublesome since they quickly destroy an entire crop or weaken the plant causing diseases such as leaf blight. Here are signs to look for when growing carrots and ways to remedy the problem.
Carrot weevils are small insects that love carrots, as well as celery, parsley, and other related plants. They are snout beetles that feed on carrots during the warm months and overwinter in the top layer of soil and plant debris.
Eliminate them the first year to prevent them from returning later. The adults feed on the foliage, and the larvae tunnel through the root. Traps and crop rotation are the best ways to solve the problem.
Another carrot pest is the leafhopper. This flying bug is slender and a quarter-inch long and is green, brown, or yellow with colorful markings.
The adults and nymphs pierce the foliage and stems and suck on plant juices, which causes the leaves to turn yellow, curl, and distort. A floating row cover is a great barrier to keep these pests at bay.
Root knot nematodes are a pathogen that affects carrots, onions, lettuce, and other food crops. They are tiny roundworms that you cannot see with your naked eye; living in the soil and feeding on plant cells.
A carrot affected by this problem is distorted, stubby, and malformed, and the roots are still edible but very unattractive. Crop rotation and sanitation methods are required to eradicate the problem.
Carrot rust flies are a tiny insect that does not harm your carrots when they are adults. However, they lay eggs on the soil surface from May through June, and within days, the larvae or maggots tunnel down to the roots to feed.
Preventing pests involves companion planting, like when you grow broccoli with carrots. This root veggie also makes an excellent companion plant for garlic. The quickest way to eliminate these pests when you already have a problem is to observe your garden in early spring and late summer when the flies lay their eggs and apply an insecticide to the soil.
Harvesting and Storing Carrots
After you learn when to plant carrot seeds at the right soil temperature, give them the water, sunshine, and food they love, and play the waiting game, it's time for the harvest. Learn how to harvest and cure your carrots and ways to prepare them for short and long-term storage.
Most carrots are ready for harvesting in 60 to 80 days, but it's smart to check the carrot seed packet for accuracy. A good indication they are ready for picking is when the carrot tops are a vibrant color and three-quarters of an inch wide.
To harvest them, grab the greens at the top, right where they meet the carrot root, and carefully pull them out of the ground.
However, this only works if you have very light soil. For heavier dirt, use a small hand shovel to dig around the carrot while slowly pulling it out with your other hand.
After you harvest carrots, it's time to cure them for storage. Shake or wipe off excess dirt and let them air dry in a shady area of the garden for a couple of days to help the skin to dry out and prevent mold growth when you store them.
After harvesting and curing, sort through the carrots and toss the damaged ones. If you plan on eating them relatively soon, consider storing them in the refrigerator.
Set the carrots in a perforated bag with paper toweling and keep them in the crisper drawer for up to a month. Do carrots go bad? Like other veggies, carrots do spoil. Keep an eye out for brown spots and a slimy texture.
For longer storage, pour two inches of damp sand or sawdust into the bottom of a crate or box. Spread the carrot roots in a single layer over the top and cover them with an inch of sand.
Repeat these steps until all the carrots are stored or the box is full. Set the crate in a dark and cool area, such as the basement, cellar, or garage, and use them as needed for up to six months.
One final way to store carrots is to freeze them. Blanch sliced carrots in boiling water for a few minutes and then scoop them into a bowl of ice water. Drain the veggies, spread them in a single layer on a baking sheet, and flash freeze them for a couple of hours.
Next, place the frozen carrot slices in a freezer bag, press out all the air, and seal it shut. Carrots that are frozen in this manner last up to one year.
There are so many types of carrots and other root veggies to grow, and carrots are one of the healthiest to produce, whether you grow them from seeds or carrot tops. They are easy to grow as long as you give them the right soil and growing conditions.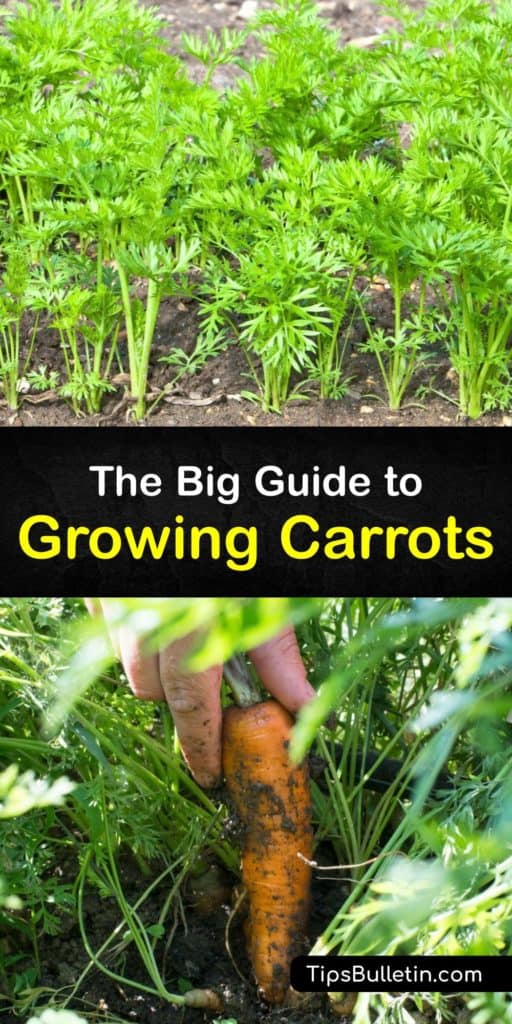 We hope that learning how to grow carrots the right way keeps your pantry well-stocked with healthy root vegetables, and we'd love it if you'd share our carrot growing, harvesting, and storage guide with your social circle on Pinterest and Facebook.