If you're a tomato lover, then cherry tomatoes are a special treat. These small, round morsels of goodness are so sweet and juicy that it's hard to stop eating them. Learn how to grow cherry tomatoes at home and how to care for them for a bountiful harvest.
We often think of cherry tomatoes as a red fruit since that's most common in the grocery store, but a trip through your local garden center tells a different story. These plants produce fruit in colors from red and gold to white and burgundy, depending on the type.
Out of all the tomato varieties, cherry tomatoes are one of the most popular. Not only are they the ideal size for a garden salad, but these nearly bite-size fruits are packed with vitamins and nutrients and high in vitamin C.
Cherry tomato plants are one of the easiest to grow at home, whether you plant them in a garden bed or prefer container gardening.
How to Grow, Maintain, and Harvest Cherry Tomatoes
We explain how to grow-cherry-tomatoes at home by starting them indoors and transplanting them outside in a bed or container. We also give you some tips for caring for your plants, harvesting ripe tomatoes, and ways to store them after picking.
What to Know before Growing Cherry Tomatoes
There are several steps to take when planting cherry tomatoes. The first move is to understand the different types available to you to pick the tomatoes with your desired flavor.
While there are many different determinate and indeterminate varieties of tomatoes, we'll focus on a few of the more popular. If you enjoy your tomatoes incredibly sweet, consider planting the Sweet 100 cherry tomatoes.
This indeterminate vine produces huge clusters on a tall, ten-foot vine that requires a trellis. On the other hand, the Patio Choice Yellow tomato is a determinate plant that grows compact and is ideal for container gardening.
The Sungold cherry tomato is another famous plant that grows sweet and tart fruits in a beautiful gold-orange color, while the Napa grape tomato grows in huge clusters with a bold taste and small, round size. What is the difference between grape and cherry tomatoes? Usually, cherry tomatoes are more round and grape tomatoes are smaller with an oblong shape.
The Sweet Million tomato doesn't grow as tall as other tomato vines, and the fruits are crack-resistant.
How to Grow Cherry Tomatoes from Seeds
Seedlings take a long time to grow, and starting them indoors is the best way to get a head start on the growing season if you live in a cold climate. Here is how to grow cherry tomatoes from seeds indoors.
Growing cherry tomato from seed indoors is a reliable way to get your seeds to germinate since the temperatures are ideal. However, it's important to start your seeds roughly six to eight weeks before the last frost.
Fill the pots with seed-starting potting soil within a half-inch from the top and place two seeds in the center. Cover them with a quarter-inch of dirt and pat it down lightly with your hand.
Set the pots in a sunny window where they receive a minimum of four hours of direct sunlight and water them lightly to keep them damp but not soggy. If you do not have a sunny window, place them beneath grow lights.
How to Grow Cherry Tomatoes in Containers
There are a couple of ways to grow cherry tomatoes, and growing them in pots is a great option if you have a small backyard. Container gardens are perfect for a patio or porch, as long as they get enough sunshine.
Before planting your seedling outdoors, it's vital to acclimate it to the conditions by taking it outside each day for a few hours. It's equally important to choose the right pot since tomato plants grow rather large.
Choose a 20-gallon container about 24-inches in diameter for tall vining tomatoes and a ten-gallon pot for bush types, and pick one with drainage holes.
Fill the container with potting mix and make a hole in the center that is large enough to accommodate the seedling root system. Remove the young plant from its original pot and place it into the soil.
Fill the dirt in around the base and pat it down lightly. Don't be afraid to plant tomatoes too deeply since doing this encourages more root growth.
Set the plant on the sunniest area of your porch and give it a drink of water to help it settle. Don't forget to set a tomato cage around the plant while it's young to support it as it grows.
Transplanting Tomato Seedlings in the Garden
Growing cherry tomatoes in a garden bed is the way to go if your backyard is spacious enough. Here is how to transplant your seedlings or young plants from the garden center into a garden bed.
Prepare your garden bed and dig a hole for each plant and space them about three feet apart. It's important to space cherry tomato plants apart to give them room to grow and keep insects and diseases from affecting all plants.
Place each plant deeply into the hole up to the first set of leaves to prevent it from being leggy and promote root growth along the entire stem.
Fill the dirt in around the base and press it down lightly with your hands. Set a tomato cage over each plant and secure it into the earth. Water the young plants to help them settle and fertilize them after planting.
Giving Your Tomato Plant Proper Care
Now that you know how to grow cherry tomatoes from seeds and transplant them into a container or garden bed, it's an excellent time to learn what your new plants need to thrive.
Water your young plants generously for the first few days after planting to help them establish their roots in the dirt, and then water them as needed when the top two inches of soil are dry.
Water from the bottom to avoid getting the leaves and fruit wet and consider using a self-watering container for the patio. Have your dirt tested to see if it is balanced with the right amount of phosphorus and nitrogen.
Fertilize your plants right after planting and then hold off fertilizing them again until after the fruits are set. Lay a decent amount of mulch beneath the plants, whether they are in a garden bed or container, to keep the soil moist and stop weed growth.
While it is a personal choice and not necessary to grow a tomato plant, pruning is a good way to keep it from getting too mushy as it grows and improves air circulation.
Clip away the tomato suckers after the plant is about two feet tall, and prune dead or damaged stems and leaves as soon as you notice them.
Common Tomato Plant Diseases
Most outdoor plants suffer from a wide variety of concerns, and bucket tomatoes or cherry tomato growing is no exception. Here are a few common problems and ways to correct the issue to keep your plants healthy and productive.
There are two blight types, early blight and late blight. Early blight starts with black lesions on the leaves that progress to concentric rings. Late blight occurs later in the season when temperatures are cool, and it causes the fully formed fruit to rot on the vine.
Fusarium wilt begins by attacking one side of the plant by causing yellow and wilting leaves, while Verticillium wilt causes the same symptoms to the entire plant.
Blossom end rot is another common tomato ailment. This disease causes the bottom portion of the fruit to turn brown and rotten.
An ideal way to prevent many of these diseases is to buy disease-resistant tomatoes. Providing your plants with proper air circulation and consistent watering are also helpful preventative measures. Make sure your soil has healthy amounts of potassium and calcium.
How to Deal with Tomato Pests
Ask any garden grower, and they will tell you that insects are one of their biggest pet peeves when gardening. These pests cause havoc to your plants, and it's vital to know how to spot them and take steps to eliminate them.
Hornworms are one of the top pests in a tomato garden. They are large green caterpillars that love to eat tomato plants. Even though they are quite big, they are easy to miss since their coloring helps them blend in with the leaves and stems.
Often, you don't even know they are there until you realize that half of your tomato leaves are gone. It's vital to remove them by hand as soon as you spot them.
Another common problem for tomatoes is pinworms. These tiny worms hide on the bottom of leaves and munch on them, leaving noticeable trails in their wake.
If left unchecked, they eventually drill holes into the stems and fruit. To eliminate these pests, remove them by hand and make sure to clean up all garden debris and mulch at the end of the season to stop future contamination.
For cherry tomato aphids and other smaller pests, speedy treatment is necessary to prevent an infestation.
Make a natural bug spray for tomato plants with neem oil, water, and dish soap.
When and How to Harvest Cherry Tomatoes
After going through the trouble of planting seeds, growing cherry tomatoes, and giving them TLC, whether you are growing tomatoes indoors with artificial light or they are outside in the garden, it's easy to understand why you impatiently await harvest time. How long do cherry tomatoes take to grow, and when can you pick them?
Tomato Harvest
Depending on where you reside, it usually takes a couple of months for cherry tomatoes to ripen after fruiting. The best way to tell when they are ready for harvesting is to inspect your plants daily at the end of the season.
Tomatoes start green and eventually ripen to the desired color, whether red, orange, or yellow. Clip the bunch away from the stem as soon as they change color. To harvest them while green, store them on your kitchen counter until they turn.
Ways to Store Cherry Tomatoes after a Harvest
Not only does a healthy harvest give you bragging rights, but it also keeps your kitchen counter overflowing with fresh cherry tomatoes. Unless you have many neighbors to share them with, it's a good idea to know how to store them to prevent spoilage.
Tomato Storage
There is no better place to store tomatoes than on your kitchen counter. While it's safe to keep them in the fridge to prevent spoiling, doing this causes them to lose flavor, and we do not recommend freezing. Room temperature tomatoes last up to three days, depending on their ripeness.
How to Harvest Seeds from Cherry Tomatoes
The garden center is not the only place to get tomato seeds for next year's garden. The tomatoes you grow this year are great candidates for saving seeds, and you know precisely where your seeds come from.
When saving seeds, it's best to harvest them from heirloom tomatoes. Slice open a ripe tomato and squeeze the pulp into a glass of water.
Allow it to soak for five days while the seeds settle to the bottom of the glass. Strain the tomato seeds and spread them on a paper towel to dry completely before storing them for next year's garden.
There is nothing better than popping a red cherry tomato into your mouth and savoring the burst of sweetness, especially if it's fresh from your garden. Fortunately, these plants are the easiest to grow as long as you give them the sunshine, food, and water they need.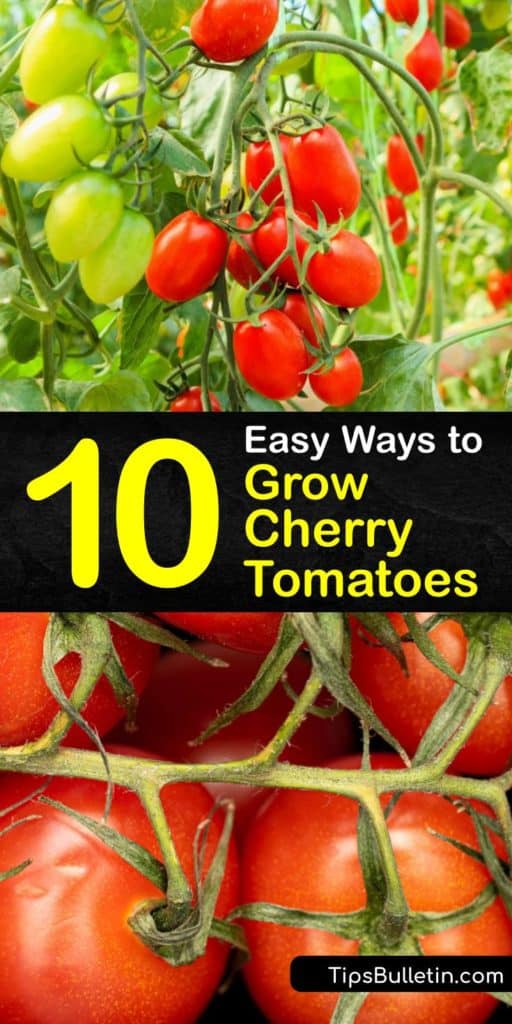 Knowing how to grow cherry tomatoes means that you get to enjoy nutritious, sweet garden treats at the end of the growing season, so why not share our cherry tomato growing guide and tips with the tomato-lovers in your life on Pinterest and Facebook?