There is a wide variety of colors, flavors, and heat levels available, from jalapenos to habaneros, when it comes to growing chili peppers. Read on for our best gardening tips about how to grow chili peppers and enjoy a plentiful harvest every year.
Both chilli peppers and sweet pepper varieties are classified under the botanical name Capsicum annuum. Capsaicin is the naturally occurring chemical that gives peppers their spice.
Bell peppers do not contain capsaicin. Hot peppers are ranked on the Scoville scale for heat level based on their capsaicin content.
For reference, Anaheim peppers measure 500-2,500 Scoville Heat Units (SHU), jalapeno peppers measure 2,500-8,000 SHU, serrano peppers measure 5,000-15,000 SHU, and tabasco and cayenne peppers measure 30,000-50,000 SHU.
Thai hot peppers measure 50,000-100,000 SHU, and a habanero pepper measures 100,000-350,000 SHU.
Some of the hottest pepper varieties are the ghost pepper at 855,000 to over one million SHU, and the super-hot Carolina Reaper at more than two million SHU.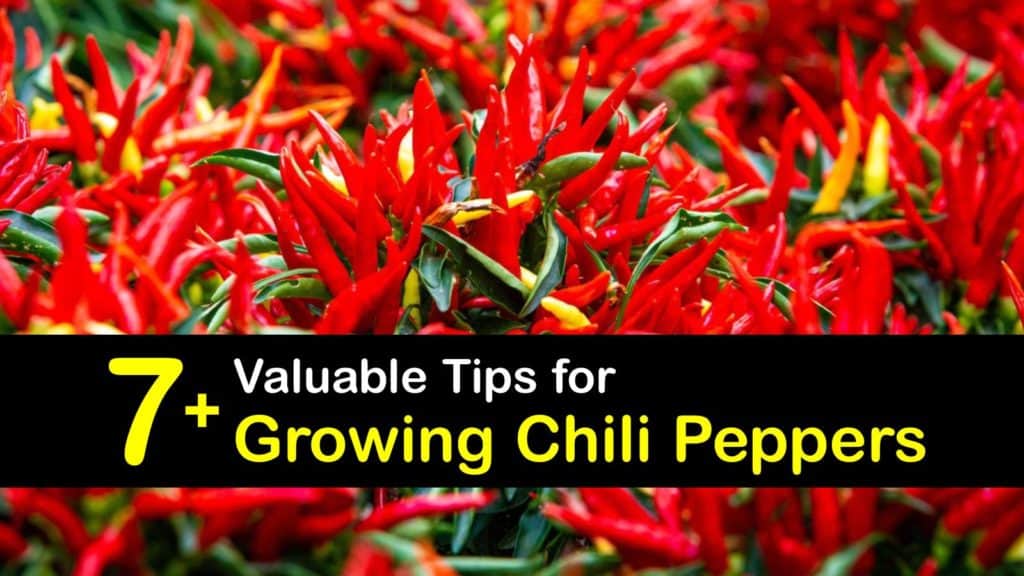 Tips and Tricks for Growing Chili Peppers
Pepper plants love lots of heat and sunshine. Grow chilli peppers in garden beds that receive full sun. When growing chili peppers in pots or growing ghost peppers in pots, it's beneficial to use a dark-colored container to keep the soil warmer.
Pepper plants grow best with temperatures between 65-85℉. Wait to transplant your jalapeño seedlings outdoors until a week or two after the average last frost date in your area.
Peppers are perennial plants that continue to produce fruit for many years under the right growing conditions. If you grow peppers in your veggie garden, consider transplanting them into 5-gallon containers and overwintering them indoors.
The following spring, move the plants outdoors on warm days and back in when nighttime temperatures drop below 65 degrees F. Pepper plants have a relatively long growing season.
Depending on the variety, hot peppers take up to 150 days to ripen. For best results, start your pepper seeds indoors in early spring or purchase young plants from your local plant nursery when it's warm enough to transplant them in your garden.
How to Plant Chili Peppers from Seed
Most varieties of chili pepper seeds germinate within one to three weeks. To speed up germination time, soak the seeds for a few hours in a saturated paper towel to break down their protective outer coating faster.
Fill the seed tray with a well-draining, nutrient-rich potting mix. Plant the seeds a quarter-inch deep, then cover them loosely with soil. Mist with the spray bottle to lightly saturate the soil.
Cover the tray with a humidity dome or sheet of plastic to hold in moisture. The ideal soil temperature to germinate pepper seeds is 75-85 degrees F.
Pepper seeds won't germinate at temperatures below 70 degrees F. Use a heat mat to keep the soil at a consistent temperature for best results.
Once your pepper seedlings begin sprouting, move them to a sunny windowsill with at least six hours of bright light. If you don't have a south-facing window, consider using grow lights to prevent your seedlings from becoming elongated or "leggy."
Transplant your seedlings to larger pots when their roots emerge from the drain holes. Avoid increasing the pot size by too much at once, though. Excess wet soil that roots don't touch could lead to fungal disease.
When to Plant Chili Peppers Outdoors
Transplant your chile pepper seedlings two to three weeks after the average last frost date for your area, once the soil has warmed up to at least 65 degrees F.
Lay down a generous layer of dark-colored mulch or a sheet of black plastic on your garden beds about one week before transplanting to warm up the soil.
When it's warm enough to transplant your peppers outdoors, dig a hole double the size of the plant's root ball. Add two tablespoons of organic, all-purpose fertilizer to the bottom of the hole.
Fill in the hole around the root ball with a blend of equal parts compost and soil up to the plant's crown without burying the stem and thoroughly water it.
How to Grow Chili Peppers in Pots
Growing chili peppers in containers is advantageous for many reasons. It allows you to move your plants and adapt to changing conditions. It's also possible to keep your pepper plants thriving and producing fruit for many years by overwintering them indoors. Growing habanero peppers indoors is easy as long as you give them what they need to flourish.
Make sure to allow enough space for the plant to develop a healthy root system by growing your chilli pepper plants in a three- to five-gallon pot with drain holes at the bottom.
A dark-colored pot keeps the soil warmer, which is beneficial for growing Anaheim peppers and other varieties, especially in cooler climates. Use a well-draining potting soil mix that is rich in organic matter.
Have you ever wondered how to grow chili peppers indoors? The most challenging element is ensuring that the plants receive enough light.
In most cases, chilli peppers require supplemental grow lights during the winter to continue fruiting.
Six hours of light is the minimum to keep them in a vegetative state, but they'll perform better with eight to twelve hours of light each day. Keep the plants at a consistent temperature of 65-75 degrees F during the day, and at least 60 degrees F at night.
Ideal Growing Conditions for Chilli Plants
When considering how to plant chili peppers, temperature is one of the most critical factors. Pepper plants are quite temperature-sensitive. They don't tolerate temperatures below about 55 degrees F.
The optimal temperature for growing chili peppers and growing jalapeno plants is between 70-85 degrees F. However, extremely hot weather also harms pepper plants.
When daytime temperatures exceed 90 degrees F and nighttime temperatures don't drop below 75 degrees, your pepper plants may wilt and drop their flowers.
To protect your plants during periods of hot weather, keep the soil consistently watered and use a thick mulch layer to insulate the ground and keep it cooler.
Watering in the early morning is best so that the plants are hydrated during the hottest part of the day. Avoid fertilizing, as the excess growth puts too much of a strain on the root system.
It's also crucial to give your plants plenty of space to mature. For most chili pepper varieties, like cayenne pepper plant spacing, there should be about 18-24 inches between plants. Check the suggestions for the specific variety you're growing on the plant label or seed package.
Choosing the Best Fertilizer for Growing Chili Pepper Plants
Fertilizing your pepper plants once per month is highly useful. There are three fundamental macronutrients present in plant fertilizer: nitrogen (N), phosphorus (P), and potassium (K).
Nitrogen enhances green leafy growth, phosphorus encourages robust root systems, and potassium boosts fruiting and flowering processes.
Use all-purpose organic fertilizer from transplanting until the plant begins flowering. At that point, switch to a fertilizer with higher levels of phosphorus and potassium.
To prevent blossom end rot, which results from calcium deficiency, ensure your plants get enough calcium by adding bone meal or lime sulfate to the soil when the plant begins flowering.
If you notice your plants struggling, give them a dose of fertilizer tea for an instant boost.
The quickest way to provide plants with nutrients is through foliar feeding, which involves applying fertilizer tea to the plant's leaves to get absorbed through the leaves' stomata. Here's a super-simple way to make fertilizer tea.
Fill up a bucket with as much water as you need to feed your plants. Let the bucket sit out uncovered for a full day to allow the chlorine in the water to evaporate.
Mix one cup of fertilizer for each gallon of water and stir gently to blend. Let the mixture steep uncovered for another full day, then pour it through a strainer into another bucket.
Use the fertilizer tea as a foliar spray for your pepper plants at a rate of approximately one cup per plant. Spread the strained fertilizer solids around the base of the plants.
Harvesting Your Chili Peppers
Do you know when to harvest chili peppers? Most chili pepper varieties take between 60-90 days from transplanting to harvest. Chili peppers have a wide range of colors, including yellow, orange, red, and even purple.
Use a clean, sharp knife or scissors when harvesting bell peppers to avoid damaging the plant. Cut the stem a half-inch from the main branch.
All peppers are green when they're unripe. Hot peppers like jalapeno, habanero, or Thai chilies that are still green have a milder spice level than mature ones. For more heat, allow your chili peppers to ripen on the vine.
Companion Plants for Chili Peppers
Companion planting chilli peppers takes advantage of specific plants' beneficial qualities to create a healthy, interactive garden environment. Some plants attract pollinators and other beneficial insects, while others ward off pests.
However, certain plants don't make good neighbors for peppers and should live elsewhere. Aromatic herbs and flowers are effective for natural pest control. Basil repels thrips, flies, and mosquitoes so you can harvest peppers that are firm, juicy, and tasty.
Calendula attracts pollinators and serves as a host plant for numerous predatory insects like ladybugs, lacewings, and hoverflies that feed on aphids, thrips, whiteflies, hornworms, and other garden pests as both larvae and adults.
Tansy wards off cutworms, flea beetles, sugar ants, deer, and rodents. Chives, onions, and garlic deter pests like aphids, spider mites, rodents, and deer.
Some plants make suitable neighbors for chilli peppers based on their mutually compatible growth habits. Leafy greens like spinach, lettuce, and arugula have shallow roots that don't interfere with peppers, and their broad leaves help suppress weeds.
In return, they benefit from the taller plants' shade during the hotter months. Compact root vegetables like beets, carrots, parsnips, and radishes also fit nicely between pepper plants and help loosen compacted soil.
Keep your peppers separate from fennel, pole beans, and brassicas like bok choy, cabbage, kale, turnips, and broccoli. These plants stunt one another's growth.
Because peppers are members of the nightshade family with tomatoes, eggplants, and potatoes, it's best to grow these plants in separate areas. They're prone to similar pests and diseases, which spread faster through plant pairings that are also susceptible.
Common Pests that Attack Pepper Plants
Be vigilant in checking your plants regularly for any signs of distress, such as wilted or curling leaves, discolored spots on leaves or stems, and flowers or fruit falling off early.
A few of the most prevalent insect pests that trouble pepper growers include aphids, cutworms, flea beetles, and spider mites.
Often, you'll see symptoms on the plant like yellowing or misshapen leaves or obvious holes eaten in leaves before you spot the insects themselves.
If you notice insect damage on your pepper plants, immediately rinse the plant with a strong blast of water to knock off as many insects as possible.
Once the plant has dried, spray all parts of the leaves, stems, and fruit with an organic pesticide like insecticidal soap or neem oil.
Growing chili pepper plants is a delicious and rewarding way to spice up your veggie garden each year. Enjoying a plentiful harvest of different types of savory homegrown chili peppers makes growing them totally worth the effort.
By following our tips and tricks about how to plant chili peppers, it's easy to keep your plants thriving throughout the entire growing season.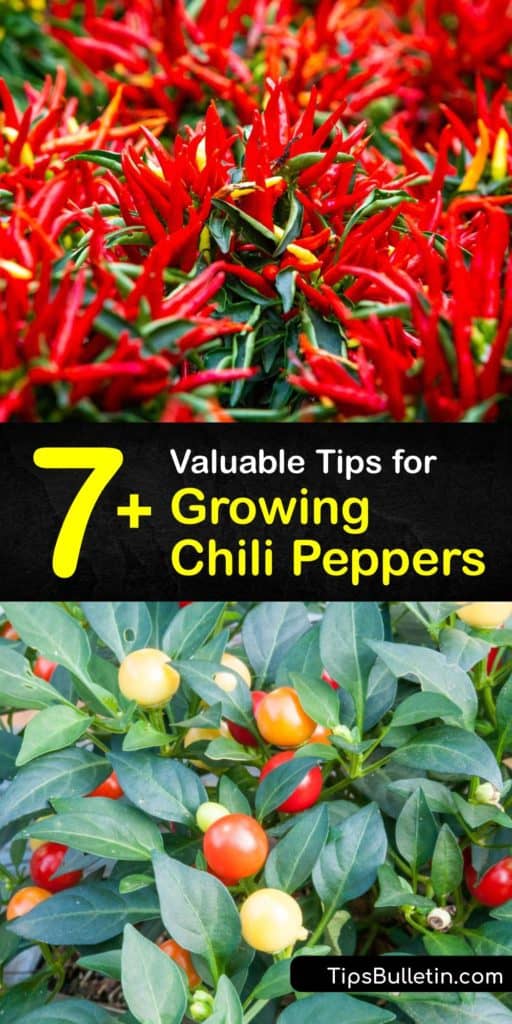 If you found these pepper growing tips helpful, please feel free to share this article about how to grow chili peppers with your fellow green thumbs on Pinterest and Facebook.