Cilantro (Coriandrum sativum) is an essential herb in many Asian and Mexican cuisines, and because of its versatility as a plant, many home gardeners recommend planting cilantro seeds in the corner of the herb garden. Cilantro plants grow quickly in cool weather to produce fresh leaves for harvest. Because it needs its own space, knowing how to grow cilantro in a pot is a game-changer for your herb garden.
Cilantro and coriander are often brought up in topic together, and that's because this unique plant is a two-in-one herb. While all parts of this plant are edible, its fresh leaves are cilantro, and the dried seeds are coriander.
Cilantro plants naturally bolt after producing cilantro leaves, and they self-sow their coriander seeds. With proper care for the plant, planting cilantro in pots creates a continuous harvest system the following year, so you'll never be far from fresh herbs.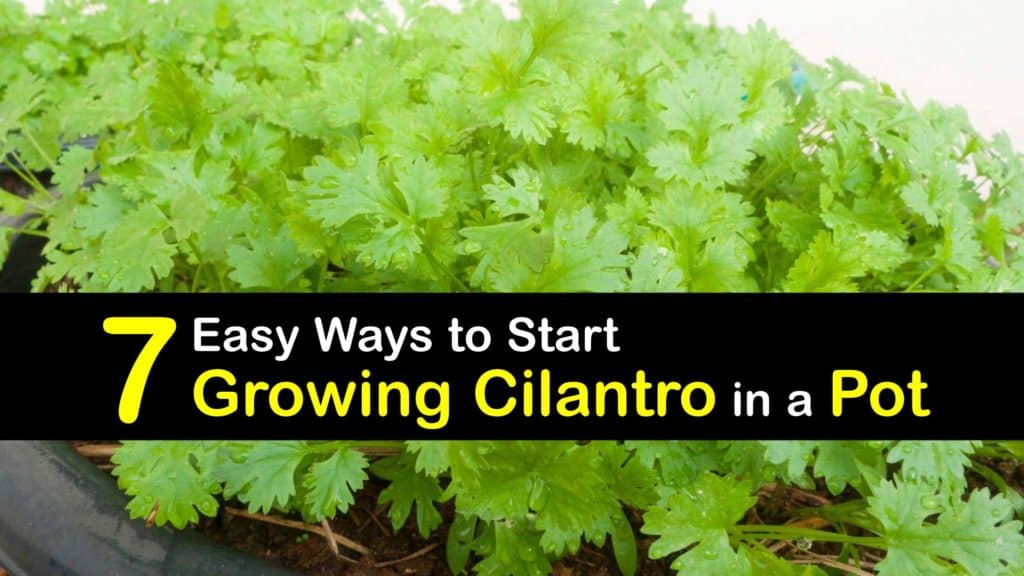 Growing Cilantro in Pots
When growing cilantro in a container, we recommend planting seeds in the herb's final pot, that is, no transplanting into a larger pot after germination. The cilantro plant has a long taproot and does not transplant well.
Growing cilantro in pots also provides mobility to move your cilantro around your outdoor space for optimal sun exposure or bring it inside to enjoy its aromatic benefits.
The Best Time for Growing Cilantro in a Container
Cilantro grows from late spring through fall, and if your USDA zone has consistently hot weather, your cilantro may grow during winter.
While cilantro can handle a light frost for gardeners below zone eight, the best time to plant cilantro seeds and grow cilantro indoors is before overwintering them.
For the warmest climates, cilantro grows best in fall and winter as it does enjoy cool weather, but it is possible to extend your growing season to become year-round.
The biggest issue gardeners in zones ten and above face is cilantro prematurely bolting when temperatures rise above 85 degrees Fahrenheit.
How to Plant Cilantro in Pots
When planting seeds purchased from the store, the way to grow cilantro from seed is to first crush the seeds to remove them from their husk before sowing. Crushing the seeds beforehand helps the germination rate of your seeds.
When picking a home for your cilantro, select a deep and wide container to support the lush plant you're expecting. We suggest using a container at least 18 inches wide and 10 inches deep to sow your cilantro seeds.
The shape of this pot does not matter; circular or rectangular like a window box works fine.
Fill your pot with fast-draining potting soil rich in organic matter. Adding aged compost supplies nitrogen and other elements to promote your plant's growth.
Before planting your cilantro seeds, ensure the soil is moist by spraying water. Because cilantro seeds tend to be smaller than other plants, home gardeners recommend mixing seeds with sand in a 3:1 ratio of sand to seed.
Sow seeds across your planter and cover them lightly with soil before lightly misting with more water.
If you can't stand the thought of growing cilantro, try basil or flat leaf parsley as a substitute for cilantro.
How to Start Growing Cilantro in Pots
Once the threat of frost is gone, sow your seeds on cool spring days. When measuring the pH of your soil, for the best growth conditions, cilantro enjoys a pH of 6.2 to 6.8.
Like when you grow garlic in a pot, cilantro enjoys growing in full sun, so place your containers in a location where they receive adequate sunlight to help with germination. Cilantro seeds may require light shade if the weather in your area is consistently warm.
How to Grow Cilantro in a Pot Indoors
Because cilantro has success growing in different seasons and hardiness zones, it's easy to start growing cilantro inside during colder months and moving the pot outside or allowing it to grow to harvest while indoors.
Since cilantro requires full sun, if you do not have a windowsill that receives adequate sunlight, we suggest growing cilantro under a grow light, as when you are planting herbs in containers of all types.
Suspend LED 45-watt lights just above the surface of your plant and continuously raise them as the plant grows.
Caring for Cilantro Grown in Pots
Cilantro seeds germinate when temperatures remain between 55°F and 70°F and in as little as seven days, though it may take up to two weeks.
Whether growing indoors or outside, to ensure healthy growth, keep your cilantro plant away from any cold winds by moving them away from windows or inside away from cold weather.
Without the natural advantage of water draining off into the earth, well-draining soil is crucial for the health of your plants, as is proper watering.
Overwatering or watering the foliage of your cilantro plants can lead to mildew growing on your plants. When watering, only water when the top inch of soil feels dry and only water the base of your plant and the soil's surface.
To help with air circulation, place a small fan near your pot(s) to promote circulation and dry any moisture that may splash onto your plant.
Although weeds are not a concern when you grow cilantro in a container, adding mulch helps keep the soil moist and reduces the need for watering as often, especially in warmer climates.
Considering cilantro companion plants is not as much of a consideration when growing the herb indoors in a pot. When growing it in the garden, add basil or mint to take advantage of mutually beneficial plant growing properties.
Common Diseases for Cilantro Plants
While growing cilantro, you're likely to encounter a few diseases. Identifying these diseases could mean the difference between saving your plant and having to toss it.
Bacterial leaf spot affects numerous plants and causes spots to form when bacteria infect plants with wet leaves. These spots turn brown and eventually cause the leaves to turn yellow and die.
Preventing bacteria from taking over your plant involves good airflow and not letting your leaves remain wet after watering.
Keep your plants in sunlight to stay dry, separate them from any nearby affected plants and snip off infected leaves.
Powdery mildew is also another disease that affects plants. Fungal-based, powdery mildew takes the appearance of white mold on the surface of leaves.
While not fatal to your plant, it stunts growth and is easily transferable to other plants without proper care. Snip off affected leaves with sterile shears and ensure your plant receives the right amount of sunlight to keep it healthy.
If you commonly find powdery mildew on plants in your area, take a preventative step by treating your plant with an antifungal spray made in your kitchen.
Mix milk and water in a spray bottle and spray your cilantro plant with it weekly. Studies show that the protein in milk forms an antiseptic when exposed to sunlight that prevents the white dust of powdery mildew from forming.
Harvesting and Storing Fresh Cilantro
Harvest young cilantro leaves three to four weeks after sowing seeds. Bring a paper bag for holding leaves when picking cilantro and snip cilantro leaves from the plant once they reach five to eight inches.
If you are harvesting cilantro more than once, follow our easy ways to fertilize cilantro. Feed the plant with fertilizer after the fourth harvest to provide the plant and soil with the necessary nutrients to continue growing.
Organic water-soluble fertilizer or a fish emulsion fertilizer feeds your cilantro plant properly.
To harvest the entire plant, wait at least 45 days before cutting the whole plant at soil level or two inches above the crown.
Similar to other herbs like chives, after harvesting, it's essential to properly store your cilantro so that it tastes as good as possible when you're ready to use it.
Trim the ends of the cilantro stem and place it in a jar of fresh water in the fridge without a lid. If not used within three days, change the water to keep the cilantro fresh for two weeks.
To store cilantro for months, rinse and dry your cilantro stems before trimming the leaves off and spreading them flat on a sheet of parchment paper.
Freeze the leaves on the parchment paper before placing them in an airtight plastic bag and replacing them in the freezer.
Pests for Cilantro Plants
When gardening, you're bound to attract several insects to your plants, some good and some bad.
Recognizing harmful insects is essential for the health of your plants, as an infestation may ruin your garden before you realize there is even a problem.
Mites
Spider mites are small red bugs that are nearly impossible to see, and you may not know your plant has mites until you see the damage.
Due to their size, mites live, feed, and breed on plants usually without us noticing; however, when they feed, they leave behind holes in your plant's leaves with their mouthpieces.
A quick way to kill mites is by pouring rubbing alcohol onto a cotton swab and gently swabbing your plant. Rubbing alcohol kills any mites that touch it.
Aphids
Aphids are too familiar to any gardener as small, winged insects that enjoy chewing on leaves and are found on flowers, leave, and stems of your plants.
An infestation of aphids forms quickly, making them difficult to control; however, homemade remedies exist to save your plants.
Using a funnel, mix your ingredients in the spray bottle and apply the mixture to the leaves of your cilantro plant.
Diluted rubbing alcohol kills any present pests without damaging your plant. Adding liquid soap allows the solution to cling to your plant's leaves.
Because of the resilience of cilantro to grow throughout different growing seasons, it's an herb available for all to plant and enjoy year after year.
Whether you grow cilantro indoors or keep your pots in rotation outside, you're bound to have success in growing cilantro with our tips.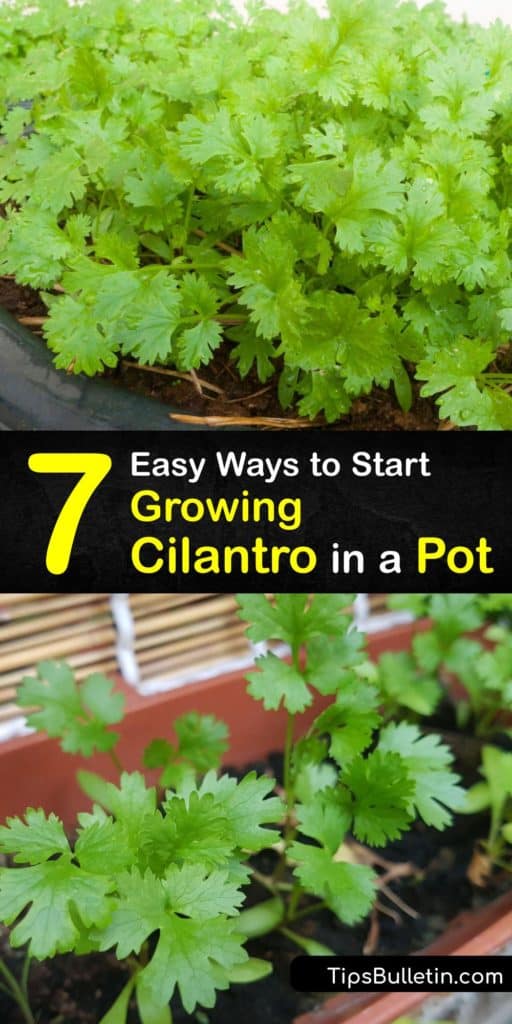 If our guide helped you learn how to grow cilantro in a pot, consider sharing our tips for growing cilantro in a container on Facebook and Pinterest.