Cilantro plants seem to have polarizing effects on many people, although this annual herb is a staple in Asian and Mexican cuisine. Some revere this plant as the holy grail of an herb garden because it is versatile for several reasons. Learning how to grow cilantro indoors is a game-changer for your herb garden at home.
Can you grow cilantro indoors? Growing cilantro indoors is beneficial because you get two herbs for the price of one. The stems and leaves are cilantro, while the cilantro seeds are coriander.
It isn't usually recommended to harvest cilantro multiple times, but there is a way to have a continuous harvest throughout the entire year. By creating a warm and dry environment, your windowsill is the perfect place to forego the growing season and use fresh cilantro to garnish all of your favorite meals.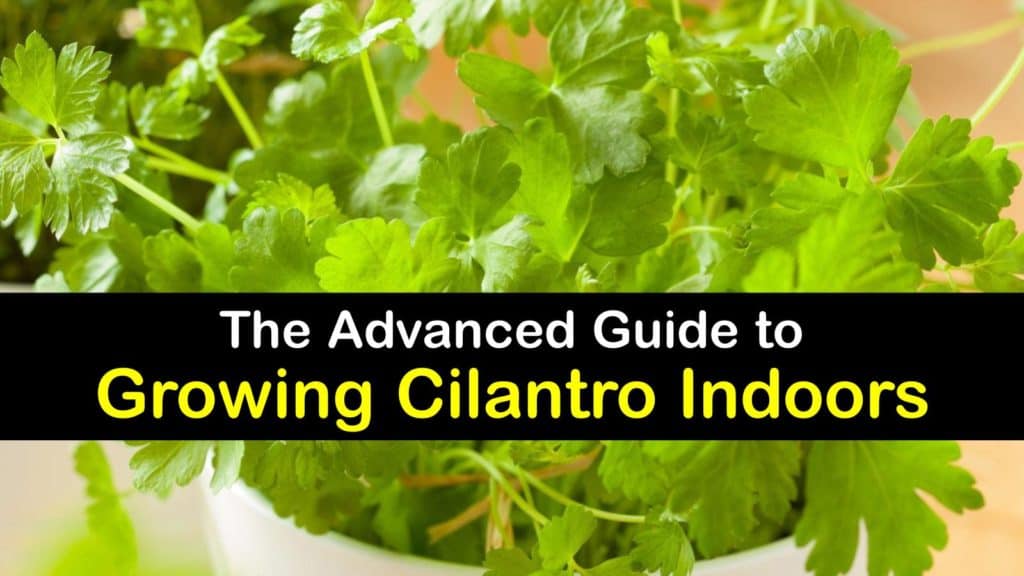 Benefits of Growing Cilantro Indoors
Cilantro goes by the name Coriandrum sativum in the science world. As a family member of the Apiaceae plants, the cilantro leaves look similar to carrot leaves.
If they are allowed to mature long enough to bloom, pinkish-white flowers blossom and attract essential pollinators to your garden. Even though cilantro plants have a controversial taste, cultures worldwide have embraced these fresh herbs since 6,000 B.C.
Unfortunately, there isn't enough factual information on the origin of this plant yet. However, it is impressive that it spans almost all cultures.
Herbs have been used for centuries to treat ailments and health concerns. Studies show that coriander seeds are anti-inflammatory, and cilantro protects the skin from UV-B rays.
The plant is also full of minerals, vitamins, and phytonutrients that improve health and support a varied and balanced diet.
Cilantro and Coriander Cultivars
The first step to grow cilantro at home is to choose the cultivars you want to work with. Packets of seed heads are available at garden centers or online.
Some of the most popular cultivars to use as houseplants are Calypso, Confetti, Leisure, Santo, Long Standing, and Jantar. A few of these are known to bolt slower than others, meaning you'll have a steady supply of leaves longer.
Do not be fooled if you hear cilantro referred to as Chinese parsley. Cilantro leaves are more round and parsley leaves are pointed.
The best way to tell the difference between the two herbs is to smell them. Parsley has a fresh and mild scent, while cilantro has a spicy and citrusy aroma.
Take some time to figure out which cultivars will work best for you and your home before planting seeds.
Can you grow cilantro indoors regardless of the cultivar? Double-check the seed packets to ensure that your house has a spot that fits the plant's needs, whether you use these herbs to plant in autumn, spring, or summer.
Can You Grow Cilantro Indoors?
Growing cilantro indoors is possible and a lot easier than you may think. There isn't too much work required with the initial setup. Once you sow seeds, caring for them is as simple as checking on them and supplying them with water.
How to Grow Cilantro Indoors
Cilantro is the perfect herb to grow indoors because the seeds are large and the cilantro seedlings forgive a lack of space. The plants reach about a foot tall before producing seeds, meaning a steady supply is possible even though it is an indoor plant.
Cilantro plants are a cool-weather grower and bolt after temperatures rise above 85 degrees Fahrenheit. Bolting is when the leaves become thin and lose their flavor. The plant then flowers and produces seed pods.
Cilantro plants are hardy in USDA hardiness zones three through 11. Even if you don't want them indoors all season long, it is easy to start them indoors and move them outside once the chance of frost is gone. Growing herbs from cuttings is also an option for cilantro. Snip off a stem or two and root them in water.
Cilantro requires six hours of full sun every day. When growing cilantro indoors, use a mix of potting soil and sand before following the best way to grow cilantro in a pot. Sowing seeds directly is recommended because the taproot doesn't do well after transplanting.
Ensure that the container you use has plenty of drainage holes to allow excess water to escape from the potting mix. Sow seeds a quarter-inch deep and water them right away.
Use a grow light if you don't have a windowsill with full sun. Grow lights are handy if you plan to plant them in December in northern parts of the United States.
LED 45-watt lights provide the exact amount of light that your cilantro seedlings require to be happy. Keep them suspended just above the surface of the plants and raise them as your cilantro grows.
Cilantro seeds germinate between 55°F and 68°F. It could take up to 14 days for sprouts to appear in your pots. Although the plants survive light frosts, it is best to keep them away from cold drafts in the window.
They also benefit from a lot of air circulation, especially when growing them as microgreens. Try setting a small fan next to your containers to keep the air moving.
Well-draining soil is crucial, and overwatering your herbs could lead to diseases or death. Try using a generic spray bottle to mist the dirt instead of dumping water directly into the container.
Only water the plants when the top 15 percent of soil is dry. Too much dampness leads to mildew growth. Use unchlorinated water if possible.
Potting soil is best when learning how to grow cilantro indoors. Find a mix that includes perlite, peat moss, or coir. The plants grow in a finite amount of space and need lots of fertilizer to keep them nourished. Keep the soil pH between 6.2 and 6.8.
Pests of Cilantro Plants
When you first start learning how to grow cilantro indoors, you might be overwhelmed by the pests and diseases that may show up during the process. Educate yourself on all of the possibilities to be prepared.
Some insects benefit our plants while others harm them. The wrong ones create many issues if you don't catch them before an infestation breaks out. Beet armyworms are one pest to look for. These are moths, yet their larvae are what destroy your plants.
The larvae feed on the plant's foliage and prevent it from growing any further. They also eat the brand new buds and prevent crops from flowering and producing seeds to store for the next time you want to plant them.
Beet armyworm larvae are silver with silky-looking bodies. Control these pests with a DIY insecticide or remove and kill them by hand. You can also try treating your soil with Bacillus thuringiensis or neem oil.
Cabbage loopers are another insect that is an enemy to cilantro plants. Cabbage loopers are another type of moth larvae.
These insects are pale green with white stripes, and they eat your plants until there is almost nothing left to harvest. Remove cabbage loopers by hand and drop them in soapy water to kill them.
Aphids are one of the most significant garden pests in the country. They destroy fruits and veggies if left unchecked. Look at the underside of the leaves for aphids and make a spray to kill them.
Mix the three ingredients in a spray bottle and spritz the solution all over your plants or only on those infested with aphids.
Cilantro Plant Diseases
Diseases are even worse than unwelcome pests. Some are literally impossible to get rid of, and a lot pose serious threats. When the wrong ones show up, you sometimes have to throw the entire plant away and start from scratch.
Bacterial leaf spot is the most commonly seen disease that all kinds of plants face. The bacteria leave spots on wet leaves. This is why air circulation is crucial for your cilantro plant's success.
The spots turn brown after time and make the leaves turn into odd shapes until they eventually yellow and die. You have to remove the bacteria itself to save your plants. Take preventative steps to keep leaf spots away.
Set your plants in the right amount of sunlight, keep them away from other infected plants, and snip off the dead or diseased leaves. Only prune one-third of the plant at a time, or the entire thing dies. Use sterile shears to prevent the disease from spreading to other plants.
Root knot nematodes are another disease that eats away at your cilantro. These are microscopic parasites that stunt growth by eating the roots of the plant. Treat root knot nematodes with neem oil or sesame oil.
Powdery mildew is one last disease to prepare for. This problem doesn't kill your plants but does slow the growing process.
Identify it from the white, powdery-looking substance left on the leaves. Mildew isn't possible to cure completely. Prevent it by exposing your plants to lots of sunlight and picking off infected leaves before it spreads.
Harvesting Cilantro
Harvest your herbs with clean kitchen scissors or garden shears to prevent the spread of diseases. Wash them in hot bleach water or soapy water.
Only harvest one-third of the plant every week. If you prefer to have a continuous harvest, sow seeds two to three weeks apart and pinch off the tops of the cilantro stems to extend their lifespan.
Harvest cilantro leaves about 45 days after planting or harvest them after only 20 days if you use them as microgreens.
How to Grow Cilantro Microgreens
Microgreens are young plants that haven't yet grown to maturity. They are more nutritious and are an excellent strategy to add extra nutrition on top of your daily meals.
Fill your shallow tray with potting soil and spread the seeds over the entire surface of the tray. Do not cover the seeds with soil. Instead, use a hardcover book to compress them for 24 hours.
Remove the book and mist water over the soil and seeds. Set the seed tray on a sunny windowsill and continue to water them once per day. Harvest the microgreens after the first true leaves appear.
How to Store Cilantro
Storing cilantro is as vital as harvesting it. The goal is to keep the cilantro as fresh as possible until you're ready to use it.
To store cilantro in the fridge, trim the stems at the ends and place the cilantro in a jar with fresh water. Set the jar in the fridge without a top. To preserve fresh cilantro, change the water inside the jar every three days to keep cilantro leaves fresh for over two weeks.
To store cilantro in the freezer, rinse your sprigs and dry them with a salad spinner or paper towel. Trim the leaves off with scissors and spread them across a baking sheet lined with wax or parchment paper.
Freeze the leaves. Remove the pan from the freezer and combine them in an airtight container. Put the container back in the freezer until ready to use.
Drying cilantro doesn't require a food dehydrator. To dry cilantro leaves, wash the cilantro and pat them dry with paper towels. Tie all stems together with string and hang the bundle in a location with dry, moving air until there is no water on the surface.
Set the bunch into a paper bag with the stems sticking out the top. Bunch the bottom of the bag around the leaves and secure it with string. Poke a few holes in the bag and place it in direct sunlight. Once dried, transfer the cilantro into an airtight storage container.
These growing-cilantro-indoors tips are something that anyone growing an herb garden can benefit from. Cilantro might not be for everyone, but those who love it want to eat it for breakfast, lunch, and dinner.
Can you grow cilantro indoors regardless of where you live? Thankfully, these houseplants seem like they were meant to be inside.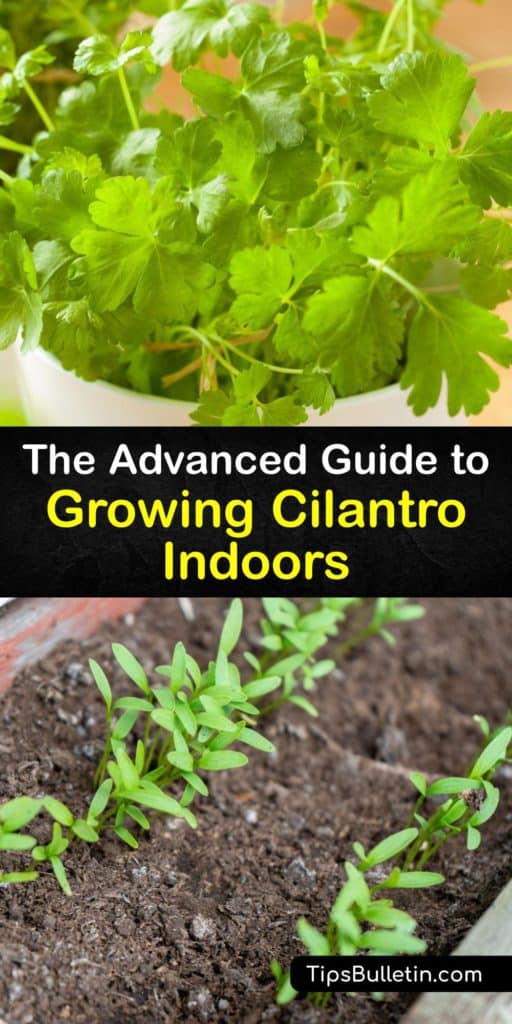 If learning how to grow cilantro indoors has added nutrition to your diet, share these tips for growing cilantro indoors on Facebook and Pinterest.