If you've decided to start an herb garden and are unsure which herbs to start with, consider growing cilantro (Coriandrum sativum). This herb is simple to plant and care for, and it has more than one use in the kitchen. Learn what this plant is and its uses, how to grow cilantro, and give it the care it desires. Those familiar with herbs will tell you that cilantro plants are an excellent addition to the garden.
They are a two-in-one herb that provides fresh cilantro leaves to garnish your favorite Mexican or Asian recipes and cilantro seeds or coriander for flavoring soups, stews, and Middle Eastern chicken dishes. The best way to get the tastiest chemical-free cilantro leaves is to plant your own.
While growing cilantro takes a little know-how and the right growing conditions, these herbs are one of the easiest to plant at home. They grow well in a garden setting, raised bed, or patio container, and produce seeds if you want to make coriander spice or develop new plants the following year.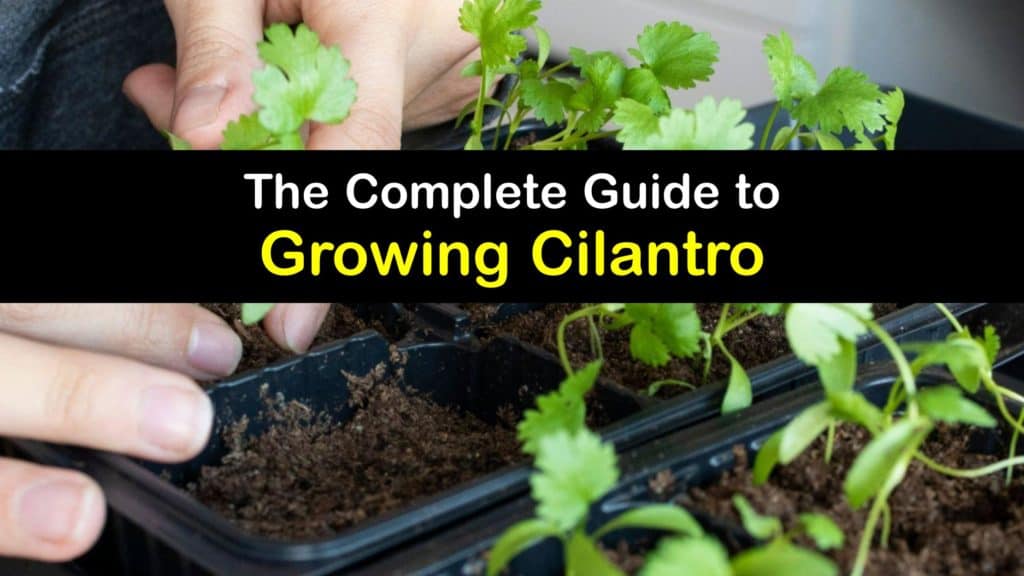 Planting, Growing, and Harvesting Cilantro
Are herbs hard to grow at home, and how long do cilantro take to grow? Many herbal plants are uncomplicated to grow, and cilantro's growth rate varies depending on the variety. However, it is a cool-season herb, and it's vital to grow it under the proper conditions.
Discover the different types of cilantro and what these herbs require for optimal growth. Find out how to start this herb from seed and give it care as it matures, whether you grow cilantro indoors on the windowsill or outside in pots or the herb garden. In addition, learn ways to create tasty recipes after growing cilantro.
What is Cilantro?
There are many herbs you're probably familiar with, such as basil, mint, thyme, and chives. However, cilantro is uniquely different from these common herbs, and it has a taste not everyone enjoys.
Parsley and cilantro are related, as cilantro (Coriandrum sativum) is a parsley family member. It's generally an annual that prefers growing during cool weather and tolerates light shade.
It is also known as Mexican parsley and Chinese parsley, and it's the herb that people either love or hate due to its strong flavor and aroma. It is a popular herb in Asian cuisine, and many Mexican dishes are not complete without it.
The leaves of a cilantro plant resemble flat-leaf parsley, and they grow on long, tender stems. All parts of the herb are edible, from the taproot to the leaves, and it produces coriander seeds for spice. Cilantro leaves taste completely different than coriander seeds.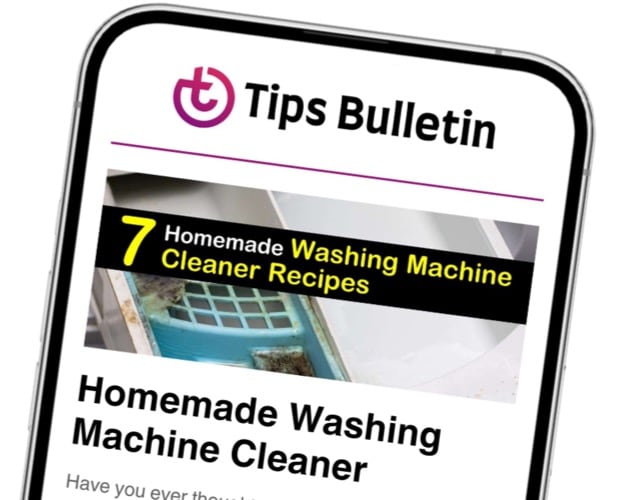 Finally, an email that Transforms Your Home.
Get the latest home and garden tips from our experts, delivered straight to your inbox.
The leaves vary in flavor, depending on your taste buds. Some say they are fresh and mild with citrus zest, while others feel they are soapy-tasting. Coriander has a lemony, mildly sweet flavor.
There is more than one type of cilantro. Leaf cilantro is most common, while Indian Summer cilantro is a biennial that grows over two years. Mexican coriander attracts butterflies and has a variety of medicinal purposes. Vietnamese cilantro looks nothing like parsley and has a more pungent taste than regular cilantro.
How Long do Cilantro Take to Grow?
How long do cilantro take to grow? Like many herbs, cilantro grows relatively fast. The different types have varying growth rates.
Cilantro takes about five to ten days to germinate and 45 to 90 days to reach maturity after planting it from seed, depending on the variety. Leisure cilantro is bolt-resistant and takes roughly 50 days to mature. Longstanding cilantro grows tall and takes up to 90 days.
However, this does not mean that you have to wait until the end of the season to harvest cilantro leaves. Pick cilantro anytime during the growing period when the stems are long and the leaves are lacy-looking. Harvesting cilantro using the cut-and-come-again method means your plants keep growing back.
What to Know before Growing Cilantro
It's helpful to understand what cilantro wants to grow healthy and productive, whether you decide on growing cilantro in a bed or container. Find out how much sun this plant likes and its soil requirements to ensure you get the most out of your herbal garden.
Cilantro plants prefer full sun or partial shade, and planting these herbs in a sunny area of your patio or yard means they produce healthy leaves. They enjoy loamy, well-drained, acidic soil with a pH between 6.2 and 6.8. Have your dirt tested if you're unsure what type you have in the garden.
Cilantro plants grow one to two feet tall and wide, so spacing is essential when sowing seeds to ensure they are not overcrowded as they mature.
They grow ideally when the weather is cool, and starting them in the early spring, late summer, or early fall is the best way to produce a good crop of herbs. Avoid sowing seeds in late spring or early summer since these are times when temperatures begin rising.
How to Grow Cilantro in the Herb Garden
Now that you understand how cilantro plants thrive and how long it takes them to grow, it's time to get planting. Here is how to grow cilantro in a patio container or yard herb garden.
Once the last frost is gone, sow seeds a quarter to a half-inch deep in the garden or container and space them one to two inches apart. Water them gently to moisten the potting soil, and do not let them dry out as they germinate.
Once the seedlings emerge, thin them out, making them six inches apart, with rows at least a foot apart. If you reside in a southern region where the temperatures get hot, consider growing cilantro in pots that are easy to move to a shady area when necessary.
What not to plant with cilantro includes tomatoes and peppers. Choose lavender or dill instead.
Caring for Cilantro as it Grows
After you sow seeds and watch them go through the germination process, your new herbs require a little more attention from you to thrive. While they usually receive adequate water from nature, this isn't always enough. Care for cilantro through the growing season so you get a good crop.
When your cilantro plants are seedlings, they want about an inch of water each week. However, they demand less watering as they mature and prefer the soil moist and not soggy to prevent mildew growth. Spreading mulch around the herb's base helps retain moisture and stop weed growth.
While these plants love cool temperatures, they do not tolerate frost, so keep row covers handy if you get unseasonably cold weather. Cilantro doesn't usually require fertilizer for healthy growth, but spreading organic matter or compost over the dirt monthly is beneficial if you have poor soil.
While cilantro repels spider mites with its scent, aphids and beet armyworms are attracted to the plant and cause destruction if left unchecked. However, bees and other pollinators are essential for the plant flowers, and it's vital to use a pollinator-friendly treatment to eliminate harmful pests.
When is Cilantro Ready to Harvest?
You've gone through the effort of seeding and caring for your herbs, and now you're wondering when they are ready for cilantro harvest time. Discover when and how to harvest cilantro leaves and coriander seeds and tips for storing them in the kitchen.
Harvest cilantro from spring through early summer when the stems are ten to twelve inches tall and have lacy leaves. Snip individual leaves as needed or harvest them once a week in the morning and watch as new leaves emerge in two to three weeks.
Cut the stems, leaving an inch or two above the soil surface with a few lower leaves intact to sustain the plant until it grows back. To store fresh cilantro, place the stems in a glass of water, cover the leaves with an open plastic bag, and keep them in the fridge.
For coriander seeds, stop harvesting the cilantro and let the plants flower. Two to three weeks after flowering, immature green seeds appear. Leaving them in the garden causes the plants to self-sow, and harvesting them is easy.
Green coriander seeds are more pungent than brown, mature seeds and do not store as well. For more extended spice storage, wait until the seeds are light brown. Clip a stem section with seed heads, place it in a paper bag, and set it in a dark area for two weeks. Once the seeds dry, brush them off the stem and put them in an airtight container.
Using Fresh Cilantro to Make Dressing
There are many ways to utilize cilantro leaves in recipes, from chicken to rice. However, the simplest way to use a bunch of fresh leaves from your herb garden is to make a creamy dressing. This dish is easy to make, and it tastes wonderful served on just about anything.
Place the fresh cilantro, garlic clove, yogurt, olive oil, honey, lime, juice, and salt into a blender or food processor and pulse the ingredients until smooth. Taste the dressing and adjust seasonings or add water as needed. To preserve and store cilantro dressing, pour it into a jar, cover it with a lid, and keep it in the fridge. Serve it over salad, chicken, fish, or grilled vegetables, and enjoy.
How to Make Hummus with Coriander Seeds
Since cilantro is a two-in-one herb, it provides you with two different flavors for cooking if you wait to harvest your plant until it reaches the seed stage. In that case, you benefit from an abundance of coriander seeds, and this hummus recipe is a great way to incorporate their flavor.
Pour the chickpeas into eight cups of water and soak them for at least eight hours in the fridge. Drain the chickpeas, pour them into a large pot with baking soda, and cook them on medium heat for three minutes while stirring.
Add the garlic, and bring it to a boil. Reduce the temperature and simmer for an hour or until the chickpeas are tender. Transfer the chickpeas into a large bowl of cold water, and stir them to dislodge the skins, using a slotted spoon to skim away the skins as they rise to the surface.
Drain them after removing the skins and pour the chickpeas and garlic into a food processor. Puree until the mixture balls up, and add the lemon juice, tahini, ground cumin, salt, and a quarter cup of the chickpea cooking liquid. Continue pureeing the mixture until very smooth, and transfer the hummus into a bowl.
Cover the bowl and refrigerate it for half an hour. When you're ready to serve the hummus, create a well in the middle and sprinkle the whole toasted cumin and coriander seeds in the center.
Cilantro is one of the most straightforward herbs to grow. However, cilantro plants do not tolerate hot weather, which causes bolting and shortens the plant's life cycle. It's vital to plant this herb when the temperatures are cool. Giving your herb what it wants for healthy growth ensures you get the best harvest.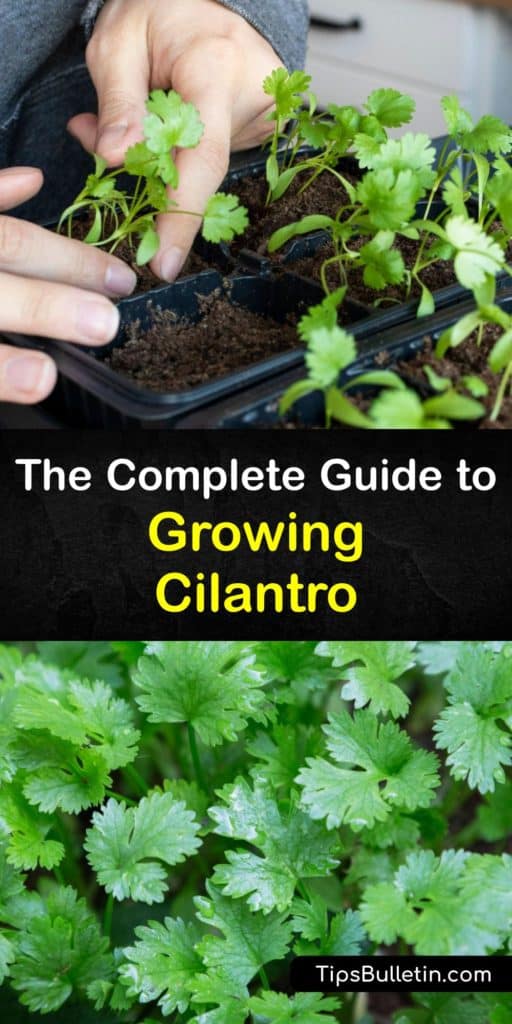 We hope that knowing how to grow cilantro in your home garden keeps your dishes full of flavor, and we'd be pleased if you'd share our cilantro planting guide and growing tips with the herb-lovers in your life on Pinterest and Facebook.