Corn season is one of our favorite times of the year, and we always looked forward to picking up a baker's dozen of sweet corn from the local farmer's market. However, we now grow our own corn in a backyard corn patch, and the corn is even sweeter. Find out how to grow corn in the home garden and harvest fresh corn at the end of the season.
Corn plants are not as typical in the garden as other vegetables since they grow pretty tall and take up space. However, it's possible to grow up to 15 plants per row of corn, and a ten-by-ten foot area is enough space to produce a decent amount of corn cobs for you and your family. "Even in a small garden, you can grow a surprising amount of corn if you plan it right," suggests Julia Hodges, a seasoned authority on plants, gardening, and growing food.
Corn-growing has been a Native American practice for thousands of years, and for a good reason. There are many corn varieties, from heirloom corn, hybrid corn, and super sweet corn to flint corn, baby corn, and field corn. Unlike field corn with a tall and full stalk, supersweet corn has a short and spindly corn stalk, making it ideal for smaller spaces.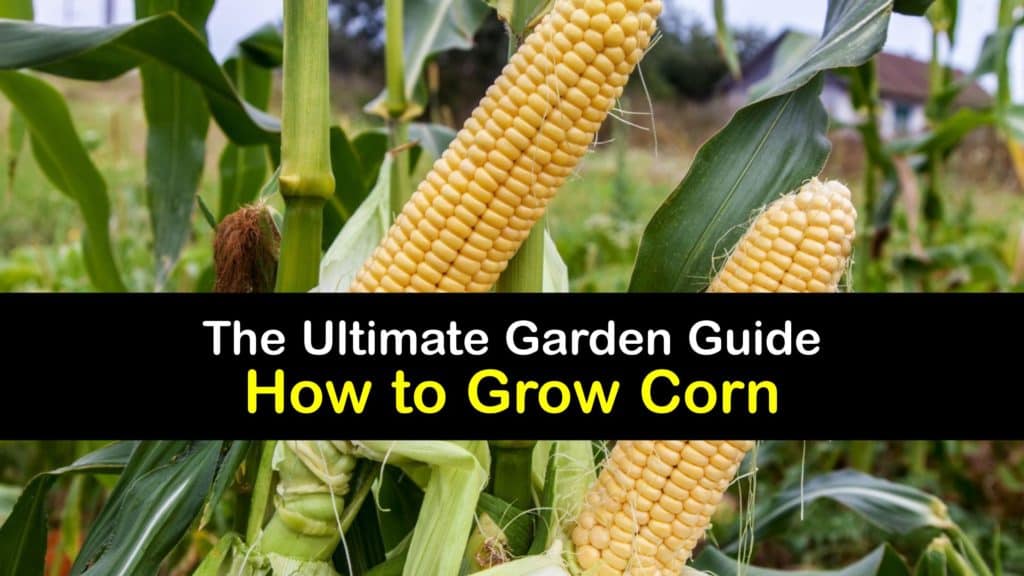 Planting, Growing, and Harvesting Corn
How long does it take for corn to grow? A corn plant's growth rate depends on the corn variety and how hot it gets during the growing season. Learn the different types of corn to grow in a garden and how long they take to mature to help you choose the perfect one for your area.
Discover how to plant corn from seed indoors, transplant it outside, and give your corn plants care for a productive crop. Explore some of the common problems you may encounter while growing corn and a tasty recipe to prepare after you harvest corn.
Things to Know about Growing Corn
It's always good to plan when preparing a vegetable garden, including growing corn. Understanding what your plants want for optimal growth and the amount of space they need ensures that you get a healthy crop. Here are some corn plant requirements and smart tips for growing sweet corn to help you get your garden started on the right foot.
There are three factors to consider when planning to grow corn: space, sunlight, and soil. Corn plants grow ideally in fertile, well-drained soil with a pH between 6.0 and 6.8. Testing your dirt beforehand is a great way to determine if you need to add organic matter to enrich the garden.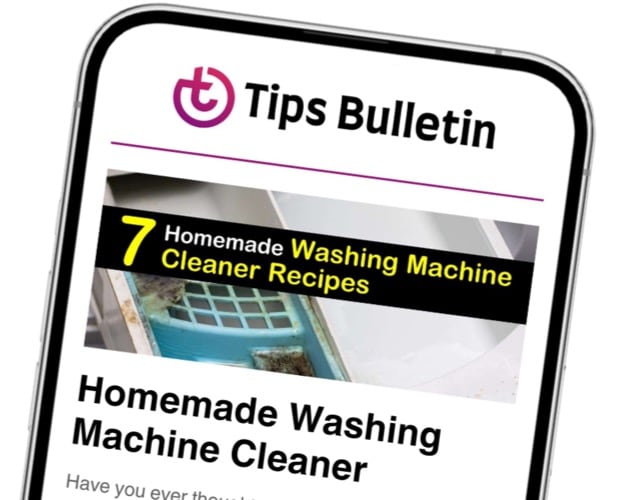 Finally, an email that Transforms Your Home.
Get the latest home and garden tips from our experts, delivered straight to your inbox.
It's important to know when to best plant corn seeds so they have the best chance of growing. The dirt temperature should be at least 50°F before planting corn outside, so it's one of the ideal veggies to plant in spring in most areas of the country.
These plants need full sun for a minimum of six hours each day, and the more, the better. Additionally, corn plants require proper spacing with rows about three feet apart. Choose the garden spot wisely.
How Long Does It Take for Corn to Grow?
Corn plants take anywhere from 60 to 100 days to reach maturity, depending on the corn type. There is definitely a taste difference between corn and sweet corn. Learn some of the more popular varieties to grow at home and how long they grow before harvest.
One of the most popular types for home growing is the Ambrosia hybrid. How long does it take for corn to grow for the Ambrosia variety? It takes 75 days to reach maturity. This corn has plump, yellow and white, super sweet kernels with eight-inch long ears and six-and-a-half-foot plants.
Another variety is Golden Bantam, which is ready to harvest 82 days after planting. It only reaches five feet in height and produces sweet six-inch corn cobs.
Jubilee hybrid corn is deliciously sweet and is ready for picking in 90 days, and it's perfect for processing and freezing. Peaches and Cream produces white and yellow kernels and reaches maturity in 80 to 83 days.
How to Grow Corn from Seed
Since some corn types have a longer growing season, starting your corn inside is wise, especially if you live in a cooler climate. Find out how to plant corn from seed indoors before the last frost to encourage germination.
There are two types of corn seeds; treated seeds and untreated seeds, and it's entirely up to you which one you plant. Treated seed is coated with pesticides to limit fungus and insects, while an untreated seed is not treated with any chemical or biological method.
The best time to plant sweet corn inside is still while it's cold outside. Four weeks before the final frost, the way to grow corn in a container is to fill peat pots with seed starting soil and press a seed an inch deep in each pot.
When you follow the way to grow corn in a pot, spray them lightly with water and put them in an area where the temperature is 70°F until they germinate in four to ten days. Keep the soil moist and move the pots in front of a sunny window after germination.
Growing Sweet Corn in the Garden
Discover how to transplant corn seedlings outside after germinating them indoors and direct-sow seeds in the garden. Explore the importance of hardening off your young plants and how far apart to space them for air circulation and good yield production.
It's safe to direct-sow corn seeds a week after the last frost, as long as the soil temperature is around 60°F. Sow the seeds the same way you do indoors and space them eight to 12 inches apart with rows 36 to 42 inches apart.
Harden off seedlings a week before transplanting them in the garden by taking them outside for a couple of hours each day.
After acclimating them to the new environment, plant the peat pots directly in holes spaced twelve inches apart in all directions with at least four rows for optimal pollination. Water your seeds or seedlings right after planting, and do not let the soil dry out as they mature.
How to Care for Your Corn Plants
There are several things to do after planting corn to ensure the plants flourish, and there are many things to watch for as they grow. Explore how to care for your corn through the season and tips for preventing corn disease and pests.
Corn plants want an inch of water weekly, especially when the stalks begin to tassel, since water stress during pollination results in ears with missing kernels. Water at the surface with a soaker hose or drip irrigation to prevent from pollen washing off the flower tops.
Side-dress the plants with diluted fish-based fertilizer or blood meal when the stalks reach six inches tall and feed them again when they are knee-high. Consider companion planting corn with pole beans, melons, cucumber, dill, mint, and marigolds to attract beneficial insects and deter pests.
Keep an eye out for harmful insects, such as the European corn borer and the corn earworm. Earworm moths lay eggs on corn silk, and the larvae feed on the tops of the developing corn ear while corn borers bore into the ears.
To prevent earworms, apply a mixture of vegetable oil, water, and dish soap to the tip of each ear after the silk emerges. Corn borers overwinter in old corn stalks, and the best way to stop their life cycle is to clean up the garden and remove plant debris.
Corn smut is a fungal disease that affects the corn plant by producing pale, swollen galls that release black spores after they burst. Dispose of the galls before they open and destroy affected plants to prevent the disease from spreading.
Using Freshly Harvested Corn to Make Jelly
If you've never had corn cob jelly, you're in for a treat. As weird as it sounds, this jelly is sweet and delicate, and it's delicious spread on toast, pancakes, and even steak and pork chops. It's an excellent substitute for corn syrup, and it takes less than an hour to make.
When you harvest corn and shuck it, remove the corn kernels and store them in the fridge for use in another dish. Fill a large pot with water, add the corn cobs, and bring it to a boil for ten minutes. Remove the boiled cobs, throw them away, and strain the liquid to remove stray pieces. Reserve four cups of the liquid, discard the rest and return the pot of water to the stove.
Stir one and three-quarter ounces of fruit pectin into the water and bring it to a strong boil. Pour in the sugar, bring it back to a boil, and skim off the top. Squeeze in a few drops of yellow food coloring and ladle the liquid into jars, leaving a half-inch of headspace.
Position the seals and rims on the jars and process them in a water bath canner for ten to 15 minutes. Remove the jelly jars and set them aside to cool. Store the jelly in the pantry for up to two years.
There is nothing like biting into buttery, sweet kernels of fresh corn on the cob at the end of the summer, and it's even better after growing corn yourself. While sweet corn plants need the right soil temperature and adequate sunshine to flourish, they are just as easy to plant as any other veggie.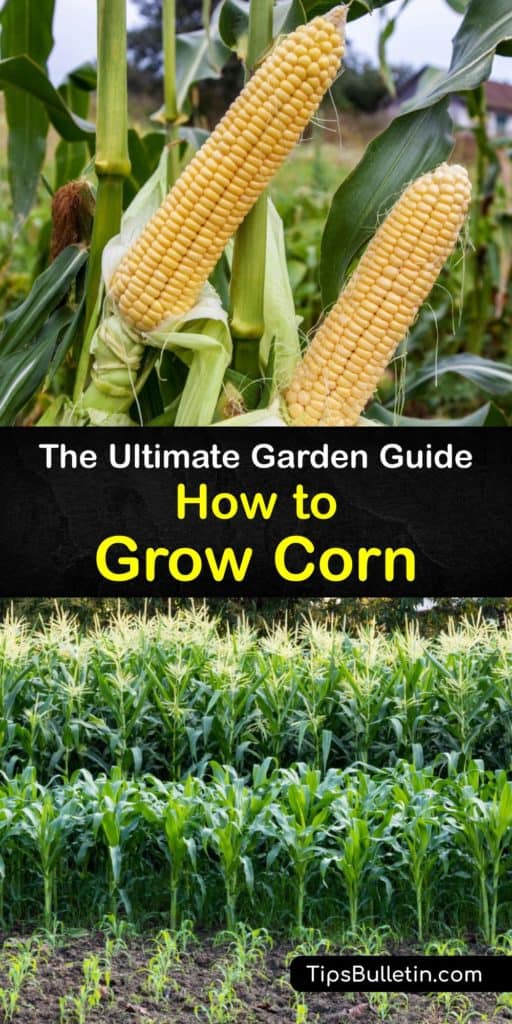 We hope that learning how to grow corn at home keeps you well-stocked with sweet corn, and we'd appreciate it if you'd share our corn-growing guide with the corn-lovers in your life on Pinterest and Facebook.