Planting cucumbers allows you always to have a fresh snack or salad topping on hand. The kitchen is not the only place where cucumbers are commonly found, as they also assist in all-natural skincare routines. Learning how to grow cucumbers from seeds is not as complicated as most people assume.
Additionally, growing cucumber from seed has multiple health and environmental benefits. It is easy to plant and harvest cucumbers when you have the correct information.
If you are looking for another fresh vegetable to include in your garden, cucumber plants make an excellent addition and pair nicely with other veggies. We provide you with the essential information you must know to plant cucumber seeds and produce a bountiful harvest correctly.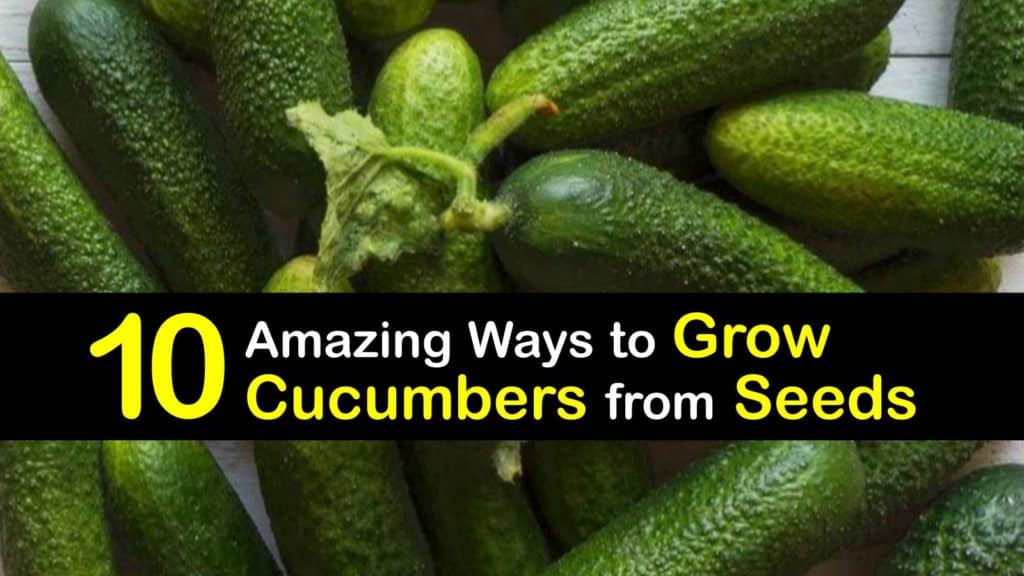 Different Cucumber Varieties
Not only do we show you everything involved in the planting process, but we also draw attention to the common pests found on cucumber vines.
If you find yourself asking, "How do cucumbers grow in a garden?" continue reading this article to uncover the best tips and tricks for cucumber seedlings.
Although the cucumber plant originates in South Asia, it is now grown on nearly every continent. There are three main cucumber varieties you have to choose from when planting.
Cucumber varieties include slicing, pickling, and burpless or seedless cucumbers. Slicing cucumbers are long and have thick skin.
Pickling cucumbers, on the other hand, are shorter with more spines and drier flesh. Regardless of the cucumber or Cucumis sativus variety you choose to plant, it is vital to understand the right maintenance techniques.
Growing Cucumber from Seed Indoors or Outdoors
Heirloom cucumbers demand plenty of sunshine and warm temperatures to sprout successfully. As a general rule, soil temperatures around 70℉ are ideal for cucumbers.
If the temperatures during the cucumber's growing season are too cool, start your cukes indoors in a pot. The same applies to planting tomato seeds in buckets. Waiting until the weather is warm enough is crucial, and the danger of frost prevents cucumbers from developing.
Plant your cucumber seed or germinate strawberry seeds after the last frost date. When growing cucumbers from seed or when you plant bitter melon seeds, keep the spacing of your garden in mind.
Cucumbers take up more space than most other vegetables because the roots grow deep in the ground. To save room in your garden, train your cucumbers to grow up a fence or trellis.
How do Cucumbers Grow and How to Plant Them
After you buy your cucumber seed packet from the local gardening store, it's important to understand how to correctly space out the cucumber seeds.
When cucumber plants have adequate room between seedlings, they can develop a strong central stem and produce the best harvest. How do cucumbers grow best? Cucumbers grow more efficiently when the seeds have room to sprout.
Plant seeds about a ½ inch into the fertile soil and measure six inches between each seed you plant. For trellised cucumbers, the seeds require a little bit more space. Plant trellised cucumber seeds at least two feet apart.
Proper spacing is important, whether you need to know how far apart to plant celery or cucumbers, so the roots and plants don't overcrowd one another.
Watering and Growing Cucumber from Seed
Whether you choose to plant Marketmore cucumbers or different bush varieties, correctly watering your plant is vital to the vegetables' health. Water helps the cucumber plant absorb the nutrients from the earth, allowing it to grow.
How long for cucumber seeds to sprout? With the proper watering maintenance, cucumbers sprout in about seven days. Cucumbers demand at least one inch of water per week and more if the temperatures are hotter.
One simple trick to tell if your cucumber needs watering is to feel the soil with your finger. If the top one inch of the earth is dry, watering is necessary.
Overwatering bush cucumbers is just as deadly as underwatering and results in root rot and other fatal diseases.
How to Grow Cucumbers from Seeds with the Right Soil
Utilizing the right soil is crucial to learning how to sprout cucumbers, making it easier for the plant to grow. Soil assists the cucumber plant in transferring the nutrients to the stem while also filtering out excess water.
To make the germination process nearly effortless, provide your plants with the best soil, whether growing cucumbers in containers or the garden. Grow your cucumber plants in loose sandy loam soil, which prevents overwatering because it drains the water better than other soil types.
Good drainage benefits the cucumber plant by aiding in avoiding harmful root disease. Choose soil with slight acidity and a pH balance between 6.5 and 7.0 to make growing cucumber from seed easier.
Fertilizer Helps Cucumbers Produce an Ample Harvest
Both male flowers and female flowers of the cucumber plant sprout quicker when fertilizer is incorporated into the soil. Fertilizer contains chemicals that supply the cucumber plant with even more nutrients than the natural ground offers.
Apply fertilizer at various points in the planting journey. Incorporate fertilizer as you are planting your cucumbers, one week after they sprout and every three weeks afterward.
If you are moving your cucumber plant outdoors, apply fertilizer as you transplant. The most effective type of fertilizer is compost or any organic matter. Compost is low in nitrogen, allowing nutrients to remain in the soil for a more extended period.
When to Harvest Your Cucumbers
After you successfully learn how to grow cucumbers from seeds, know when to harvest cucumbers. Continue to produce cucumbers by picking the vegetable from the cucumber vines frequently.
Pick your slicing cucumbers after they have grown about seven to nine inches long. You can tell if a cucumber is good if it is less than about nine inches long. If you allow the cucumber to grow larger, they taste bitter.
As you harvest pickling cucumbers like a Gherkin cucumber, leave a one-inch section of the stem attached to the plant.
Prevalent Pests that Reside on Cucumber Plants
A variety of plant diseases and pests try to rob your cucumber plants of their nutrients. Two of the most common conditions cucumbers suffer from are anthracnose and mosaic virus. These diseases cause bacterial wilt and discoloration of the plant's leaves.
The most widespread pest that attacks cucumber plants is the aphid. Aphids leave powdery mildew or a downy mildew substance on the leaves of your Lemon cucumber plant.
These unwanted pests also cause wilting and disfiguration of the cucumber plant's leaves and stems. Growing cucumber from seed is more challenging when unwanted disease and insects try to overtake your garden.
Prevent Pests from Invading Your Garden
Many people believe that they have to replant cucumbers after aphids are found on the leaves. However, using apple cider vinegar to kill and prevent further aphids or other unwanted bugs is painless and does not take that much time.
Pour the apple cider vinegar and water into a standard-sized spray bottle. The acidity of the vinegar prevents and kills existing cucumber beetles, aphids, and whiteflies.
If you have a severe infestation, you may have to use this repellent daily on and around your cucumber plants. Note that this spray does not make your plant disease-resistant; however, it does help maintain a healthy plant free of insects.
Using Companion Planting to Produce a Greater Harvest
Growing other plants in your garden alongside cucumbers comes with several benefits. Pollinators like bees are encouraged to pollinate, your cucumbers grow faster, and the plants are protected from disease. Check out this list of flowers and vegetables to plant together.
Growing corn from seeds next to cucumbers serves as a natural trellis for vining cucumbers, saving space. Additionally, the cucumber vines act as a natural mulch for your corn stalks.
Planting marigolds under your row covers near cucumber plants is a natural pest repellent. Aphids cannot stand the scent that marigolds give off.
Plants to Avoid Growing Next to Cucumbers
Although many plants assist the cucumbers' growth pattern, you must avoid some plants from growing next to your cucumbers. Companion planting allows two different plants to work together to produce fruit.
Other plants steal nutrients from nearby vegetables, making it impossible to have a decent harvest. Refrain from planting melons, sage, and potatoes with your cucumber plants.
Sage stunts the growth of your cucumber because it takes the nutrients in the soil from the cucumber. Pests that are commonly found on melons also prefer to feast on cucumbers.
Even if your garden has enough space, full sun exposure, and water, do not plant certain plants next to cucumbers.
How do cucumbers grow in your garden? With the proper daily maintenance and correct initial steps in the planting process, your cucumber plant can thrive whether it is grown indoors or outdoors.
When you continuously harvest the cucumbers produced on your plant, the vines do not stop making other cucumbers, allowing you to have an abundance of fresh veggies.
Another benefit in growing cucumber from seed is that several plants serve as companion plants, promoting even quicker growth and production.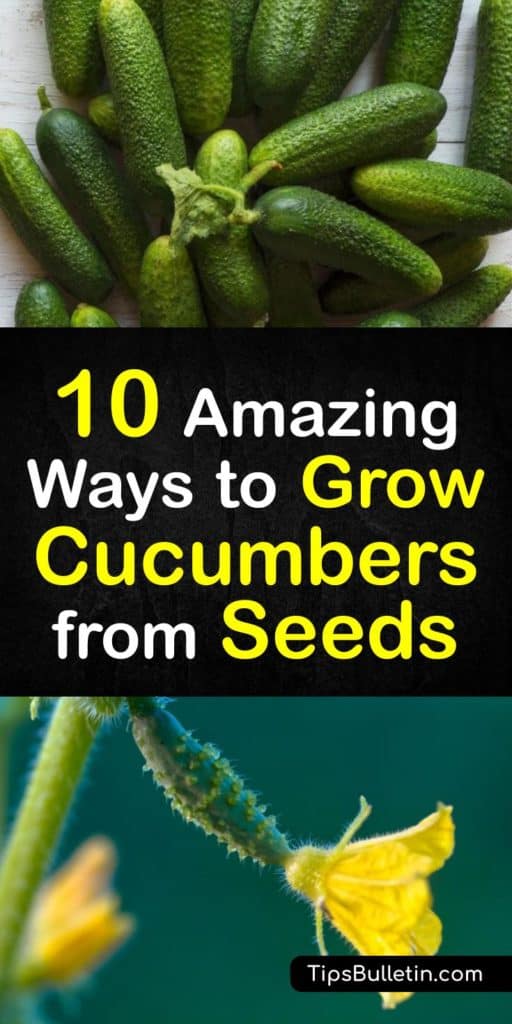 If you discovered how to grow cucumbers from seeds, share this article with tips for growing cucumber from seed with your gardening friends on Facebook or Pinterest.