It's hard to imagine a summer vegetable garden without cucumbers in it. These veggies are incredibly productive and take up a lot of garden space, and sometimes starting a container garden is a better choice if you're running out of room in your beds. If you're interested in information on how to grow cucumbers in a pot, you've come to the right place.
Growing cucumbers in pots is a smart move for both you and your vegetable garden. Cucumber plants get long and tangled and often take over an entire space in no time.
Container gardening and planting cucumber in pots is a simple fix. If you love a cold and crunchy salad, having these crisp vegetables close by makes cooking easier.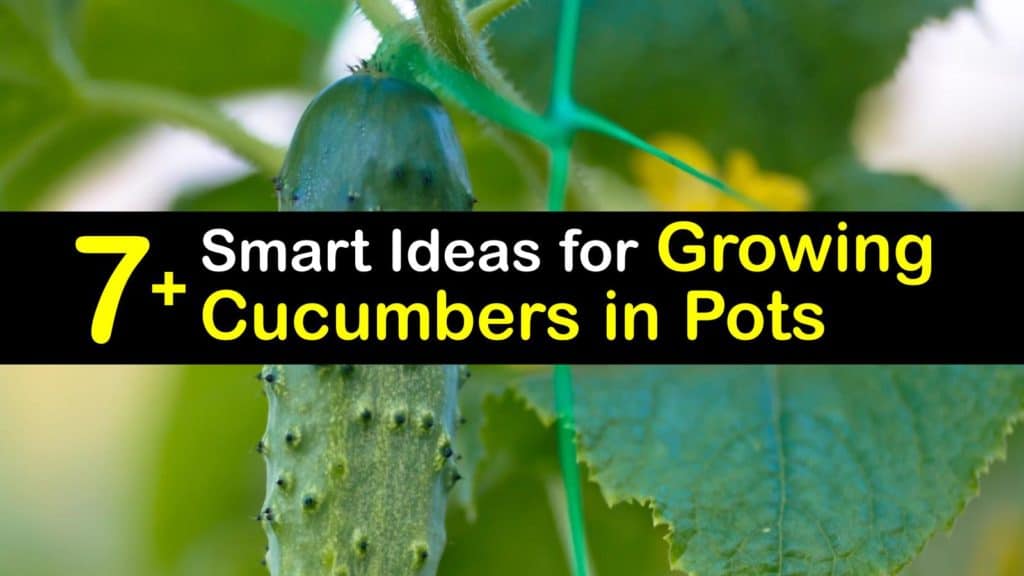 Types of Cucumbers
Scientifically speaking, cucumbers are considered fruits and closely related to squash and bitter melon. Other than similarities in looks, there is a marked difference between cucumber and zucchini.
Still, they have a refreshing taste and various nutrients, so most people consider them one of their favorite vegetables to grow.
There are dozens of cucumber varieties, but all of them fit into two distinct categories and growing styles. Pickling and slicing cucumbers are the two main kinds of cucumbers.
Pickling cucumbers are smaller in size and perfect for pickling into a crunchy snack. They have a uniform width and length, and the skin is thin without a waxy or bumpy surface.
Slicing cucumbers are much larger and better for salads or eating fresh off the vine. They taste slightly bitter compared to pickling cucumbers and are almost always a dark green color. The skin is tougher and waxier than the pickling variety.
Within these categories are two growing styles called bush cucumbers and vining cucumbers. Bush varieties are compact compared to vining ones and are usually better suited for growing in pots.
They adapt well to the containers but often require trellises to support themselves. Vining varieties grow long shoots that tangle and spread out over large areas. These vines climb supporting structures and are better suited in a traditional garden bed.
Tips for Growing Cucumbers in Pots
Bush-type cucumbers are often the better choice if you want to learn how to grow cucumbers in a pot. Some of the best kinds for growing cucumbers from seeds indoors are the burpless cucumber, salad bush cucumber, and lemon cucumber. These are all top-rated options and are easy to find at your local garden center.
Cucumbers also have different pollination types. While some have both male and female flowers, some kinds don't require pollination to produce fruit.
These cucumbers are called parthenocarpic types, and they are better for gardening where pollinating insects may be limited. Make sure to purchase plants or a seed packet that specifies this pollination type.
Did you know it's possible to grow a variety of veggies – and fruits – inside? Growing asparagus indoors is possible, as are lemons and pineapple.
Choosing the Right Container
Container gardening isn't as simple as choosing any old bucket and throwing some dirt and seeds in it. Although they are good container vegetables, cucumbers have deeper root systems than most veggies and require a large container full of fertile soil.
Try to find a large container that is at least 16 inches deep and 12 inches wide. The more the roots are able to develop, the more vigorous your plant growth and yields will be.
Raised beds are often too shallow for cucumbers but work if they are at least 16 inches deep. Even an extra two inches of depth sometimes doubles your harvest size, so make sure you pick something that gives the plants plenty of space.
If you can purchase a self-watering planter, those are even better since it ensures the soil never dries out, but it isn't necessary.
As long as you have a large pot with drainage holes drilled in the bottom, your cucumber plants should be perfectly happy in their new home.
Potting Soil for Planting Cucumbers in Pots
A high quality potting mix is key to a successful growing season because cucumbers are heavy feeders. Garden soil isn't ideal because it becomes too dense and heavy in the pot and doesn't allow adequate drainage.
On top of that, it might contain pests and diseases that create more issues than necessary. Find a soil rich in organic matter with a pH between 5.5 and 7.0.
When planting cucumbers in pots or you grow basil in a pot or container, fill your container about three-quarters of the way full of the rich soil mix before putting the plant in the pot. Allow the proper space between cucumber plants, whether in pots or the garden, to give them enough room to spread.
Maintaining Soil Temperature
Cucumbers enjoy full sun and are warm-weather plants. They do best when the pots are placed in a warm and sunny location, free from exposure to the wind.
Only put your cucumbers outside after the last frost of spring when the weather consistently remains between 65°F and 90°F.
If the temperatures in your region rise or fall below these temperatures, consider moving the pot inside until the weather has warmed or give the cucumbers some afternoon shade, so the leaves don't burn.
Regulating Soil Moisture
Giving your cucumbers the perfect amount of hydration is critical to their health. Cucumbers are made up of over 90 percent water, so keeping them consistently moist is something you must consider before growing cucumber seeds.
Cucumbers require at least one inch of fresh water every week. If temperatures are high, they might need more. Regularly check the top inch of soil and make sure it isn't dry.
If it is, give the plant a deep watering but avoid getting the leaves wet to prevent fungal infections. Adding a thin layer of organic mulch around the plant's base helps regulate the soil's moisture and temperature so that it doesn't dry out as quickly.
How to Fertilize Cucumbers
Always add an all-purpose, slow-releasing fertilizer to your soil when you plant your cucumber vines. The flowers appreciate the extra nutrients, and it makes your fruits even more productive.
Organic fertilizer is available for purchase at your local garden center. If you can't find it, try adding compost to your pots for extra nutrition. Did you know eggshells are very good for cucumber plants? They provide extra calcium and can deter slugs if you place the pieces around the base of the plants.
How to Grow Cucumbers in a Pot
Before you plant cucumbers in a pot, always start by providing the plants a trellis or supporting structure for the cucumber vines to climb. Growing pickling cucumbers vertically prevents damage from occurring during and after germination.
Fill your selected pot three-quarters of the way full with loose potting soil and plant a cluster of six to eight seeds on top. Cover the seeds with an inch and a half more soil and water them deeply.
As the cucumbers grow and the plant has two sets of leaves, select a few of the healthiest plants and snip them off at ground level. Do not pull out the extras, or the roots may get damaged.
Keep the young plants well-watered and train them to climb up the trellis as they grow. Keep an eye on the moisture in the soil and adjust the amount of mulch accordingly.
When growing cucumbers in pots, keep them in a place where they get at least six hours of direct sunlight every day. After about 12 weeks, the cucumbers are ready for their first harvest.
You know when to harvest cucumbers based on their size. Cucumbers are ready for picking when they are between four and 13 inches long and a couple of inches wide.
If the cucumbers become overripe, they taste bitter and have more seeds than usual. Check your plants regularly and stay on top of the harvest throughout the entirety of the growing season.
The ideal time to harvest cucumbers is in the morning before the sun gets too hot. When you pick them, avoid pulling the fruits from the vine, so you don't damage the plant.
Instead, use a pair of garden shears or a sharp knife and cut them so there is still a small amount of the vine sticking out from the fruit's top.
Cucumber Pests and Diseases
It's important to learn cucumber plant disease identification so you know how to treat the problem. One of the most common diseases to look out for when learning how to grow cucumbers in a pot is powdery mildew, which leads to cucumber or zucchini leaves turning white.
Powdery mildew resembles a white powder dusted over all the plant leaves, and it occurs most frequently in humid conditions or when the plant is stressed.
Make a DIY mildew killer with a teaspoon of baking soda, a quart of water, and a drop of dish soap. Spray the mixture on the plants for a natural way to kill the disease.
Cucumber beetles are pests that work quickly to destroy your cucumber plants. They have yellow and black bodies and lay eggs on the underside of the leaves.
Aphids are another prevalent pest to look out for. Treat both of these small bugs by spraying them with neem oil and removing them by hand or with a strong water stream whenever you see them.
Learn what to plant with cucumbers to repel insects naturally.
Making a Fresh Cucumber Salad
Raw cucumbers are so refreshing that turning them into a salad is one of the best ways to eat them and use up all of your harvests.
Turning cucumbers into pickles is a great way to keep them fresh for months on end, but this recipe is a perfect side dish and is bursting with flavor.
Stir all of the ingredients in a large mixing bowl and make sure the onions and cucumbers are evenly coated in the creamy sauce. Cover the bowl with plastic wrap and refrigerate it for at least two hours before serving it to your friends and family.
Planting cucumbers in pots is a great way to keep a close eye on your favorite veggies so that they thrive and produce a good yield.
These crunchy snacks are perfect for summer because of their hydrating qualities and cool temperatures. Cucumbers are also one of the easiest plants to grow as long as you give them their basic living requirements.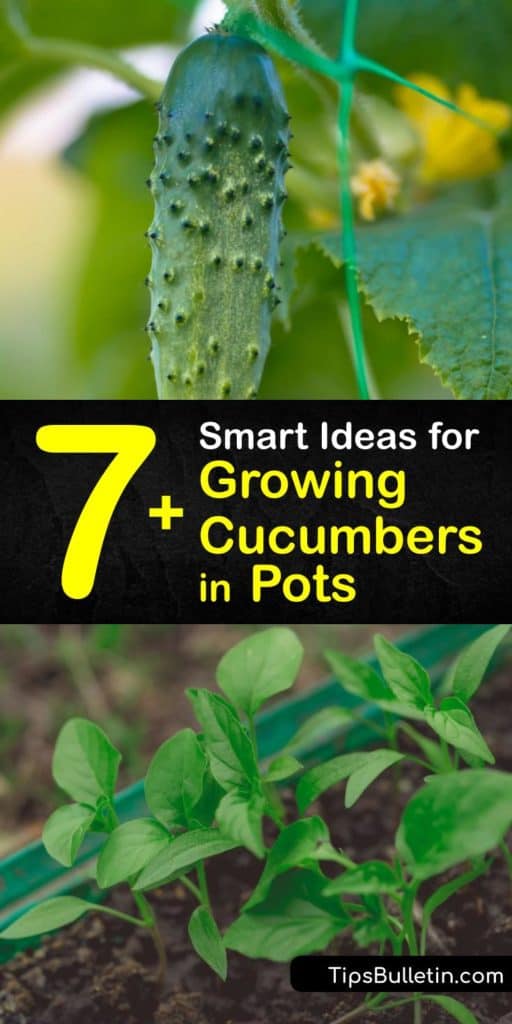 If learning how to grow cucumbers in a pot has made you eat more fresh veggies, share these must-know tips for growing cucumbers in pots on Facebook and Pinterest.