Cucumbers are popular plants to grow at home with their rapid growth and crunchy, refreshing green fruits. They're a member of the Cucurbitaceae family, along with watermelons and gourds, such as zucchini. Learn how to grow cucumbers vertically to enjoy these tasty, nutritious fruits without sacrificing valuable garden space.
Taking up a smaller area is not the only benefit of growing pickling cucumbers vertically. The plants are less likely to suffer from pests and diseases. The improved air circulation and relative ease of keeping the leaves dry when watering help prevent fungal diseases like powdery mildew.
The leaves also have a lot of space to spread out, meaning they receive more direct sun, leading to healthier plants and larger cukes. In addition, the cucumbers remain cleaner and grow straighter since they're not resting on the ground. Harvesting the fruits is also easier on the back since you don't have to stoop.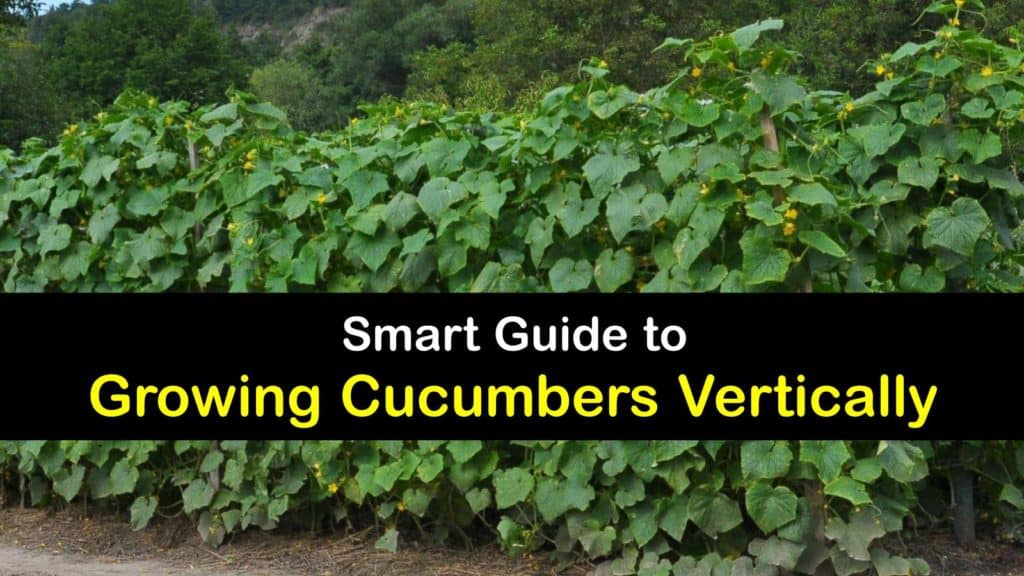 Tips for Growing Cucumbers Vertically
Like the way to plant gourds, trellising cucumber plants is similar to growing them on the ground. The only major difference for growing cucumbers vertically is the trellis. Although you may need to train the cucumber vines initially, they'll quickly cling on their own. Other veggies, such as zucchini, also grow well on a trellis.
How to Grow Cucumbers Vertically
Use vining cucumber types for growing cucumbers vertically. Bush cucumbers only grow on the ground, while vining cucumbers grow up trellises too. Vertical cucumber growing is ideal for small gardens since the plants only occupy about one square foot.
Plant cucumber seeds after the last frost or start them indoors several weeks earlier. They thrive in highly fertile soil, so amend the soil before planting. It's possible to grow vining cucumbers in containers as long as the pots are large enough.
Ensure that the cucumber plants receive plenty of water and sunlight during the cucumbers growing season. Purchase a cucumber trellis or make your own from materials like wooden posts and string or garden netting. If the tendrils are not winding naturally around their support, tie them loosely.
Prune the climbers if they get too overgrown and watch out for pests like cucumber beetles. Harvest the plants as soon as they're ripe so that they don't turn bitter.
Getting Started on Growing Pickling Cucumbers Vertically
Several cucumber varieties are suitable for vertical gardening. Several trellis styles work, too.
Choosing a Cucumber Variety
Other than looking for a vining variety, you'll need to choose between slicing and pickling cucumbers. Slicing cukes are larger and best for eating fresh. Pickling cucumbers are smaller and, unsurprisingly, suitable for pickling.
The Marketmore cucumber is a common slicing variety that resists common diseases. Lemon cucumbers are a distinctive, yellowish heirloom variety with a rounded shape and mild flavor.
The pale-green Armenian cucumber is technically a member of the muskmelon family. However, its long, slender shape resembles that of a cucumber.
Selecting a Trellis for Growing Pickling Cucumbers Vertically
Buy a cucumber support online or at a hardware or garden store, or make a DIY version. The trellis should be sturdy, four to six feet tall, and easy to harvest from all sides.
If you use garden netting or chicken wire, make sure the holes are large enough to reach through when it's cucumber harvest time. Sturdy A-frame trellises take up more space. Tomato cages are small enough that you may need to stack several on top of each other.
Choosing and Amending Soil for Cucumber Plants
The perfect soil for cucumbers is well-drained, loose, deep, neutral, and rich in organic matter. Loamy soil is best, although sandy is fine if it contains enough nutrients.
Add an organic, slow release fertilizer and several inches of well-rotted manure or compost before planting. When the cucumber plants are several inches tall, spread mulch to retain moisture and prevent weeds.
How to Grow Cucumbers Vertically: Planting
The most common cucumber growing method is from seed. Ensure that your plants receive plenty of sunlight.
When to Plant Cucumbers
Direct sow cucumber seeds in late spring after the last frost. They prefer soil temperature around 70℉.
Alternatively, start the seeds indoors three to four weeks before the final frost. Then, harden them off in the garden for several days before transplanting them.
Sun and Light Requirements for Cucumber Plants
These sun lovers require at least six to eight hours of direct sunlight daily. The location should also enjoy protection from the wind. Ensure that temperatures remain above 50℉. The ideal range is between 60 and 95℉.
Sowing Cucumber Seeds
Install your support before planting. Sow the seeds along the base of the trellis, six inches apart and one inch deep. Thin out the weakest seedlings from each bunch so that the plants are one foot apart.
You can also start cucumbers indoors. Insert one seed per cup. Ensure the soil temperature is at least 70℉—use a heat mat if necessary.
Expect the seeds to germinate in 7 to 14 days. When the plants have a few leaves, transplant the healthiest to the garden. Cucumber plant spacing is important. Place the seedlings one foot apart.
It is possible to grow cucumbers in large containers. When growing cucumbers in a pot, ensure that the pot is at least 12 inches deep and wide to leave enough space for the roots.
Growing Pickling Cucumbers Vertically: Caring for Cucumber Plants
Provide your cucumbers with consistent water and some fertilizer. Train young plants if necessary and prune any that become overgrown. Watch for a cucumber turning yellow, as it is no longer good to eat at this stage.
Watering and Fertilizing Cucumber Plants
Cucumbers require regular and deep watering due to the fruits' high water content. Give them one inch of water every three to four days. Avoid getting the soil soggy or splashing water on the leaves or fruits.
Apply fertilizer in early summer and fall. Use slow release fertilizer or fertilizer tea.
Training Plants for Growing Cucumbers Vertically
If the vines do not reach out to grab the trellis, gently wind them around it. It might not even be necessary to tie the tendrils. However, if you do, secure them with twine, soft fabric strips, twist ties, or plastic plant ties.
Tie loosely since the stems could grow larger. If the ties become too tight, loosen or remove them.
Pruning Vertical Cucumber Plants
If your cucumber plants get too large, prune them five to seven joints from the bottom to give the vines room to spread. Always prune the secondary vine, not the main one, and use bypass pruners.
Consider pruning the lower fruits so that the plant directs more energy toward vine growth. You could also remove lateral runners.
Harvesting Cucumbers Grown Vertically
Cucumbers are typically ready to harvest in 60 to 90 days. Check the seed packet to confirm the variety's final size and the number of days to maturity. Inspect the plants daily once they start producing since cucumbers grow fast.
Harvest when the fruits feel firm. Pick cucumbers regularly to encourage the plant to be productive. Do not let them ripen for too long, or they'll turn bitter.
Wear gloves when harvesting since some cucumbers are prickly. Cut off the fruits with a sharp knife or pruners. Leave one inch of stem attached.
Cucumbers stay fresh in the fridge for about one week, although their flavor is best soon after picking. Store them in the crisper or an open container lined with paper towel. The way to tell if a cucumber is bad inside is by looking at the outside first. A very limp and slimy cuke is bad. Toss it.
Grow cucumbers in the vegetablegarden along with other veggies like broccoli and cabbage. Growing pickling cucumbers vertically allows you to enjoy homegrown cucumbers even in small spaces.
Cucumber plants are relatively easy to grow, demanding only fertile soil, sufficient space and sunlight, consistent watering, and occasional fertilizing.
The main difference for how to grow cucumbers vertically instead of on the ground is training the vines around a trellis.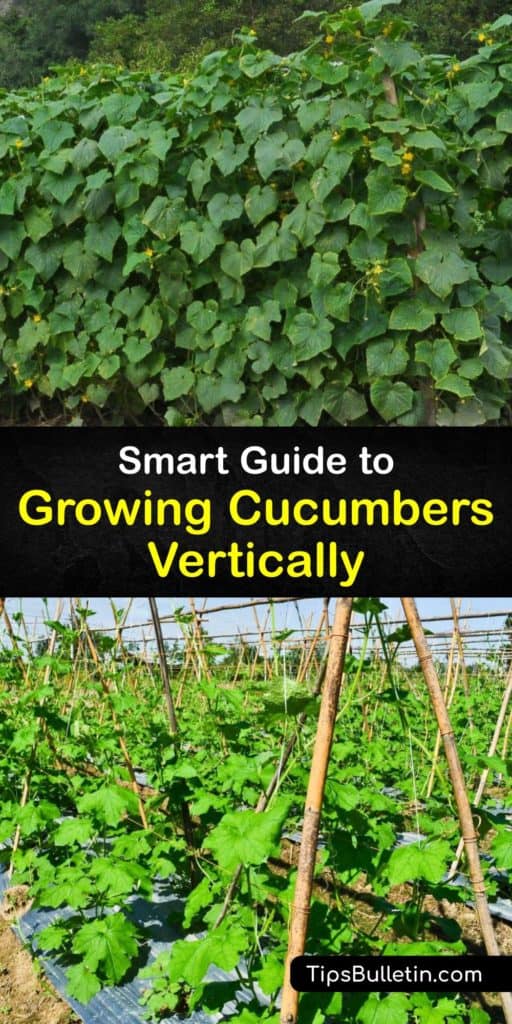 If you found these cucumber growing tips helpful, please share this vertical gardening information with your friends on Facebook and Pinterest.