Garbanzo beans, or chickpeas, are the key ingredient in hummus, a famous dip from the Middle East. They are highly nutritious and packed with a range of nutrients, protein, and fiber, and they are a great addition to the garden. Learn how to grow garbanzo beans from seed and transplant them outside after the last frost date.
Chickpea plants require at least three months of cool and frost-free days to reach maturity. Therefore, warm region gardeners grow them during the winter, while cold area growers plant them in the spring or late summer.
The plants grow around eighteen inches tall with pairs of compound leaflets, white or violet flowers, and inch-long, oblong pods that contain one to two cream-colored garbanzo beans each. Garbanzo beans are known by many names, including Kabuli Chana and chickpeas. They are annual legumes of the Fabaceae family and have a long growing season.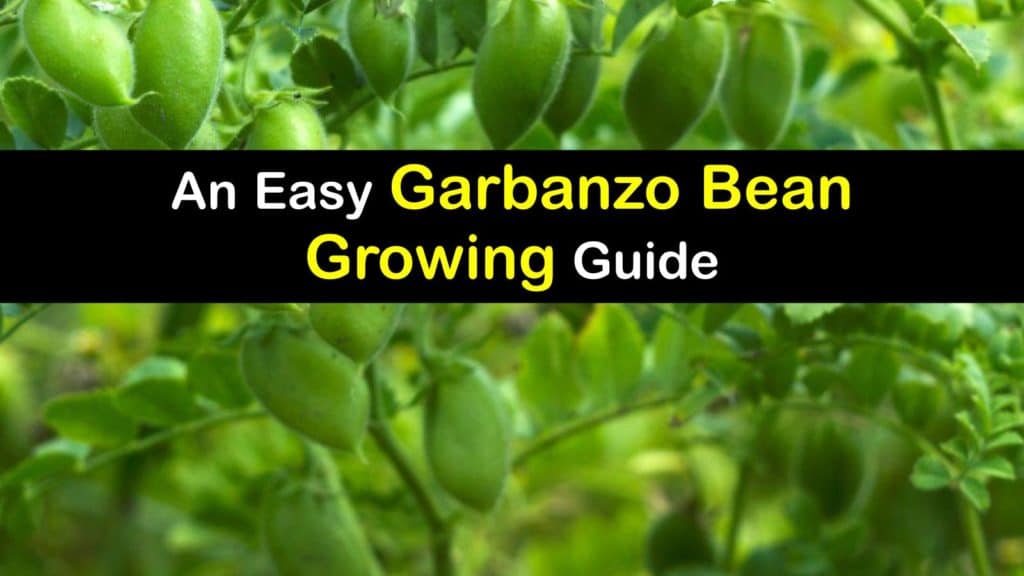 Growing Garbanzo Beans at Home
While the grocery store supplies us with most of the food we want, we don't always know where that food comes from and the process it's gone through. For example, where vanilla beans grow may be different than other types of beans. Growing garbanzo beans is easy and the ideal way to ensure your food is free of unnecessary chemicals.
Find out how to grow garbanzo plants in your home garden and care for them after planting garbanzo beans for a healthy crop at the end of the growing season. Learn what these legumes require to grow, including sunshine and soil type, and how to use them to create a delicious snack after harvesting them.
It's a good idea to germinate seeds indoors to get a head start on the growing season. These cool-season crops are easy to grow in a garden or container as long as you provide them with the care they love.
What do Garbanzo Beans Need to Grow?
What are garbanzo beans, and how do garbanzo beans grow? Explore a brief description of these beans and the growing conditions they want for optimal growth to ensure you prepare the perfect garden spot for them to flourish.
Like soybeans, navy beans, and kidney beans, chickpeas are garbanzo beans (Cicer arietinum), which are legumes that are fruits or seeds of plants. They have a firm texture and smooth coat, with a flavor similar to chestnuts and walnuts.
These beans are legumes that are cool-season annuals, thriving in full sun but tolerating partial shade. However, the less sunshine they receive, the lower the crop yield. They have a long growing season and take roughly 100 days before they are ready to harvest.
Garbanzo bean plants have shallow roots and prefer growing in sandy, loam rich soil with good drainage. They do not tolerate wet or saline dirt well and want relatively warm and dry soil to germinate.
If your garden lacks nutrients, consider amending it with aged compost before planting time and adding phosphorus and potassium to the ground.
Planting Garbanzo Beans Indoors
Garbanzo bean seeds need the proper air and soil temperature for germination. If you live in a cold region, planting garbanzo beans inside before the last frost is the best way to give your plants a head start on the season. Here is the way to plant black beans and how to sprout garbanzo beans indoors.
To grow a pinto bean bush or garbanzo beans, fill peat or biodegradable paper pots with potting mix and sow the seeds one and a half inches deep in each pot. Spray each container with water to make the soil moist but not saturated and place them in front of a sunny window.
Water them as needed, and do not let the soil dry out as they germinate. Germination takes about ten to fourteen days.
How to Grow Garbanzo Beans in the Garden
Once your garbanzo seedlings begin sprouting and reach the right height after the spring frost, it's time to transplant them to the outside garden. As straightforward as this sounds, there are a few steps to take during the transplanting process to ensure that your young plants survive their new environment.
Two to three weeks before the average last frost, or when the daytime temperatures are between 70 and 80°F and the nighttime temp does not dip below 65°F, it's time to move your garbanzo plants outdoors.
Acclimate your three to four-inch-tall seedlings by taking them outside a few hours daily for a week. Begin by placing them in a shady location and gradually moving them to a full sun area by the end of the week.
Spacing is essential, so dig holes in the garden that are slightly larger than the seedling pots and space them 6 inches apart, with rows 18 to 24 inches apart. Garbanzo plants do not like to have their root system disturbed.
Leave this variety of beans seedlings in the pot, and plant them whole in the garden. Spread a layer of mulch around the plants to hold in moisture and prevent weed growth.
Water your plants regularly to ensure they get an inch of water weekly and avoid watering them overhead which causes the pods and flowers to fall off. Side dress the plants with aged compost mid-season and stay away from nitrogen-rich fertilizer.
Keep an eye out for aphids, flea beetles, leafhoppers, and other garden pests, and use insecticidal soap to eliminate them. However, avoid using pesticides unless necessary since they kill beneficial insects like honeybees.
Chickpea plants are susceptible to mildew and fungal diseases. Keeping the garden clean of debris, planting disease-resistant varieties, and watering your plants at the soil level are effective ways to prevent problems.
Harvest the individual green pods when they are immature, similar to snap beans, or the entire plant for dried chickpeas.
For dried legumes, remove the whole plant after the leaves wither and brown and place them on a warm surface to dry. After the pods split, collect the seeds and keep unshelled chickpeas in an airtight container in the refrigerator for one week.
How to Make Roasted Beans after Growing Garbanzo Beans
While the most common way to prepare garbanzo beans is to make hummus, we prefer to roast them. The result is a flavorful, crunchy snack that is easy to personalize by adding your favorite seasonings and herbs.
Start by boiling the shelled garbanzo beans in a large pot of water for three minutes. Drain the beans in a colander, set them aside to cool, and then dry them with a paper towel. Position the rack in the middle section of the oven and heat it to 400°F.
Pour the chickpeas on a baking sheet, drizzle them with olive oil and salt. Use a spatula to ensure all the beans are evenly coated, and roast them in the oven for about half an hour, shaking the pan every ten minutes.
Once the beans are golden and slightly darkened, remove them from the heat and pour them into a large bowl. Toss them with four teaspoons of your favorite seasonings and herbs and serve them warm. If you're unsure of which spices to use, try curry powder, chili powder, smoked paprika, thyme, or rosemary.
Producing food at home is a great way to keep your cupboards full of healthy goodness, and you always know exactly where your fruits and vegetables come from. While garbanzo bean plants are fairly simple to grow, they need the right conditions to produce healthy pods at the end of the growing season.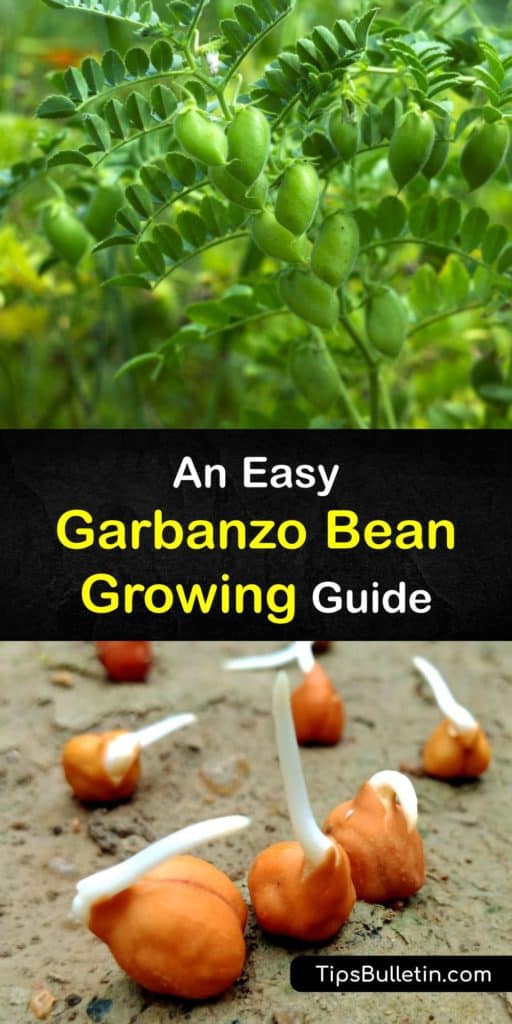 We hope that knowing how to grow garbanzo beans in your own garden keeps your pantry well stocked with delicious, organic food, and we'd love it if you'd share our garbanzo growing tips with the legume-lovers in your life on Facebook and Pinterest.