Have you ever asked about how to plant garlic? Garlic is easy to grow and has an impressive variety of benefits both in the garden and in the kitchen. In this article, you'll learn how to grow garlic from seed and use it to the benefit of your other plants.
Along with being a staple ingredient in many of our favorite recipes, garlic helps repel common garden pests and encourages other nearby plants to be more disease resistant.
Garlic is a useful companion plant for most other crops, except legumes like beans and peas. These plants stunt one another's growth.
When choosing which garlic varieties to grow, it's vital to know your USDA growing zone. Hardneck varieties tend to be more cold-hardy than softneck garlic.
Although most people think of using garlic cloves for cooking, the flowers and leaves are also edible.
Hardneck garlic varieties develop a long stalk that produces a bulbil, similar to a flower, used in various recipes. The leaves are similar to chives and have a mild garlic flavor.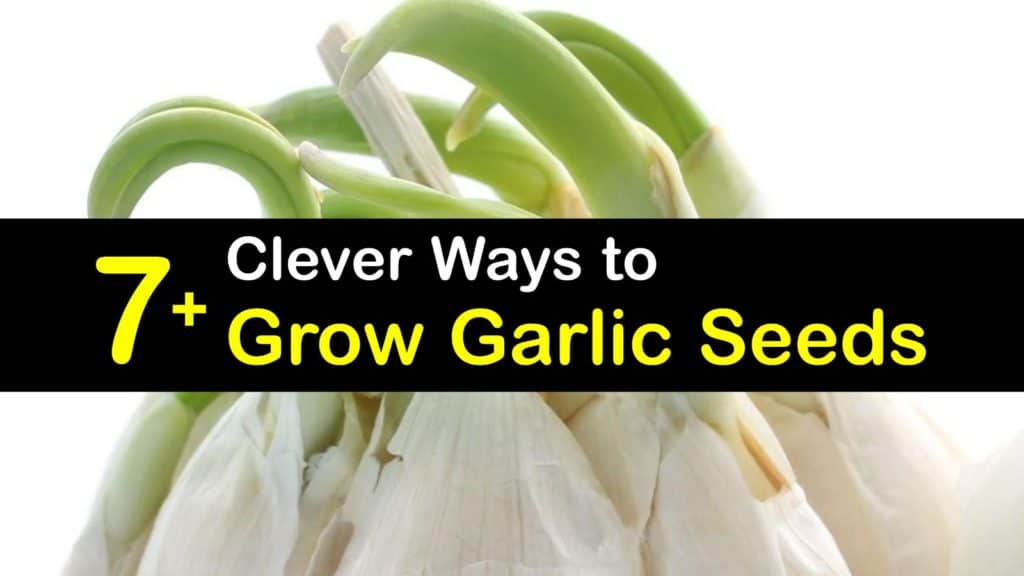 How to Sprout Garlic
We often think of growing plants from seed because it is cheaper than buying plants. However, not all plants do as well when grown from seeds. Small, black onion seeds are one example. The other is garlic.
The term "growing garlic from seed" might be a bit deceptive and it's different than when you grow cucumbers from seeds or grow jalapeno peppers from seeds. Garlic, or Allium sativum, is typically grown from individual cloves rather than true seed.
Its flowers don't usually reach maturity, but the seeds are similar in appearance to small, black onion seeds. In the rare instances when you'd plant true garlic seed, sow them a quarter-inch deep in a location that receives full sun.
Depending on your growing season, plant hardneck garlic cloves in the fall, or softneck varieties in early spring. It's even possible to plant cloves from garlic bulbs bought at the grocery store.
How to Grow Garlic from Seed
Have you ever wondered how to sprout garlic? The process of growing garlic from seed is fairly straightforward, whether you grow lots of garlic in a pot or a garden. Start with healthy garlic bulbs, whether you are growing hardneck vs softneck garlic, and choose the largest, best-looking cloves.
Regrow garlic cloves two inches deep in well-draining soil that's rich in organic matter. The basal plate, or the end attached to the bulb, should be facing downward, and the pointed end where the leaves emerge must face up.
The spacing between garlic cloves should be approximately six to eight inches. Lightly cover the garlic cloves with soil and water them thoroughly.
To keep the soil insulated and retain moisture, cover the area with a mulch layer several inches deep. Garlic leaves usually begin sprouting within four to eight weeks, depending on the weather conditions and variety.
Best Soil and Fertilizer for Growing Garlic from Seed
Although garlic needs regular watering, the soil shouldn't stay soggy for long periods. To ensure your garlic has plenty of nutrients, work several inches of compost into the soil about a week before planting your garlic bulbs.
Plant fertilizer has three primary macronutrients: nitrogen (N), phosphorus (P), and potassium (K). Nitrogen promotes green leafy growth, phosphorus helps plants develop robust root systems, and potassium supports fruiting and flowering processes.
For allium bulbs like garlic, onions, leeks, and shallots, use an organic granular fertilizer high in phosphorus. Add one tablespoon of fertilizer to the bottom of the hole when planting garlic cloves. Throughout the growing season, fertilize every four to six weeks.
Purchase a bulb fertilizer at your local garden center, or try making your own DIY fertilizer blend using the following recipe.
Mix the ingredients in a bucket with a lid or a large, resealable plastic bag. Store it in a cool, dry location out of direct sunlight.
Softneck versus Hardneck Garlic Varieties
There are two primary classifications of garlic: softneck and hardneck. When it comes to deciding which garlic varieties to try, here are a few factors to keep in mind.
Softneck varieties of garlic usually have more cloves per bulb and are better for long-term storage. They're also typically smaller and have a milder flavor than hardneck varieties.
Many softneck garlic varieties are referred to as "artichoke garlic," meaning that the cloves overlap to resemble artichoke leaves.
Hardneck garlic grows long stems called scapes. Garlic scapes resemble large flower stalks, but the "flowers" develop into bulbils, which are the mother plant's clones.
Plant the bulbils slightly shallower than garlic cloves, about a half-inch to one inch deep, depending on their size. To encourage the plant to direct more energy toward growing large cloves, prune the scapes before the bulbils mature.
A crucial factor in growing hardneck garlic is that it must spend six to eight weeks at temperatures below 45°F to sprout and grow into a mature head of garlic.
In warm climates that don't receive consistent cold temperatures, give hardneck garlic a "fake winter." Place the head of hardneck garlic in a paper bag in the crisper drawer of your refrigerator for six to eight weeks.
For cold climates, hardneck varieties grow best because they're more tolerant of freezing temperatures. For warm climates, softneck varieties are a better choice because they don't require exposure to below-freezing temperatures to start growing in early spring.
When to Plant Garlic
When to plant garlic depends on your growing climate and which type of garlic you've chosen to grow.
Since hardneck garlic varieties require a period of freezing temperatures to produce a bulb the following season, fall planting is best. Plant hardneck garlic between September and November, after the first light frost in your area.
Softneck garlic varieties don't need to be cold-stratified, and most types don't tolerate freezing temperatures.
If your area gets temperatures below freezing in the winter, wait to plant softneck garlic until early spring. They'll tolerate a light frost and more reliably produce a bulb with spring planting before April.
How to Harvest Garlic
In mid-summer, the garlic leaves begin to turn yellow. Once roughly half of the leaves are yellow, it's time to harvest garlic. Harvest time is about the same for both softneck and hardneck garlic varieties.
Always be sure to dig your bulbs out of the soil instead of trying to pull them by hand when harvesting garlic.
Pulling them could snap the stalk, which causes problems for storage. Use a trowel or garden fork to carefully loosen the soil around the bulbs without slicing into your garlic.
If you're growing hardneck garlic, harvest the scapes in early summer. Garlic scapes are ready to harvest after they start forming spirals. Use a clean, sharp pair of scissors to cut the scape at its base where it emerges from the stalk.
Tips for Storing Garlic
For long-term storage, garlic bulbs must get dried and cured. Avoid washing them or getting the outer skin wet, and brush off any remaining garden soil.
Leave the roots and leaves intact for the drying process. Bundle eight to ten garlic bulbs together and braid the stalks or tie them with twine.
Hang the bundles with the bulbs down in a cool, dry, dark location away from direct sunlight, or spread them out and lay them flat on a raised screen. Allow the garlic to cure for three or four weeks.
Once they cure fully, remove the roots and stalks, taking care not to expose any of the garlic cloves. If desired, leave the stalks intact for storage. Store garlic in a dry, cool place with adequate air circulation.
Softneck garlic varieties keep for six to eight months if stored properly. Hardneck varieties have a shelf life of approximately three or four months. Check your garlic bulbs periodically to see if they're beginning to go soft or have started sprouting.
Companion Plants for Garlic
Companion planting is an advantageous garden design technique for using certain plants' beneficial traits to support one another's growth. Garlic makes an excellent companion for numerous other plants in the vegetable garden.
What grows well with garlic? Herbs like chamomile and parsley improve garlic's flavor, deter mosquitoes, and attract beneficial insects like ladybugs and native bees.
Leafy greens like spinach and lettuce have shallow roots that won't compete for space with the garlic bulbs and serve as a living mulch to hold soil moisture and suppress weed growth.
Plants in the allium family, including garlic, leeks, onions, and shallots, are efficient at repelling pests like aphids, beetles, spider mites, deer, and rodents through their strong scent.
Garlic is compatible with most other plants, except asparagus, beans, and peas. In this case, the difference between beans and legumes doesn't matter. Garlic stunts these plants' growth.
Common Pest and Disease Problems for Garlic
Although garlic is incredibly easy to grow, monitor your plants for signs of a few common pest and disease problems. When it comes to plant health, prevention is the best cure.
Crop rotation, culling diseased plants out of the garden, and companion planting all help keep your garden healthy and disease-resistant. Always be sure to sterilize your garden tools between uses.
White rot is a fungal disease that mainly affects the garlic bulb. It first appears as a white, powdery fungus on the bulb and around the stalk base.
As the disease progresses, tiny black sclerotia, or clusters of mycelium, spread farther up the stalk and begin causing leaves to turn yellow and die. It's most often introduced through contaminated plant material, soil, or compost.
Although there are several fungicides available to treat white rot, most growers find that they're only marginally effective.
Remove any infected plants and the several inches of soil surrounding them. The fungus persists in the soil for a long time, so avoid planting alliums in the area for at least three or four years.
Botrytis neck rot is another fungal disease that affects garlic plants. The first symptom is a water-soaked ring around the stem's base or neck. As the infection spreads down into the bulb, it affects the inside first.
The outer layers may exhibit purple discoloration, and the inner clove wrappers turn brown or black. After curing, the bulbs may develop grey mold during storage.
Botrytis thrives in cool, wet conditions, so avoid excess mulch and irrigation and ensure your plants get adequate air circulation. Treat affected plants with organic copper or sulfur fungicide.
Nematodes are a group of microscopic organisms that live in the soil and consume fungi, bacteria, mites, or plant tissue. Some types of nematodes are beneficial to plants, but the ones that feed on plant tissue are quite problematic.
While their feeding activity doesn't always kill the plant, it's sometimes followed by secondary infections that attack the compromised root tissue.
To eliminate nematodes from your garden soil, use targeted pesticides or heat the soil with a black plastic sheet for a few days before planting.
Leek moth larvae sometimes cause extensive damage to plants in the allium family, and garlic is no exception.
They mainly feed on leaf tissue but also occasionally tunnel into the bulbs. Aside from hand-picking and destroying cocoons and larvae, organic insecticides like neem oil and Spinosad are effective against leek moth larvae.
Garlic is an easy and rewarding vegetable to grow in pots, raised beds, or a traditional garden. As long as you grow garlic in full sun and well-draining, nutrient-rich soil and choose healthy seed bulbs, you'll enjoy a bountiful harvest in the late summer.
Although growing garlic from seed stock purchased from a reputable source is the best way to ensure that your plants are healthy and disease-free, it's also possible to try replanting garlic cloves from the grocery store.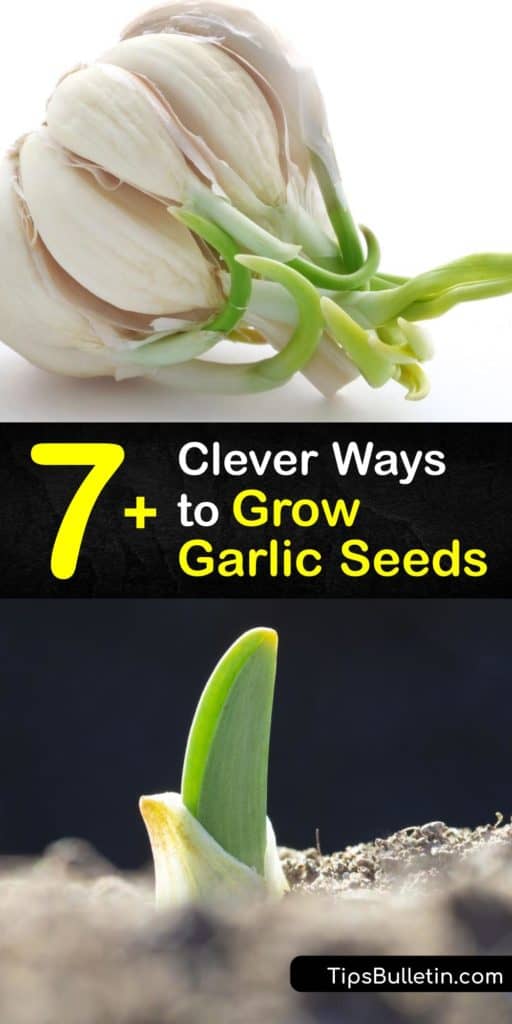 If you enjoyed these gardening tips about how to sprout garlic, please feel free to share this article about how to grow garlic from seed with your fellow green thumbs on Pinterest and Facebook.