Garlic is an essential ingredient in many classic recipes, from soups and salsa to pesto sauce and curry. Read on to discover how to grow garlic in pots and enjoy fresh garlic grown right at home.
The garlic varieties available at plant nurseries are much more diversified and savory than those commonly available at the grocery store. Even if you don't have a vegetable garden at home, it's still possible to grow garlic in a container garden.
In this article, you'll find out everything you need to know about planting garlic in pots, from the best potting soil and fertilizer to how and when to plant and harvest your homegrown garlic.
When you grow your own veggies, you have the peace of mind that comes with knowing that the growing process is free from harmful chemicals.
Even if you have limited space, container gardening is advantageous and well worth the effort. Garlic is a useful companion plant and has countless benefits in a traditional vegetable garden and a container garden.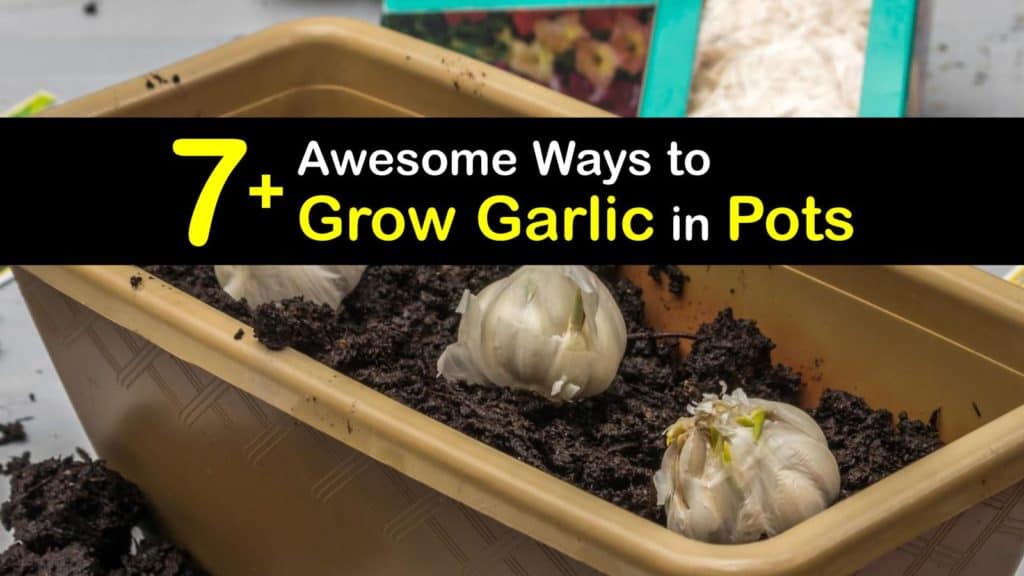 What You Need to Know about Growing Garlic in a Pot
Garlic, or Allium sativum, has a long growing season, taking eight to nine months to reach maturity. Whether you have cold or mild winters, plant garlic in late fall for the following summer's harvest.
Be sure to plant garlic in well-draining soil, as the cloves rot in soggy soil. It's critical to keep the pot consistently moist throughout garlic's long growing period, including winter, as long as temperatures are above freezing.
During spring and summer, garlic needs full sun and plenty of water. Harvest garlic bulbs in mid-summer when the foliage turns yellow.
How to Grow Garlic in Pots
Growing garlic in a pot or when you grow cucumbers in a pot is a straightforward process. The principal element is making sure that the soil doesn't dry out at any time. It's helpful to use a large container for growing garlic at home.
The more dirt there is, the better it retains moisture and stays insulated. For most growing climates, plant garlic in containers around the same time you would for planting garlic in the ground, just before the first frost.
Differences Between Hardneck and Softneck Garlic Varieties
There are two primary classifications of garlic: softneck and hardneck. When it comes to deciding which garlic varieties to try, it's vital to know your USDA planting zone.
For cold climates, hardneck varieties are best because they're more tolerant of freezing temperatures.
For warm climates and growing garlic-indoors, softneck varieties are preferable because they don't require exposure to below-freezing temperatures to start growing in early spring.
A crucial factor in growing hardneck garlic is that it must receive six to eight weeks of temperatures below 45°F to sprout and grow into a mature head of garlic.
In warm climates that don't receive consistent cold temperatures, give the garlic a "fake winter." Place the head of hardneck garlic in a paper bag in the crisper drawer of your refrigerator for six to eight weeks.
Elephant garlic is a popular variety for home growers because it has a milder flavor, and the cloves are larger and easier to peel than different kinds of garlic that are more traditional. There are both softneck and hardneck varieties of elephant garlic.
Selecting the Right Container for Planting Garlic in Pots
Since growing garlic in a pot spans several seasons, similar to when you grow asparagus in containers indoors, choosing the proper pot is imperative. Make sure your container is weather-resistant and has drainage holes at the bottom. Place a saucer underneath the pot to catch water as it drains.
Terracotta pots are popular and attractive, but they don't overwinter well because they're so porous. They absorb large quantities of water, which makes watering your plants less efficient.
Water that remains in the terracotta freezes in winter and leads to flaking and cracking. Instead, use a pot made from frost-proof plastic, glazed ceramic, or fiberstone.
When planting garlic in pots, make sure your container is at least eight inches deep. The wider your pot, the more garlic cloves you can plant. Another advantage of using a bigger pot is that a larger quantity of soil holds moisture better and is less likely to freeze solid.
If you grow your own garlic indoors, know that you won't be raising bulbs. Only the greens are worth harvesting.
Best Potting Soil for Homegrown Garlic
Although garlic needs regular watering, the soil shouldn't stay soggy for long periods. Choosing a well-draining potting mix that's rich in nutrients is fundamental for growing garlic in a pot.
To ensure your garlic has plenty of nutrients, incorporate one cup of organic compost for every three cups of potting mix. Alternatively, a more cost-effective option is to make a DIY potting soil using the following recipe.
Use a trowel or hand rake to blend the ingredients in a large wheelbarrow. It's best to use all of your homemade potting mix immediately. If that isn't possible, store the mixture in a cool, dry location in sealed plastic bags.
Best Fertilizer for Growing Garlic in a Pot
There are three primary nutrients present in plant fertilizer: nitrogen (N), phosphorus (P), and potassium (K). Nitrogen promotes green leafy growth, phosphorus helps plants develop robust root systems, and potassium assists fruiting and flowering processes.
For allium bulbs like garlic, onions, leeks, and shallots, use an organic granular fertilizer high in phosphorus or create a DIY fertilizer blend utilizing this recipe.
Mix the ingredients in a bucket with a lid or a large, resealable plastic bag. Add one teaspoon of fertilizer to the hole when you plant garlic cloves in late fall.
Reapply fertilizer in early spring to give your plants a boost for the growing season at a ratio of one teaspoon per plant. Incorporate fertilizer into the first few inches of soil around each plant and thoroughly water it in.
When and How to Plant Garlic Cloves
Plant garlic in pots just before the first frost in your area. Use organic garlic purchased from your local plant nursery or farmers market. To start, split each head of garlic into individual cloves.
Use the biggest cloves for planting, and save the small ones for cooking. With your finger or a pencil, create small holes two inches deep in the soil and spaced three to four inches apart.
Add granular fertilizer to each hole before inserting the garlic cloves with the pointy end facing up. Be sure to give each clove plenty of space to grow into a full, plump head of garlic. Overcrowding stunts the plants' growth.
After planting, irrigate the pot until water flows out of the drainage holes. Next, apply a two-inch layer of mulch on top of the soil.
Use a lightweight mulch material that the garlic shoots can easily penetrate when they start growing in early spring. The mulch helps retain moisture and insulate the garlic during the winter.
Overwintering Garlic Pots
It's critical to keep the soil consistently moist throughout the entire growing process. Occasional watering is necessary in the winter when temperatures are above freezing.
In warm climates, place your garlic pot in a sunny location that receives six to eight hours of direct sunlight daily. If you have cold winters, place the container in a sheltered area next to your house, where it has protection from hard frosts.
In freezing weather, use bubble wrap, old blankets, or more mulch for insulation. Pile mulch around the sides of the pot, or wrap it completely.
Harvesting Container-Grown Garlic
The first green shoots begin sprouting in early spring, which soon grow into tall stalks. In early summer, hardneck garlic varieties produce curly flower stalks called scapes.
It's best to remove the scapes to direct the plant's energy toward growing a larger bulb. The scapes are edible and make an excellent addition to summer salads.
In mid-summer, the garlic leaves start turning yellow. When roughly half of the leaves are yellow, it's time for harvesting garlic. The easiest method is overturning the pot and removing the heads of garlic from the soil.
After harvesting, allow the garlic to dry for several days in a cool location with good airflow before storing. Use a drying rack or hang them in bunches.
After they've dried, remove all excess soil from the bulbs and braid the stalks together in small bunches or trim them. Store garlic in a cool, dry place.
Companion Plants for Garlic
Companion planting is a helpful technique for using compatible plants' beneficial traits to support one another's growth. Even though container gardening limits the available growing space, several plants make good companions for container-grown garlic.
Chamomile and parsley improve garlic's flavor, deter mosquitoes, and attract beneficial insects like ladybugs and honey bees.
Spinach and lettuce have shallow roots that don't compete for space with the garlic bulbs and act as a groundcover to suppress weed growth. Strawberries can also be grown in the same pot with garlic and are excellent garlic companion plants.
Members of the allium family, including garlic, onions, leeks, and shallots, are efficient at repelling pests like aphids, spider mites, deer, and rodents. It's compatible with most other plants, except asparagus, beans, and peas. Garlic stunts these plants' growth.
Although it takes plenty of patience and diligent watering, growing garlic in a pot is worthwhile. There are numerous advantages to planting garlic in pots, including a wider selection of garlic varieties and the comfort of knowing what went into the growing process.
Growing your groceries is cost-effective and rewarding. All you require is a large container with drainage holes, well-draining and nutrient-rich potting soil, a balanced bulb fertilizer, and ample sunshine.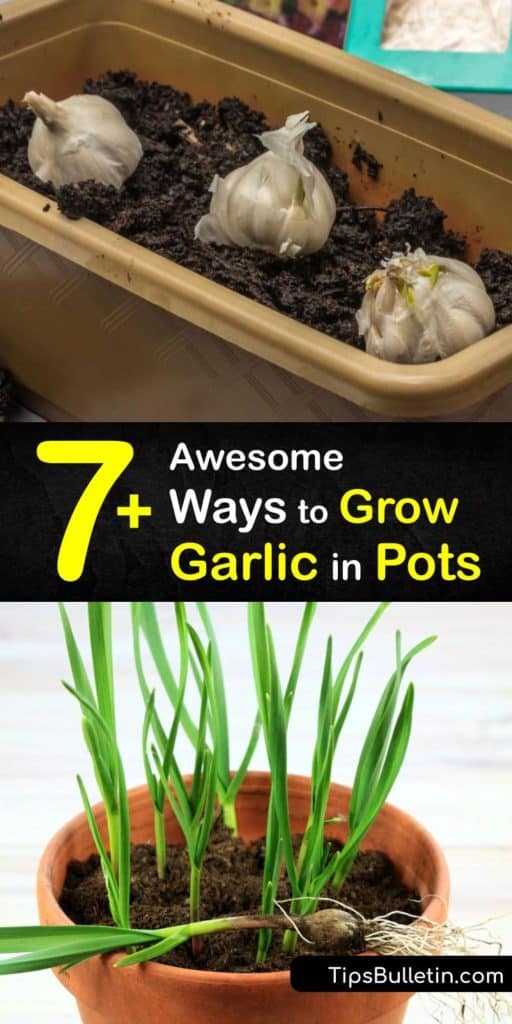 If you enjoyed reading about these gardening tips, please feel free to share this article about how to grow garlic in pots with your fellow green thumbs on Pinterest and Facebook.